Programs, Events and Updates
February 2017
1) AFSA HOSTS PROFESSIONAL ISSUES DISCUSSION SERIES
Beginning February 17, AFSA is offering a new series of brown bag discussions on professional Foreign Service issues, including dissent, navigating change, tradecraft and why FS work matters to regular Americans. These first four discussions will be hosted by members of AFSA's Governing Board and the chair of AFSA's awards committee. Check AFSA's schedule of upcoming events for details on dates, times and how to sign up.
2) NETWORKING HAPPY HOUR, FEBRUARY 16
The next AFSA networking happy hour will take place on February 16 from 4:30-6:30 p.m. Please join AFSA board and staff members, your colleagues and Foreign Service friends over drinks and light snacks. $3 drink tickets for beer and wine will be available. Click here to RSVP, or email events@afsa.org.
3) REMINDER: PROPOSED AFSA BYLAW AMENDMENT
The Governing Board is proposing three bylaw amendments to be voted on during the 2017 AFSA Elections. The proposed bylaw changes would:
Make the Awards and Plaques Committee a permanent standing committee;
Change the current residency requirement for serving on the AFSA Governing Board to a participation requirement; and,
Require that active-duty members presenting themselves as candidates for AFSA president or vice president hold an active security clearance.
The changes would become effective immediately if approved by two-thirds of the valid votes received from members. To read a full explanation of the proposed changes click here. Statements of opposition must be received by February 15 and signed by 10 AFSA members in order to accompany the ballot package. Statements and questions may be directed to election@afsa.org.
4) COLLEGE FINANCIAL AID FOR CHILDREN OF AFSA MEMBERS
Applications for AFSA undergraduate financial aid are available at www.afsa.org/scholar. These applications are due March 6, 2017. For additional information, visit the AFSA website or contact Scholarship Director Lori Dec at dec@afsa.org or (202) 944-5504.
5) WRITE FOR THE JOURNAL – GET READY FOR THE ARCHIVE!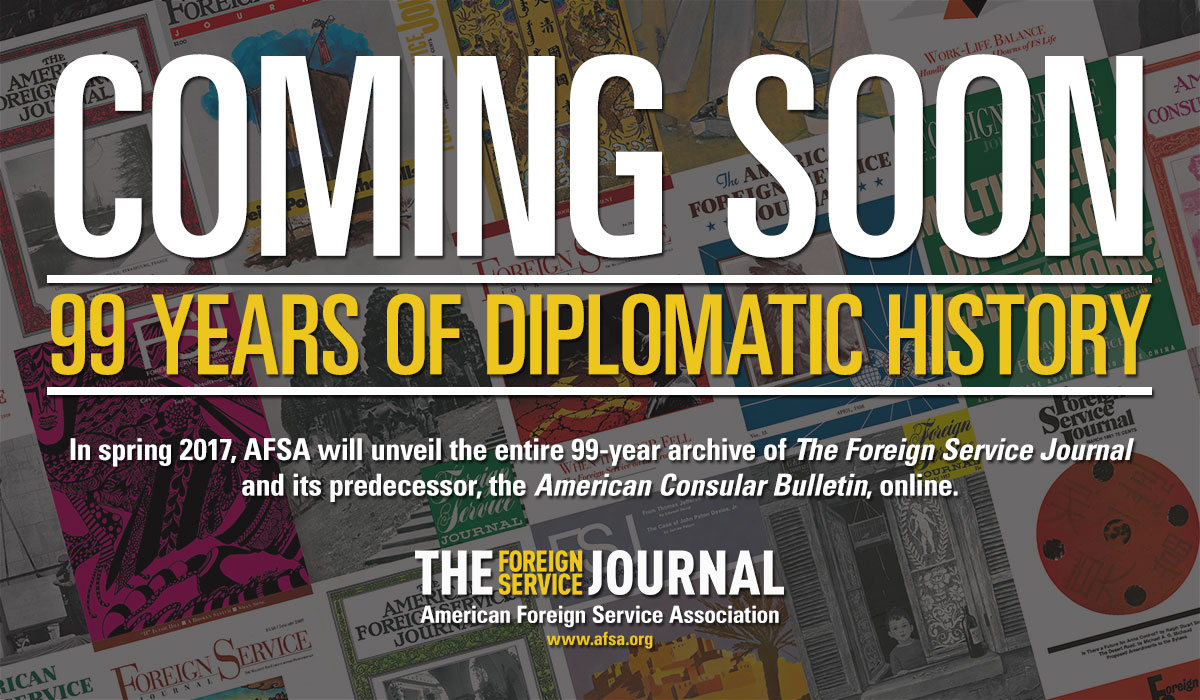 The Journal is currently seeking strong Speaking Out submissions (1,500-1,800 words), as well as Reflections (700 words) and features (1,500-2,000 words). Also, please share your thoughts about articles you read in the Journal by sending a letter to the editor. Comments can also be shared on the AFSA or FSJ Facebook pages. Please send your feedback and submissions to journal@afsa.org.
The Foreign Service Journal welcomes your submissions on any topic of concern or interest to members of the FS community. Or choose among the focus topics for 2017 (see below for the tentative focus topic list). If you find a topic that inspires, check in with Journal Editor Shawn Dorman (dorman@afsa.org) to find out about timing and what might fit. Assume at least 8-12 weeks from submission to publication. The Editorial Board meets monthly to review and vote on which submissions to publish. Find guidance on how and what to submit on the AFSA website.
In spring 2017, AFSA will unveil the entire 99-year archive of The Foreign Service Journal and its predecessor, the American Consular Bulletin, online. A treasure trove of primary source material and wisdom, this digital archive is a rich legacy of the U.S. Foreign Service, diplomacy and AFSA. We hope you will take advantage of this unparalleled resource.
Remaining 2017 FSJ Focus Topics:
April: The Future of Europe and the Transatlantic Partnership
May: Public Health and Diplomacy
June: Militarization of Foreign Policy
July-August: Science and Environmental Diplomacy
September: AFSA Awards + Diplomatic Tradecraft
October: Dealing with Iran
November: "In Their Own Write"
December: Best Practices in Worldwide Diplomacy
6) SEEKING JUDGES FOR AFSA'S ESSAY CONTEST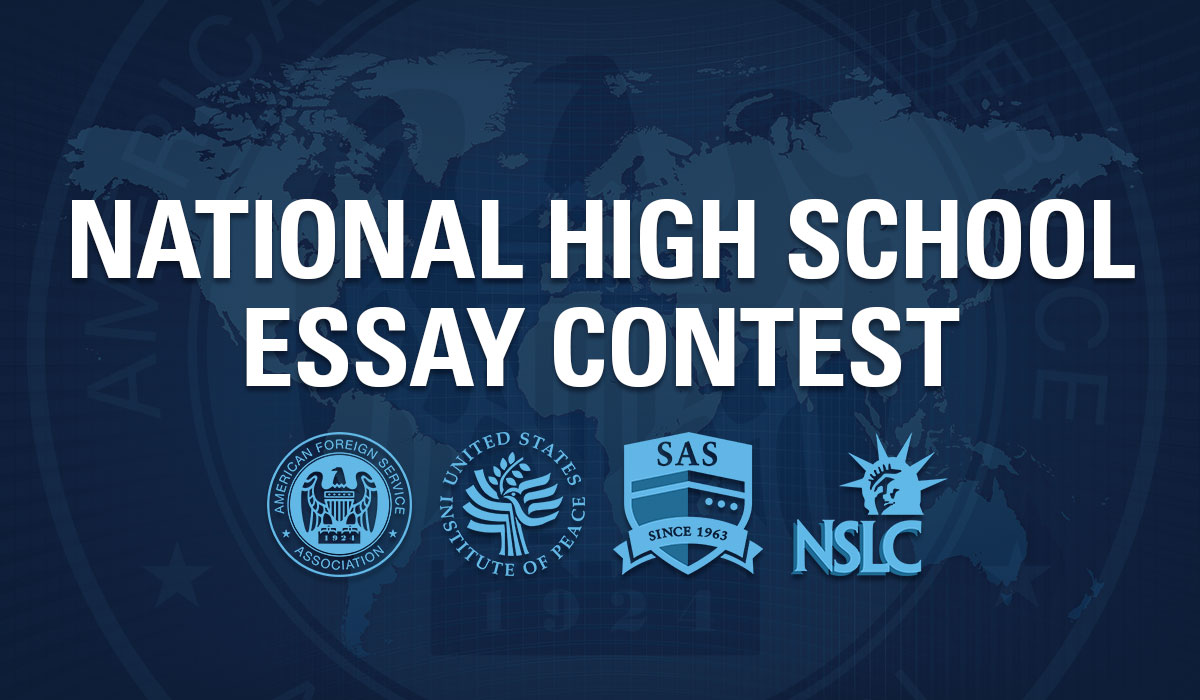 AFSA seeks members who have served in Turkey, Afghanistan, Kenya or Iraq to serve as judges on the National High School Essay Contest judging panel for 2017. We are asking high school students to imagine themselves as a member of the United States Foreign Service – a diplomat working to promote peace, support prosperity and protect American citizens while advancing the interests of the United States abroad, assigned to one of the four mentioned countries. They are tasked with writing a researched memo to their Ambassador addressing the refugee/internally displaced persons crisis facing the country in which they are now posted. See criteria for the contest at www.afsa.org/essay. Packages for judging will be sent out to each member of the panel electronically at the beginning of April. The judge's recommendations for their topic are due back April 25. Judging for the second round will take place April 30. Please contact Perri Green, AFSA's Awards Coordinator, at (202) 719-9700 or green@afsa.org to express your interest in a particular country and to acquire more information.
7) UNDERSTANDING YOUR SF-50
AFSA often gets inquiries from members concerning the information shown on the SF-50. To that end, we are passing on information from HR which will help members understand this form. This was sent as a cable on January 6, 2017.
The Bureau of Human Resources is pleased to announce a tutorial for Foreign Service employees on "Understanding Your SF-50, Notification of Personnel Action." The short, online tutorial walks you step by step through the document. If you should identify a problem, the tutorial also provides guidance on how to correct it. The new tutorial is a companion to the earlier released Understanding Your SF-50 for Civil Service Employees and Understanding your Earnings and Leave Statement for both Foreign and Civil Service. You can find links to these tutorials and all of our Reform documents and resources on State's Diplopedia page. Don't wait! Make sure your data is accurate. If not, follow the guidelines in the tutorial to correct it. If you have any comments or suggestions, please let us know by sending an email to CSReform@state.gov.
8) SEEKING AFSA MERIT AWARD JUDGES
We are seeking AFSA members to give 12-15 hours of their time in March to evaluate high school seniors' academic, art and community service merit awards applications. Judges must be based in the D.C. area as they attend an orientation session in early March and panel meeting in late March at AFSA to determine winners and finalists. Contact AFSA Scholarship Director Lori Dec at dec@afsa.org or (202) 944-5504 to participate.
9) DO YOU HAVE A FOREIGN SERVICE COMMEMORATIVE COIN OR MEDALLION YET?
AFSA members will enjoy sharing AFSA's distinctive coin with their foreign affairs contacts. The AFSA U.S. Foreign Service commemorative coin can be given to others in recognition of service to the Foreign Service or proudly displayed on your own desk. The unique, silver-finish, 1.75-inch diameter coin has the Great Seal on one side and the AFSA logo and slogan on the other. The coins may be purchased with a display case for $22 or without the case for $17. Click here to purchase online via credit card. AFSA also offers the Foreign Service Medallion, which celebrates and commemorates the service of Foreign Service personnel and their spouses or partners. These bronze medallions are available for $149; click here to learn more and make a purchase.
10) BECOME AN AFSA POST REPRESENTATIVE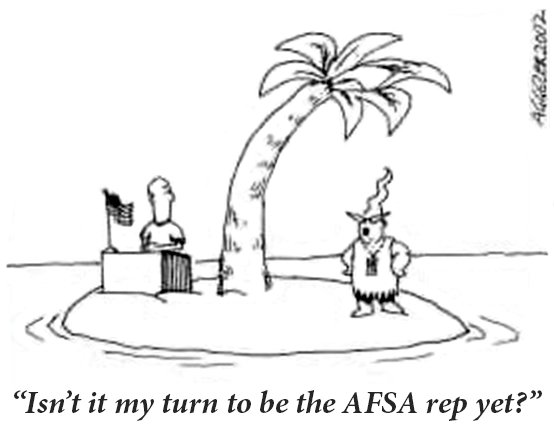 As summer approaches many of AFSA's current Post Representatives will be transferring, leaving some posts temporarily without an AFSA Rep. The role of the Post Rep is crucial due to the wide variety of issues now confronting the Foreign Service. All posts without an AFSA Rep, or one moving on, should hold elections as soon as possible to ensure continuity. Click here to determine if there is a vacancy at your post or a Rep that will be leaving soon. There are four important areas of responsibility involved:
Representing collective and individual interests of Foreign Service Personnel at post;
Transmitting to colleagues AFSA's advisories on all developments affecting their career opportunities and conditions of employment;
Forwarding to AFSA any proposals, complaints or criticisms originating with the AFSA members at post.
Expanding AFSA's membership and encouraging others at post to seek the AFSA Post Rep position when you move on.
The only employees excluded from serving as official AFSA Reps are management officials and/or confidential employees including chiefs of mission, deputy chiefs of mission, management officers, human resources officers, regional security officers, and office management specialists for COM/DCM. Posts preparing to hold elections may visit the AFSA website to review the guidelines for holding elections. Be sure to advise AFSA when a Post Rep is elected so that they can be properly certified. For further information contact the Member Services Department at member@afsa.org.
11) MAKE SURE AFSA HAS YOUR UPDATED ADDRESS
Have you noticed that you're not getting The Foreign Service Journal anymore? That probably means we don't know where you are! Update your address now by sending an email to member@afsa.org or submitting an update via the AFSA website.