Programs, Events and Updates
September-October 2018
1) CONTINUED EMPHASIS ON FEDERAL BENEFITS PROGRAMMING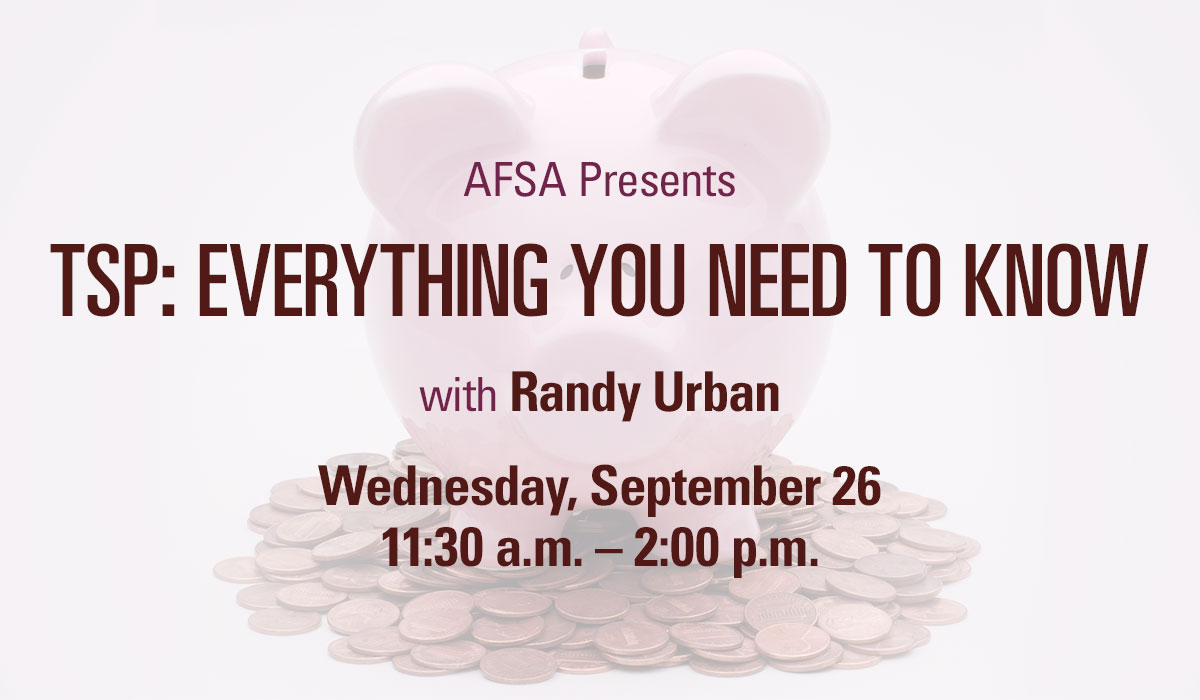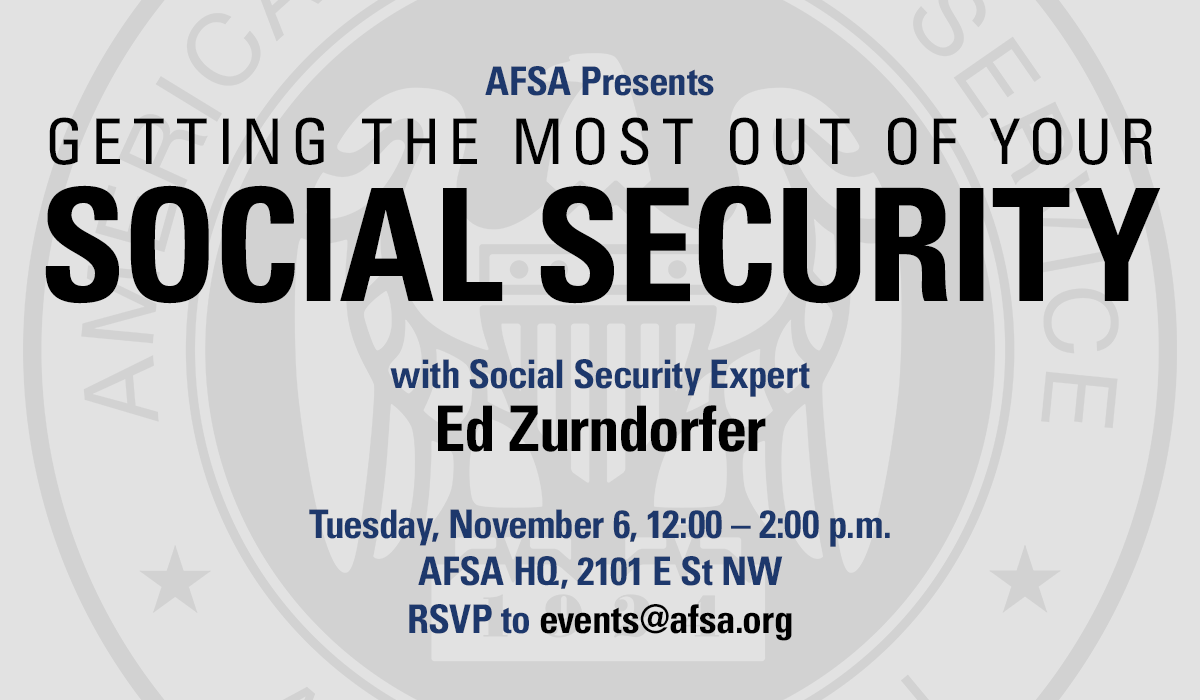 Following a highly successful August 23 program on Medicare and FEHB, AFSA will offer two events focused on federal benefits issues in the coming weeks:
On September 26 from 11:30 a.m. – 2:00 p.m., TSP expert Randy Urban returns to give an important update to his regular presentation, "Everything You Need to Know About TSP." Given recent legislative changes to the TSP program, this will be a very informative session. Click here to register.
Then, on November 6 from 12:00-2:00 p.m., Social Security professional Ed Zurndorfer will offer his thoughts on "Getting the Most Out of Your Social Security." Click here to register. Both programs take place at AFSA HQ, 2101 E St NW; both will be recorded and made available for later online viewing.
We hope to announce the first two federal benefits programs of 2019 shortly – stay tuned!
2) RETIREE DIRECTORY UPDATES
AFSA has begun production of the 2019 Retiree Directory, which will be mailed out at the end of the year. This is the time for retirees to make us aware of any changes to their physical address, telephone number or email address over the last year. Click here to check the information we have for you; simply type your last name in the appropriate box and click "Go." The deadline for submitting these updates is November 9.
3) CONGRATULATIONS TO THE 2018 AFSA AWARDS RECIPIENTS
On October 10, AFSA will honor the recipients of the association's awards for lifetime contributions to American diplomacy, constructive dissent and exemplary performance.
Lifetime Contributions to American Diplomacy: Ambassador (ret.) Ronald E. Neumann.
Constructive Dissent: Ambassador (ret.) Thomas A. Shannon, Jr.; Roshni M. Nirody; Elena C. Augustine; and Joseph S. Conners.
Exemplary Performance: Margaret Kennett; John Anderson Warner; David Bargueño; Kelly Anne Billingsley; Ambassador (ret.) Patricia A. Butenis; Marisol Garcia.
Runners-Up: Maria Valentine; Lori Doutrich; Karen Fifield; Judith Martin.
Visit www.afsa.org/2018awards for full awards citations and photos of the recipients.
4) CALL FOR INPUT: ECONOMIC DIPLOMACY WORKS COLLECTION
The FSJ is collecting stories for Economic Diplomacy Works for the January-February Journal. Please consider contributing! The call for input is here.
5) ARE YOU RETIRING SOON?
If so, please make sure that you carry your AFSA membership into retirement. Be aware that your AFSA membership will not continue unless you transition it to Retiree Membership. We recommend you do so before you actually retire so that there is no break in your membership. Dues are less than half the active duty rate and include benefits specifically for retired members. You may access the retiree membership annuity deduction forms online by clicking here. Be sure to note the date of your retirement in your email to ensure a smooth transition. Questions? Please contact member@afsa.org. In case you are on the verge of retirement, you may find AFSA's recent seminar on retirement planning to be useful; please visit www.afsa.org/video to watch it.
6) JOIN THE FSJ CENTENNIAL CELEBRATION
Please join The Foreign Service Journal Centennial Celebration by snapping a photo of yourself (or a friend or family member) reading the Journal wherever you are—the more distant from D.C., the better! Photos should be 1 MB or larger if possible. In the sample below, FSO Jim DeHart enjoys a good read in Drøbak, Norway. Send submissions to journal@afsa.org, and please include details about yourself and the photo location and date.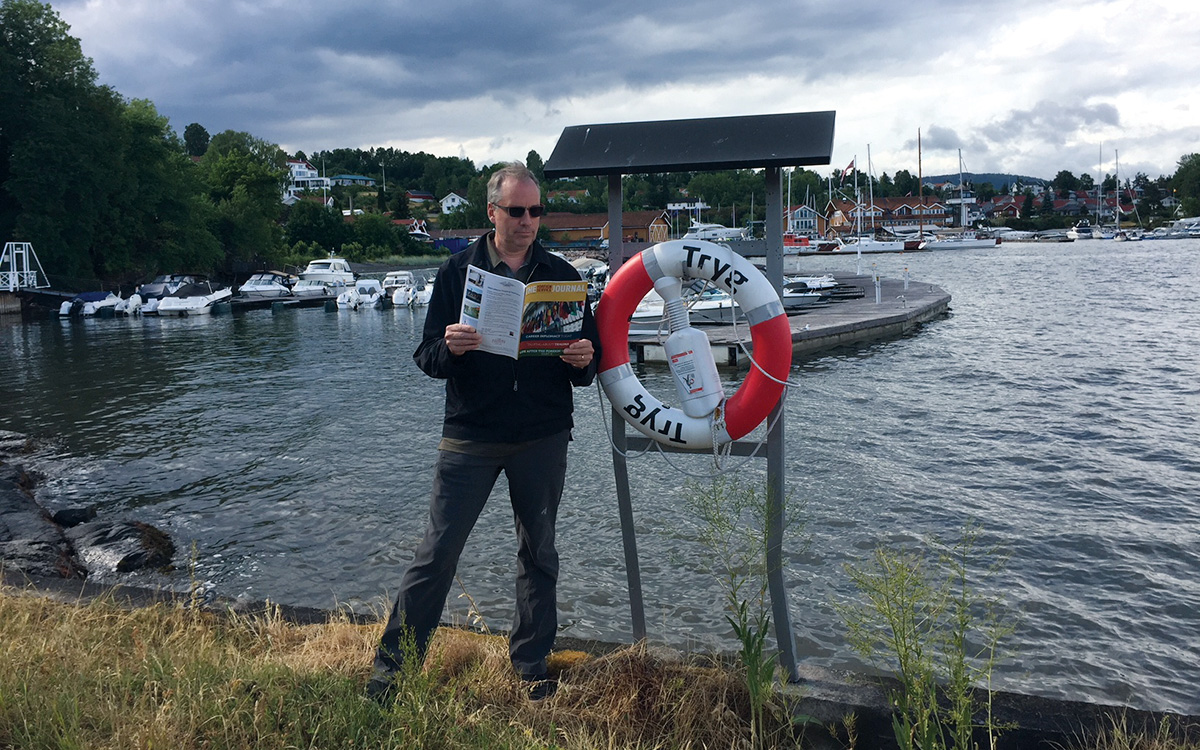 7) 2018 AFSA ESSAY CONTEST LAUNCHES NEXT WEEK!
AFSA is pleased to announce that the 21st year of our national high school essay contest will launch during the week of September 24. We welcome back our contest sponsors, the U.S. Institute of Peace, Semester at Sea and the National Student Leadership Conference. While the contest is not open to students with Foreign Service parents, we encourage you to notify friends, neighbors and fellow students about this excellent opportunity to learn more about the Foreign Service, what diplomats do and why it matters. Check www.afsa.org/essaycontest next week for this year's essay topic.
8) WRITE FOR THE FOREIGN SERVICE JOURNAL

The Foreign Service Journal welcomes your submissions on any topic of interest to members of the FS community. We are especially seeking Speaking Out submissions (1,500-1,800 words) and Features on topics of current concern (1,800-2,200 words). In addition, the Journal is currently accepting submissions for our Family Member Matters column. Articles should be approximately 700 words. We will consider both personal essays and researched articles. Please send all submissions to journal@afsa.org. The FSJ Editorial Board meets monthly to review and vote on which submissions to publish. Find guidance on how and what to submit at www.afsa.org/fsj-author-guidelines. Please share your thoughts about articles you read in the Journal by sending a letter to the editor to journal@afsa.org.
9) PLEASE UPDATE YOUR ADDRESS!
Did you receive the September issue of The Foreign Service Journal? If not, we may not have your most up-to-date address. Email us at member@afsa.org and we will correct your record.