Programs, Events and Updates
January-February 2018
1) JOIN AFSA AT UPCOMING EVENTS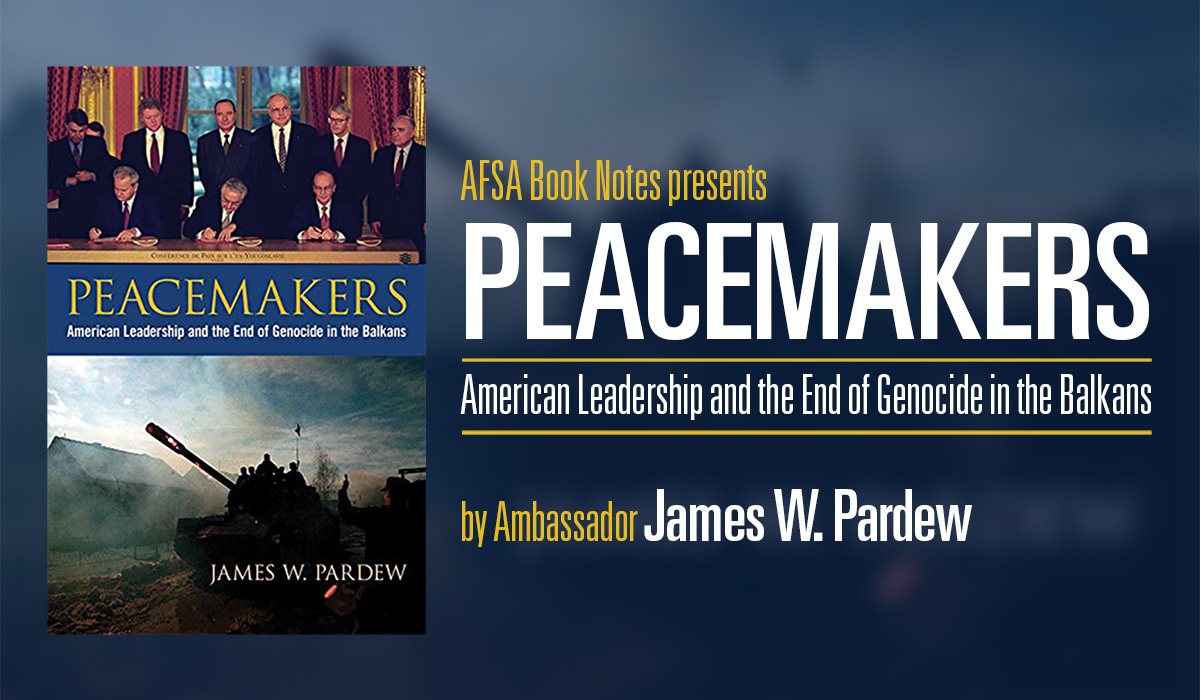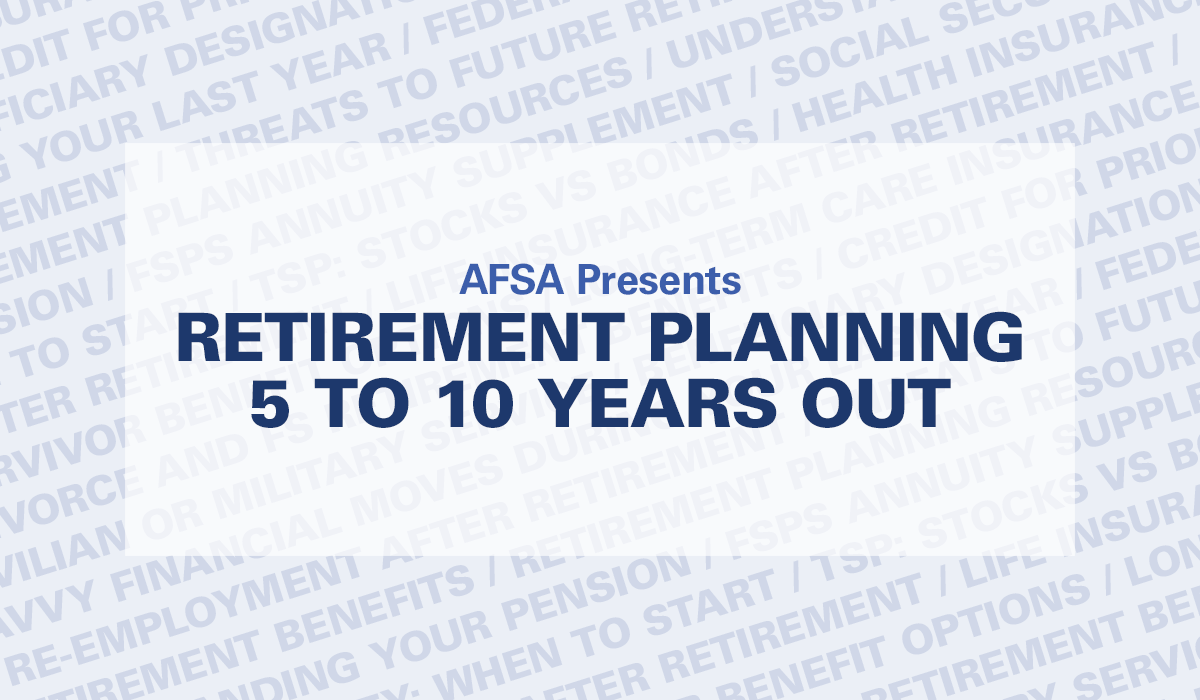 Our events calendar is quite full in the coming weeks, and we invite you to join us at AFSA headquarters for one or more of the following:
On January 25 at 12:00 p.m., Ambassador James Pardew joins us to talk about his new book, Peacemakers: American Leadership and the End of Genocide in the Balkans. Click here for more information.
We continue our Federal Benefits Speaker Series on February 8 at 12:00 p.m., when the topic will be "Retirement Planning 5 to 10 Years Out." Click here for more information.
We hope to announce an event with a Member of Congress soon; the timeframe is mid-February. Stay tuned for additional information.
The year's first networking happy hour will take place on March 29 from 4:30-6:30 p.m. Click here for more information.
Don't forget that Foreign Service Day this year is May 4. The annual AFSA memorial ceremony will also take place that day.
The highly popular Foreign Service Night at Nationals Park is coming back this fall! Mark your calendars for Friday September 7 at 7:05 p.m. when the Nationals play the Cubs. More information to come, but please make plans to join us!
If you've missed a recent event, you can catch up on most of them at www.afsa.org/video.
2) CALL FOR NOMINATIONS: AFSA DISSENT AND PERFORMANCE AWARDS
AFSA is now accepting nominations for the association's awards for constructive dissent and exemplary performance. We encourage members to nominate deserving colleagues—or themselves—so that we may continue to spotlight those who are worthy of recognition. The deadline for nominations is May 4, 2018. Please visit www.afsa.org/awards for more information.
3) THE 2018 FOREIGN SERVICE JOURNAL EDITORIAL CALENDAR

The Journal is currently seeking strong writing for publication, especially Speaking Out submissions (1,500-1,800 words) as well as Reflections (700 words). The 2018 FSJ editorial calendar is now online and the monthly focus topics are listed below. We welcome submissions related to a focus topic, and recommend that you check in with Journal Editor Shawn Dorman (dorman@afsa.org) for details.
The Foreign Service Journal welcomes your submissions on any topic of concern or interest to members of the FS community. Assume at least 8 to 12 weeks from submission to publication. The Editorial Board meets monthly to review and vote on which submissions to publish. Find guidance on how and what to submit at www.afsa.org/fsj-author-guidelines. Please share your thoughts about articles you read in the Journal by sending a letter to the editor to journal@afsa.org. Comments can also be shared on the AFSA or FSJ Facebook pages. Please send your feedback and submissions to journal@afsa.org.
MARCH 2018: Issues Facing Foreign Service Families
APRIL 2018: The Foreign Service Journal at 100
MAY 2018: The Future of Democracy
JUNE 2018: Cyber Diplomacy (w/Education Supplement)
JULY-AUGUST 2018: What Local Staff Want You to Know
SEPTEMBER 2018: State of/Future of the Foreign Service
OCTOBER 2018: Transnational Crime
NOVEMBER 2018: In Their Own Write
DECEMBER 2018: AFSA Awards + Health in the Foreign Service (w/Education Supplement)
4) AFSA SCHOLARSHIP APPLICATIONS NOW AVAILABLE
Applications for AFSA financial aid and merit scholarships are now available at www.afsa.org/scholar. Funding this year for merit aid is nearly tripled thanks to prudent management of the AFSA Scholarship Fund, including recent efficiencies to trim the cost of administering the program. 60-65 students are expected to receive financial aid scholarships, while 40-42 students will receive merit scholarships, which include academic and art merit as well as awards for best essay and community service. The deadline for applications is March 15, 2018.
5) HAVE YOU JOINED AFSA'S SPEAKERS BUREAU YET?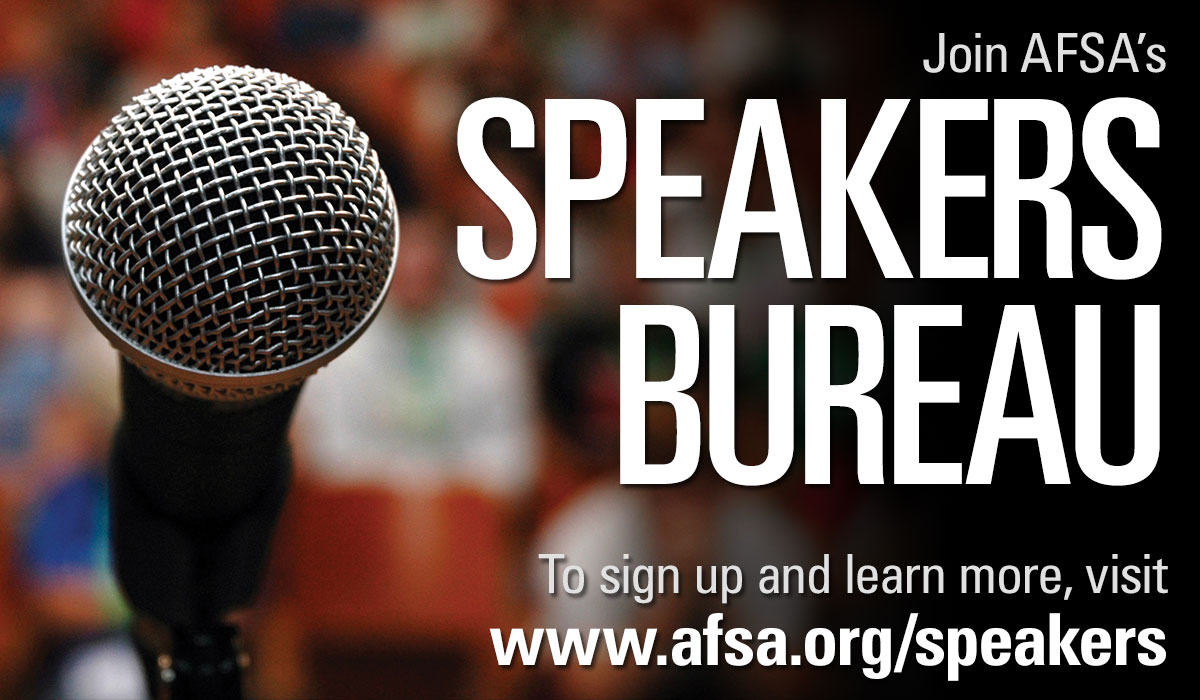 AFSA has a thriving Speakers Bureau that work with members and the public to help organize events around the country that help our fellow Americans understand what diplomats do and why it matters. We are coming off our most productive year and we want to do more in 2018. Please consider joining the 450 bureau members and become part of our effort to tell the story of the Foreign Service. Visit www.afsa.org/speakers for more information and to sign up.
6) ARE YOU RETIRING SOON?
If so, please make sure that you carry your AFSA membership into retirement. Be aware that your AFSA membership will not continue unless you transition it to Retiree Membership. We recommend you do so before you actually retire so that there is no break in your membership. Dues are less than half the active duty rate and include benefits specifically for retired members. You may access the retiree membership annuity deduction forms online by clicking here. Be sure to note the date of your retirement in your email to ensure a smooth transition. Questions? Please contact member@afsa.org.
7) JOB OPENING AT AFSA
AFSA seeks a Grievance Counselor to join the association's labor management office at the Department of State. The Grievance Counselor represents members on a wide variety of individual issues and reports to the Deputy General Counsel and the General Counsel in her/his daily work. The deadline for applications for this position is January 26; more details and application information is available at www.afsa.org/jobs.
8) 2018 AFSA DUES ADJUSTMENT
The AFSA Governing Board has increased dues for 2018 by 2.2 percent for all individual membership categories. In concrete terms, this amounts to an increase between 6 and 36 cents per pay period, depending on an individual's membership category. AFSA's policy, in accordance with Article IV of the AFSA Bylaws, is to increase dues by no more than the cumulative increase in the national Consumer Price Index (CPI) as published by the Department of Labor, since the effective date of the last previous dues increase. Active-duty and retired members paying dues via payroll and annuity deduction will have seen a small, automatic increase in the amount deducted from their paychecks and annuities. Those paying annually will be billed the new rate on their regularly scheduled renewal date.
9) TICKETS FOR FOREIGN SERVICE DAY EVENTS
State Department retirees and Foreign Service retirees of other U.S. foreign affairs agencies are welcome to attend the State Department's annual homecoming event, Foreign Service Day. In addition to remarks by senior State Department officials, Foreign Service Day also includes the AFSA memorial ceremony honoring FS personnel who have died while serving abroad under circumstances distinctive to the Foreign Service. There will also be two sessions of off-the-record seminars on foreign policy issues and a luncheon. Reservations for the luncheon will be accepted on a first-come, first-served basis. Payment by personal check, made payable to Foreign Affairs Day, must accompany reservation ($60 per person). In recent years, the luncheon has sold out quickly, so mail in your RSVP card and payment as soon as possible. Retirees who haven't attended Foreign Service Day recently may request an invitation by emailing the following information to foreignaffairsday@state.gov: first and last names, date of birth, retirement date, whether Civil Service or Foreign Service, U.S. foreign affairs agency from which they retired, mailing address, phone number and email address. Please do not contact AFSA for information on any of the above events and activities; you MUST use the email address above for such requests.
10) PLEASE UPDATE YOUR ADDRESS!
We always want to know where our members are. If you've noticed that you are not receiving your issue of The Foreign Service Journal, we may not have your most up-to-date address. Email us at member@afsa.org and we will correct your record.