Programs, Events and Updates
May-June 2019
1) TRANSFER SEASON IS HERE AGAIN
The Foreign Service is constantly on the move, and never more so than during summer transfer season. We hope you will add one more thing to your already-long checklist: Letting AFSA know that you have moved. Your home agency does not let us know when you leave post, which means that your beleaguered mail room colleagues are inundated with copies of The Foreign Service Journal for folks who have moved on. So we kindly ask: Please let us know when you move. All it takes is a very quick email to member@afsa.org. If you are at post, we much prefer the pouch address as it keeps our costs down.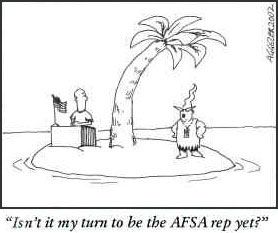 Transfer season also means that a lot of AFSA post representatives pack up for new assignments. The role of the Post Rep is crucial due to the wide variety of issues now confronting the Foreign Service. All posts without an AFSA Post Rep should hold elections as soon as possible. Click here to determine if there is a vacancy at your post. There are four important areas of responsibility involved.
Representing collective and individual interests of Foreign Service Personnel at post;
Transmitting to colleagues AFSA's advisories on all developments affecting their career opportunities and conditions of employment;
Forwarding to AFSA any proposals, complaints or criticisms originating with the AFSA members at post.
Expanding AFSA's membership and encouraging others at post to seek the AFSA Post Rep position when you move on.
The only employees excluded from serving as official AFSA Reps are management officials and/or confidential employees including chiefs of mission, deputy chiefs of mission, management officers, human resources officers, regional security officers, and office management specialists for COM/DCM. Posts preparing to hold elections may visit the AFSA website to review the guidelines for holding elections. Be sure to advise AFSA when a Post Rep is elected so that they can be properly certified. For further information contact the Member Services Department at member@afsa.org.
2) BASEBALL TICKETS ARE NOW AVAILABLE!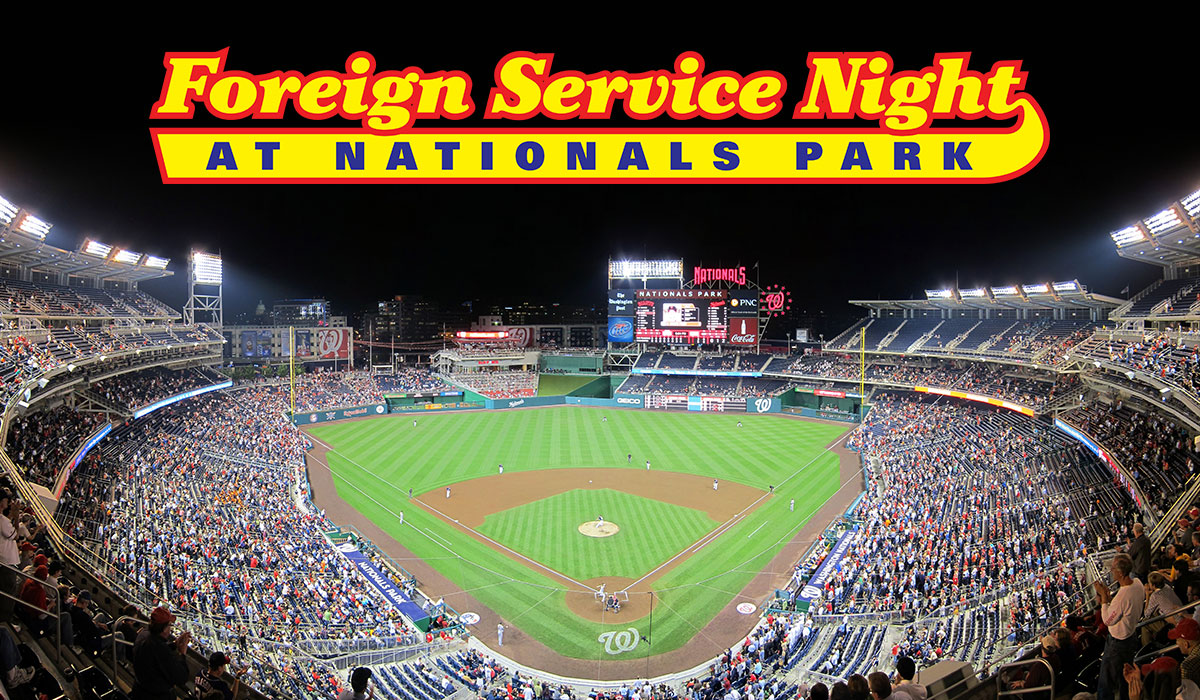 We are pleased to announce the fourth annual Foreign Service Night at Nationals Park, taking place on September 13 at 7:05 p.m. This year, the Nationals will take on the Atlanta Braves. In the past three years, we have had around 500 members of the Foreign Service community join us for this wonderful event. Please mark your calendars and get your tickets at https://groupmatics.events/event/Americanforeign?r=99.
3) CALL FOR NOMINATIONS: AFSA DISSENT AND PERFORMANCE AWARDS
We hope you are thinking about colleagues who might make excellent recipients of this year's AFSA awards for constructive dissent or exemplary performance. The deadline for submissions is this Friday, May 24. Please visit www.afsa.org/dissent and www.afsa.org/performance for additional information and nominations forms and guidelines.
4) SPONSOR AN NDU INTERNATIONAL FELLOW
Beginning in July, National Defense University will welcome over 100 senior officers from over 50 different countries to attend NDU at Fort McNair in Washington, DC. NDU is looking for volunteers to help welcome these foreign military officers and improve their understanding of America through NDU's International Fellows Community Sponsorship Program. It's a great opportunity for international exchange. If you are interested in being a sponsor, details are available here and the application is available if you click here. Please note that NDU's deadline for these applications is June 10. .
5) AFSA ELECTIONS UPDATE
The ballots and candidate statements for the 2019-2021 AFSA Governing Board election were sent to all eligible voting members on April 29. If you have not received your electronic ballot yet, please let us know immediately at election@afsa.org. Any member may also request a paper ballot by contacting the same email address.
6) GIVE THE GIFT OF UNDERSTANDING: AN FSJ CENTENNIAL SUBSCRIPTION

We all need to be able to explain what the Foreign Service does and why diplomacy matters. One good tool to use is The Foreign Service Journal. Please think about who in your life you'd like to understand more about what it is you do and how diplomacy works—and consider signing them up for a Foreign Service Journal gift subscription. Our May issue looks at the Foreign Service profession and include an interview with Ambassador Bill Burns; we'd be happy to mail a copy out to any new subscriber. In addition to sharing understanding, your gift can help celebrate The Foreign Service Journal centennial year. To sign up, please go to the AFSA website's subscription page. For more information, visit the FSJ, email journal@afsa.org or call us at (202) 338-4045, ext. 709.
7) CONTRIBUTE TO THE U.S. DIPLOMACY CENTER'S COLLECTION
The United States Diplomacy Center is actively seeking artifacts that represent American diplomacy and the work of the United States Foreign Service. These artifacts can come from a variety of individuals and sources. Anyone currently or previously working in a diplomatic capacity might have objects that could be a good fit for our collection. If you have items you might be interested in donating, please email the USDC for more information.
Specific areas of collecting interest include (but are not limited to) objects which illustrate the following:
Diplomats' work on the range of global issues today, including examples from programs and partnerships;
The challenges diplomats face while performing their jobs (security; health; communications; transportation);
The unique relationships and connections made through diplomacy;
Diplomatic events, people, and places throughout U.S. history;
The wide range of work performed at embassies, consulates, and missions;
Tools, equipment, and clothing representing diplomatic efforts;
And, of course, documents, pens, and diplomatic gifts.
The United States Diplomacy Center collects primarily for exhibition purposes; USDC is not a research collection nor an archive. Acceptance of an artifact does not guarantee exhibition for any length of time. However, the Center strives to display as much of its collection as possible, either in-person or online.
8) WRITE FOR THE FSJ
The Foreign Service Journal welcomes your submissions on any topic of interest to members of the FS community. We are especially seeking Speaking Out submissions (1,500-1,800 words), features on topics of current concern (1,800-2,000 words) and letters to the editor responding to Journal content. Also, take a look at our editorial calendar, and consider writing for one of the upcoming focus sections, keeping in mind that lead time is generally 12 weeks. Please send all submissions to journal@afsa.org. The FSJ Editorial Board meets monthly to review and vote on which submissions to publish. Find guidance on how and what to submit on our Author Guidelines page.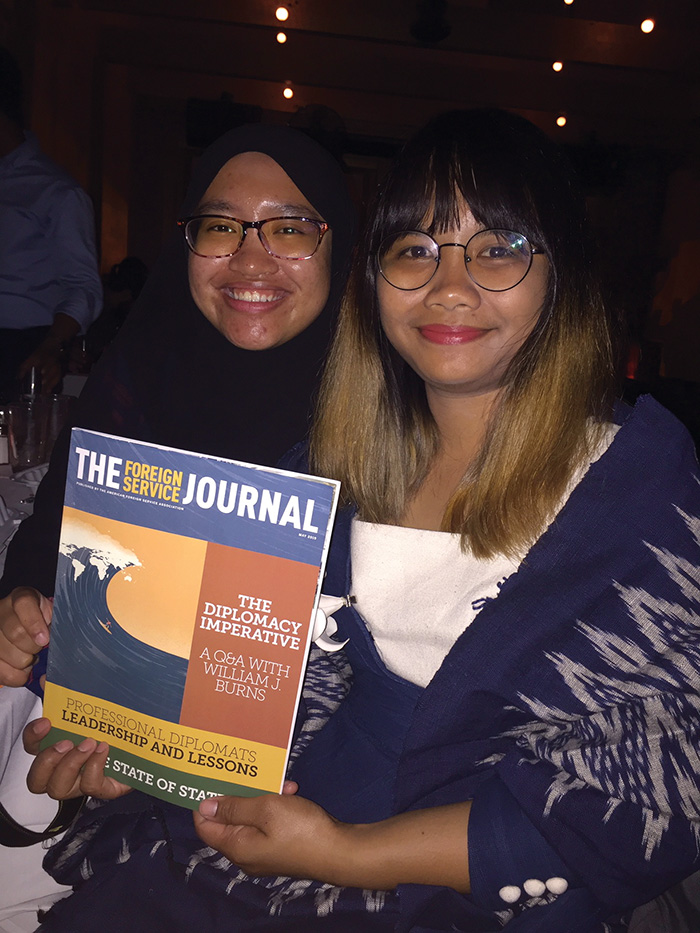 9) ARE YOU CLOSING IN ON RETIREMENT?
If you are, AFSA has a lot of resources that can be helpful to you. Visit www.afsa.org/retirement and peruse the information that's available in the section named "Getting Ready for Retirement." If you have questions, our retirement benefits counselor Dolores Brown is reachable via email at brown@afsa.org.
Do note that your active-duty AFSA membership does not carry over automatically into retirement. You must sign up as a retiree member, which you can easily do by visiting www.afsa.org/retired-membership and filling out the required forms. If you are planning on participating in FSI's Job Search Program, you will also have two opportunities to meet with AFSA representatives in person and sign up right there. We hope you will decide to retain your membership and keep supporting AFSA's mission at the voice of the Foreign Service.
10) JOIN THE FSJ CENTENNIAL CELEBRATION
Please join The Foreign Service Journal Centennial Celebration by snapping a photo of yourself (or a friend or family member) reading the Journal wherever you are—the more distant from D.C., the better! Photos should be 1 MB or larger if possible; this is possible using almost every cell phone. Send submissions to journal@afsa.org, and please include details about yourself and the photo location and date.