Programs, Events and Updates
March 2017
1) CONVERSATION WITH GREG STARR: 'SECURING DIPLOMACY,' MARCH 15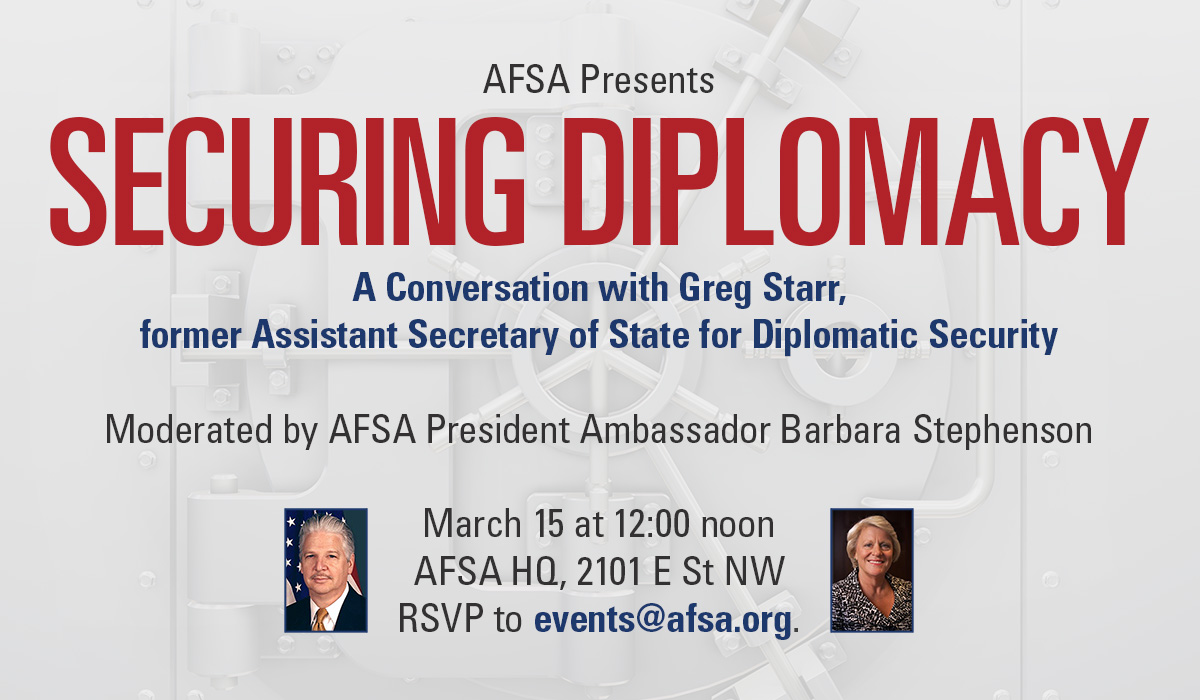 AFSA President Ambassador Barbara Stephenson will moderate a conversation with former Assistant Secretary of State for Diplomatic Security Greg Starr on March 15 at 12:00 noon at AFSA headquarters. This event is offered in conjunction with The Foreign Service Journal, whose March issue focuses on Diplomatic Security in its centennial year. Click here to register.
2) NETWORKING HAPPY HOUR, MARCH 23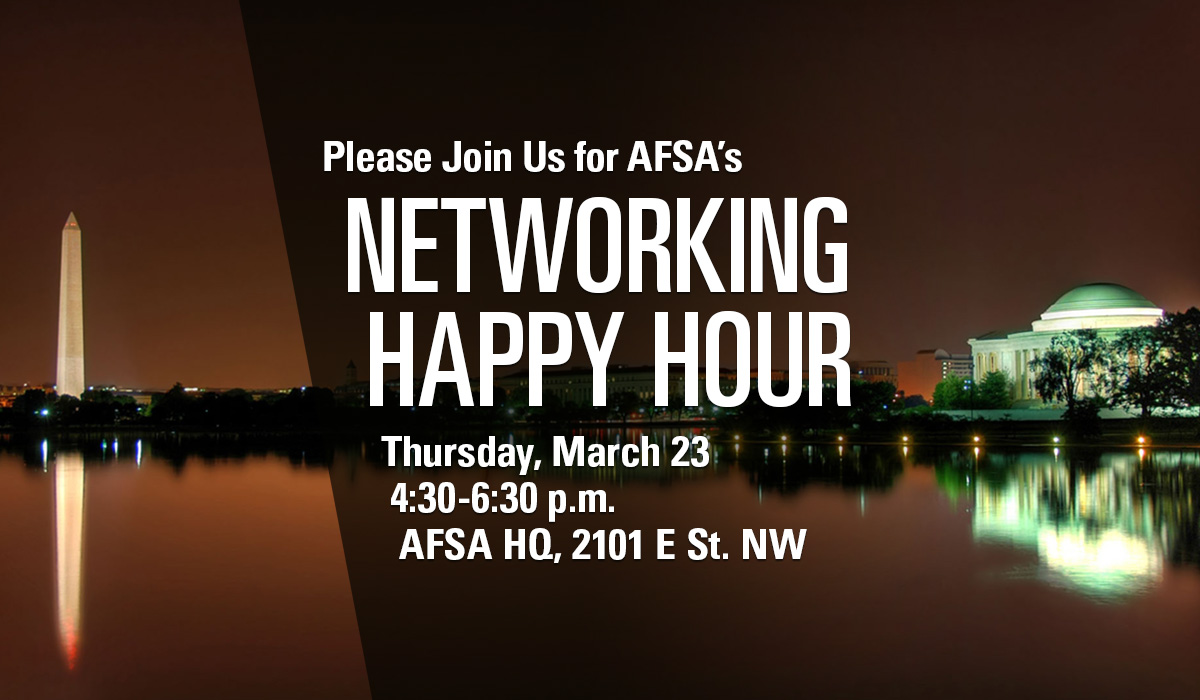 The next AFSA networking happy hour will take place on March 23 from 4:30-6:30 p.m. Please join us, your colleagues and Foreign Service friends over drinks and light snacks. This is an excellent opportunity to meet members of the AFSA board and professional staff, network with fellow members of the Foreign Service and tell us what's on your mind. $3 drink tickets for beer and wine will be available. Click here to RSVP.
3) AFSA BOOK NOTES: "THE DUST OF KANDAHAR," APRIL 6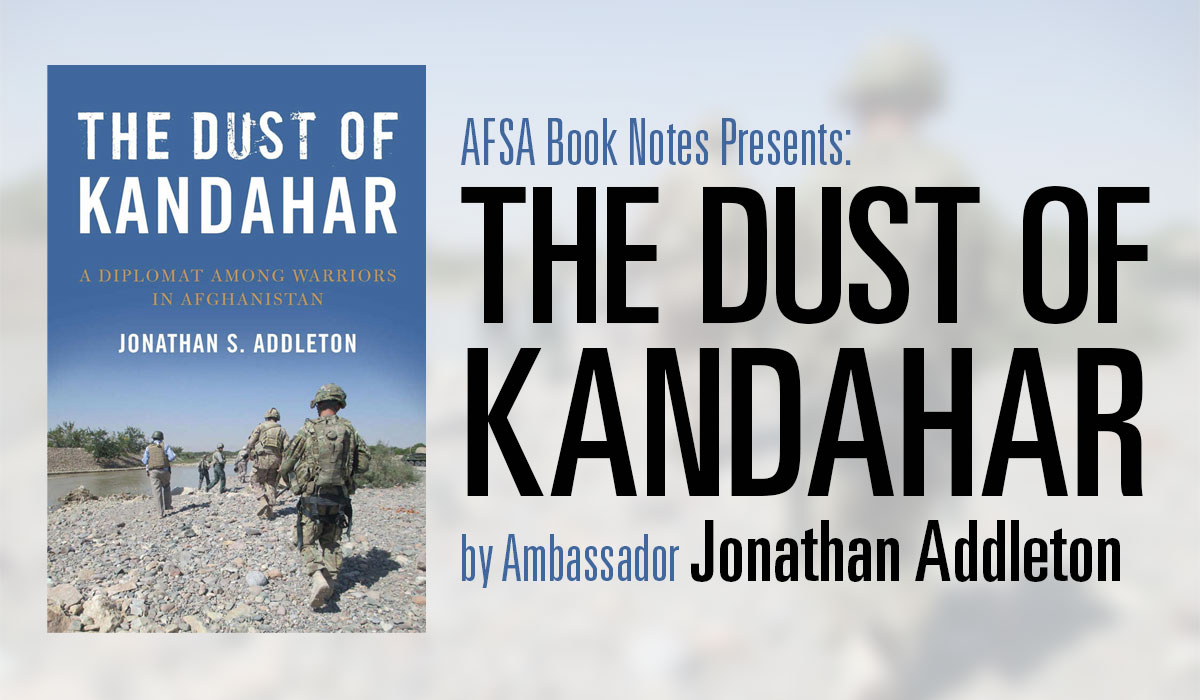 Ambassador (ret.) Jonathan Addleton joins us on April 6 at 2:00 p.m. to discuss his new book, "The Dust of Kandahar: A Diplomat Among Warriors in Afghanistan." In the book, Addleton describes his work at a time when he served as a link between the U.S. Embassy in Kabul and military leaders in Afghanistan's Regional Command-South. This event takes place at AFSA headquarters, 2101 E St NW. Click here to register.
4) AFSA BOOK HITS WASHINGTON POST BESTSELLER LIST!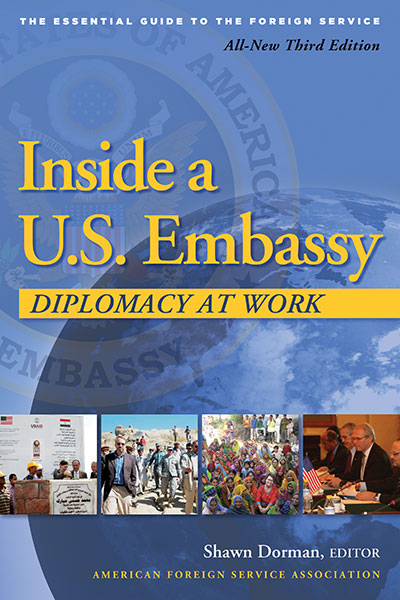 AFSA's flagship book, Inside a U.S. Embassy, earned the number-six spot on the Washington Post's Feb. 19 bestsellers list under the Nonfiction/General category. Inside a U.S. Embassy takes readers into the lives and work of 80 members of the Foreign Service serving the nation abroad. The third edition, published in 2011, continues to be popular with students and Foreign Service candidates, and for university and military courses. For Foreign Service members, the book is a great gift for family and friends that answers the age-old question, "What is it that you do?" With inventory depleted due to high demand, a fifth printing of the 2011 edition is now in progress.
To purchase copies of the book, visit www.afsa.org/inside. AFSA members are eligible for a 40-percent discount off the $22.95 list price. Send a note to embassybook@afsa.org for the code to use. If you would like to use Inside a U.S. Embassy for an outreach or education event, please send us a brief note about what you will use it for and your mailing address, and we will be happy to send you a complimentary copy.
5) FOREIGN SERVICE DAY IS MAY 5
State Department retirees and Foreign Service retirees of other U.S. foreign affairs agencies are welcome to attend the State Department's annual homecoming event, Foreign Service Day. In addition to remarks by senior State Department officials, Foreign Service Day also includes the AFSA memorial ceremony honoring Foreign Service personnel who have died while serving abroad under circumstances distinctive to the Foreign Service. There will also be two sessions of off-the-record seminars on foreign policy issues and a luncheon. Reservations for the luncheon ($60 per person) will be accepted on a first-come, first-served basis. Payment by personal check, made payable to Foreign Affairs Day, must accompany reservation. In recent years, the luncheon has sold out very quickly, so mail in your RSVP card and payment as soon as possible. Foreign Service Day invitations were mailed in early March. Retirees who haven't attended Foreign Service Day recently may request an invitation by emailing the following information to foreignaffairsday@state.gov: last name, first name, date of birth, retirement date, whether Civil Service or Foreign Service, U.S. foreign affairs agency from which they retired, mailing address, phone number and email address.
6) ARE YOU RETIRING SOON?
If so, please make sure that you carry your AFSA membership into retirement. Be aware that your AFSA membership will not continue unless you transition it to Retiree Membership. We recommend you do so before you actually retire so that there is no break in your membership. Dues are less than half the active duty rate and include benefits specifically for retired members. You may access the retiree membership annuity deduction forms online by clicking here. Be sure to note the date of your retirement in your email to ensure a smooth transition. Questions? Please contact member@afsa.org.
7) ACCESS YOUR MEMBER BENEFITS
AFSA is pleased to offer an expanded roster of service and product discounts available to our members. AFSA members can now enjoy 15% off orders from 1-800-Flowers.com, up to 25% off car rentals from AVIS and Budget, 10% off your hotel bookings on Hotels.com, access to the HP and Dell Employee purchase programs and GOVX, an e-commerce destination for active-duty and retired members. To learn more about these discounts please visit our Member Benefits page.
8) MEMBERS-ONLY AFSA ONLINE COMMUNITY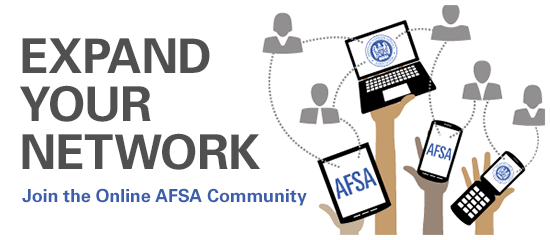 AFSA gives members an online platform to discuss current issues, share their thoughts, or ask a question in a private environment. It's a growing resource for community members with more than 1,000 discussion topics to date. Members can share specific information in the resource library, add upcoming events of interest to other FS members, or simply enjoy the daily digest of discussions in one convenient email. Discussions are only shared with AFSA members for whom we have a personal email address. Update your current personal contact information here, or send an email to member@afsa.org to participate.
9) MAKE SURE AFSA HAS YOUR UPDATED ADDRESS
Have you noticed that you're not getting The Foreign Service Journal anymore? That probably means we don't know where you are! Update your address now by sending an email to member@afsa.org or submitting an update via the AFSA website.