As a not-for-profit organization, AFSA's only sources of revenue are membership dues and advertising revenue from The Foreign Service Journal. To ensure that we have adequate funding for our various programs and initiatives, we have established five different funds for which we solicit contributions on an annual basis. Please take the time to read about these causes and consider making a donation in support of one or more of them.
Fund for American Diplomacy (FAD)
The Fund for American Diplomacy is AFSA's 501(c)(3) charitable organization. It has three main missions: Telling the story of the Foreign Service and our diplomats to the American public; encouraging student interest in a Foreign Service career and public service more generally; and honoring constructive dissent, exemplary performance, and outstanding service among the diplomatic corps. To that end, the FAD supports a variety of programs, including the memorial plaques, the AFSA awards, our Road Scholar programs and speakers bureau, minority internships, our national high school essay contest, various AFSA speaker series and book events, and our worldwide bestselling book, Inside a U.S. Embassy: Diplomacy at Work. Please click on the "Donate" button to make a donation. You can also make a donation to the FAD through the Combined Federal Campaign (CFC), where it is designated as #10646, "Diplomacy Matters - AFSA" - just click on the CFC logo to navigate to their site. Donations to the FAD are tax deductible.
AFSA-PAC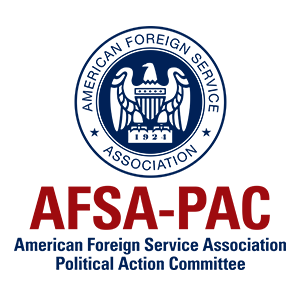 The AFSA Political Action Committee makes donations to key members of Congress. Generally, recipients sit on one of four committees: the Senate Foreign Relations Committee; the Senate Appropriations Subcommittee on State, Foreign Operations and Related Programs; the House Foreign Affairs Committee; and the House Appropriations Subcommittee on State, Foreign Operations and Related Programs. Donations to the AFSA-PAC are not tax deductible. Only AFSA members may donate to the PAC. Any donations over $200 must include employer and occupation. Checks made out to "AFSA-PAC" are mailed to AFSA-PAC, PO Box 97312, Washington, DC 20077-7027.