Diplomacy Works: A Practitioner's Guide to Recent Books
The publication of books on diplomacy as a distinct discipline has increased recently. Hopefully, it is a trend that will continue.
BY ROBERT DRY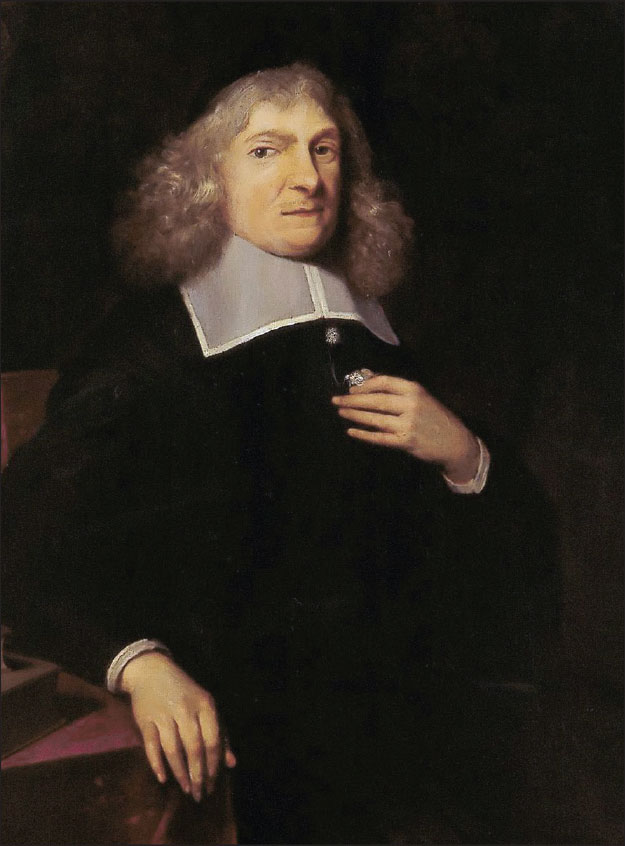 The Dutch diplomat Abraham de Wicquefort (1606-1682), above, wrote one of the first great texts on diplomacy,
The Ambassador and His Functions.
Wikimedia Commons
We are witnessing a new high-water mark in important works on diplomacy not seen since the early 18th century, when De la manière de négocier avec les souverains ("On the Manner of Negotiating with Sovereigns") and The Ambassador and His Functions, by de François Callière and Abraham de Wicquefort, respectively, made their appearance. In arguing this, I adhere to the distinction between works on diplomacy and those on foreign policy, a distinction often credited to the eminent diplomatic thinker of the 20th century, Sir Harold Nicolson.
Granted, the printing presses constantly bring us books and articles on foreign policy and diplomatic history, including the many memoirs of diplomats and statesmen, but the high incidence of works concentrated on diplomacy as a separate discipline or institution is remarkable, and very welcome. Hopefully, this trend will continue and lead to a greater understanding of the diplomatic instrument of power.
Former Deputy Secretary of State William J. Burns, in his swan song presentation to State Department employees on Oct. 23, used the expression "measures short of war," alluding to George Kennan's seminal lecture on preventive diplomacy on Sept. 16, 1946, at the National War College. Kennan's lecture remains noteworthy and should be read by every entrant into the Foreign Service. In many ways, it is a platform to build on.
While practitioners of diplomacy may possess an intuitive understanding of "how" their profession works, close study of the institution of diplomacy can improve the knowledge of even seasoned practitioners. What I would have given, when I first entered the Foreign Service, to have been able to read former FSO Harry Kopp's Career Diplomacy (Georgetown University Press, 2011); AFSA's Inside a U.S. Embassy: Diplomacy at Work, now in its third edition (FS Books, 2011); or any of the works of former Indian ambassador Kishan Rana of the DiploFoundation!
Similarly, I would have benefited from exploring the books I discuss below, which draw on the legacy of earlier diplomatic thinkers. Each provides rich context for the efforts performed daily at diplomatic and consular missions in the field, or at headquarters.
The Oxford Handbook of Modern Diplomacy
My first reaction to The Oxford Handbook of Modern Diplomacy (Oxford University Press, 2013) was that it was anything but a handbook at 950 pages! But after reading many of its standalone chapters, I consider it an important contribution to modern diplomacy.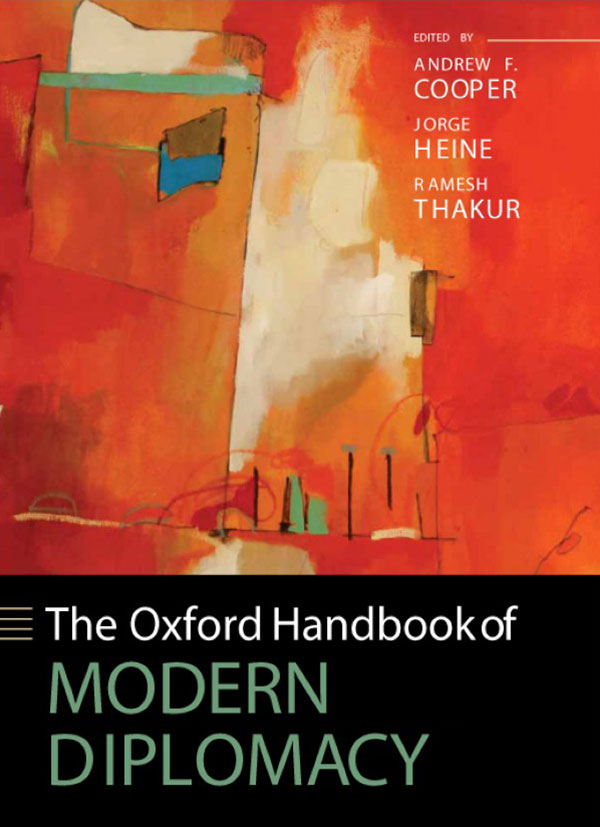 Inspired by work done in the Center for International Governance Innovation, and edited by distinguished CIGI practitioner-scholars Andrew Cooper, Jorge Heine and Ramesh Thakur, The Oxford Handbook contains a range of insightful articles and case studies by practitioners and theoreticians from around the world. Many of these experts are familiar, like Joseph Nye, who writes the article on "Hard, Soft and Smart Power" in the "Tools and Instruments" section. But other authors I rarely find in print. In that regard, consider the superb chapter on "Mediation" in the "Modes of Practice" section by former Finnish president and Nobel Prize recipient Martti Ahtisaari, written together with Kristiina Rintakoski.
After describing mediations in which he served as a United Nations special envoy and the lessons he learned from them, Ahtisaari concludes his chapter on an important note about the relevance of mediation today and urges his fellow mediators to tap the comparative advantages that non-state entities can bring to conflict management and resolution. "The old techniques of power and deterrence seem increasingly less relevant to deal with the problems and conflicts confronting us," he writes. "Mediation may well offer the most coherent and effective response to these issues. To ensure that it can also be successful, we need to develop a better understanding of the process and offer consistent guidelines to the many actors involved in mediation."
Moreover, Ahtisaari continues, "Networks have become a vital tool for a mediator. Actors include transnational nongovernmental organizations, multinational corporations, international organizations and regional organizations. Engaging a considerable number of players at different levels of diplomacy, and exploiting their comparative advantages while being able to manage the complexity for the benefit of the peace process, form a part of a mediation process design. Often the potential of several tracks of diplomacy is underutilized." I often tell my students that what is sometimes lacking in conflict resolution is not the will of the parties, critical as that is, but the design of the negotiation process. It would be profitable, as Ahtisaari suggests, that mediations be analyzed to determine what made them successful or not.
The Oxford Handbook approaches traditional areas of diplomacy with a modern focus, but much of its value comes from the sections devoted to the evolving realms of "non-traditional" forms.
While The Oxford Handbook approaches traditional areas of diplomacy with a modern focus, much of its value comes from the sections devoted to the evolving realms of "non-traditional" forms, such as the chapters on "Economic Diplomacy" and "Trade and Investment Promotion." Anyone who has served in the Bureau of Economic and Business Affairs, or at the Organization for Economic Cooperation and Development, will appreciate that these authors possess a strong grasp of the subject matter. Other sections discuss the role global and transnational firms play in the "network" diplomacy of the 21st century. Two of the 10 case studies in the concluding section also treat economic matters: "The Doha Development Agenda" and "The Economic Diplomacy of the Rising Powers."
Speaking as a former environment, science, technology and health officer, I was pleased to find chapters in The Oxford Handbook addressing subjects like health, climate change and food security. I had hoped to also see the subject of religion and diplomacy among the chapters on nontraditional diplomacy, because the appointment by Secretary of State John F. Kerry of Dr. Shaun Casey as director of the new Office of Faith-Based Community Initiatives is a long-overdue watershed event in American diplomacy. Its absence from the Oxford tome is an indication that diplomacy continues to evolve.
I recommend The Oxford Handbook of Modern Diplomacy to students and practitioners alike. Its content is up to date and largely free of the jargon one finds in too much academic writing. While there is footnoting, it is accessible and useful to anyone wishing to go deeper into the material. I plan to keep this work on ready reserve for the course I teach at New York University and assign several chapters from it. I have no doubt eager students will read beyond the assigned parts.
Other Notable Works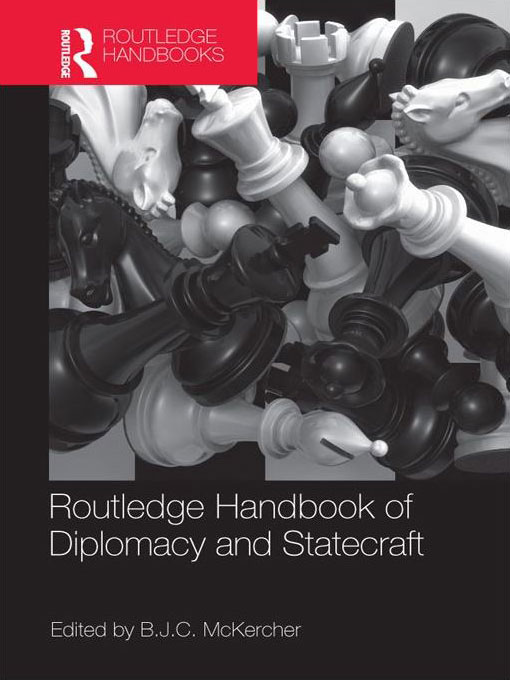 Alas, I cannot as wholeheartedly recommend the 2011 Routledge Handbook of Diplomacy and Statecraft, edited by B.J.C. McKercher. While it is certainly handier than The Oxford Handbook at just 489 pages, its typeface is so small that I had to squint to read it. Moreover, three-quarters of its content discusses the foreign policy of various nations, not diplomacy. As something of a purist, I had hoped for the reverse ratio, in keeping with the book's title.
That said, I found some useful material here. Christer Jönsson, a Swedish professor and co-author of Essence of Diplomacy (2005), contributed the excellent chapter on "Theorising Diplomacy." Not being an expert on this topic, I found Jönsson's explanation lucid and useful. But I found Professor Jeremy Black's opening chapter, "Diplomatic History: A New Appraisal," to be a bit obscure, particularly in comparison with his excellent book, A History of Diplomacy (University of Chicago Press, 2010).
Speaking of Routledge, I would encourage readers interested in public diplomacy to peruse the 2009 Routledge Handbook of Public Diplomacy, published in association with the University of Southern California's Center on Public Diplomacy. I often review the Center's website for insightful research and discussions on PD (www.uscpublicdiplomacy.org/publications).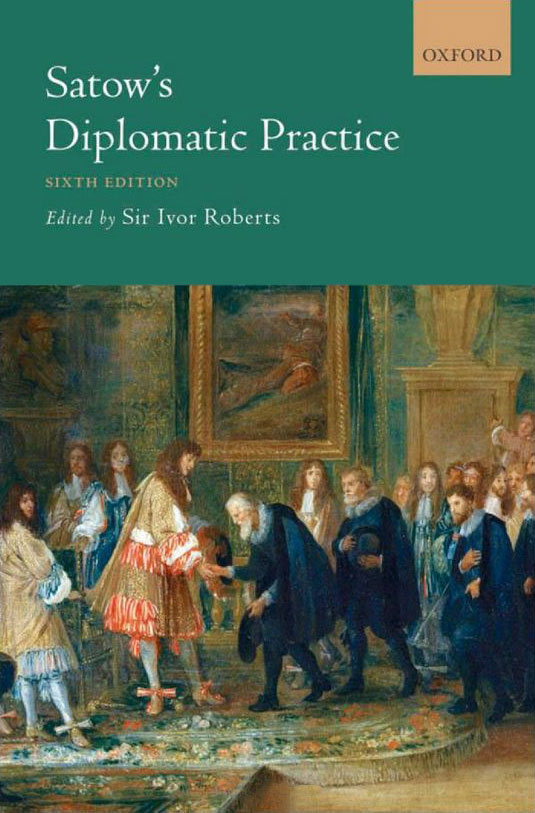 Another sweeping work on diplomacy is Oxford's sixth edition of Satow's Diplomatic Practice (originally published in 1917, and reissued as a paperback in 2011), edited by Sir Ivor Roberts, the former British diplomat and scholar. This is not a book one picks up and reads from start to finish. Rather, it is more a handy reference tool—marvelously written—to dip into when dealing with complex issues of diplomatic law and practice. I've used it on several occasions to get quickly up to speed.
While there is a bias toward British diplomatic practice in the book, the editors do highlight divergent practices on a topic of diplomatic law and practice, especially when the other view is that of the United States. For instance, Sir Ivor furnishes a succinct yet clear analysis of different governments' approaches to asylum, a subject for which there is no settled practice.
Though Satow may seem quaint now, it can still be extremely useful for entry- and mid-level FSOs confronting serious questions like agrément or asylum for the first time. So I urge every embassy, however meager its book allowance, to splurge on this impressive update of Satow's classic. You and your successors will appreciate it.
Another handy reference work is Marjorie M. Whiteman's Digest of International Law, which the State Department published in 1963. Sadly, it is out of print, but most post libraries probably have a copy. A more recent general work well worth acquiring is Diplomatic Practice Between Tradition and Innovation (World Scientific, 2010) by Juergen Kleiner, former German ambassador and emeritus professor of international relations at Boston University.
Each of Prof. Geoff R. Berridge's many books is impeccably written and full of insights into the fascinating formation of modern diplomacy.
Probably the most prolific contemporary writer on diplomacy is Professor Geoff R. Berridge, formerly of the University of Leicester and now a senior fellow at the DiploFoundation. Each of his many books is impeccably written and full of insights into the fascinating formation of modern diplomacy. His textbook, Diplomacy in Theory and Practice, now in its fourth edition (Palgrave, 2010), is almost certainly required reading for almost all courses in diplomacy in the English-speaking world. Unlike the tomes described above, Berridge's treatment is succinct, yet it covers the essential ground. Its centerpiece is diplomatic negotiation.
I also recommend two other recent Berridge works: The Counter-Revolution in Diplomacy and Other Essays (Palgrave, 2011) and Embassies in Armed Conflict (Palgrave, 2012). All diplomats should read the latter book just in case they one day find themselves serving in a country embroiled in war. My only criticism of these books is that they are costly. Get your library to buy them for you.
Foundational Approaches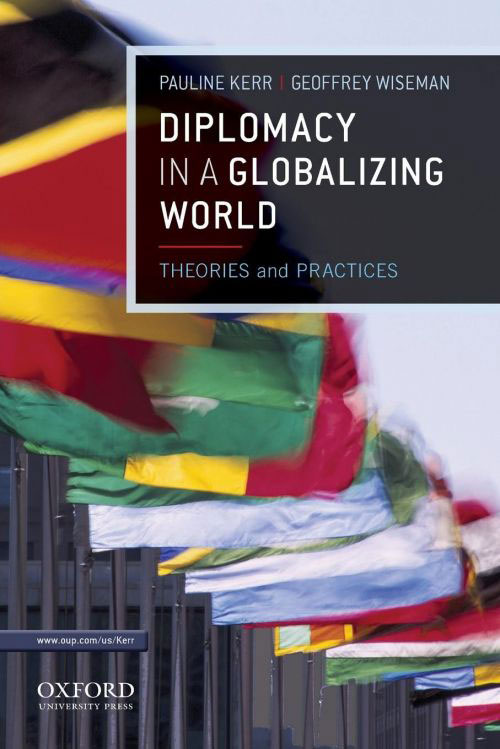 For those who seek to teach a foundational course in diplomacy covering a larger palette, there are now a number of competitors to Berridge. These include Geoffrey Pigman's Contemporary Diplomacy (Polity, 2011); Jean-Robert Leguey-Feilleux's The Dynamics of Diplomacy (Lynne Rienner, 2008); and—probably the most readable and interesting account—former Canadian diplomat Daryl Copeland's Guerrilla Diplomacy: Rethinking International Relations (Lynne Rienner, 2009). Even newer works include Corneliu Bjola and Markus Kornprobst's superb treatment of diplomacy, Understanding International Diplomacy: Theory, Practice and Ethics (Routledge, 2013) and—my hands-down favorite and one of the texts I require my students to read—Diplomacy in a Globalizing World: Theories and Practices (Oxford University Press, 2012), edited by scholars Pauline Kerr and Geoffrey Wiseman.
Kerr and Wiseman have brought together 23 essays by experts in the field of diplomacy. These were all subject to strict editorial review, enhancing accessibility for those new to the subject. The book has a clear logical structure, as each chapter builds on the earlier ones. Among the topics covered is East Asian diplomacy, a subject modern students of diplomacy would do well to spend some time on. And as a bonus, the book includes an instructor's guide with supplemental material.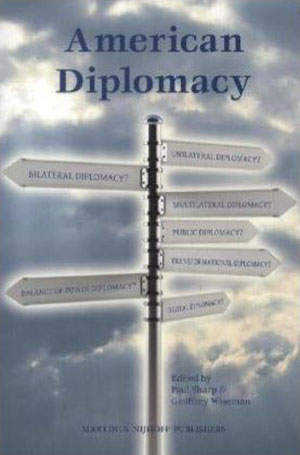 Finally, I would like to commend the contributions of a retired Indian ambassador who now devotes himself to teaching and writing about the practical aspects of diplomacy, Kishan Rana. Ambassador Rana has written a series of books, the most recent of which is 21st Century Diplomacy: A Practitioner's Guide (Continuum, 2011; part of the Key Studies in Diplomacy Series edited by Professor Lorna Lloyd), that are true go-to guides for every diplomat.
I would be remiss, however, if I left readers with the impression that these new volumes in any way supplant the great classics, such as Sir Harold Nicolson's Diplomacy; George Kennan's lectures from his service at the National War College following World War II, including "Measures Short of War"; and Henry Kissinger's Diplomacy (Simon & Schuster, 1994). Those are all on par with the seminal works of de Calliéres and de Wicquefort I mentioned at the beginning of this essay.
That said, books are far from the only excellent materials available about diplomacy. Among the many periodicals practitioners will find useful is The Hague Journal of Diplomacy (Brill Publishers), specially designed to capture research into diplomacy. Professor Paul Sharp, author of Diplomatic Theory of International Relations (Cambridge, 2009), and Professors Jan Melissen and Geoffrey Wiseman provide the editorial stewardship of The Hague Journal. I particularly commend the special edition devoted to American diplomacy (Vol. 6; Nos. 3-4, 2011), now available as a book, American Diplomacy (Martinus Nijhoff, 2012).
Add to the list online publications from institutes around the world—from the U.S. Army's Strategic Studies Institute and the USC Center on Public Diplomacy, to Clingendael and the Norwegian Institute of International Affairs—and professional diplomats will find much to support and develop their knowledge and skills.
Read More...