Doing Your Part: The Post Rep's Role
State VP Voice
BY KENNETH KERO-MENTZ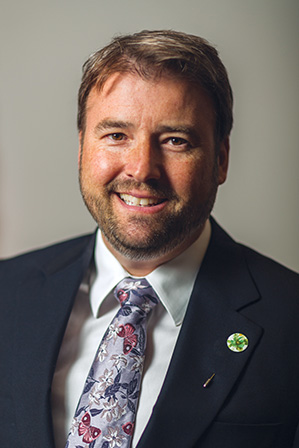 As a proud member of the 95th A-100 class, I remember the luncheon AFSA hosted to welcome us into the Foreign Service and, in particular, the sense of relief in knowing that we new Foreign Service officers had someone to back us up in our new careers.
Having listened to presentation after presentation for nearly six weeks about the arcane and (in some cases) insane administrative and human resource processes we were expected to become familiar with, I had already come to realize that the Department of State was neither easy to navigate nor particularly user friendly.
In nearly 18 years since, I have reconfirmed that again and again. Difficult living and working conditions, challenging interpersonal relationships and professional hiccups can further exacerbate that feeling we all get from time-to-time: Am I all alone?!
Whether it's drafting the Employee Evaluation Reports (ah, GEMS, how we love ya), filing vouchers for temporary duty or PCS travel or managing a complicated medevac, I'm always surprised how the rules put in place to help manage the department seem to lead to more chaos, rather than simplifying procedures so we can focus on our core function: the diplomacy of the United States.
That's where AFSA can try to help; and the AFSA Post Representative (or "post rep") can be your first line of support.
I served in Berlin from 2005 to 2009, and was the AFSA representative for three of those years. Each person can develop the position according to his or her talents, and an engaged, flexible rep can end up being pulled into many interesting discussions or matters of controversy.
In taking on the role, it's important to recognize that while there are mission-specific constraints to consider, our members also have ideas and concerns that have merit and deserve to be heard.
By developing a solid, amicable relationship with management, the post rep may be included in discussions regarding any number of issues at post—from determining new rules for social events to deciding who can attend a speech by an American candidate for political office on an overseas visit.
Information sharing goes the other way too, as post reps can help consolidate the concerns of our members and share them with management, leading to improved outcomes and enhanced morale. In a Foreign Service where esprit de corps runs deep, our nature is often to find common ground, particularly when we come together in a solutions-based arrangement.
Being an AFSA post representative means you have a whole team behind you.
To share a few notes from my own experience, while in Berlin I was a sympathetic ear for those trying to manage challenging interpersonal relationships (especially with one's rater or reviewer). Since FS members sometimes just needed a place to get advice on how to navigate our challenging system, I'd take information received from AFSA and ask to have it included in the CLO newsletter at least once a month, reminding colleagues that any questions could be directed to me.
Before I knew it, I was involved in any number of issues, from the mundane to the more crucial, and it provided me with an insight into post management, the Foreign Service and the Department of State that I otherwise would not have acquired, particularly at that relatively early point in my career.
In short, I believe that by serving as AFSA's post rep, I became a better officer, and certainly a better mentor, which is increasingly important as we rise through the ranks of the Foreign Service.
These days, AFSA reps are involved in a range of subjects, demonstrating the breadth of issues important to our members. For example, we were recently contacted for a reality check when an overseas mission updated its overtime regulations.
In addition, post reps can—and should—sit on the Housing Board as non-voting members; and the Foreign Affairs Handbook (3 FAH-1 H-5124.1) gives a list of matters which they can discuss with their management, including duty rosters, housing and health unit operations.
Being an AFSA post representative means you have a whole team behind you; I'm always here to help, to offer advice or to troubleshoot. And AFSA's Labor Management team, especially James Yorke and Patrick Bradley, are terrific resources available to you.
AFSA can't help with everything, but where we can, we want to. And after all, isn't that what we're all about?
If you are interested in learning more about the AFSA post rep program and might consider serving as a rep, please see www.afsa.org/postreps or email afsa@state.gov.