A Senior FSO recounts his experience working alongside the U.S. military in southern Afghanistan.
BY JONATHAN S. ADDLETON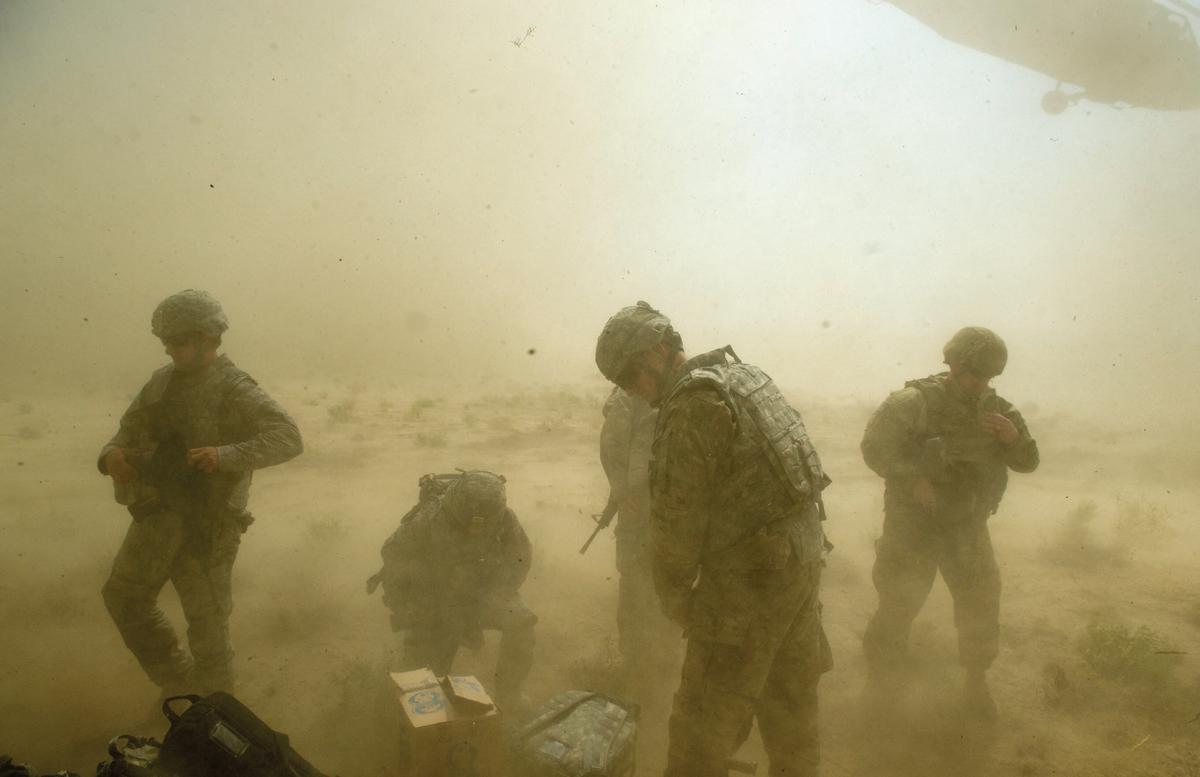 Members of the U.S. Army, 3rd Zone, Afghan Border Police Security Forces Advisement Team, shield themselves from the dust and rocks blown by a UH-60 Black Hawk taking off behind them at an unknown location in southern Afghanistan in 2011.
Wikimedia Commons / USAF Master Sgt. Jeffrey Allen
In the fall of 2012, at the age of 55, I experienced for the first time the reality of war. This experience did not involve wearing a uniform or carrying a gun. But for 12 months I worked alongside those who did.
Sometimes I traveled "outside the wire," walking through potential kill zones in some of the most violent parts of Afghanistan. On one cruel day in early April 2013 I survived a suicide bomber's attack in Zabul that killed a fellow diplomat, my Afghan-American translator and three American soldiers.
We often rode in Black Hawk helicopters. The female waist gunner on one flight from Kandahar to Spin Boldak was young and small, almost as young and small as my daughter who had just started her final year of high school.
Sometimes we traveled by convoy, protected by the heavy metal of a dust-colored Mine Resistant Ambush Proof vehicle. Each time I boarded an MRAP, the thought briefly crossed my mind that this vehicle might well become my tomb.
On other occasions we walked to our appointments, donning helmets and protective armor to meet Afghan officials, visit schools and inspect irrigation works. American soldiers from the Third Infantry Division out of Fort Stewart, Georgia, provided security.
It was the youth of those around us that was so striking. One lieutenant who directed my security on several trips to Kandahar had only recently graduated from West Point. One private seemed so young that I was tempted to ask him: "Do you have a note from your parents giving you permission to participate in this war?"

§

As the senior civilian representative for the U.S. embassy in southern Afghanistan from August 2012 until August 2013, I covered four provinces with a collective population of more than three million people, scattered over an area the size of Kentucky or South Korea that was mostly desert.
The work of embassy staff attached to Regional Command–South focused on Kandahar and included Maiwand, Zaray and the Horn of Panjwai, an area that straddles grape orchards and pomegranate fields, as well as the main highway west to Herat. Dozens of American and Canadian soldiers, as well as hundreds of Taliban members, lost their lives there.
It was the youth of those around us that was so striking. I was tempted to ask one young private: "Do you have a note from your parents giving you permission to participate in this war?"
Spin Boldak to the southeast bordered Pakistan. A central point in the heroin smuggling network, it was a vibrant and violent town on the main trade route through Quetta to Karachi on the Arabian Sea. Most of the long border between Afghanistan and Pakistan was open and easily crossed, punctuated at almost every point by small valleys, narrow ravines and high mountains. It was through these mountains that the insurgency organized multiple "rat lines," bringing in explosives, young recruits and supplies from Pakistan.
As civilians, we found ourselves working in several very different, but overlapping, worlds. The first centered on the official American presence in Kandahar and the region surrounding it, known in Pushto as "Loya Kandahar." More than 130 of us represented Embassy Kabul in that part of Afghanistan, living and working in 14 different locations as a combination of Provincial Reconstruction Teams and District Support Teams. During the course of that single year our number dwindled to less than 40, all assigned to one location at Kandahar Air Field. Today there are no embassy officers serving in southern Afghanistan at all.
Like the soldiers who surrounded us, we ate in crowded mess halls, worked behind barbed wire fences and lived in small hooches, some of which were built into what had once been metal shipping containers. Our members included political officers, agricultural experts, lawyers and aid workers.
A few were fellow career members of the Foreign Service, but most were temporary hires recruited to carry out a specific task for a limited period of time. Many had recently served in Iraq or parts of Africa. One was a former judge, another had worked as a congressional staffer, and a third grew up as the son of Mennonite missionaries to Zambia.
Another world involved liaising with the international military forces then serving in southern Afghanistan. The soldiers were led by Major General Robert "Abe" Abrams, who headed Regional Command South from his headquarters at Kandahar Air Field. He was assisted by three generals, all "one-stars": Chris Hughes, Pat White and Mark Brewer, an Australian. They, in turn, led several battlefield commanders known as "battle space owners," all of them colonels.
Their mandate was to assist and train the Afghan National Army as it increasingly assumed control of the region. The Afghans were commanded by General Abdul Hamid, a soft-spoken but highly professional career soldier. Trained in the Soviet Union, he had fought in Moscow's own long war in Afghanistan and had been a prisoner of the Taliban. The senior American officers respected Gen. Hamid and his soldiers, confident that they could withstand the onslaught of the Taliban when international forces finally departed.

§

Working with the military brought the realities of war very close to home. During the year I was in Afghanistan, I attended dozens of Purple Heart pinning ceremonies at the Kandahar trauma center, ramp ceremonies at Kandahar Air Field and memorial services on bases scattered across southern Afghanistan.
One Purple Heart ceremony involved a soldier who lost three limbs; another, a recent West Point graduate originally from South Korea, who had two legs blown away. When paying tribute to wounded soldiers, Gen. Abrams typically described the Kandahar health unit as "the best trauma center in the world." He also praised the stricken soldiers for their sense of duty and self-sacrifice, adding that their only task now was to recover, heal and be made whole.
After the last roll call and a rendition of "Day Is Done" (taps) on a bugle that seemed to quaver with every note, we walked in silence to the front of the tent.
The ramp ceremonies were always held alongside military aircraft at Kandahar Air Field. Sometimes they took place under a hot and almost unbearable sun, but most often they happened late at night or very early in the morning, when the sky seemed to stretch like a dark quilt above us, broken only by the tiny sparkling pinpricks of a thousand stars. The setting made all of us seem very small and insignificant, as if nothing that we did mattered.
Sometimes the outline of a full moon cast a brighter light on the scene below, as hundreds of soldiers from many nations gathered in quiet solemnity to pay final respects. Each time, the flag-covered metal iceboxes containing last remains were carried on a caisson pulled by an MRAP, then shouldered by fellow soldiers to a waiting transport plane for the long journey home. The air crew always stood at attention outside their airplane, arms lifted in a somber salute. Almost every service included a reading from Scripture, a brief summary of the soldier's life and the sorrowful sounds of a taped version of the bagpipes playing "Amazing Grace."
The casualties came from every part of the United States, their names pointing to parents and grandparents from all over the world: Asia, Africa, Latin America, Europe. One detachment of soldiers in Zabul served in the Alaska National Guard, some having grown up in small communities north of the Arctic Circle. The names stitched on their uniforms included "White Feather" and "Boy Scout." Other soldiers were more recent immigrants from places like Uzbekistan and Nepal.
One ramp ceremony was for a teenager from New York whose parents were not happy when he joined the armed forces, and even less thrilled when he became a Navy SEAL. Another was in honor of a young soldier blown up the day before by an improvised explosive device. The soldiers lifting his flag-draped metal box were trailed by a black dog. Following respectfully a short distance behind his late master, the dog walked gamely with his new handler, head cocked to one side as if waiting for the sharp crack of another explosion.
The more formal memorial services held on distant bases were very moving. The chaplain would offer a few words of comfort, on occasion making the case for mercy and forgiveness. The late soldier's commander, usually a lieutenant or a sergeant, then shared brief reflections followed by recollections from fellow soldiers—some humorous, most serious, all heartbreaking.
After the last roll call and a rendition of "Day Is Done" (taps) on a bugle that seemed to quaver with every note, we walked in silence to the front of the tent. There we paused at the upturned rifle, helmet and boots arranged as a temporary shrine, lingering briefly to touch the small metal dog tag worn only days before in battle. The boots were always brown, caked with the ubiquitous dust of Kandahar.

§

On a less somber note, we had opportunities to connect, often in surprising ways, with the people and places of Afghanistan. Some clearly sympathized with the Taliban and looked forward to their return. Others dreaded it, either out of genuine fear for their lives or because it meant the flow of foreign funds would stop, or both.
Afghans were always happy to talk: anytime, anywhere and with anybody. Once, an imam who was sympathetic to the Taliban embraced me as I departed, saying, "I have no voice and no one listens to me." This is the message that he wanted the world to hear: Without justice, there will never be peace in Afghanistan. For him, justice meant the end of corruption as well as the establishment of Sharia law across the country.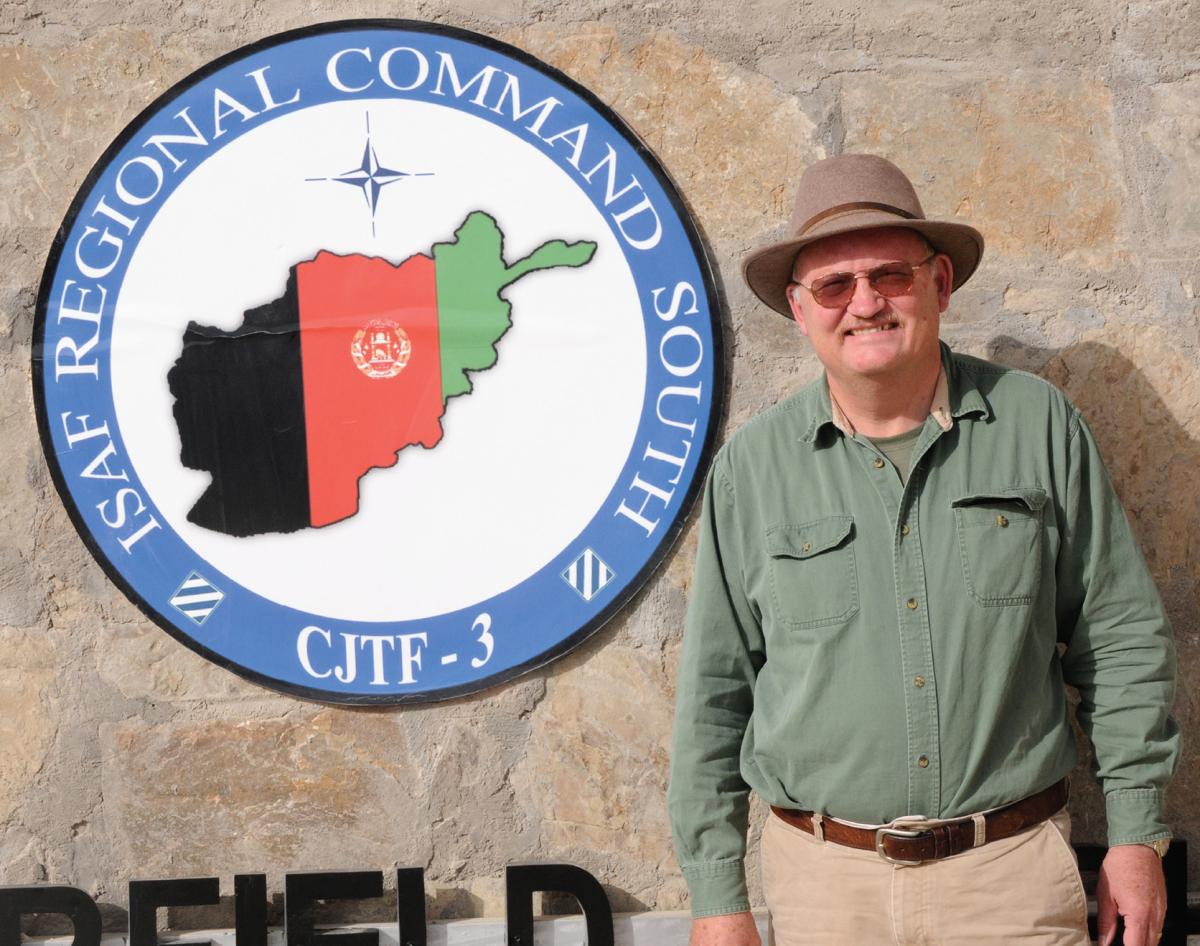 Jonathan Addleton at Kandahar Air Field. The USAID FSO served on detail to the State Department as the senior civilian representative for the U.S. embassy in southern Afghanistan from August 2012 until August 2013.
Staff Sgt. Ashley Bell, Mississippi National Guard / Courtesy of Jonathan Addleton
On another occasion I met with the head of the religious affairs department in Kandahar. He had served as the Taliban shadow governor in Kunduz before joining the government and had just returned from fulfilling the hajj, the obligatory pilgrimage to Mecca.
"Did you meet any of your old comrades from the Taliban in Mecca?" I asked.
"Oh, yes, I saw several of them."
"What did they say to you?"
"They asked why I had crossed over to the infidels."
"And what did you say to them?"
"I asked them why they had joined up with the Pakistanis."
My major contacts included Shah Wali Karzai, titular head of the Popolzai tribe and half brother to Afghanistan's then-president, Hamid Karzai. He lived in a new housing development on the edge of Kandahar. The roast lamb and pomegranate juice that he served in his large, yet not especially ostentatious home was delicious.
I met often with three of the four governors in the region: Tooryalai Wesa (Kandahar), Sher Mohammed Akhundzada (Uruzgan) and Mohammed Ashraf Naseri (Zabul); we rarely met with leaders from the more remote fourth province (Daikundi), a largely mountainous and mostly peaceful area inhabited by Hazaras who traced their ancestry back to the soldiers of Genghis Khan.
We also met from time to time with Haji Dastageeri, a soft-spoken yet charismatic tribal leader with a black beard, black turban and hairy feet, who had somehow managed to maintain cordial relations with the Taliban, al-Qaida and the Americans. He was one of the richest men in southern Afghanistan, owning a construction company in a place where the demand for building and rebuilding was insatiable.
Our other contacts included judges, lawyers, mullahs, merchants, human rights activists, security officials and the warden of Sarposa Prison. On one occasion we drank tea with the "Keeper of the Cloak," who looked after a famous garment locked inside three progressively smaller metal trunks in a shrine near the governor's palace in Kandahar. The threadbare cloak had reportedly once been worn by the Prophet Muhammad—and waved before a crowd of thousands by Taliban leader Mullah Mohammed Omar during his rise to power in the 1990s.
Once, an imam who was sympathetic to the Taliban embraced me as I departed, saying, "I have no voice and no one listens to me."
Our efforts at outreach followed in the footsteps of those who preceded us. But now, more than a decade after we had helped Afghans overthrow the Taliban, our task had evolved to paving the way for our own pending departure while dispelling any sense of "abandonment." We told our local contacts that it was now time for them to write their own narrative and achieve their nation's destiny. America and its allies would continue to lend a helping hand where possible, but it was now up to Afghans to fight for themselves.
As our own casualties declined, the butcher's bill for the Afghan security forces increased. By early 2013, four out of every five soldiers killed on the battlefield were Afghan, not American, Australian or Romanian.
Civilian casualties also reflected this grim trend that continued long after I departed. Parvez Najib, Governor Wesa's chief of staff, was killed in March 2014, barely six months after I left Kandahar—blown up by a suicide bomber at the Shah Wali shrine in Khakrez district, west of Kandahar. Eight months after that the deputy governor, an acclaimed 32-year-old poet named Qadim Patyal, was murdered in a Kandahar classroom, leaving small children behind. I had often met with him. His final Facebook post was a couplet against hate.

§

I still don't know how I escaped a violent death during the Taliban attack in Zabul on April 6, 2013, surrounded as I was by death and violence at every turn. Five of us flew up early that morning to meet our civilian colleagues on the Zabul Provincial Reconstruction Team, discuss education issues with Governor Naseri and visit a local school. Two members of our group were from Kabul, three from Kandahar. I was the oldest. Anne Smedinghoff was only 25, young for an FSO who was already well into her second overseas assignment.
We talked briefly on the tarmac as we waited for our helicopter against the early morning sun, the sky a perfect blue. This was Anne's first trip to Kandahar, and we were meeting for the first time. She mentioned that during a recent vacation, she had cycled across Jordan. I also chatted with my translator, Nasemi, who was supporting a large extended family stretching from New York to New Zealand. His own parents had only recently migrated to New Jersey.
Within hours both Anne and Nasemi were dead. Two other civilian State Department employees—Abbasi, an Afghan-American working in the embassy public affairs section in Kabul, and Kelly Hunt, who headed our public affairs section in Kandahar—were injured, Kelly critically.
Three soldiers walking beside us were also killed that day: Staff Sergeant Christopher Ward, a Floridian who led the protective detail; Sergeant Delfin Santos, the youngest of 17 children, born in the Philippines and raised in California; and Corporal Wilbel Robles-Santa, who grew up in Puerto Rico and left a wife and two young children behind. All three were born in 1988.
I fell to the ground and rolled into a shallow ditch when I heard the first of two explosions. The engine block landed not far from where I had been standing. As I prepared to die, I wondered what my family would be told. Later, I held Anne's hand and then Kelly's hand, first as they were taken on stretchers to the nearest first aid station, and then as they were taken to a helicopter for the short flight to Forward Operating Base Apache for further treatment.
Not a day goes by when I don't relive what happened on that cloudless morning, recalling every moment as it unfolded, reliving endlessly what might have been.
I returned to Kandahar alone in the early afternoon, picked up by the same helicopter that had dropped the five of us off earlier in the day. "Is that it?" the crew chief asked, looking first at me and then at his flight manifest with its longer list of names. "Are you the only one?"
Not a day goes by when I don't relive what happened on that cloudless morning, recalling every moment as it unfolded, reliving endlessly what might have been. I wish a dust storm had blown up out of nowhere, causing all flights to be canceled. I wish the outcome had been different. I wish I had been killed instead. But I somehow did survive, alone among the living.
The next day I attended the ramp ceremony for my colleagues, accompanying their remains on the long journey home. We started with five flag-draped aluminum boxes in Kandahar and added four more in Bagram, bringing the American death toll for that day to nine. The song played at the Bagram ceremony was "Abide with Me" rather than "Amazing Grace." There was yet another ramp ceremony when we landed in Frankfurt, a chaplain entering into the belly of the military aircraft and offering a prayer.
Prior to our arrival at Dover, the control tower responded to our request for landing by announcing to all the airplanes swirling above Chesapeake Bay that dark morning: "Cleared for landing: American heroes coming home."
Three days later, I returned to Kandahar for the remaining 20 weeks of my tour. But I have never quite left Afghanistan behind, and probably never will.

§

At odd moments random memories from that year return unprompted: the rush of hot air through an open Black Hawk door; the winter fires from encampments below; the taste of cardamom tea in a musty government office in Kandahar; the smell of roses in the small garden outside; the dust kicked up by a Special Forces platoon returning in off-road vehicles at dusk to Tarin Kot; the gentle rustle of the wind blowing through a stand of pine trees on a lonely hill in Zabul; the brilliant night sky above Alexander's Castle in Qalat.
Always I recall the awful finality of that single bugler playing "Day Is Done" to conclude yet another memorial service, for yet another young American soldier dying far away from home. It is impossible to ever forget those few forlorn notes, echoing hauntingly across the Horn of Panjwai, off a brown and desolate mountaintop above a remote and now-abandoned military outpost, somewhere in southern Afghanistan.
Read More...