Leader, Mentor, Diplomat: Ambassador Nancy J. Powell
The recipient of AFSA's 2017 Lifetime Contributions to American Diplomacy Award talks with the FSJ about her journey from Midwestern social studies teacher to diplomatic leader.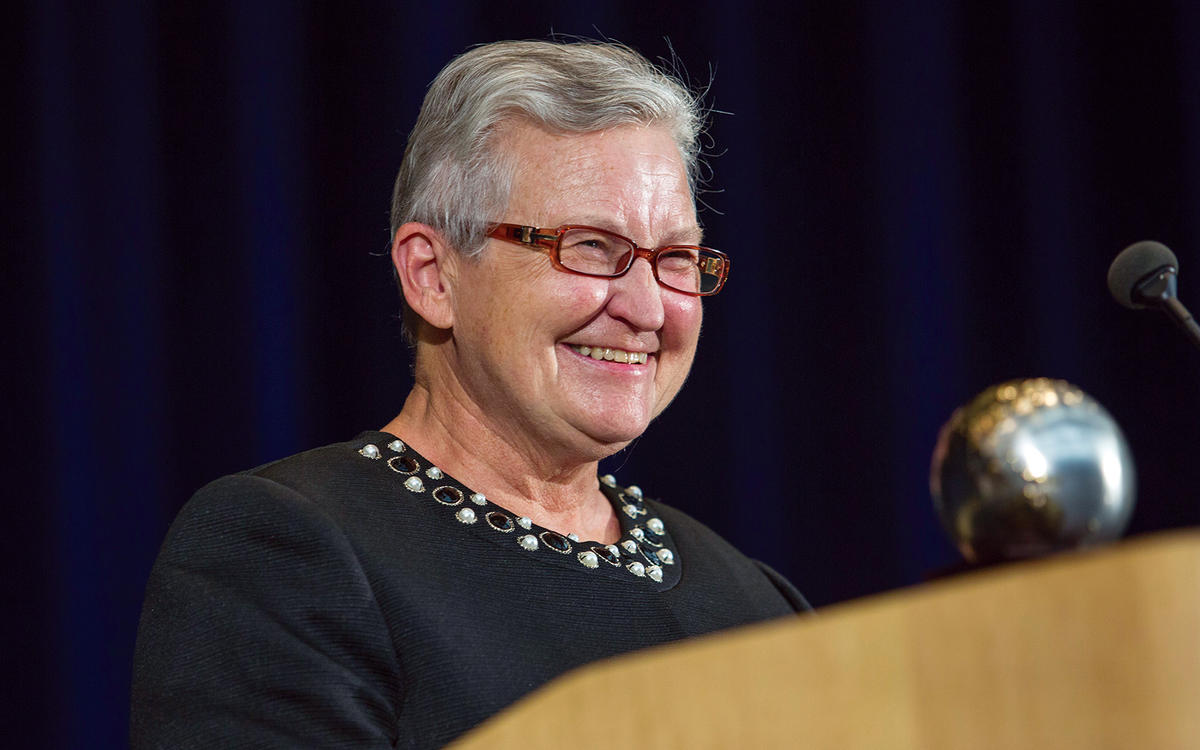 Ambassador Nancy J. Powell delivers remarks on receiving AFSA's 2017 Award for Lifetime Contributions to American Diplomacy on June 20 in the State Department's Dean Acheson Auditorium.
AFSA / Toya Sarno Jordan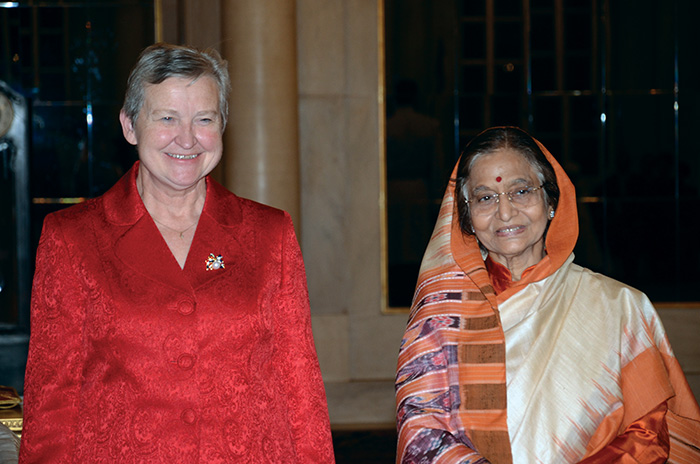 Ambassador Nancy J. Powell presents her credentials to President of India Smt. Pratibha Devisingh Patil on April 19, 2012.
U.S. Embassy New Delhi
Ambassador Nancy J. Powell received the American Foreign Service Association's 2017 Lifetime Contributions to American Diplomacy Award in recognition of her distinguished Foreign Service career and enduring devotion to diplomacy at a June 20 ceremony in the State Department's Dean Acheson Auditorium. (For coverage of the ceremony, see AFSA News.)
The 23rd recipient of this award and the fourth woman to be honored, Amb. Powell was born in Cedar Falls, Iowa, in 1947. She earned her bachelor's degree in history and teaching from the University of Northern Iowa in 1970, and taught high school social studies in Dayton, Iowa, before joining the Foreign Service in 1977.
Throughout her 37-year diplomatic career and into retirement, Amb. Powell never stopped learning and taking on new challenges. A five-time ambassador and the first female U.S. ambassador to India, she has served in a variety of high-level positions both overseas and in Washington, D.C., and has also devoted a significant amount of her time, talent and energy to mentoring future leaders of the Foreign Service.
Amb. Powell's career centered on South Asia and Africa. Her early overseas assignments to Ottawa and then Kathmandu were followed by a two-year stint (1982-1984) on the Nepal desk in Washington, D.C. She also served as a refugee assistance officer and political officer for internal politics and India-Pakistan relations in Lahore. Then followed assignments as deputy chief of mission in Lomé (1990-1992), consul general in Kolkata (1992- 1993), political counselor in New Delhi (1993-1995) and deputy chief of mission in Dhaka (1995-1997).
President William J. Clinton appointed her U.S. ambassador to Uganda in 1997, and in 1999 she became principal deputy assistant secretary of State (PDAS) for African affairs, rising to acting assistant secretary of State for African affairs in 2001. President George W. Bush named her U.S. ambassador to Ghana in July 2001 and to Pakistan in August 2002, where she served until 2004. Amb. Powell then returned to Washington, D.C., as PDAS and acting assistant secretary of State for legislative affairs (2004- 2005), becoming acting assistant secretary of State for the Bureau of International Narcotics and Law Enforcement Affairs in 2005.
Among Amb. Powell's unique contributions to American diplomacy is her leadership role in the U.S. response to two highprofile pandemic disease threats. From 2005 to 2006, she served as the State Department's special representative for avian influenza, responsible for coordinating international preparations and assistance to meet the threat under the U.S. National Avian Influenza Strategy. As part of this effort, she designed and set up a special interagency task force within the State Department dedicated exclusively to coordinating all international aspects of the U.S. preparation for and response to the pandemic. Following her retirement in 2014, she was called back to the State Department to lead the response to the Ebola outbreak.
In 2006, Amb. Powell was named the National Intelligence Council's first national intelligence officer for South Asia. She proceeded to lead the NIC's effort to expand coverage of this critical region. The Partnership for Public Service acknowledged her pioneering public service on the critical international issues of pandemic disease threats and terrorism, awarding her the Samuel J. Heyman Service to America Medal for Homeland Security and Law Enforcement in 2006. The Samuel J. Heyman medals, known as "the Sammies," are considered the "Oscars" of U.S. government service.
In 2007 President George W. Bush appointed Ms. Powell U.S. ambassador to Nepal, where she served until 2009, when she was named Director General of the Foreign Service, a position she held until 2012. President Barack Obama appointed her as the first female U.S. ambassador to India in 2012, and she retired with the rank of Career Ambassador from New Delhi in May 2014.
Amb. Powell's gift for identifying and developing talent at all levels is well-known. In 2003 she received the State Department's Arnold Lewis Raphel Memorial Award in recognition of her efforts to promote and develop the people around her, especially entry-level officers. In retirement, she has mentored ambassadorial seminar classes.
Foreign Service Journal Editor Shawn Dorman interviewed Amb. Powell on July 11.
I didn't know about the Foreign Service until I participated in a U.S. government-sponsored program for secondary teachers in Pakistan in 1975.
     Foreign Service Journal: Congratulations on the award! It is an honor to have the chance to highlight your outstanding career as a Foreign Service leader and mentor, and your contributions to diplomacy.
     Nancy J. Powell: Thank you.
     FSJ: You were born and raised in Iowa. Did you meet any diplomats or foreigners growing up there? Did you have a chance to travel much during your youth?
     NJP: I grew up in Cedar Falls and Le Mars, Iowa. Foreigners were few and far between. There were only a few foreign students in the colleges in the two towns, plus our Danish neighbors in Cedar Falls and my Swedish-born grandmother. My actual travels as a young person were limited to short family vacations, primarily in the Midwest, but I was an avid reader of books about other parts of the world, was inspired by my high school world history teacher to follow world events and even used my baby-sitting money to purchase season tickets to the local Rotary Club's series of travelogue films. Later, my summer vacations as a teacher included study programs on Long Island and in Hawaii and Pakistan.
     FSJ: After graduating in 1970 with a B.A. in history and education at the University of Northern Iowa, you stayed in the state to teach high school social studies. Would you say that experience accounts for your dedication to mentoring Foreign Service officers?
     NJP: I'm sure it played a part, for I will always be a teacher at heart; but the real motivation came from people like Ambassadors Peter Burleigh, (the late) Arnie Raphel and Beth Jones, who not only helped me and many others, but also encouraged us to embrace mentoring as part of being a Foreign Service officer. I think my teaching helped me in other ways in the Foreign Service. With five classes to prepare for each day, I learned to manage my time and plan ahead. And, standing in front of restless teenagers who wanted to be anywhere but social studies class taught me about leadership, creativity and presence.
     FSJ: What inspired you to pursue a career in diplomacy?
     NJP: I wanted to be a teacher from the time I started kindergarten. I think I knew from my elementary teachers that it was a role I could assume as a female, plus I loved school. I enjoyed teaching, but there were few opportunities to advance in secondary education for women at that time in Iowa. Women were elementary principals, and social studies teachers tended to be male coaches. I didn't know about the Foreign Service until I participated in a U.S. government-sponsored program for secondary teachers in Pakistan in 1975.
     We met FSOs at the embassy and consulates, who could not have been better recruiters as they described their careers. One of them gave me the application for the written test, which I took in 1975. I was initially most interested in the "Foreign" part of the Foreign Service. It saw it as an opportunity to see the world, to live in different cultures and to do interesting work, even if I wasn't completely sure what that work would be.
     FSJ: What year did you join the Foreign Service? How did you find the examination and hiring process? How many women were in your A-100 class?
     NJP: I was part of the 129th class, which started in January 1977, with five women among the 37 members. Three of the women left the Service fairly quickly, but Michele Bond and I remained. As a teacher, I was fascinated by the examination process and how it was being used to evaluate candidates. Like everyone else, I thought the hiring process took far too long, but now know I was one of the lucky ones who went through quite quickly.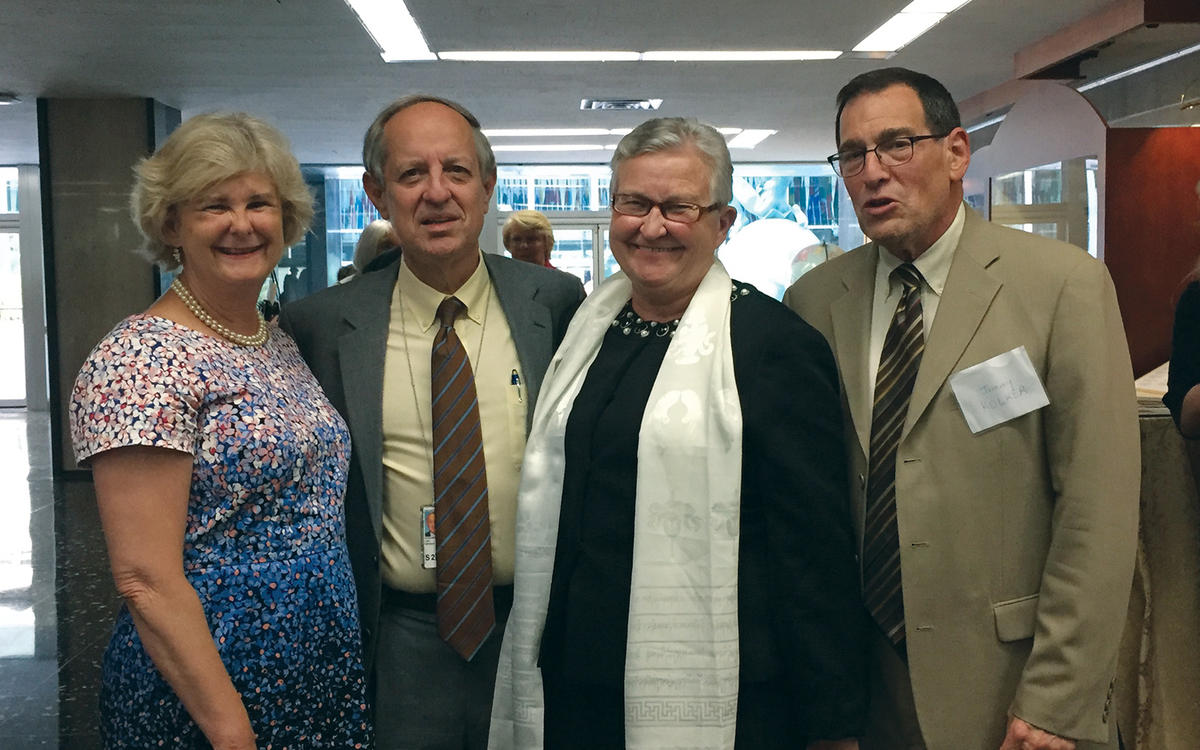 Ambassador Nancy Powell with A-100 classmates at the AFSA awards ceremony. From left: Ambassador (ret.) Michele Bond, Ambassador (ret.) Lino Gutierrez, Amb. Powell, and Ambassador (ret.) Jimmy Kolker.
AFSA / Shawn Dorman
Five-Time Ambassador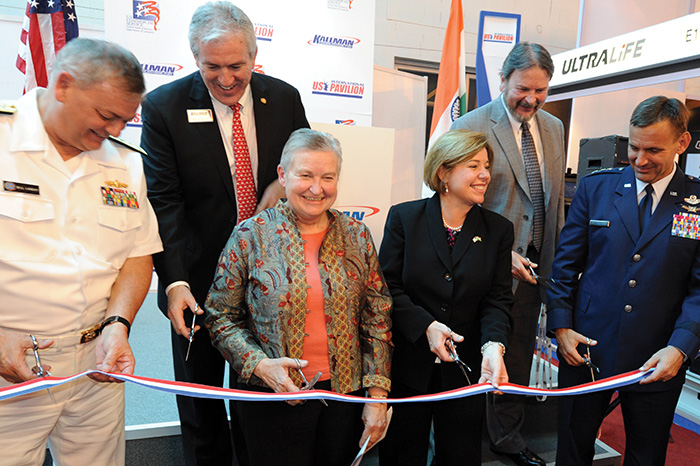 Ambassador Nancy J. Powell (center) opens the U.S. Pavilion at Aero Indian 2013, an international air show at Air Force Station Yalahanka in Bangalore, India. Preparing to cut the ceremonial ribbon with her on Feb. 6 were (front from left) Vice Adm. William E. Landay, III, Defense Security Cooperation Agency director; Heidi H. Grant, Deputy Under Secretary of the Air Force, International Affairs; Lt. Gen. Stanley T. Kresge, Pacific Air Forces vice commander; and aviation industry partners.
U.S. Air Force / Capt. Ben Sakrisson
     FSJ: What were your first two overseas postings? Were they a good introduction to the Service for you? If so, how?
     NJP: I joined the Foreign Service and went all the way to Ottawa. It turned out to be an excellent introduction as I rotated through the consular, political and economic sections. It allowed me to learn about the Foreign Service culture in a familiar environment. My second assignment was as vice consul in Kathmandu, Nepal. Later, the court reviewing the women's class action suit [filed by FSO Alison Palmer in 1976 and charging discrimination in violation of the 1964 Civil Rights Act] determined there had been a pattern of assigning female political-coned officers to second consular tours. However, Kathmandu was an excellent assignment and proved extremely important for my career. I was a member of the country team and led a consular section with many unusual challenges as we dealt primarily with American Citizen Services cases. The assignment set up a career path for me in South Asia and introduced me to several of my mentors.
     FSJ: My understanding is that when you joined the Service, you planned to be a political officer, but you eventually became more interested in mission management. What sparked that shift?
     NJP: Amb. Arnie Raphel asked me to serve as acting consul general in Lahore for the summer in 1988. It was a game changer for me. We faced numerous security threats in the aftermath of our shooting down of an Iranian airliner, in addition to managing the summer turnover, preparing for the new CG, hosting an inspection team and reporting on Benazir Bhutto's return to Lahore. I loved it and realized for the first time I could realistically aspire to leadership positions.
     FSJ: Three of your five ambassadorships were in South Asia: Pakistan, Nepal and India. What set you on that path?
     NJP: My trip to Pakistan in 1975 as a teacher really sparked my interest in South Asia, which was further fueled by my tour in Nepal from 1980 to 1982. I was able to travel in Nepal and India at that time, and actively sought to return for multiple assignments in the region.
     FSJ: You also served as U.S. ambassador to Uganda and Ghana, among other African postings. What were some of the opportunities and challenges you encountered working in South Asia and Africa?
     NJP: I was fascinated by the history of both regions and by their very vibrant cultures. Economic and political development in post-colonial countries fascinated me, both as an analyst and as a policymaker, as we worked in several countries to promote transitions to democracy. It was rewarding to work in India and Pakistan on issues such as nuclear proliferation, antiterrorism and regional cooperation that have a significant impact on our own security. I very much enjoyed the close camaraderie of these posts. The shared hardships made for close friendships.
     FSJ: Who were some of the people you especially admired or were inspired by during your Foreign Service career?
     NJP: I was incredibly lucky to work with outstanding people all through my career. Among the standouts are Ambassadors Peter Burleigh, Arnie Raphel, Beth Jones and Robin Raphel. Each of them combined area expertise and policymaking skills with an active interest in the people working with them. They were excellent advisers and very helpful as I navigated the assignment process. Although I never worked directly with Ambassador Bill Burns, I have great admiration for his quiet, thoughtful approach to the complex issues facing our nation and his consideration for the people who worked with him.
Diplomacy 3.0 had started before I became DG, but it faced serious problems of coordinating recruiting, on-boarding, assigning and training the new hires.
Considering Human Resources: Being Director General
     FSJ: During your tenure as Director General (2009-2012), State launched Secretary Hillary Clinton's Diplomacy 3.0 hiring initiative. What was your role in that effort, and how did it go?
     NJP: Diplomacy 3.0 had started before I became DG, but it faced serious problems of coordinating recruiting, on-boarding, assigning and training the new hires. Principal Deputy Assistant Secretary of State Steve Browning spearheaded the Bureau of Human Resource's efforts to remove the roadblocks. This took an incredible amount of persuasion, organization and persistence. My role was to ensure that the department's senior leadership, across several bureaus, understood that this was a priority and that their support to remove the bottlenecks was required.
     FSJ: What other projects and challenges were at the top of the list while you were DG?
     NJP: Chief among our other goals was to ensure that the missions in Afghanistan, Iraq and Pakistan were fully staffed with qualified individuals, and that there were incentives and support mechanisms in place to assist those volunteering (and their families) for these dangerous and high-stress embassies. I was very proud of the Foreign Service for stepping up. We did not have to make any directed assignments.
     HR also continued its efforts to adopt new approaches to assignments, career counseling, organization of the HR function within the department and use of information technology. Not everything worked the first time—I haven't forgotten the debacle with the initial rollout of the electronic EER, and the need to redesign and rethink our approach.
     FSJ: What impact do you think the current hiring freeze will have on the Foreign Service?
     NJP: I think the current approach, especially with regard to entry classes and to eligible family member hiring, is extraordinarily counterproductive and betrays a lack of understanding of how the department works. I am delighted with the decision to go ahead with two A-100 classes, which will include the eligible Rangel and Pickering Fellows, and hope that it signals a willingness to reconsider the ban on hiring within the department and the EFM decision.
     The Foreign Service depends on a steady inflow/outflow, and disruptions in that flow result in problems that persist for a generation. I am offended by the notion that the EFM program is somehow an "FSO welfare" benefit. It ignores the important contributions family members make to missions around the world. Creation and staffing of the positions are governed by a strict set of regulations in order to justify the positions and ensure that all eligible EFMs can compete. The program saves the department money by hiring people whose transportation and housing have already been paid, and whose skills greatly enhance our performance overseas.
     FSJ: When did you join AFSA? How was your relationship with AFSA when you were on the management side of the table?
     NJP: I think I joined AFSA on the first day of A-100. There is a certain amount of tension built into the relationship when you are the DG, given the different perspectives, especially involving discipline cases. But I think there was mutual respect and a common desire to do what was best for the country and for Foreign Service employees. Then-AFSA President Susan Johnson and I met frequently.
The Foreign Service depends on a steady inflow/outflow [of new hires], and disruptions in that flow result in problems that persist for a generation.
Diversity and Mentoring
     FSJ: When you joined the Foreign Service 40 years ago, it was far less diverse than it is today. Did you ever feel you were treated differently as a woman hailing from the Midwest who had not attended an Ivy League school? If so, how did you handle that?
     NJP: The senior officer who welcomed my A-100 class to the State Department told a sexist joke as part of his greeting. The five women in the class used a bathroom break to wonder aloud about what we had gotten ourselves into. It was a pattern that helped to deal with other incidents—there was always a sisterhood that could be relied on to discuss, counsel and act, and often we had support from men who did not share the old culture.
     There were a few of my early colleagues who were convinced that the arrival of women (including one from Iowa who hadn't been to one of the Seven Sisters and who didn't drink) meant the Foreign Service was going to hell in a handbasket, and some later on who felt threatened and disadvantaged as women assumed leadership positions. While I did more than my fair share of pouring coffee and taking notes, I also had the support of more enlightened colleagues and an increasing number of superb women role models. I was encouraged to take on extra responsibilities, such as writing the human rights report in Nepal, serving as a temporary Bureau of Near Eastern Affairs staff aide and as consul general in Lahore to show that I could do the work as well or better than my male colleagues.
     The changes mandated in the aftermath of the class action suits and adherence to federal Equal Employment Opportunity Commission standards meant that promotions were more closely tied to documented performance, and the assignment process became a more level playing field. It also helped to have a good sense of humor and a willingness to stand up to outright discrimination.
     FSJ: How successful has the Foreign Service been in increasing diversity? How can the foreign affairs agencies retain minority talent once those individuals are in the Foreign Service?
     NJP: There has been an enormous change in the Foreign Service, but there is more to be done, particularly in championing Hispanics and African Americans. The deputy chief of mission glass ceiling for women disappeared in the 1980s, shattered by Beth Jones and many others. I was delighted to see some of the SETS, and ambassadorial classes I've mentored have a majority of females.
     The department has to compete with American business and academia for our talent pool. Ensuring that our new officers, across the board, have the necessary training to succeed—and have support and mentoring—is essential to keeping them in the Service.
     FSJ: You've been a champion for mentoring, receiving the Arnold Lewis Raphel Award in 2003 for your efforts to promote and develop the people around you, especially entry-level officers. How is the State Department doing with encouraging mentorship and establishing official mechanisms for mentoring? How should people secure mentor/mentee relationships on their own?
     NJP: The formal programs are important, but for me they are far less valuable than the mentoring done by immediate supervisors and senior officers on an individual basis. If you have to be told that mentoring is part of your work requirements, you are probably not going to be very good at it. Mentoring needs to be a part of the department ethos and can be done at all levels. Given the fluidity of our assignments, someone who has been at post a week may be the old-timer for the newest arrival.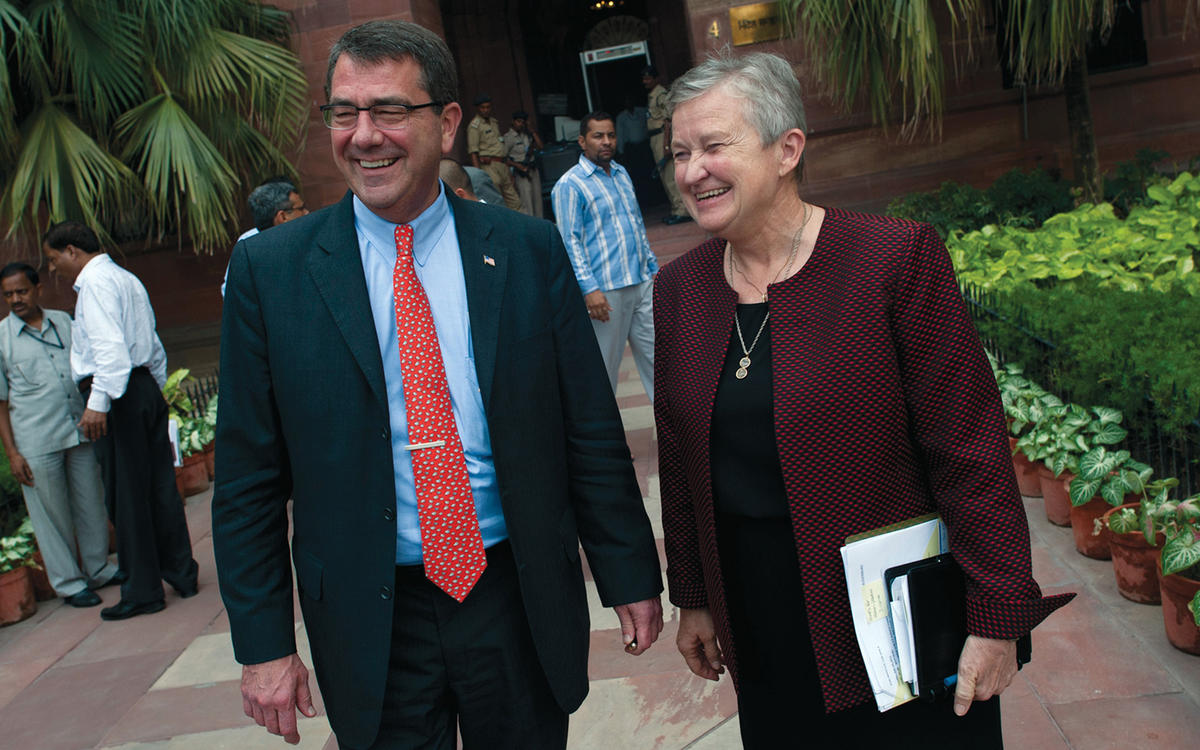 Ambassador to India Nancy J. Powell and U.S. Deputy Defense Secretary Ashton B. Carter depart the Indian Foreign Ministry in New Delhi on July 23, 2012.
Wikimedia / Office of the U.S. Secretary of Defense
Reflection
     FSJ: While you officially retired from the Foreign Service in 2014, you have been going full speed ahead since then. Tell us how you came to be the State Department's Ebola coordinator, and what that entailed. (And thank you again for sharing your experiences in the article, "Fighting Pandemics: Lessons Learned," with Gwen Tobert for our May focus on global health.)
     NJP: I got a call out of the blue in September 2014 from then- Counselor Tom Shannon asking me to come back to coordinate the department's response to the Ebola outbreak. I think my experience leading the avian influenza team and my previous work on Africa with National Security Advisor Susan Rice led to the call. I had been following developments via television from my bench on the beach and was very concerned that the international community did not seem to be stepping up, so it was a little hard to say no.
     My first call was to my former New Delhi DCM, Don Lu, who was stuck in the confirmation process, to recruit him to be my deputy. We then started putting together a small team from the Bureau of Oceans and International Environmental and Scientific Affairs and those working on medical and post evacuations. We were a bit of a ragtag operation, but everyone was incredibly dedicated and worked long hours to secure and coordinate international support and to help the missions in Liberia, Sierra Leone and Guinea cope with the disease and the influx of assistance.
     I represented the department at most interagency meetings, in addition to briefing the Hill and doing media interviews. I am hopeful that the lessons learned will result in maintaining a small office capable of tracking potential pandemics and of advising senior leaders when a more robust response is needed before they become major crises.
     FSJ: More recently, I understand that you have mentored three recent ambassadorial seminar classes. How is working with ambassadors in training different from the mentoring you did while on active duty?
     NJP: I'm actually up to five classes and have enjoyed it very much. For the career people, the emphasis is on helping them adopt successful strategies for leading their missions and avoiding pitfalls that lead to failure. For the non-career appointees, the focus is on helping them to understand how the department works and on their authorities and how to use them.
     FSJ: What are the essential ingredients for a successful diplomat?
     NJP: I think the key elements are:
     • Patriotism, and a recognition that we have a unique privilege to serve the American people, not the bureau or country of our current assignment;
     • Integrity in all that we do whether it is adjudicating visas, administering programs or providing analysis of political and economic developments;
     • Respect for our embassy and department colleagues, all of whom are supporting our mission no matter what their role, and for host-government officials and citizens;
     • Energy and enthusiasm for the tasks at hand, as well as for continuing to learn; and
     • A well-developed sense of the absurd and a sense of humor.
I struggle to understand our current national security leadership's reluctance to fully engage the department in meeting the complex challenges we face as a nation.
     FSJ: Today's budgetary climate is certainly far less promising than it was when you were Director General. How would you describe your level of optimism about the state of the Foreign Service and the future of professional diplomacy?
     NJP: I share the concern of those who believe that the announced cuts in funding and personnel are misplaced and have the potential to do damage to our country and its security. While I support the general concept of a well-informed reorganization of some elements of the department, I am deeply opposed to suggestions that the visa and refugee functions be transferred to the Department of Homeland Security.
     I have taken some comfort in the testimonials of our Department of Defense colleagues, members of Congress and former appointees, who have been outspoken in their support for the Department of State and their recognition of the role it needs to play to ensure our national security. I struggle to understand our current national security leadership's reluctance to fully engage the department in meeting the complex challenges we face as a nation. I have every confidence that the Foreign Service will continue to provide their expertise and experience and be willing to serve.
     FSJ: How has the role of the Foreign Service changed since you first joined?
     NJP: The Service is much larger and much more diverse. Women play a much more significant role in its leadership. Non- State Department agencies have greatly expanded at posts and in their influence in national security decisions. The functional bureaus have expanded to address the growing list of global issues.
     FSJ: What advice do you give to young people today who are considering a career in the Foreign Service?
     NJP: Go for it! You'll never find a more fascinating career that allows you to serve your nation and to learn something new every day. You will work with an incredible group of people who will become a part of your family.