DS Diplomacy Works: Breaking Up a Child Pornography Trafficking Ring
State's Bureau of Diplomatic Security is uniquely equipped to tackle transnational crime. Here's one example of a recent success.
BY KALA BOKELMAN
Outside the suspect's residence, Special Agent Bokelman oversees the process of loading the prime suspect into the car to be transported to the courthouse on June 8, 2017.
Courtesy of Kala Bokelman
On June 8, 2017, at 5:30 a.m., after a two-year investigation into a child pornography trafficking ring, I stood outside the home of one of the alleged main perpetrators waiting to finally knock on his door.
This knock was a long time coming, and was one of 11 arrests and 13 search warrants simultaneously served that day in Costa Rica and Mexico. The case was tightly coordinated, involving more than 140 agents, analysts, prosecutors and judges from 13 agencies across three countries, including the Department of State's Diplomatic Security Service. Our target was a transnational criminal organization producing child pornography in Costa Rica and distributing it via Mexico to an international market of buyers, including some in the United States, who paid between $50 and $5,000 for individual photos and videos.
Operation RINO
OIJ agents, Costa Rican prosecutors and the ARSO-I line up on the narrow road leading to the prime suspect's residence to conduct the raid.
Kala Bokelman
For the past three years I have been the assistant regional security officer investigator (ARSO-I) for Embassy San Jose in Costa Rica, working cases that include human trafficking and smuggling, fraudulent documents, U.S. fugitives and American citizen deaths. The Rescate Inocente Niños Operación (RINO) case was first brought to my attention in April 2016 through contacts in Costa Rica's national investigative agency, the Judicial Investigation Organization, known locally as the OIJ. Walter Espinoza, the head of OIJ, was asked by two prosecutors in their Trafficking-In-Persons office if anyone could help with the case. "Talk to Kala," he told them. "If anyone can help, she will figure it out."
Neither Espinoza nor prosecutors Mauricio Boraschi and Angie Trejos were strangers to me. We'd successfully worked together on several smuggling and human trafficking cases, so we already had a strong foundation of trust and cooperation critical to this type of investigation. My three Costa Rican counterparts are true professionals, amazing partners and some of the nicest people I know—as long as you are not a criminal. Angie Trejos worked tirelessly on this case for two years. One of Costa Rica's best prosecutors, she is smart, funny, tough and no-nonsense. If she builds a case against you, the best you can do is to plead guilty with the hope of a lighter sentence.
That day in June 2017, Angie and I, along with 20 Costa Rican agents and a judge, conducted the arrest of the main suspect and searched his house. The unkempt one-bedroom house in a tough neighborhood of San Jose didn't look like the center of a transnational crime syndicate, but it had been operating since 2009 as just that under the guise of a modeling agency. At the time of the takedown, 27 victims had already been identified, some as young as 10 years old.
The agency recruited children from primarily poor areas of the country with promises of modeling opportunities. Our main suspect was a professional photographer whose pictures of Costa Rica have been published in renowned international magazines. During the illicit photo shoots, children were coerced into posing nude or engaging in sexual contact with adults. The shoots took place at offsite locations or in the suspect's photography studio, sometimes with the victims' parents, who had signed contracts that many could neither read nor understand, waiting in the next room, hoping their child would break into the modeling world. Instead, the photographer and his associates were committing crimes for profit—taking repulsive and heartbreaking photos and threatening the children that they would kill their parents if they breathed a word about what was really happening.
After searching through every drawer, cabinet, loose floorboard and wall panel, we loaded up the evidence that definitively linked our suspects to the victims.
Ten hours later, after searching through every drawer, cabinet, loose floorboard and wall panel, we loaded up the evidence that definitively linked our suspects to the victims, websites and multiple crime locations, along with the names of more than 100 more potential victims. Later that afternoon, our five suspects appeared before a judge, and the two main perpetrators were remanded to custody for the duration of the investigation and trial.
The photographer placed his head on the courtroom table and cried. The three additional suspects posted bail, but were prohibited from leaving the country. There was no pity to be found in the courtroom as he and the others were charged with crimes including human trafficking, rape of a minor, rape, sexual exploitation of a minor, money laundering and other charges that together carry a potential jail term of up to 50 years for each individual.
Solving the Case: The TIP Working Group
Diplomacy, relationship-building and international cooperation solved this case. The work in San Jose to combat human trafficking and the sexual exploitation of minors did not start with that call from Mauricio Boraschi and Angie Trejos. It took a concentrated effort by multiple government entities and agencies in various countries working together. This international coalition that proved to be so effective was the culmination of hard work by various sections of the U.S. embassy, U.S. Department of State, Diplomatic Security Service and our Costa Rican counterparts.
Inside the embassy, we created a Trafficking in Persons (TIP) Working Group to better coordinate our efforts to cooperate more effectively with our multiple Costa Rican counterparts. The Political section took the embassy lead in helping Costa Rica improve its rating in the annual TIP Report through changes in Costa Rican laws and policies that would better align the country with international standards. The Political section and the International Narcotics and Law Enforcement Affairs section (INL) worked together through various grant programs to enhance and improve Costa Rica's capacity to provide victim assistance. This was done through private and government sectors, including the Trafficking in Person's Immediate Response Team. The 27 victims received—and continue to receive—support from these various local groups.
The Public Affairs section engaged with the TIP Working Group in 2016. In collaboration with the U.S. Department of State's International Visitor Leadership Program, we developed a special IVLP On Demand Project, in which Angie Trejos and six other TIP prosecutors and investigative agents participated, that we deliberately tailored to Costa Rica's issues. The IVLP experience gave them a better understanding of the trafficking problem worldwide and the types of assistance the U.S. State Department and Diplomatic Security Service, along with various other agencies, can provide—not only to combat these crimes, but to better secure all national borders by building international coalitions to dismantle transnational trafficking and smuggling routes.
Angel Watch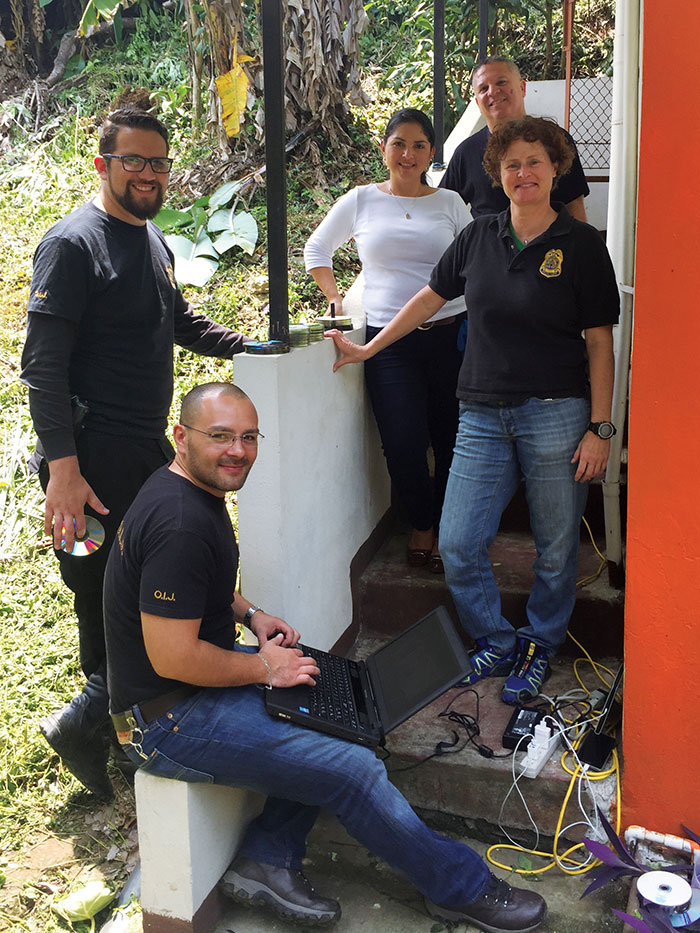 Prosecutor Angie Trejos, in white, and DS Special Agent Kala Bokelman, at right, work with Costa Rica's Judicial Investigation Organization agents and cybercrimes analysts to go through DVDs looking for evidence in a barrio in San Jose.
Courtesy of Kala Bokelman
My ARSO-I office has taken the lead on numerous projects, including multiple criminal cases, alongside our Costa Rican counterparts and the Angel Watch program. Run by the Department of Homeland Security, the program alerts countries that a U.S. citizen convicted of sexual crimes against a minor is traveling there. Over the past three years, the program has been hugely successful, and is one of several ways Costa Rica is taking a proactive approach to combatting the exploitation of children.
When I first arrived, information about travelers on the Angel Watch list was being sent to the authorities here, but there was no coordination among the necessary agencies and, as a result, almost every traveler was permitted entry. Previously an alert on the Angel Watch list involved two independent systems and at least 10 emails or phone calls from my office to everyone involved. In conjunction with my Costa Rican counterparts in Immigration and Interpol, we changed this through diligent attention and cooperation.
During the last three years we cut the number of Angel Watch travelers in half (from 124 to 58), an indication that Costa Rica is becoming less attractive as a destination for sex tourism. We have achieved almost 100 percent denial of entry to those on the list in the past three years. Finally, by employing the assistance of INL, Costa Rica now has a robust IT system that connects its own immigration system with Interpol systems, making it a one-step process to generate an alert from an Angel Watch "hit."
INL and my office have also been providing TIP training to agents, prosecutors and the private sector for the past three years. We focus on identifying and assisting victims, along with investigating cases. None of the accomplishments mentioned could have been achieved without the outstanding partnership of Costa Rica, which has made TIP and combating the sexual exploitation of minors a priority. In Costa Rica's 2017 State of the Union address, President Luis Guillermo Solís specifically mentioned the valuable assistance Costa Rica received from Embassy San Jose in combating TIP issues and investigating cases.
Law Enforcement Assistance a Call Away
Diplomatic Security is the only law enforcement agency with a sworn federal law enforcement agent at every U.S. embassy and most consulates around the world and in multiple locations throughout the United States. This means that I can call my fellow agents and get assistance or information easily and quickly anywhere in the world when international cooperation and coordination is needed, as it so often is with these types of crimes that easily cross national borders. Whether that DS agent is sitting in Maputo, Baghdad, San Francisco or somewhere else—they are only a call away, offering detailed knowledge and relationships with law enforcement personnel, apparatus and policy on the ground. In my 12 years of service, there has always been a willing DS agent on the other end of the line, who then takes the reins for their country or area. We are quite simply the best in the world with this ability and reach.
When the Mexico link in the child pornography case became apparent, it was easy to call my fellow ARSO-I at Embassy Mexico City, Hy Star. She immediately followed up with her counterparts in the Mexican prosecutor's office. She monitored the progress of the case and assisted in the coordination of the timing of the operation in Mexico to coincide with our takedown in Costa Rica. Thanks to her participation, six people in Mexico were arrested and charged with distribution of child pornography.
Angel Watch alerts countries that a U.S. citizen convicted of sexual crimes against a minor is traveling there.
After the initial meeting with the prosecutors in 2016, I immediately reached out to my desk officer, DS Agent Kareem Parson, from the Overseas Criminal Investigative Office to seek guidance from more experienced DS agents. Their immediate willingness to provide support, advice and undercover funds was crucial to the case. Costa Rica did an amazing job on the investigative, analytical and prosecutorial side by discovering the various websites and utilizing a full range of complex investigative techniques. However, everyone knew we needed the final piece of evidence that linked the suspects to the websites, the money and, hence, the crime.
To access the websites, we needed to buy generic credit cards and set up a Bitcoin account. When I asked OCI and DS for approval, there was no hesitation. They understood that this was not a Costa Rica or Mexico problem. This was an international crime perpetrated against children; and, as DS law enforcement officers, this is what we fight anywhere in the world. Angie, the Costa Rica case agent, and I determined we needed only $500 for the incriminating purchases. Instead, DS provided five times that amount to ensure we could do everything needed and have contingency funds.
Without the support of DS, we could not have entered the websites anonymously to gather evidence, and the case would not have been ironclad. Costa Rica's prosecutors told me that this step was the vital link that proved our case and directly tied our suspects to the crimes being committed against these children. (Costa Rican federal law enforcement authorities later named it 2017's Investigation of the Year.) Imagine, with just $2,500 of U.S. funds, hard work and the collaboration of U.S., Costa Rican and Mexican authorities, we took down an international child pornography ring, saved countless children from life-destroying abuse, and both exposed the perpetrators of these horrific crimes and shined a light onto the buyers of this disgusting material. That is money well spent!
Without a doubt, this has been one of the most gratifying cases of my career. Knowing that a coordinated international group of committed law enforcement personnel and multiple agencies and offices came together to destroy a ring that was exploiting and abusing minors was inspiring. But this is what DS agents and members of the Foreign Service do best every day—work together to make our corners of the world better and more secure.
Read More...