Rebuilding America's Diplomatic Capability
President's Views
BY BARBARA STEPHENSON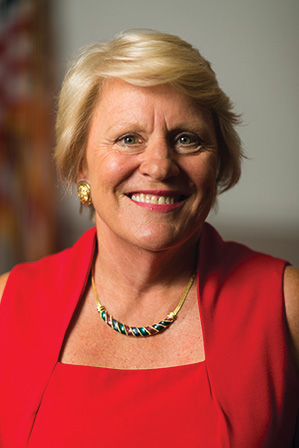 As I write, spring is unfolding around me, in so many ways. Our new Secretary of State has just been confirmed. Congress voted overwhelmingly to restore funding for diplomatic capability and instructed the State Department to resume hiring and restore staffing. Media stories daily make the case that America must repair the damage at State in order to retain the global leadership overwhelmingly favored by our fellow citizens.
We must seize this moment. We, the members of the Foreign Service, who do so much with so little to sustain America's global leadership, must step fully into our roles as stewards of this great national security institution. As the National Security Strategy states, after recapping escalating threats: "We must upgrade our diplomatic capability to compete in the current environment."
Those looking to explain in concrete terms why our embassies matter should read "Breaking Up a Child Pornography Trafficking Ring." Sometimes it really does come down to a struggle between good and evil. Remove or diminish the network of American embassies and consulates, and it is a lot harder for good to prevail.
What will it take to restore America's diplomatic capability? For starters, we need to restore funding, restore staffing, reduce time spent servicing cumbersome bureaucratic processes and manage risk smartly. Doing so will enable the Foreign Service to forge and foster the relationships that, per the NSS, "the United States calls upon when confronting security threats, responding to crises, and encouraging others to share the burden for tackling the world's challenges."
Restore funding. Fresh off the overwhelming bipartisan vote to reject deep cuts to spending on foreign affairs, we are thankful that Congress stopped the bleeding, but note that holding spending steady is not the same as upgrading diplomatic capability.
America's spending on core diplomacy has declined sharply—from a dollar in 2008 (the last year of the Bush 43 administration) to just 76 cents in 2016 and 2017—while China's spending has increased dramatically (up 40 percent over the last five years, while ours is down 33 percent). China now has 268 diplomatic missions, just behind America's 273.
Sometimes it really does come down to a struggle between good and evil.
Although U.S. military spending, at $700 billion, is greater than the next 10 countries combined, spending on core diplomacy (just $5 billion) is barely enough to keep us ahead of other rising powers.
Restore staffing. Congress has made clear its intention that the funding approved by both houses be used to resume hiring of new diplomats and to rebuild staffing. In addition, promotion numbers need to be restored to at least the levels called for in the department's own workforce planning reports—that is, at least 102 promotions into the Senior Foreign Service each year.
We also need a concerted effort to end gaps in specialist staffing and to restore staffing at embassies, at least to "pre-Iraq tax" levels. Doing so will not only enable the mentoring necessary to grow the next generation of Foreign Service leaders, it will unleash the high-impact diplomacy described in the NSS.
Streamline bureaucratic processes. Once members of the Foreign Service are deployed overseas, they need to be freed to do their jobs. Establish a baseline of how much time they spend on bureaucracy and set a goal to reduce that by a fixed percentage each year.
Manage risk smartly. Then we must forge and foster the relationships necessary to sustain America's global leadership. We can't do that crouching behind sandbags. We need to be able to get off the compound and make contact. To do that, we need to manage risk according to established best practices, weighing and documenting risk-benefit trade-offs.
Managing risk smartly does not mean that we will all make it home safely, as the two new names on AFSA's memorial plaques remind us. It does mean that we will do our best to take the right risks to enable us to keep the American flag flying around the world, symbolizing the global leadership we are entrusted with sustaining.