National High School Essay Contest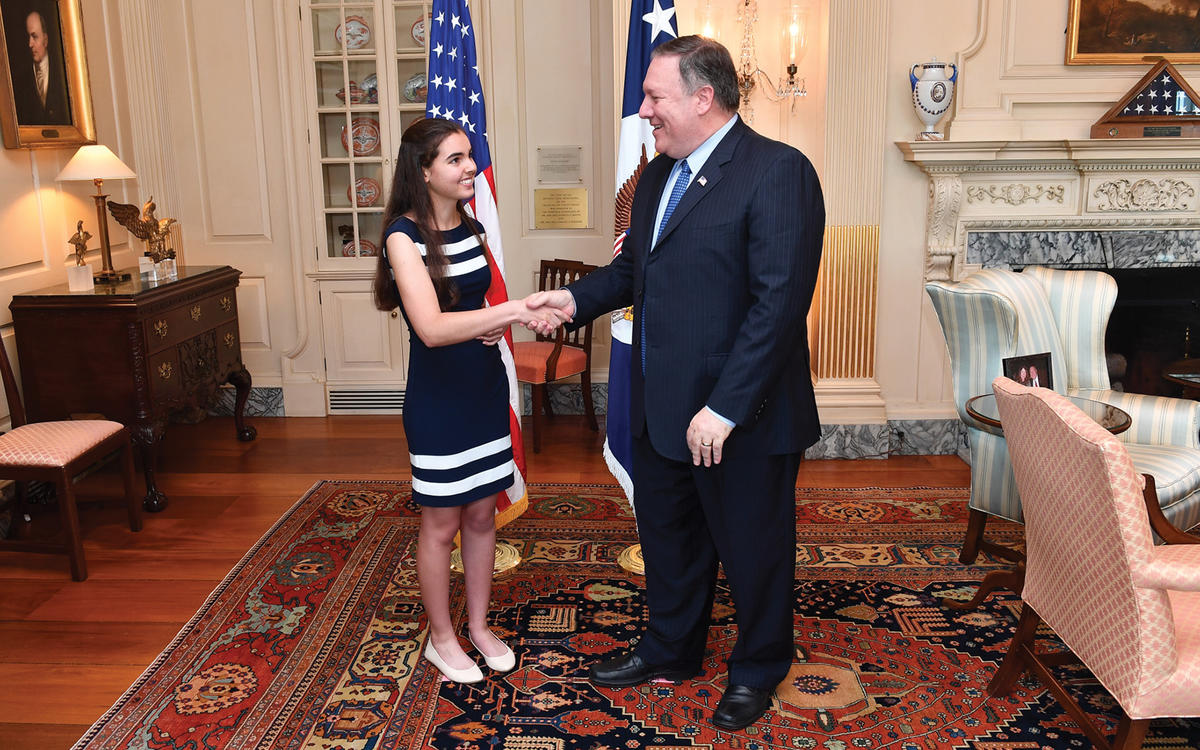 Jennifer John meets Secretary of State Mike Pompeo.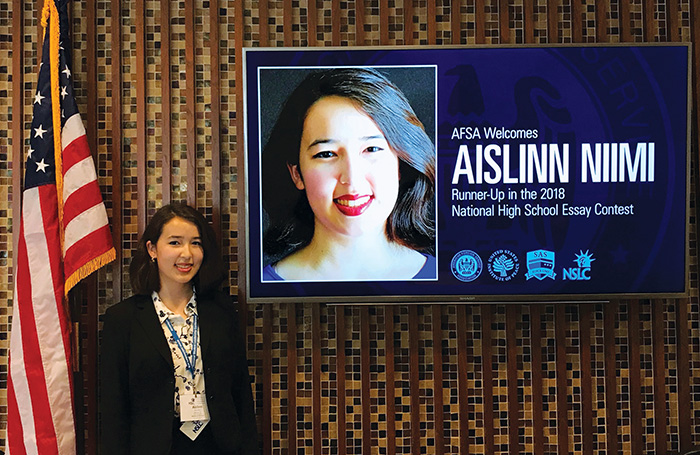 Aislinn Niimi visits AFSA.
The American Foreign Service Association's national high school essay contest completed its twentieth year with almost 1,000 submissions from 48 states, two territories and five countries (Indonesia, Burma, South Korea, Tanzania, and United Kingdom).
Four blind rounds of judging produced this year's winner, Jennifer John, a home-schooled rising senior from Redwood City, California. Her essay titled "Strategic Collaboration and Constructive Communication: Lessons from U.S. Intervention in Bosnia and Iraq" compared the success of United States intervention in peace building in Bosnia and the failure in Iraq. Click here to read her paper. Jennifer will travel to Washington to meet with a member of the Department of State's leadership, gain a full tuition to an educational voyage with Semester at Sea and be celebrated at a reception at United States Institute of Peace.
Aislinn Niimi was this year's runner-up. She is a home-schooled rising junior from Matthews, North Carolina. Aislinn will be attending the international diplomacy program of the National Student Leadership Conference, in early July.
There were twenty-three honorable-mention recipients:
Katrina Espinoza of Watsonvile, California
Sarah Chapman of Tucson, Arizona
Suhan Kacholia of Chandler, Arizona
Elisabeth Kam of Burlingham, California
Sohun Modha of San Jose, California
Caroline Bellamy of Little Rock, Arkansas
Greta Bunce of Franktown, Virginia
Payton McGoldrick of Bristow, Virginia
Shalia Lothe of Glen Allen, Virginia
Emma Chambers of Little Rock, Arkansas
Tatum Smith of Little Rock, Arkansas
Sydney Adams of Fort Wayne, Indiana
Isaac Che of Mount Vernon, Ohio
Alexandra Soo of Franklin, Michigan
Isabel Davis of Elk River, Minnesota
William Milne of Fort Wayne, Indiana
Colin LeFerve of Indianapolis, Indiana
Francesca Ciampa of Brooksville, Maine
Molly Ehrig of Bethlehem, Pennsylvania
Rachel Russell of Cabin John, Maryland
Supriya Sharma of Brewster, New York
Emma Singh of Tenafly ,New Jersey
Alex DiCenso of North Kingstown, Rhode Island
Congratulations! We thank all students and teachers who took the time to research and become globally engaged citizens who care about diplomacy and development.
If you are not graduating this year, please consider submitting another paper for next year's contest. The new essay prompt will be published in September 2018.
PRIVACY POLICY:
AFSA collects your information for this contest and for AFSA partners.  You may be signed up to receive updates or information from AFSA and our partners. You will receive confirmation from AFSA that your submission has been received and a notification if you are the winner or an honorable mention in May. You may also receive a message from our sponsor regarding their program offerings.
PLEASE NOTE: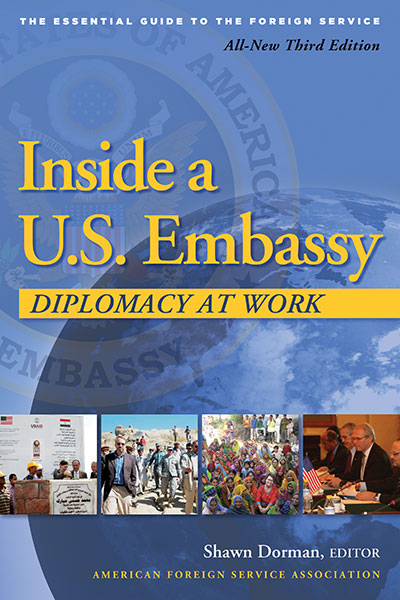 Students whose parents are not in the Foreign Service are eligible to participate if they are in grades nine through twelve in any of the fifty states, the District of Columbia, the U.S. territories, or if they are U.S. citizens attending high school overseas. Students may be attending a public, private, or parochial school. Entries from home-schooled students are also accepted. Previous first-place winners and immediate relatives of directors or staff of the AFSA and Semester at Sea are not eligible to participate. Previous honorable mention recipients are eligible to enter. $2,500 to the writer of the winning essay, in addition to an all-expense paid trip to the nation's capital from anywhere in the U.S. for the winner and his or her parents, and an all-expense paid educational voyage courtesy of Semester at Sea.
The winner's school also receives a donation of 10 copies of AFSA's Inside a U.S. Embassy: Diplomacy at Work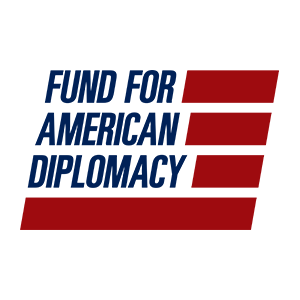 The Fund for American Diplomacy is AFSA's 501(c)(3) charitable organization that supports AFSA's outreach goals. AFSA National High School Essay contest is AFSA's main outreach initiative to high school students. We appreciate your willingness to contribute. Rest assured that your contribution will be put to good use. Donations to the FAD are fully tax deductible.