In Washington's diplomatic community, fashion and diplomacy go hand in hand.
BY MARTHA THOMAS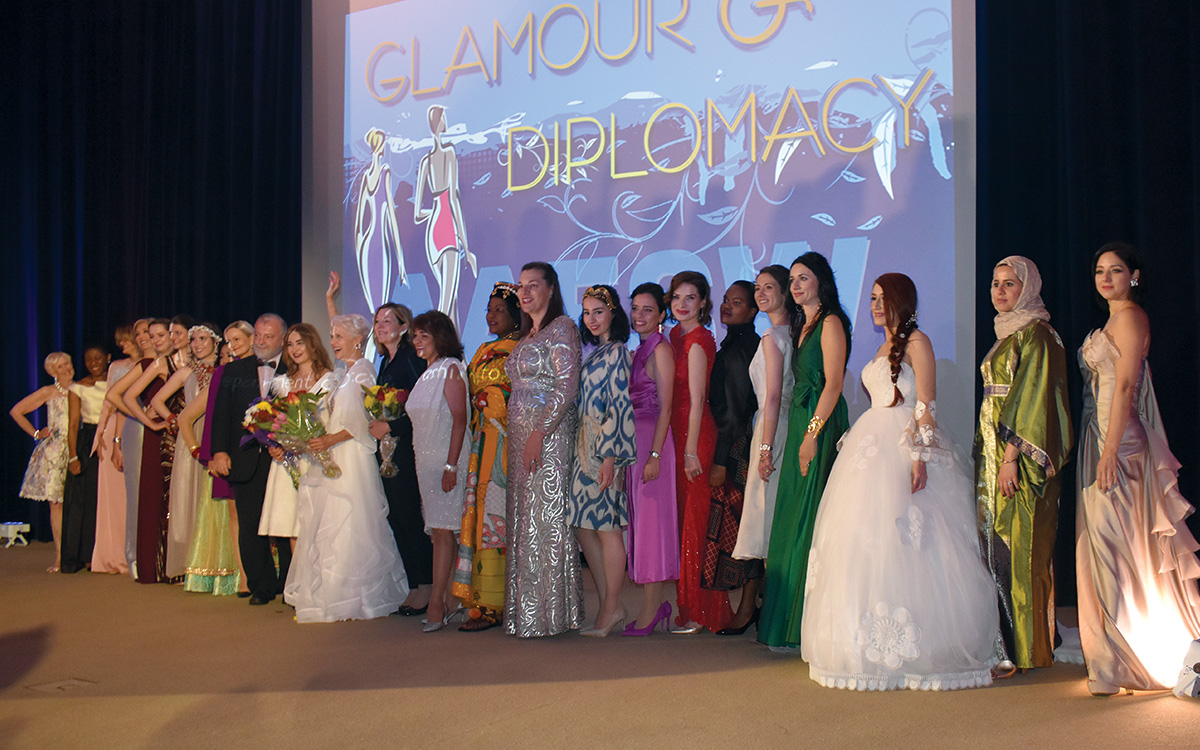 The first Glamour & Diplomacy event, held at the State Department, included models from around the world, many of them married to ambassadors.
Eric Thiel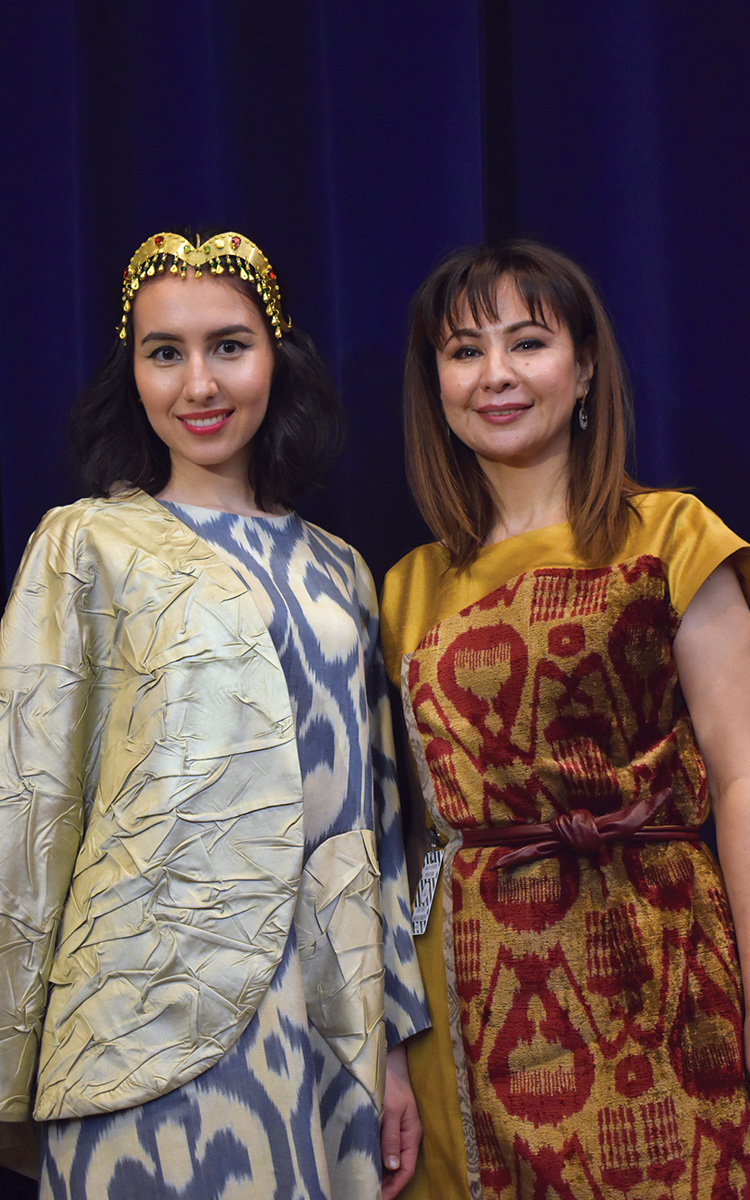 Dildara Rakhmatullaeva, left, in a dress by Uzbek designer Markhamat Umarova, right.
Eric Thiel
Toward the end of the first-ever Glamour & Diplomacy fashion show, organized by the Associates of the American Foreign Service Worldwide and held at the State Department in April, Changu Mazama Newman, wife of David John Newman, Botswana's ambassador to the United States, took a star turn. Earlier that morning, Newman had modeled a modern take on a traditional Tswana dress with a head scarf. The vibrant olive green and red dress was accented with a Masai-style beaded neck piece and bracelet.
Appearing in a second outfit, Newman twirled to show off a full cotton skirt, patterned in a traditional African black, green, gold and rust print. She stopped to pose, one hand on her hip, so we could take in the blousy black top, its high neck tied with a bow, sleeves long, sheer and cuffed.
The audience in the Dean Acheson Auditorium cheered. The emcee, Czech Ambassador Hynek Kmoníček, announced that the designer of the outfit, Isabel dos Santos, will soon be opening a shop in Maputo, Mozambique, and will also sell her creations online.
Diplomacy and Design
"As an ambassador's wife, I can't open a boutique in Washington, D.C.," dos Santos, who is married to Carlos dos Santos, Mozambique's ambassador to the United States, later tells me. "We aren't allowed to work."
Indeed, spouses of diplomats from Mozambique and many other countries are not permitted to work in Washington because their governments have not signed bilateral work agreements with the United States, meaning spouses of U.S. diplomats posted to those countries are not permitted to work there, either. Spouses of U.S. and foreign diplomats can only work in countries with reciprocal work agreements.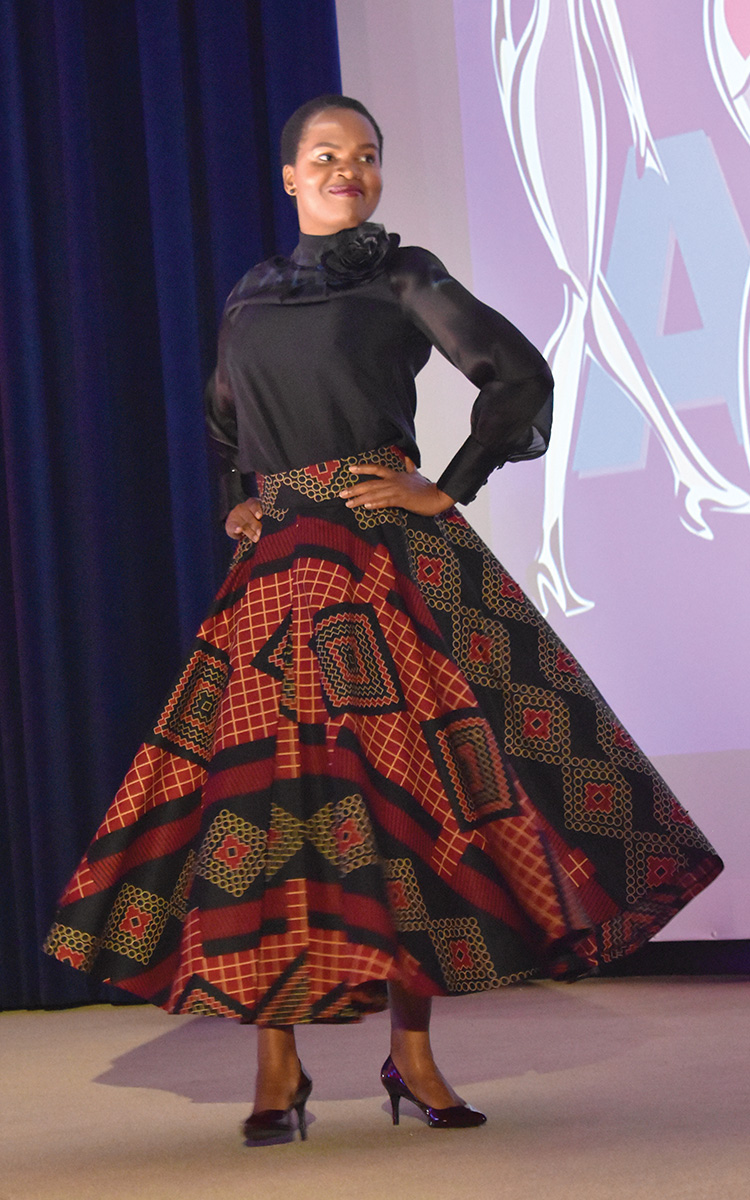 Changu Mazama Newman, wife of David John Newman, Botswana's ambassador to the United States, models a dress by designer Isabel dos Santos.
Eric Thiel
These restrictions may explain in part why a fashion show held at 10 a.m. on a Tuesday—complete with dramatic multicolored stage lighting, a DJ and a backdrop of photos from around the world—was able to enlist a host of models, representing 21 countries, many of them married to diplomats. The weekday morning event drew an audience of more than 400, about two-thirds of them women, many dressed in evening attire.
But there's more to the story. "We wanted it to be elegant," says Jan du Plain, whose public relations firm, Du Plain Global Enterprises, helped organize the event. Rather than showcasing traditional fabrics and folk dress from around the world, says du Plain, "we wanted to showcase up-and-coming international designers."
Seeing the array of couture clothing, modeled by glamorous ambassadors' wives, says du Plain, who wore a frothy white floor-length gown to the event, means that those unfamiliar with Gaborone, Tashkent or Asunción "can see that these are very sophisticated, cosmopolitan places."
The Origin of the Designs
At the same time, many of the designs conveyed something of their origins in the fabrics, stitchery techniques or cultural propriety. Dos Santos' cotton print, for example, is familiar to Mozambicans as capulana, a piece of rectangular fabric with multiple uses. "You have to take a capulana wherever you go," the designer explains. "You always have to cover your legs, so you would have one to tie at the waist and a second for the top. If you need to sleep somewhere, you can use it as a cover."
Likewise, the long sleeves and modest neckline of her design conformed with local practice. "If you speak to my mother, she will tell you it is very important to cover your knees and your arms," dos Santos says. Younger people in Mozambique are less restrained, she points out, explaining that the dress was a nod, if not to her mother, then "mostly for the mother-in-law."
We wanted to showcase up-and-coming international designers.
–Jan du Plain

 
Dos Santos herself modeled another of her own creations, a long silk dress with a cream cap-sleeved bodice and a long black pencil skirt surrounded by an outer skirt that billowed behind her. The dress, she says, was inspired by the designers she loves, including Carolina Herrera and Christian Dior.
Dos Santos began dressmaking in earnest as a bored diplomat's wife in Berlin: "I couldn't speak the language. I was frustrated." She groused to her aunt, a retired dressmaker in Maputo. "She told me, 'Buy a sewing machine. Stop complaining.' And I did, and that was it." Dos Santos bought some fabric and a Vogue pattern, and immediately found her calling: "It was my first dress. And I could wear it."
From Mozambican Capulana to Uzbek Ikat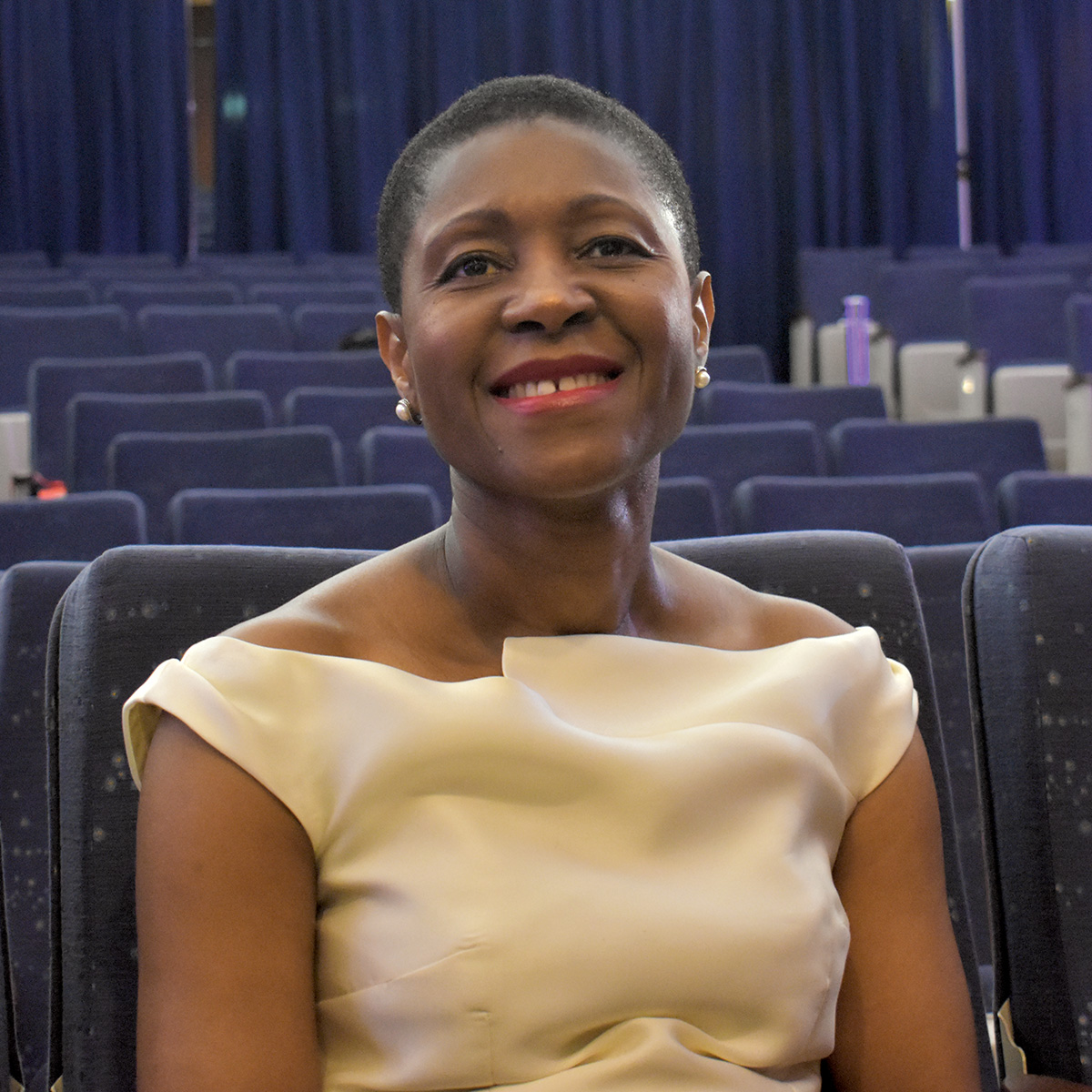 Isabel dos Santos, wife of the ambassador of Mozambique to the United States, Carlos dos Santos, wears a dress of her own design.
Eric Thiel
Dos Santos says she was intrigued by other entrants at the Glamour & Diplomacy event, particularly Markhamat Umarova from Uzbekistan. Umarova, whose company is called Maru, turns ikat, a fabric that is part of her country's history and economy, into designs suited to an international clientele.
Ikat is made by using dyed threads in the warp of a woven fabric. While it's recognizable, and has become popular, as a geometric pattern with fuzzy outlines, the finest examples of the technique have shapes with clean, sharp edges. Ikat fabric can be velvet, silk or cotton—or a combination thereof.
Umarova wore an asymmetrical gold silk dress of her own design, with a front panel of red and gold velvet ikat, while the model representing Uzbekistan, Dildara Rakhmatullaeva, wore an adras (silk and cotton) A-line dress in a blue and cream ikat print. A band of silver crushed silk began as a pocket on the left hip and moved across the back to the right shoulder, forming a long-sleeved half-jacket attached on one side.
Umarova, who started her company in 2006, says she integrates the traditional Uzbek textiles into clothing for a global audience with a goal of, yes, diplomacy. "Fashion is a unique language," she says. "Sometimes it works better in establishing connections between people from different countries than just words." When she works with female ambassadors and diplomats, and the wives of diplomats, she says, "I see their interest and respect for our culture."
According to Umarova, a former U.S. ambassador to Uzbekistan, Pamela Spratlen, has purchased Maru clothing. Umarova says that Spratlen's interest in Uzbek culture and folk arts increased the respect the ambassador received during her time in that country. "This interest was demonstrated in having the products of Uzbek designers," says Umarova.
Indira Gumarova of the Czech Republic, right, one of the Glamour & Diplomacy organizers, with fellow models Ljiljana Vidovich of Slovenia and Anamaria Maior of Romania. All three are married to the ambassadors to the United States from their respective countries.
Eric Thiel
Dressing for Diplomacy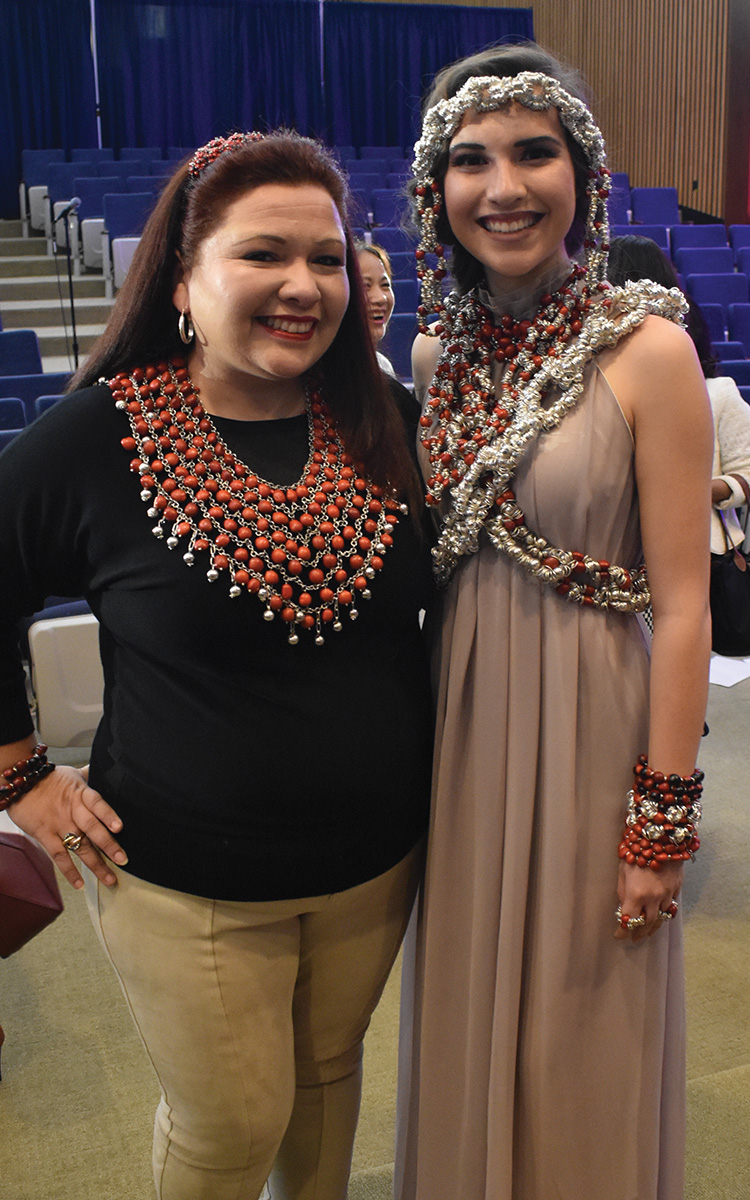 Peruvian designer Evelyn Brooks, left, with model Annemarie Ochoa Cake.
Eric Thiel
The clothes you choose while posted abroad matter, points out Indira Gumarova, who is married to the Czech ambassador to the United States and helped to organize and curate the Glamour & Diplomacy show. "The language of clothes is a form of communication," she says. Gumarova, who has worked in public relations in New York, points to the criticism First Lady Melania Trump faced for her choice of a colonial-style pith helmet on a visit to Kenya, and how Michelle Obama chose clothing by U.S. designers that acknowledged local customs when she traveled abroad.
Many people make blunders, she concedes, recalling a time she wore a pair of inexpensive shoes to meet with the first lady of the Czech Republic and Manolo Blahnik, the designer she calls "the king of shoes." The shoes were ruined in the rain on the way to the Prague Castle, so she showed up to high tea barefoot. "Fortunately, they had a sense of humor, so were laughing with me," she remembers.
Gumarova says she was dismayed when she arrived in Washington and began to entertain at the Czech embassy. "If I put on the invitation to dress up, women would show up in a black dress and pearls," she says. And if the invitation called for smart attire, "that means a black dress with no pearls."
The April event will be the first of many, according to Gumarova. For future events, she says, she hopes to also emphasize men's fashion.
Gumarova founded the organization Diplomacy & Fashion LLC with a goal of understanding "how the language of fashion can be used to deliver the message of diplomacy." In Washington, D.C., she explains, diplomats' spouses "have book clubs and bridge clubs, but nothing around fashion." She worked with Sheila Switzer, program chair for AAFSW, to put together the fashion show at the State Department.
Along the way, Gumarova met Isabel dos Santos and encouraged the Mozambican ambassador's wife to pursue her dream of opening a boutique. The Glamour & Diplomacy event was dos Santos' debut as a designer.
In Mozambique, dos Santos led an entirely different life, working for the National Demining Institute as a program officer for the organization tasked with removing land mines. "It had nothing to do with fashion," she notes. "But when I'm posted with my husband, I'm a homemaker. Our jobs are to entertain and help our husbands." For dos Santos, designing clothes means she can contribute to international diplomacy in her own way.
Read More...