President's Views
BY BARBARA STEPHENSON
For this, my 40th and final column as your AFSA president, I sought and received support from the AFSA Governing Board to include a message from AFSA's incoming president, Ambassador Eric Rubin. This gives me a chance to pass the baton to AFSA's terrific new leadership team, right up front, in the opening pages of the FSJ.
I am deeply honored that Ambassador Rubin plans to continue with the priorities set by the Governing Board that I led for four years. I am so pleased that he chose to show this commitment by adopting "Strong Diplomacy" as the name of his slate. I am also honored that Ambassador Rubin asked me to officiate at the July 15 ceremony, swearing him in as AFSA's new president. He will then, in turn, swear in the rest of the 2019-2021 Governing Board members.
As I wrap up four years as AFSA president—and, as it turns out, simultaneously wrap up a nearly 34-year career as a Foreign Service officer (I will take up a new role beyond State in September)—I would like to conclude my service by returning to where I began, in my very first President's Views column: recognizing the extraordinary demands that are made of the extraordinary people who answer the call to serve in the U.S. Foreign Service.
I wrote in that first column about how within minutes of being sworn in with the Strong Diplomacy board, we had the opportunity to welcome the 183rd A-100 class to AFSA headquarters. We felt such pride in our profession that day, and in the continuity of one generation to the next.
I spoke to that group of new FSOs about what our pledge to worldwide availability means in practice. We commit to serve in remote corners of the globe, often in unsafe and unhealthy conditions, where good schools for our kids and jobs for our spouses are scarce, where duty and danger go hand in hand.
We master diplomacy in large part through on-the-job training, moving to a different job, often a different continent, every two or three years, never able to fully settle into a job and a place we love, never able to get fully comfortable and put down roots. These demands, along with the rigors of our competitive up-or-out system, keep the corps strong but inevitably take a toll on individual members of the Foreign Service.
The challenges of our service have grown during my time as AFSA president. Having just gone through Fair Share bidding myself, I understand and share the frustration many of you express with trying to find a career path that makes sense for you and your family while checking the boxes to comply with the new Human Resources Professional Development Program, announced in 2018, governing assignments today.
The PDP requirement for at least two greater hardship tours further complicates bidding. And with so many Foreign Service positions pulled from Moscow, Kabul, Baghdad, Erbil, Basra, Havana and Caracas during the past two years, many of you struggle to find an onward assignment overseas.
During my presidency, AFSA pressed relentlessly for a concerted effort to restore the position base at our overseas missions. This is critical for rebalancing the system and restoring a career path so members of the Foreign Service can get the experience they need to develop into tomorrow's leaders. And it would solve the immediate need to get a full Foreign Service team in the field to avoid losing ground to rising powers, such as China.
We have found that these arguments resonate on Capitol Hill, where bipartisan support for keeping a full Foreign Service team on the field is remarkably strong. This bipartisan support from Congress is one of the key achievements of my time as your president, and I encourage each of you to do your part to keep it strong, in part by telling your own story of delivering for the American people.
AFSA also fought against the added requirements for service at greater hardship posts, arguing that this was a solution in search of a problem (the greater hardship posts were, prior to the PDP change, already filled with at-grade bidders) and that the dwindling number of greater hardship positions would make it impossible for many members to meet a requirement for seeking promotion into the senior Foreign Service. AFSA took this issue (and, during my presidency, only this issue) to impasse resolution; and, unfortunately, we did not prevail.
I believe this issue should be revisited. Did the changes improve the bidding process enough to justify the added stress on the system and on individual members? And do we really believe, as HR argued in justifying the new requirements, that the only valid path to senior leadership is via at least two greater hardship tours?
While I value my own experience in war zones, I would argue that we should retain the possibility for a variety of paths to senior leadership to be sure we have a broad mix of expertise in our senior ranks. The administration's marked movement away from "expeditionary diplomacy," as evidenced by the drawdowns described above, also argues for a fresh look. Fixing this would be an easy lift; it wouldn't even need congressional approval. What State put in place, State can revise.
As AFSA's first Strong Diplomacy president, I would never argue for changes that weaken the corps, that undermine the strength and resilience of the Foreign Service.
At the same time, I believe the extraordinary demands made on individual members of the Foreign Service deserve full recognition—and certainly should never be made harder without a good reason.
I am profoundly pleased that our fellow Americans are much more aware today than they were four years ago of what America's diplomats do and why it matters. Through the strategic partnerships AFSA forged, through our outreach efforts, and through the work of AFSA members (especially retired members), the proud story of the Foreign Service is being told in all 50 states across this great nation of ours.
Ours is a story of remarkable service and sacrifice, a story of delivering for our country in the face of unique challenges. I am proud of our collective story and more convinced than ever that what America's diplomats do is instrumental in sustaining American global leadership and keeping us secure and prosperous at home.
It has been my great honor to serve alongside you these last four years and throughout the past 34 years, working to expand the reach of democracy; to help build a Europe whole, free and at peace; to fight corruption and help build good governance; to level the playing field for American business; and to forge consensus on protecting the planet we share.
As I pass the baton, I encourage you to both continue this tradition of exemplary service and fully own our story of taking on a uniquely challenging career and delivering for the American people.
Greetings from the New AFSA President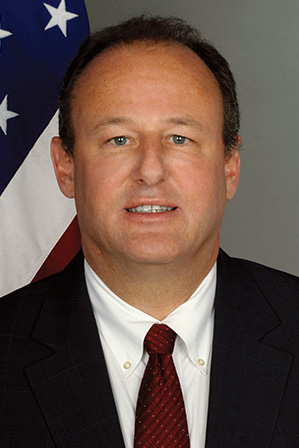 I would like to start by thanking AFSA's members for your support in the recent election. Our board is starting work with a strong mandate to address the many urgent challenges that we face as an association, as a Service and as a profession.
I salute Barbara Stephenson and the outgoing board for their dedication and accomplishments. AFSA is stronger because of their efforts, our Foreign Service is stronger and American diplomacy is stronger. But there is much more work to be done.
The 2019-2021 Governing Board will begin its work with a strong focus on securing funding for American diplomacy, for getting our members out into the field, and for demonstrating the critical role that our Foreign Service plays in securing America's security, prosperity and progress.
We cannot accomplish those goals without adequate resources and staffing, and so my first priority will be to work with the senior leadership of all of our foreign affairs agencies and our elected representatives to reverse the creeping cuts and the inadequate staffing of so many of our missions overseas.
AFSA needs to push our agencies to reverse the serious decline in diversity, step up recruiting and outreach, and do more to explain to the American people and their elected representatives why our Foreign Service is important to our country's future.
We must also support efforts to make it easier for our colleagues to serve overseas, and to ensure that the Foreign Service is truly family-friendly. We need medical policies and rules that do everything possible to enable our colleagues to serve overseas, advance their careers and advance our country's interests.
I will do everything I can to validate the trust and confidence you have given me. Together we can achieve much. I promise you I will give it everything I have.
—Eric Rubin