One Story, Two Events, Seven Leadership Lessons
Policy crises and human crises in faraway places—the stuff of diplomacy today—offer compelling lessons in leadership.
BY PRUDENCE BUSHNELL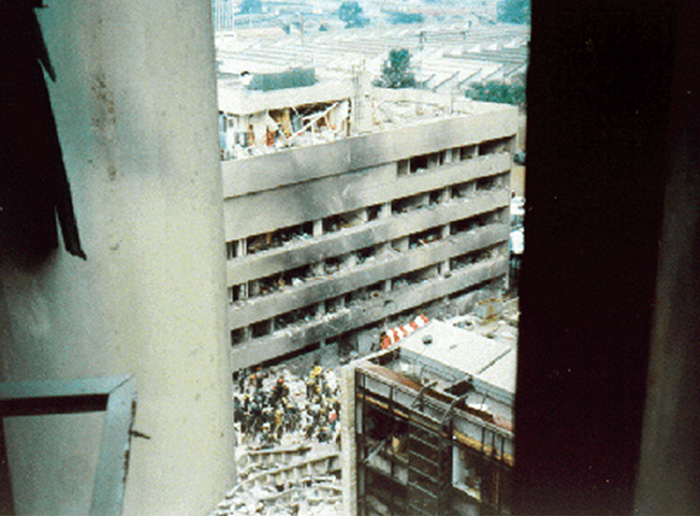 A view of the wreckage after the Aug. 7, 1998, terrorist bombing of U.S. Embassy Nairobi that left hundreds dead and wounded.
U.S. Office of the Director of National Intelligence
Welcome to the new team. Whatever happens under your leadership and on your watch, you can count on policy crises and human crises in faraway places. During my own career, the 1994 Rwanda genocide and the 1998 al-Qaida bombing of our embassies in Kenya and Tanzania left compelling leadership lessons that may be useful to you.
I witnessed the genocide from a policy chair as a deputy assistant secretary in the Africa Bureau and experienced the ADMINISTRATIONbombing when I served as U.S. ambassador in Nairobi, Kenya. Neither event provoked congressional hearings or interagency after-action reviews. The political imperative is to move swiftly past failure, and the Department of State lacks the tradition of appreciative inquiry.
It took the 9/11 attacks to reveal national security and law enforcement weaknesses that could have been addressed in 1998. Echoes of the report of the Accountability Review Board's limited scrutiny of the East Africa bombings can be found in the Benghazi Accountability Review Board's 2013 report, including the need for better leadership at several levels.
I joined the Foreign Service with a background in management training and left as a leadership practitioner with strong field experience. I continue to promote leadership in federal government and refer to Rwanda and Nairobi as events that shaped me as a leader. Here is what I learned.
1. Leadership is not about you.
From a top spot in a hierarchical organization known for its "kiss-up, kick-down" culture, it was tempting to think I was practicing leadership by showing up and issuing brilliant commands. Especially as ambassador, it was easy to make the job all about me. However, if I wanted an effective team capable of applying individual and agency talents and resources toward shared goals, the focus had to turn outward. Before the bombing, transforming policy into results meant disciplined use of people's professional skills, not their staff assistant abilities.
The bombing showed that our Embassy Nairobi Country Team was in fact a team, not just another name for senior staff. We suffered a 50-percent casualty rate in the chancery on Aug. 7, 1998. Forty-six employees died, among them 12 Americans, and literally no one escaped without wounds, many of them life-changing. Yet it never occurred to any of us to close down operations. Most American employees decided to remain at post following the bombing. Kenyans had no choice but to stay.
The lesson that practicing leadership means getting over yourself to focus on others came as a whack upside the head a few weeks after the attack. I was asked to speak at an unexpected remembrance ceremony for a beloved colleague. I was burned out from funerals, memorial services, anger and sadness. Physically and emotionally exhausted, I actually felt a stab of resentment. Whack: This is not about me!
During the Rwandan genocide, it was all about us. Washington policymakers acknowledged that we were the "world leader" in the international arena, but when it came to this crisis, practicing leadership was the last thing we did. We spent almost all of our time talking about "us"—i.e., what the U.S. government could/should/would not do. Instead of harnessing our brainpower to come up with innovative ways of halting a genocide absent military boots on the ground—if such a thing is possible—we argued. Meanwhile, more than 800,000 children, women and men were massacred. When the U.S. did practice leadership—the Marshall Plan is a good example—results were transformative. This was not the case in Rwanda, and President Bill Clinton later apologized.
I could not heal a wounded community, but I could help create an environment in which healing was possible.
2. The best strategies come from asking good questions and listening, especially to dissent.
I learned the importance of good questions while doing evacuations and crisis work in the Africa Bureau. When we were bombed, I had no idea what people needed in order to survive at ground zero. I was in the building next door and then at our crisis control center. The survivors who turned themselves into first responders were the ones with the information. My job was to understand their reality and represent their needs. That part never stopped over the next 10 months.
Leadership is "the process whereby one individual influences a group of individuals to achieve a common goal," according to Peter Northouse in Leadership: Theory and Practice (Sage, 2013). I saw it practiced at every level; and at mine, I needed to get accurate information and honest feedback. No one seemed to have a problem with that, and as a result, we avoided important mistakes.
Near the end of my tour in Kenya, I had to inform my colleagues that we had lost the argument with Washington to create a park on the site of the bombed embassy. It was leased property from the Kenyan government and would have to be returned, I advised.
"You can't do that!" came a voice from the other side of the room. "Land grabbers will plant another building on the busy corner," he continued. "And there will be nothing to commemorate what happened."
Everyone in the room knew he was right. We made a plan, encouraged private means to build and maintain a park, and I lobbied President Daniel arap Moi's government to donate the land. In 2016, President Barack Obama laid a wreath in that peaceful place. What if no one had said, "You can't do that"?
Could we have picked up warning signs of a pending genocide in Rwanda had we asked good questions and listened? For my part, I was delivering démarches in the country until two weeks before the slaughter began; and I can attest that we and other foreign governments were continuing to press our policies as plans for the slaughter unfolded.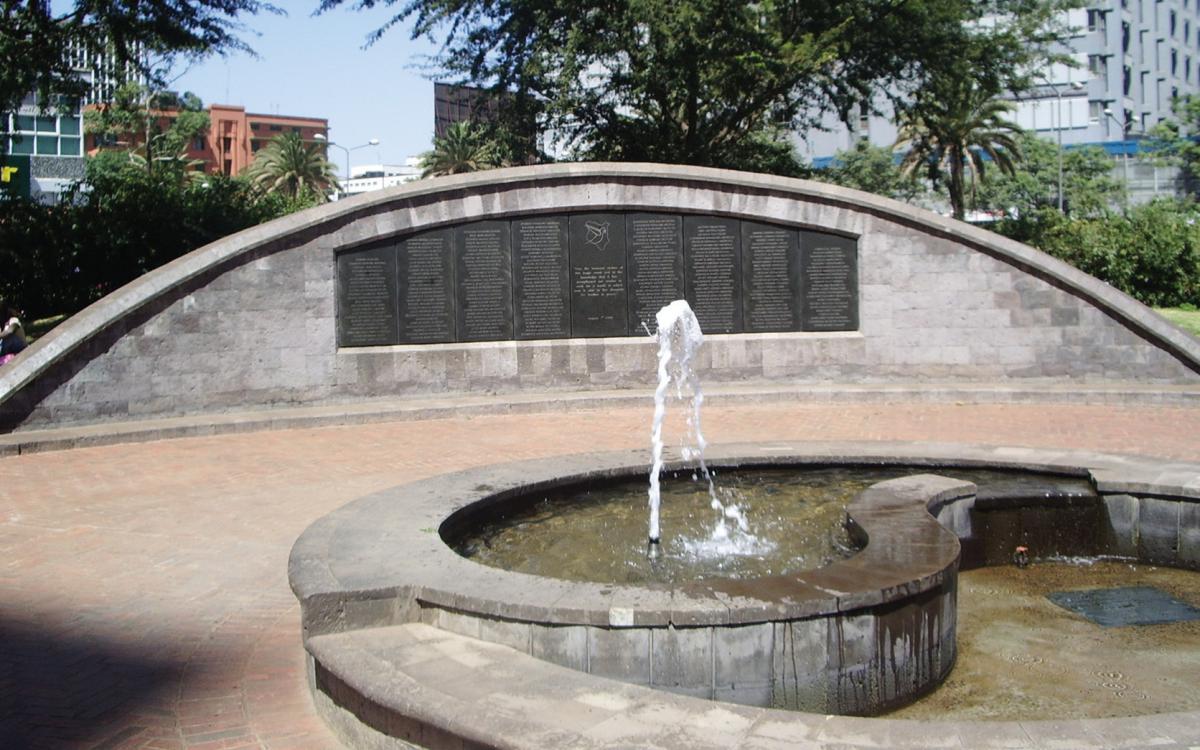 The Memorial Park at the site of the embassy bombing in Nairobi was opened in 2001 to honor those who were injured and killed in the terrorist attack.
Zweifel / Creative Commons
3. Grow teams and develop trust through meaningful goals.
When violence erupted in the streets of Kigali, the interagency crisis team in Washington worked night and day to help American citizens leave Rwanda safely. We had concrete goals, realistic evacuation strategies designed by the people on the ground and a worldwide team. Once Americans were out and U.S. interest evaporated, we morphed into a cantankerous policy working group without goals, direction or authority. As thousands of people died, we tasked one another with reports.
In Nairobi, before the bombing, the country team had set challenging goals to address corruption and promote peaceful presidential elections in 1997. The experience of interagency and Kenyan and American work teams pursuing those goals together literally saved lives on Aug. 7-8. For the first 48 hours, we were on our own. As rescuers dealt with transport problems, Kenyan-American teams tended our wounded, assisted devastated families and combed hospitals, morgues and neighborhoods to locate the missing. When the senior team developed mission goals after the bombing, we published them in the embassy newsletter. "Put people first" headed the list of objectives, and we accomplished all of them.
4. Nurture a culture of leadership and mind your leadership business with passion.
My business was to multitask the issues that helped others get their jobs done. If I got my job right—from getting the resources to overseeing the many moving parts of our reconstruction, policy and law enforcement efforts—everyone else did, too. Decisions got pushed down, and leaders emerged at every level. A military post-office team that was in town to reconsider our mail privileges on the day we were blown up stayed to re-establish mail services in our office parking garage. No one asked them; they just did it. With not a dime of extra money—Congress was very specific about this—our U.S. Agency for International Development colleagues took on the creation and management of $30 million in assistance to Kenyan victims of the bombing even as they themselves were recuperating from it.
I could not heal a wounded community, but I could help create an environment in which healing was possible. That was a good part of my business. So was visibility. I could not take away anyone's anger or loss—Kenyans experienced both—but I could validate it. That meant showing up. To rebuild our organization and community, we asked for a lot of outside help and got it. Another piece of business was to ensure that "they" became "we." Reminders of what we were accomplishing and celebrating milestones helped. When I was in leadership mode I was thinking strategically, acting intentionally and behaving with the integrity people demanded. Nothing just happened.
5. Take care of your people, and the rest will take care of itself.
This piece of advice from Ambassador Don Leidel, a former boss and mentor at the Foreign Service Institute, popped into my head 24 hours after the bombing in Nairobi, at a moment when I was bombarded with conflicting demands. It became my mantra and leadership philosophy, but it was not easy. It meant addressing poor performance and people suffering post-traumatic stress disorder, challenging archaic department traditions and regulations, and creating waves to make change. But Don was right. We overcame extraordinary challenges, and we did it together.
I saw what can happen when we do not take care of people, particularly the people we employ locally. When I returned to Rwanda shortly after the killing had stopped, I represented Washington at the memorial service for colleagues who died in the genocide. I was keenly aware that we had agreed to bar Rwandan citizens from our evacuating diplomatic convoys in order to ensure safe passage for U.S. passport holders. I understood the bargain, and as I stared into the stoic faces of the survivors I also understood their sense of betrayal.
I felt it myself when, after 9/11, I learned how much vital information about al-Qaida activities in the 1990s had been withheld from me by colleagues in other agencies when I was chief of mission in Nairobi. Afterward, the failure to review intelligence practices and policy failures meant that nothing would change in the way we were collecting and sharing intelligence—until al-Qaida attacked the homeland.
After 1998, the failure to review intelligence practices and policy failures meant that nothing would change in the way we were collecting and sharing intelligence—until al-Qaida attacked the homeland.
6. Take care of yourself.
My body needed rest and exercise, my mind needed distraction, and my spirit needed healing. I confess I was a good role model, intentionally taking time out and demanding that others do so, as well. No one declared World War III. Stiff upper lips, overworking and sleep deprivation could not produce the leadership style of energy and optimism I wanted to convey and nurture.
7. Persevere.
During the early days of the Rwandan genocide I spoke several times with one of the senior perpetrators, demanding that the killing stop and eventually advising him he would be held personally accountable for his role. He obviously did not listen, and Washington colleagues mocked me for my attempts. But at least I was doing something, and I never regretted the effort. That individual is now serving a life sentence in prison.
Rwanda taught me to leave no stone unturned or cage unrattled if I wanted to understand local events or get unpopular decisions made in Washington. I tried for two years in Nairobi to get attention paid to the security vulnerabilities of our chancery and failed. But I did try. And that made all of the difference for me after 213 people died and thousands of lives changed forever.
The so-called "long war"—which the East Africa bombings presaged—will not likely end under this administration's time in office. Nor will globalization, poverty and climate change—or, for that matter, the State Department's need for sustained, effective leadership at all levels.
Since leadership training at mid- and early senior levels became mandatory a decade ago, energetic, ground-up initiatives like iLead (a group of State employees dedicated to improving leadership at State) and activities like the Bureau of Consular Affairs' peer training programs have grown. They persevere in transforming a culture that valued individual achievement, conformity and hierarchy to one that respects team work, diverse perspectives and shared goals. The quality of our nation's international activities rests in the capable hands of the diplomats of the State Department and USAID; and they need intentional leadership at the top, not just among themselves. That does not just happen.
These are my lessons, my story. Others have much more to share with anyone who wants to ask, listen and act. Action is, after all, the essence of leadership. I wish you a legacy that history, and your great-grandchildren, will find positive.
Read More...