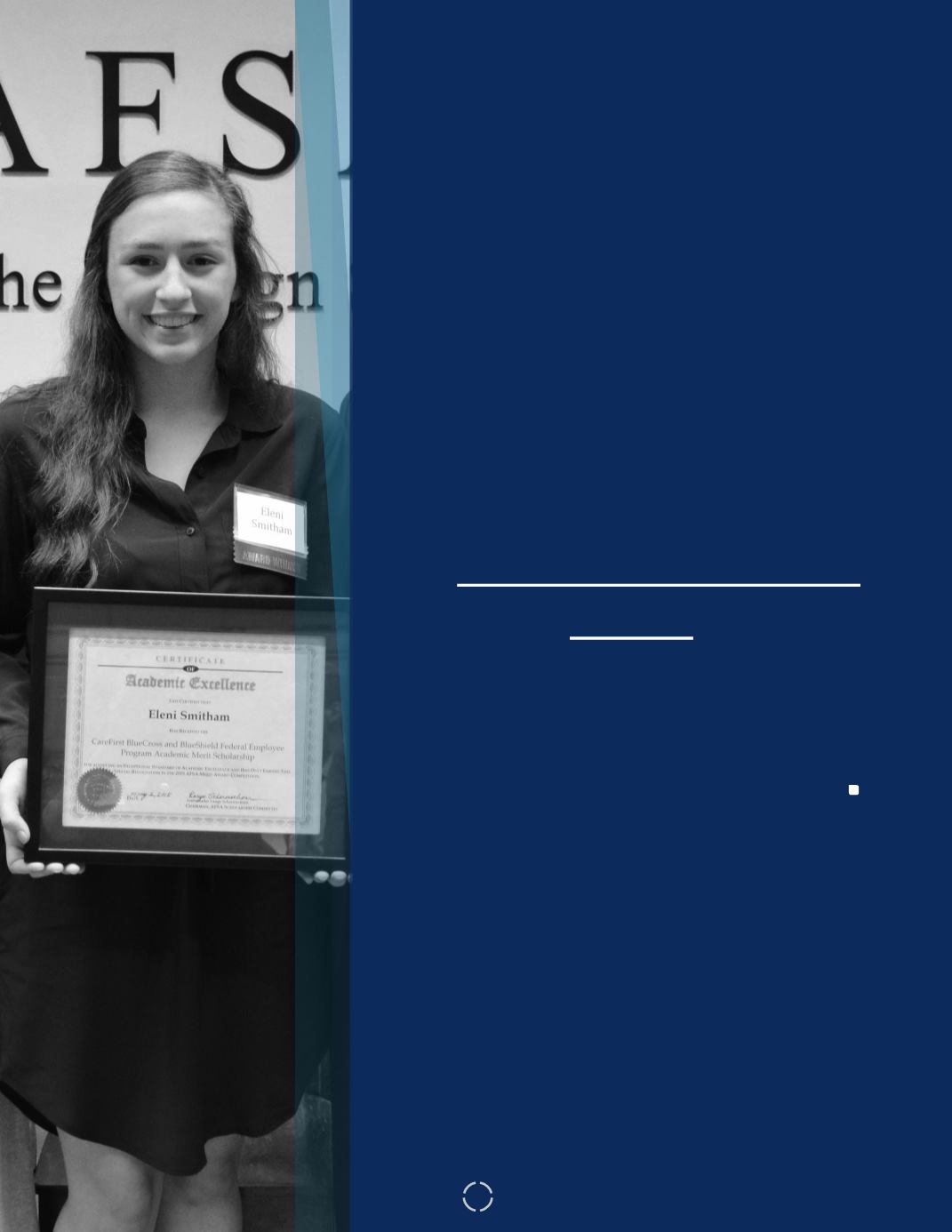 Eleni Smitham receives
the BlueCross BlueShield
Federal Employee Program
Scholarship at AFSA's
annual Merit Awards
ceremony in May. (AFSA/
Brittany Delong)
36
THE FOREIGN SERVICE COMMUNITY GIVES BACK
THROUGH AFSA SCHOLARSHIPS
The AFSA Scholarship Program has benefited Foreign Service
children since 1926. In the last 25 years alone, it has provided
2,200 students with more than $4 million in college aid. The
program delivers need-based, financial aid scholarships to
undergraduates and a community service and academic and art
merit awards to graduating high school seniors.
In 2015, the program bestowed $263,000 on 84 recipients—the
largest outlay of scholarship funds in its history and a
9-percent increase over the previous year.
The aid would not be possible without generous bequests and
donations from those in the Foreign Service community. In
A
ugust, Tracy McMackle established the Joshua Lane-Holman
McMackle Memorial Scholarship in memory of her late son.
In March, the late
Linda K. Fitzgerald
bequeathed $950,000—
the largest single amount ever—to the AFSA Scholarship Fund,
bringing the total endowment to $7 million. That endowment
generates roughly $300,000 each year, enabling AFSA to give
out $263,000 in scholarships. The remaining money goes to
the overhead costs of administering the scholarship program,
which does not use AFSA dues.
$7
million
TOTAL ENDOWMENT
OF THE AFSA
SCHOLARSHIP FUND
TO DATE