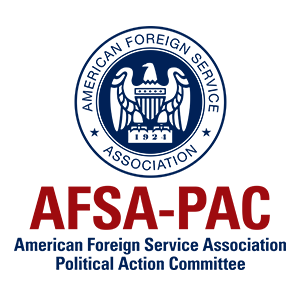 AFSA-PAC Donation Form
Please note that a red asterisk indicates a field that must be filled in order for the form to be submitted.
Created in 2002, AFSA's Political Action Committee (PAC) is envisioned as a tool that allows AFSA to keep raising its profile on Capitol Hill. It is one of the legislative tools used to advance AFSA's agenda, helping to solve the overseas comparability pay issue and to secure important funding for our foreign affairs budgets. AFSA-PAC ensures that we have a seat at the table and allows us to draw greater attention to our issues.
All PAC funds are solicited from AFSA members. No other outside donations are accepted, as the PAC advocates for Foreign Service employees and retirees only. Therefore, we rely greatly on our members to support the PAC with their generous donations.
Our focus continues to remain on the appropriating and authorizing committees with jurisdiction over Foreign Service management issues, Foreign Service staffing, and general foreign affairs matters. We enjoy our good relations with key decision-makers at the highest levels in both parties and we also look to expand our cultivation effort to include new faces.
As is stipulated in the PAC's bylaws, our donations are primarily bipartisan. Democrats and Republicans each receive equal support from the AFSA-PAC. We concentrate mainly on members of four committees and subcommittees on both sides of the Hill:
Senate Foreign Relations Committee
Senate Appropriations Subcommittee on State, Foreign Operations and Related Programs
House Foreign Affairs Committee
House Appropriations Subcommittee on State, Foreign Operations, and Related Programs
Members who do not serve on any of these committees may be recipients of AFSA-PAC funds, but in those cases they will usually have shown a consistent dedication to the support of diplomacy, development, and the Foreign Service workforce.
As AFSA implements its legislative agenda, we are confident that AFSA-PAC will continue giving the Foreign Service a greater voice.
The AFSA-PAC Advisory Committee
We thank the following individuals for volunteering to serve on the AFSA-PAC advisory committee.
Hon. Earl Anthony 'Tony' Wayne (chairman/treasurer)
Hon. Mike Klosson
John Naland
Additional information:
Contact Us!
Hon. Earl Anthony 'Tony' Wayne, Treasurer
Russ Capps, Assistant Treasurer
Kalpna Srimal, Keeper of Records
AFSA-PAC, 2101 E St, NW, Washington, DC 20037