Ukraine in 2016: There's No Going Back
Young Ukrainian leaders battle Russian pressure, endemic corruption and a moribund economy in pursuit of a new, independent identity.
BY WILLIAM GLEASON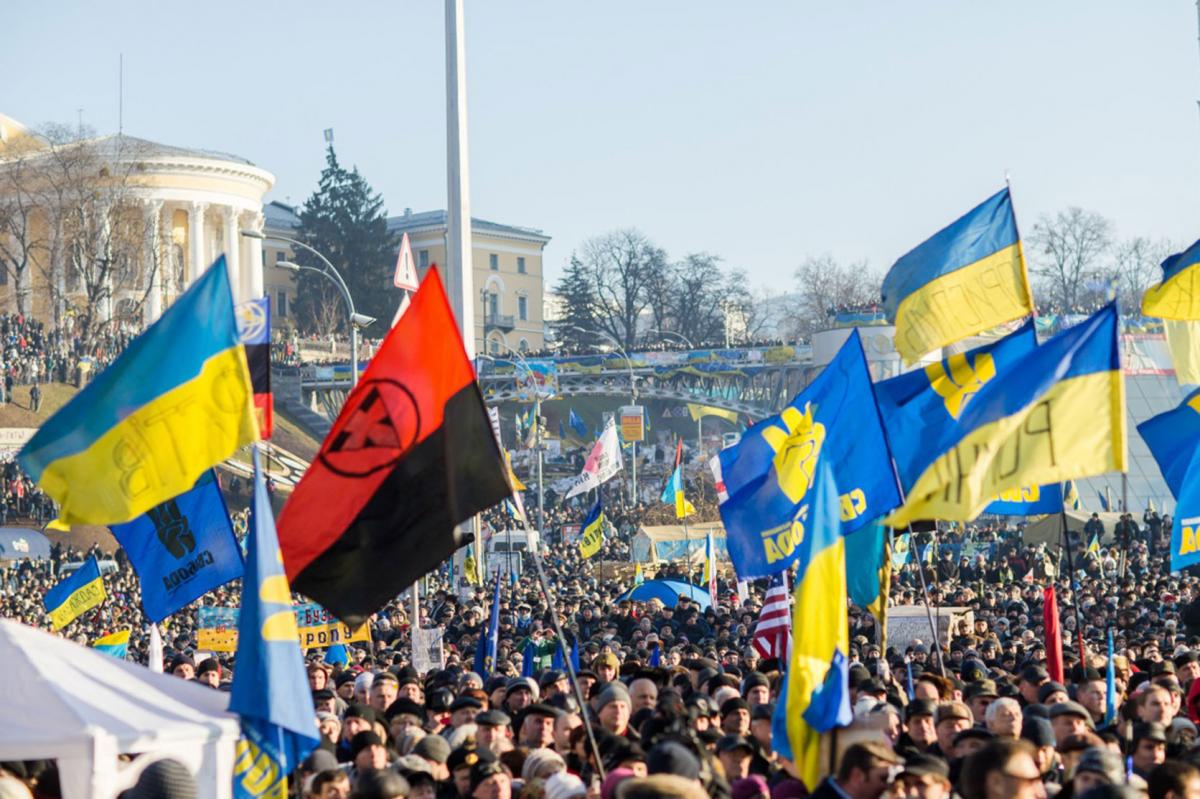 Euromaidan protests in Kyiv, 2013.
Sasha Maksymenko / Wikimedia
For most of its history, Ukraine has been treated as a stateless borderland of scattered peoples wedged between competing civilizations— principally Poland and Russia. But over the past quarter-century, that perception has been replaced by a new orientation, a new identity that is Western in design and democratic in substance.
The students at the National University of Kyiv-Mohyla Academy, where I taught in the 1990s and returned in 2015 to conduct a seminar on modern Europe, certainly believe that a historic change is underway in their country, one that will not be reversed. And they have been instrumental in making it a reality. Both students and faculty at Mohyla, the best university in Ukraine, played a key organizing role in the Orange Revolution of 2004 and the Euromaidan movement of 2013-2014.
Now they are united in their determination to Europeanize their education and Ukraine's future. None of these students lived under Soviet power. Twenty-five years have passed since Moscow ruled Ukraine. Almost two generations of students and young people, in general, have reached maturity since 1991, when the USSR imploded. Many now hold leadership positions in business and government. As one student put it when the seminar began: "We are not hesitant. Our parents often hesitated and sometimes, even, our older brothers and sisters. We know that freedom must be earned and can disappear. It has to be fought for, sometimes. It is always fragile."
The co-manager of the Sherborne Guest House, a boutique hotel where I lodge during my annual trips to Kyiv, would agree. As she mused one afternoon while I was checking in: "Until 2014, 90 percent of our guests came from Russia—90 percent! But since the summer of 2014, zero guests from Russia. Not one Russian guest over the past 18 months. Not a single person. But our rooms are still full—full of Ukrainians and visitors from elsewhere."
She continued: "To me, that says it all. It tells me that Ukrainians and Russians are no longer members of an extended family. It also tells me that Ukraine may finally become a real country, a country more sure of itself, a country with its own identity."
Today the country's economy is run by roughly a dozen oligarchs, who are unanswerable to consumers and even the Parliament.
Three Challenges
At the same time, Ukraine faces three major challenges that, if unresolved, could trump the passion of millions who stood on the Euromaidan in downtown Kyiv in 2013 and 2014. The first challenge is the crushing burden of a corrupt economy. Endemic corruption has threatened Ukraine's stability ever since the Soviet era, when bribes and kickbacks of all kinds were universal. Today the country's economy is run by roughly a dozen oligarchs, who are unanswerable to consumers and even the Parliament (Verkovna Rada). State enterprises—more than 1,800 of them at last count and all overstaffed— lose money but continue to operate.
This problem is widely recognized. Vice President Joe Biden has traveled to Kyiv regularly to urge the Ukrainian leadership to press on with the battle against corruption. It should be noted that President Petro Poroshenko, himself an oligarch, came to power in 2014 on a wave of popular resentment toward the previous president, the criminally corrupt Viktor Yanukovych. Now, however, Poroshenko pleads for patience from the general population, even as key pro-reform ministers like Aivaras Abromavicius, who was in charge of the economy and trade, continue to resign.
As one student at The Kyiv-Mohyla Academy told me last fall: "When it comes to corruption, the clock is ticking. After all, both the Orange Revolution and the Euromaidan were driven by demands for justice. We may need a third Maidan."
The Western Lifeline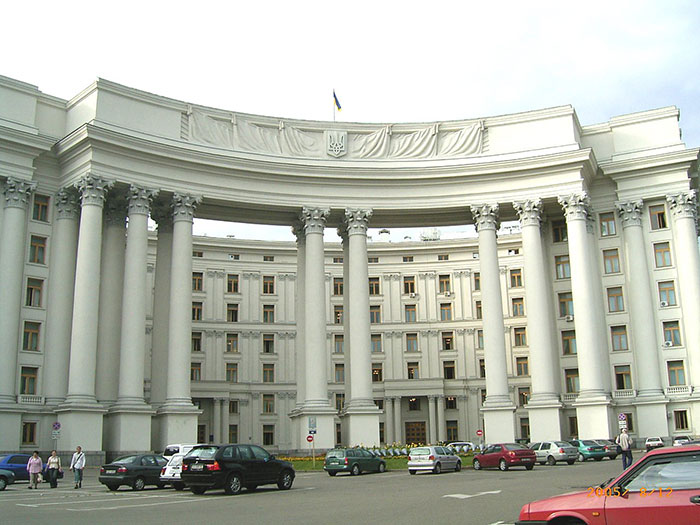 Ministry of Foreign Affairs in Kyiv.
Alexander Noskin / Wikimedia Commons
European and American assistance to Kyiv has made a real difference over the years. But the second challenge to political stability is closely bound up with the first: uncertainty that Western aid will continue to sustain the beleaguered Ukrainian economy.
One example is academic and student exchanges, such as the Fulbright Program. I had the good fortune to direct this from its inception in 1998, and over the first two years the number of Ukrainian grants doubled. That movement upward has continued to the present, and now offers Ukrainian high school students the opportunity to attend schools across America. The same priceless opportunity has come to younger faculty (instructors and assistant professors) to spend up to an academic year in the United States upgrading their teaching skills.
Our economic assistance is also impressive, encompassing energy subsidies and U.S. exports of iron and steel, farm products and aircraft. Two years ago, we also facilitated a four-year, $40 billion International Monetary Fund bailout; but persistent corruption, including allegations of presidential aides scheming undercover to manipulate state enterprises, provoked the IMF to freeze payments to Ukraine in 2015. Vice President Biden and IMF officials have both warned Pres. Poroshenko that resumption of payments hinges on meaningful economic reform—in particular, ending bribes to oligarchs who continue to siphon off badly needed funds for economic development.
Few in Kyiv, however, believe that an all-out assault on the oligarchs is about to happen. The gravity of this came home recently when the ultra-competent finance minister, the Ukrainian-American Natalia Jaresko, refused to remain in the government.
Finally, generous economic and humanitarian assistance to Ukraine stands in stark contrast to military aid for the war in the Donbass, Ukraine's industrial southeast. To date, more than 9,000 people have died there, many of them civilians. And nearly 1.5 million refugees from the Donbass have fled into other parts of Ukraine, with another half-million moving to Russia. Efforts by Poroshenko to secure heavy arms from Europe or America have not borne fruit, except for a military training program led by some 300 American advisers, stationed near Lviv in western Ukraine.
The Russian Bear
All of this brings us to Ukraine's biggest challenge, which can be summed up in two words: Vladimir Putin. Over and over, the Russian president has refused to accept Ukraine's very existence, as when he told former President George W. Bush in 2008 that Ukraine was "not even a legitimate nation."
No one held the Euromaidan or the Orange Revolution in greater contempt than Putin, perhaps for good reason. After all, a successful Ukraine, free and prosperous, would cast a long shadow over his increasingly authoritarian regime. The 2014 ouster of former Ukrainian President Viktor Yanukovych, a Putin loyalist who had attempted to bring Kyiv into the Russian-led Customs Union, only increased Putin's ire.
The reformist government is pro-European, though recent ministerial resignations over alleged backroom deals raise troubling questions.
Putin took revenge by seizing the strategically vital Crimean Peninsula on the Black Sea and sponsoring a pro-Russia insurrection in southeastern Ukraine, the Donbass. Though he insists to this day that no Russian soldiers have ever been there, skirmishes between rebels and the central government continue with no end in sight.
After Ukrainian rebels used a Russian rocket to down a Malaysia Airlines airliner flying over the region, killing almost 300 people, the European Union and America jointly imposed severe economic sanctions on Moscow in July 2014. These measures, which remain in effect, have plunged the Russian economy— already reeling from a sharp drop in energy prices on which the Kremlin relies to balance its budget—into a recession that is now well into its third year.
Nonetheless, no one believes that Crimea is coming back to Ukraine anytime soon, if ever. Putin prizes the peninsula's strategic significance far too much, as shown by the fact that the Russian fleet has long been anchored at Sebastopol. Moreover, the Russian leader views Crimea as the cradle of Russian civilization because it was there, in 988, that Grand Prince Volodymyr, leader of Kyivan Rus, accepted the Christian faith and was baptized.
Signs of Hope
In the midst of all the gloom, Ukraine has seen some positive developments, however. Many new parliamentarians, elected in 2014, are youthful activists, tested on the Maidan. The reformist government is pro-European, though recent ministerial resignations over alleged backroom deals raise troubling questions.
Parliament is moving to clean up the judiciary, a long overdue reform to a system where judges often act as political pawns. And one detested group, the street police, underwent major change in 2015. When I visited Kyiv last year, I witnessed friendly relations between police and pedestrians, something I had never seen before.
Resentment of Russian President Vladimir Putin remains high, and that has translated into a feeling of unity among Ukrainians.
Finally, resentment of Putin remains high, and that has translated into a feeling of unity among Ukrainians. A student at Kyiv-Mohyla put it this way to me in 2015: "Putin has done more to bring us together than any single individual I can recall. 1991 brought us independence, but not a new identity. The Maidan, and Putin's behavior following the Maidan, gave us what we needed: a sense of being Ukrainian."
Anna Reid, acclaimed author of Borderland: A Journey Through the History of Ukraine (2015, second edition), shares that assessment. She writes: "The biggest change since I lived in Ukraine in the 1990s is that now it feels like a real country. Ukraine is no longer a borderland. It is its own place, and is here to stay."
One can only hope that Reid, the students across Ukraine and the millions who have put—and continue to put—their lives on the line, are right: Their country has finally arrived on the world stage. It faces many obstacles, but if it survives, there is no going back.
Read More...