Foreign Service Stories: What Makes Us Proud
Members of the U.S. Foreign Service share moments from their careers.
In commemoration of the 90th anniversary of the modern Foreign Service, AFSA has redoubled its efforts to deepen public understanding of diplomacy, development and foreign affairs, and to celebrate the accomplishments of the men and women from all corners of America who serve—and have served—in U.S. foreign affairs agencies.
There's no better way to do this than sharing the stories of the Foreign Service. And there is no one better able to tell those stories than our members, both active-duty and retired.
AFSA asked members to send brief notes, 100 words or so, about the time when they were most proud to be part of the U.S. Foreign Service. Please enjoy this sampling of the great variety of stories we have received.
—Shawn Dorman, Editor
DOMINICAN REPUBLIC
"An Angel from the Embassy"
By Corinna Ybarra Arnold
Hometown: Brownsville, Texas
In January 2010, I was in the Dominican Republic when the earthquake occurred in Haiti. Once we heard that people were going to be evacuated to Santo Domingo, my colleagues and I were deployed to an airport hangar to work with the military on a welcoming center for them. We worked all day to make the space comfortable and to get the evacuees essential items for their stay. I could not have been prouder to be a part of the Foreign Service when the first plane full of survivors came in late that evening.
When one man I visited in the hospital after 2 a.m. said it was his wedding anniversary, I told him he should call his wife. He called and told her, "I am in the Dominican Republic, and an angel from the embassy just handed me her personal phone to call you." It was an amazing moment. I will never forget that day and those we served.
LAOS
The Thank You Card
By Joseph De Maria
Hometown: Lakewood, N.J.
I was the sole consular officer in Vientiane in the late 1990s. At the time, Laotians who had been admitted to the United States as refugees in the 1970s and 1980s had established themselves there and were petitioning for relatives, often elderly parents, to immigrate. I adjudicated hundreds of such cases.
One day, when I opened my mail at the office, there was a "thank you" card with about 10 signatures, some of adults and some of young children. It simply said, "Thank you for sending us our grandparents."
MEXICO
Three Generations
By Manav Jain, Consular Officer
Hometown: Villa Park, Calif.
During my first tour, at Embassy Mexico City in 2003, a Filipino man came in to notarize his recently departed father's military service documents, which indicated that he had fought on the U.S. side during World War II. In reviewing the paperwork, I realized that his father was potentially a U.S. citizen. Congress had granted U.S. citizenship to certain Filipinos who fought alongside the United States in World War II.
On confirming the regulations and qualifications, we posthumously made his father a U.S. citizen. Because the father spent time in the U.S. after the war, the man himself became a U.S. citizen from birth, which in turn granted his own son U.S. citizenship.
We created three generations of Americans that day.
GHANA
Accra's Infrastructure Upgrade
By Heather Byrnes
Hometown: Anchorage, Alaska
Among my best Foreign Service memories is the day I heard that a U.S. company had been awarded the tender for a $595 million project to revamp the water and sanitation infrastructure in Ghana's capital, Accra. This would boost U.S. exports, lead to about 3,000 American jobs and provide a much-needed fix to Accra's annual flooding and resulting cholera outbreaks.
I served for four years in Ghana as commercial counselor, accompanied by my husband and three children. Although we loved the country, it wasn't an easy tour: I contracted typhoid and encephalitis. But it was all worth it when I heard the news of the water project.
BELGIUM
The Secretary's Entourage
By Ted Wilkinson
Hometown: Washington, D.C.
In June 1973, Secretary of State William Rogers visited Copenhagen, and then continued on to Brussels to attend a NATO ministerial meeting. He and his Washington entourage occupied most of the 20-odd seats for the U.S. delegation at the NATO meeting. I was in the last seat, as a very junior notetaker, when Rogers passed a note to Ambassador Rumsfeld, seated next to him. The note travelled with puzzled glances all the way down the 20 seats to me. It read: "What did the Dane say yesterday?"
I did the obvious—called Embassy Copenhagen for a reply, and then sent a follow-up cable query. The reply came in the next morning, with all the possible answers the embassy could come up with.
What I relished was the slug line on the cable: "For Secretary Rogers and Ted Wilkinson."
UZBEKISTAN
Teaching English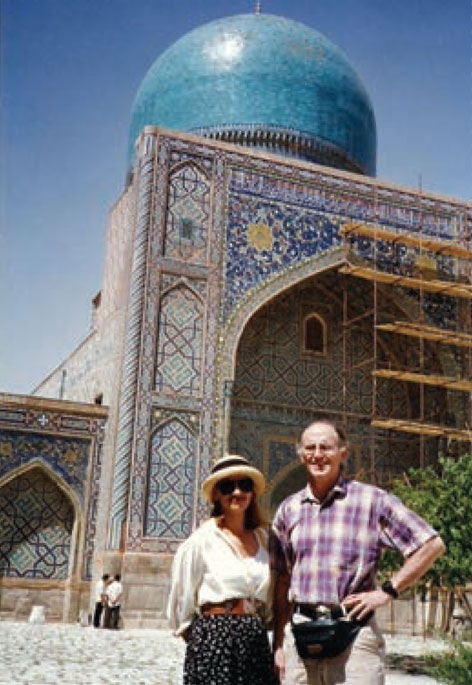 By George Wilcox
Hometown: Tucson, Ariz.
In 1996, working at Embassy Tashkent as the first United States Information Agency Regional English Language Officer for Central Asia and the Caucasus, I organized a national English teachers' conference for Uzbekistan, focusing on business applications. During the conference I told everyone our office was too small to organize more conferences; but we could help them, if they wanted to form a national association and organize such conferences themselves.
Within six months, with our office serving as the primary catalyst, they had formed their association. Over the following years, it held many conferences and continued to grow. Several years ago, they informed me I'd been formally recognized as "the Father of UZTEA"!
BURKINA FASO
A Sister Schools Project
By David Patterson
Hometown: Evansville, Ind.
In 1998, when I was serving in Ouagadougou as the information programs officer, Ambassador Sharon Wilkinson asked me to go "up country" to a small village an hour's drive from the capital to be the U.S. embassy representative at the dedication of a new schoolhouse built by USAID. Though USAID had officially shut down operations in Burkina Faso in 1996, the school was one of its last projects.
The headmaster at the school pointed out that the 30-odd students did not have even basic supplies such as pencils or paper. As a result, he had to write the lessons on the chalkboard, and the children had to memorize everything. He asked me to please have the embassy supply these items, and I told him I'd see what I could do.
Back at the embassy, I was told we could not do that. So I contacted Highland Elementary School in my hometown of Evansville, Ind., to see if they could possibly help. The fourth-grade class went into action, and within a month I had more than 30 kits. Each was a large, two-gallon Ziploc bag filled with notebooks, crayons, pencils, pens, scissors, water color paints and a ruler.
I soon made another trip to the village. What joy on the children's faces as each was presented with a bag full of school supplies! I truly felt proud to represent America. Later, while on home leave, I visited the Highland Elementary class to thank them and give them photos of the event at the village school.
Last time I checked, the fourth-grade classes of the two schools were still corresponding—by mail. Highland had asked for their sister school's email address. They were shocked when I explained that there was no electricity in this village, let alone computers! It gave the kids a new perspective on life.
GEORGIA
Untangling an Adoption Crisis
By Robin Busse
Hometown: Charlottesville, Va.
I was proudest of being in the Foreign Service when I helped untangle an adoption crisis in Georgia. In September 2003, Georgia changed its adoption law virtually overnight and without notice, shutting down the process. There were six American families whose cases had started under the old code but had not yet made their way to conclusion.
After intense behind-the-scenes work, "my" six cases were eventually released. One child was so ill that I held the immigrant visa interview with his adoptive parents in his hospital room in a rundown, Soviet-era clinic.
Another couple was briefly detained and had to leave their baby in foster care. After the adoption was approved, I escorted this family to the airport because they were so scared they might be arrested again.
We walked through immigration where, as expected, they were carefully scrutinized as the first foreign adoptive parents allowed to take a Georgian out of the country under the new laws.
MEXICO
A Poignant Introduction
By Javier Alfredo Araujo
Hometown: El Paso, Texas
One of my proudest moments in the Foreign Service was during the summer of 2013, when the U.S. consul general in Ciudad Juarez invited me to share the podium to launch "100,000 Strong in the Americas." More than 500 students from northern Mexico came to learn about President Obama's initiative to increase educational exchanges between the United States and Latin America and the Caribbean. The goal is 100,000 exchanges annually in each direction.
The consul general introduced me as a diplomatic colleague who, 35 years earlier, had sat in the very same room awaiting a student visa!
AFGHANISTAN
Women's Basketball in Kabul
By Rose Naputi
Hometown: Merizo, Guam
On March 7, 2012, in Kabul, during turbulent and troubled times in a country devastated by war, I had an awesome opportunity to celebrate International Women's Day in a friendly basketball competition between a U.S. team made up of embassy and International Security Assistance Force women, and the Afghan Women's Olympic basketball team.
This event brought together women of all ages and cultures from our military fighting forces, our embassy staff and, most importantly, our Afghan partners. During practices and on game day, I played small forward and in the final seconds, I made the last basket of the game—which to me symbolized the success that all women can achieve.
In Kabul and other major cities in Afghanistan, enormous progress has been made in women's rights since the 2001 U.S.-led invasion brought down the Taliban regime that banned girls from going to school and women from working. This event, which received worldwide news coverage from CNN, Reuters and the New York Times, was a show of support for women throughout Afghanistan, and it was an honor to participate.
WASHINGTON, D.C.
A Hero's Welcome
By Vella G. Mbenna
Hometown: Midway, Georgia
As an information management specialist, I did a hometown diplomat stint at an elementary school in Midway in 2013. Nervous as heck, I was greeted with a hero's welcome by administrators, teachers and the nicest fifth-graders I have ever met. I had donned one of my African dresses and had set up a table filled with African and South American relics and fabrics on display. After my presentation, I spent another hour and a half speaking with the adults at the school about the Foreign Service and how to apply.
I left the classroom extremely proud to be a part of this organization that others in my small town were so interested in.
MONGOLIA
The Land of Genghis Khan Revisited
By Joseph E. Zadrozny
Hometown: Houston, Texas
Mongolia still has the ring of the remote and exotic, the land of Genghis Khan. It certainly did in 1992, when I first stepped off the plane, only five years after the United States and Mongolia had established diplomatic relations. I was part of the second group of Peace Corps Volunteers in the country, and the first group to be assigned outside of the capital.
Twenty years later, I found myself back in Mongolia, this time as a diplomat. My proudest moment was meeting a former student, who is now a teacher herself, teaching English. Mongolia will always hold a special place in my heart.
MAURITANIA
Sheltering Local Employees in a Crisis
By Gregory McLerran
Hometown: Alexandria, Va.
It was 2 a.m. when the phone rang in my home on the compound of Embassy Nouakchott. One of the Foreign Service Nationals, calling from the General Services Office compound, was screaming into the phone. "The police have come to take us away," he shouted, referring to more than 100 local staff and their families from Senegal and Mali for whom we had arranged a place of safety there.
This was in 1989, during a period of unrest in Mauritania when foreign nationals from Black Africa were hunted down and deported or killed. I immediately woke Communicator Cookie Rodriquez, who was staying with me during the crisis, and then Ambassador William Twadell and Deputy Chief of Mission John Vincent. The ambassador called the foreign minister to request assistance.
When help was slow in coming, Amb. Twadell elected to go to the compound himself—despite the curfew enforced by nervous Mauritanian army troops and the danger such a trip entailed. Ms. Rodriquez volunteered to drive his limo and, with flags flying, they headed out. On the way, they met the foreign minister, and the ambassador joined him. The two officials reached the compound in time to stop the police from taking away our FSNs.
The courage shown by Amb. Twadell and Communicator Rodriquez was exemplary. The following day, accompanied by American members of the embassy staff, the FSNs were taken to the airport, where Algerian and French aircraft flew them to safety.
The entire embassy staff showed great empathy and courage in sheltering our colleagues from Mali and Senegal, and it made me proud to be a member of the Foreign Service.
TOGO
It All Started at the American Embassy Library
By Azizou Atte-Oudeyi
Hometown: Springfield, Mass.
My journey started when I visited the American embassy library in Lomé for the first time at the age of 13.
I was born in Togo, a small country located on the west coast of Africa, and immigrated to the United States through the diversity visa program. I became a U.S. citizen in 2005. While working for the U.S. Postal Service, I began pursuing a career as a Foreign Service officer. My dream became true in October 2013, when I took the oath of service before Secretary of State John Kerry.
I was most proud of being part of the Foreign Service when my colleagues honored me with the Glenn Munro Award for Outstanding Potential and Leadership during the A-100 orientation session.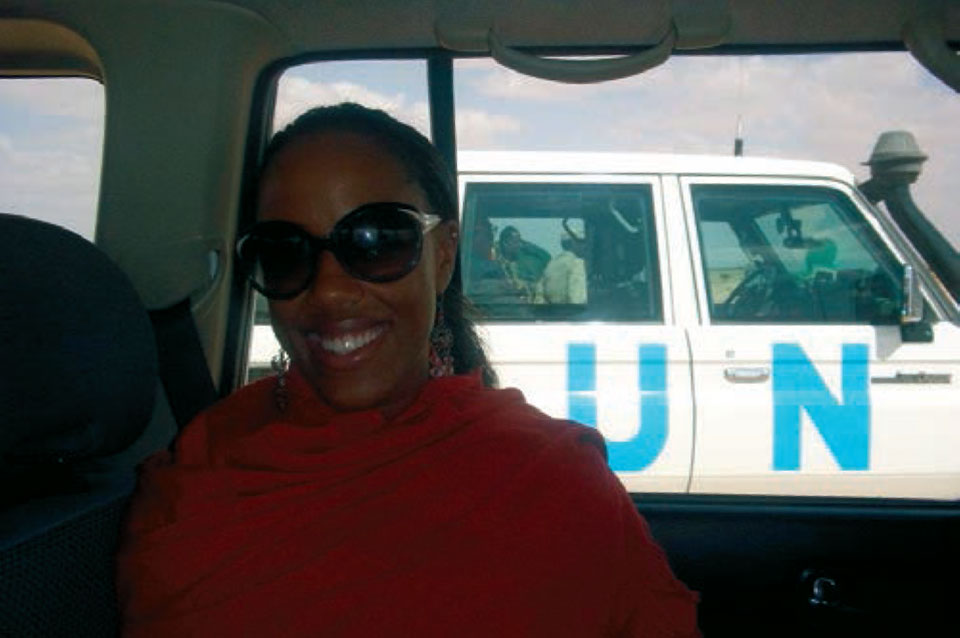 SOMALIA
A Roadmap in Somalia
By Brandi James
Hometown: Augusta, Georgia
As the principal reporting officer for Embassy Nairobi's Somalia Affairs Unit from July 2011 to June 2013, and one of the first State Department officials to work inside Somalia after the infamous Battle of Mogadishu (Black Hawk Down) in October 1993, I had an extraordinary opportunity to live and breathe expeditionary diplomacy.
I reported on Somali and international community efforts under the United Nations-backed roadmap process to end the transitional period of governance within a one-year timeframe. During that period, Somali stakeholders drafted a provisional constitution that protects fundamental human rights, which was adopted by a representative constituent assembly.
Traditional elders selected educated and civic-minded Somalis to a new 275-member federal parliament. On Sept. 10, 2012, that new parliament held an historic indirect presidential election, which ushered in a new hope for Somalia and a peaceful transition to the first president democratically elected inside Somalia since 1967.
I have never felt as proud of being a part of the U.S. Foreign Service as I did on Jan. 17, 2013, when Secretary of State Hillary Rodham Clinton officially recognized the new Somali government, the first time the United States had done so since 1991. My long days traveling inside Somalia on rickety planes under insecure conditions and long nights sleeping in makeshift containers or hooches had paid off. I could finally see how my work—however trivial and distant from the radar of Washington policymakers it may sometimes seem—could help make a difference.