Lucky That Time: Escapes from Animals
Reflections
BY JOHN PIELEMEIER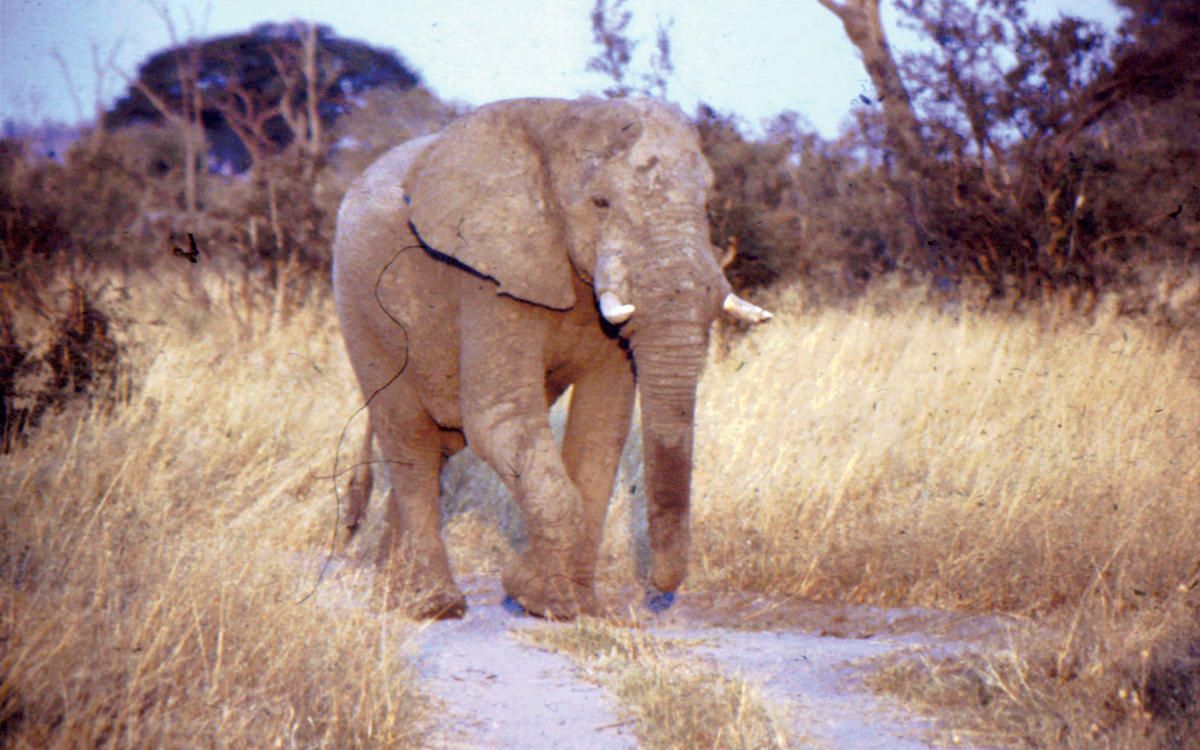 Courtesy of John Pielemeier
Over the course of a Foreign Service lifetime, this author has had dangerous encounters with at least seven different species of animal—and survived them all. Here are a few of those stories.
Black Mamba in Johannesburg
Gaborone, the capital of Botswana, was a sleepy town with few commercial options when we lived there from 1978 to 1982. Every few months, we drove to Johannesburg, South Africa, to pick up supplies at a big box store. We stayed in a modest hotel and enjoyed a weekend of television, movies and restaurants. To carry back the purchases from these trips, we always brought a few empty duffel bags from home.
One weekend, we carried our suitcases and the duffel bags into our hotel room and headed out for lunch. We left our hotel key at the front desk—the practice in South African hotels. When we returned later and I asked for our key, the hotel concierge said that we had been moved to the fourth floor—a large snake, the poisonous black mamba, had been seen on the third floor, and all guests had been moved to other floors.
We didn't think more about it. I spent the remainder of the afternoon watching a rugby match (a game I had never played and whose rules I could only guess at) being announced in Afrikaans (a language I didn't speak or understand). I was glued to the set nevertheless—it was sports on television, after all.
The next morning, we made our purchases and had started the four-hour trek back to Gaborone when it hit me. How would a desert snake end up in a suburban Johannesburg hotel? "Nancy," I exclaimed, "that snake on the third floor—I think we brought it!"
A large snake, the poisonous black mamba had been seen on the third floor, and all of the guests had been moved.
It suddenly seemed clear: we had plenty of mambas and other large snakes in Gaborone. We were always on the lookout for snakes in our yard and on the dirt roads of our neighborhood. One must have slithered into our garage and into a partially unzipped duffel bag to keep cool. When I threw the duffel bags into the back of the station wagon and then carried the bags into the hotel I would have neglected to zip up the bag.
In the cool air conditioning of the hotel room, the mamba crawled out and slithered into the hotel corridor. Nancy and I were likely responsible for smuggling a mamba across the well-guarded border between apartheid South Africa and neighboring Botswana.
We decided not to report our transgression to the hotel or the border authorities and, instead, let sleeping snakes lie. But we did learn to be more careful with our duffel bags.
The Mama Elephant
In 1976 I was leading USAID's first design team to Chad, researching the feasibility of a range management project to improve livestock production in the Sahel region of this impoverished country. We planned to conduct our research, talk to local experts, negotiate the content of our proposed project with representatives of the Chadian government and write a project paper to present to USAID/Washington—all in six weeks.
The weather was hot and dry, our hotel was modest and the roads of the capital, N'Djamena, were unpaved and dusty. We worked every day except Sunday. After two busy weeks, a team member suggested that we take a break to drive along the picturesque Logone River in our rented 4x4 Land Rover. A great idea! Five of us piled into the well-used vehicle along with our French-speaking Chadian driver.
The Logone is one of Chad's two major rivers, flowing northwest into Lake Chad from the wetter, more equatorial region near N'Djamena. As we drove southeast in the morning heat, the vegetation gradually became greener, with small trees dotting the landscape. After about three hours, the 4x4's engine overheated and the vehicle simply stopped. We pushed it to the side of the dirt road.
Mama was twice our size and could easily squash our tin can of a vehicle.
Our team livestock specialist, a 6'6" Texan, thin and gaunt, opened the hood and announced in his heavy drawl that the engine needed to cool off. He found a small path to the nearby river and filled his nearly 50-gallon Texas sombrero with water, which he doused onto the engine. After the steam died away, he said, "Let's try her again." After two tries, the engine caught. We decided not to tempt our luck, choosing instead to return to N'Djamena.
About an hour into our return trip, we spied a small herd of elephants and drove off the road to get a closer look. Four young elephants were standing under a grove of trees. We approached slowly. Just as we noticed a much larger mama elephant about a hundred meters on the other side of our track, the driver turned off the engine.
Mama caught our scent and ran directly toward the 4x4, which was between her and her babies. Our Texan shouted in colorful language for the driver to start the engine. The driver didn't speak English, but it didn't take him long to spot the charging elephant, now trumpeting with her trunk high in the air.
He toggled the key in the switch once, twice, then three times while pumping the gas pedal, but the engine didn't catch. The Texan shouted even louder; we all were shouting by this time. Mama was twice our size and could easily squash our tin can of a vehicle.
Finally, the engine sputtered and roared to life. We rumbled forward with Mama just behind us. She chased us as we careened over rough terrain that had never felt the wheels of a vehicle before.
Eventually, she tired and stopped running, but she continued to trumpet at us as we sped back toward the main road. From there we headed home, rolling into one of N'Djamena's few petrol stations just before our gas tank hit empty.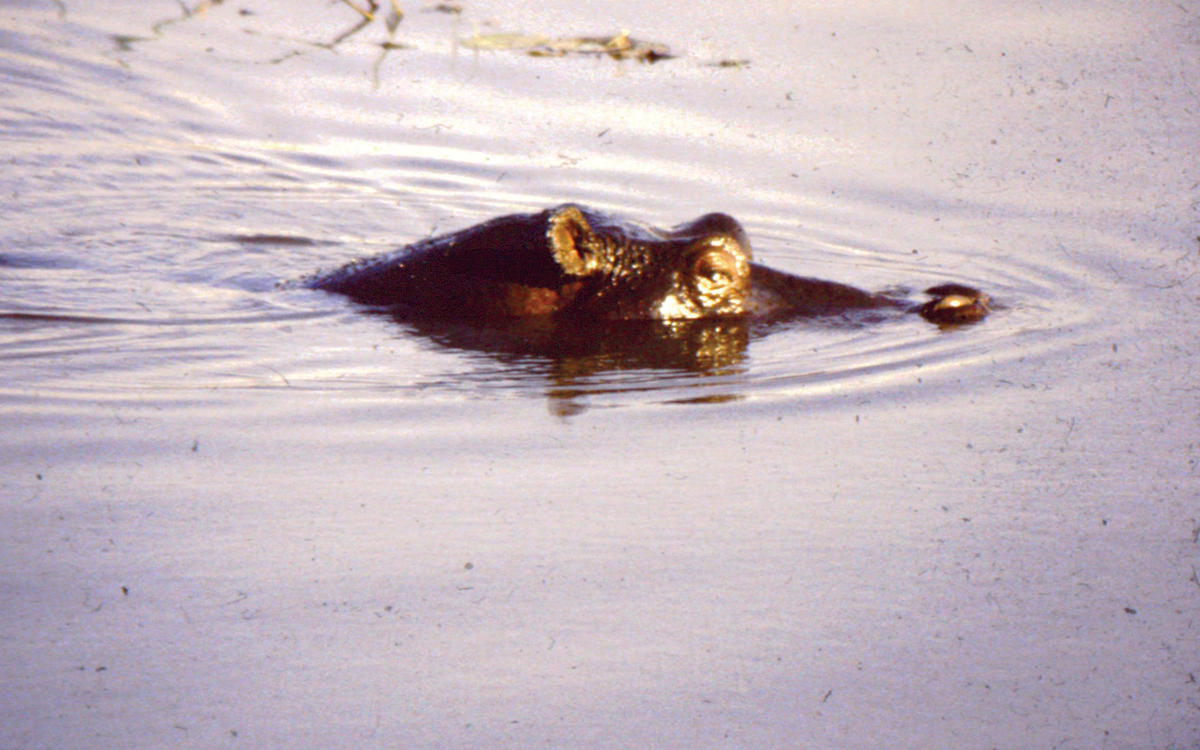 Courtesy of John Pielemeier
Taking a Dip in an Okavango Pool
In 1982, after three years in Botswana, my wife and I finally organized a trip to the Okavango Delta. P.J., a game hunter we'd met in Gaborone, offered to take us on a two-week safari. P.J.'s claim to fame was that his father-in-law had been the region's most famous crocodile hunter until he died of a snakebite while croc hunting.
With game hunting now illegal, taking tourists around the Okavango was one of the few ways to make a living in the region. P.J. had adapted his Ford F-250 pickup with a game-viewing seat for three above the cab, a fiberglass canopy over the back and a square hole in the roof of the canopy where two other viewers could stand at the same time, looking in any direction.
We quickly got used to the daily routine—up before dawn, a quick breakfast by the fire while his helper packed up our "Glad trash bag" tents, and a pre-daybreak trek through the bush by car or on foot to spy on game and birds.
Then we'd travel on to our next destination, where we would trek before sundown to look for nocturnal species, often feeding on their kill at this hour. We had drinks and supper cooked on the fire, gazing up at the stars before crawling into tents to sleep, surrounded by the sounds of the wild and incredible stars overhead.
This was the last day of our trip, and we still hadn't seen a lion, so we started especially early. Nancy and I were both hot and hungry when we finally stopped for lunch at P.J.'s semi-permanent tent camp, built near a small fresh-water stream. As we drove up to the camp, P.J. pointed out a pool of water where the stream had been blocked by a beaver dam. We had enough time for a quick dip before lunch.
Maybe I looked like a tasty lunch?
I got to the pool first. I waded into the cool water, turned onto my back and started floating, relaxing as I gazed up at the almost cloudless sky.
A small noise drew my attention. I scanned the bank and saw Nancy urgently pointing to the far side of the pool. She mouthed "Hippo!" A huge male hippo had apparently come out of the water just as I entered the pool to see what was disturbing his habitat. Hmmm—maybe I looked like a tasty lunch to him?
I didn't pause to look at the hippo. Instead, heart racing, I slowly paddled toward the bank. Only when I'd reached solid ground did I look back. The hippo was yawning, showing a two-foot jaw spread and clean white teeth before submerging in a swirl of water.
I have often pictured that scene—without Nancy—with me serenely floating into the open mouth of that hippo.