Time to Refund the Iraq Tax
President's Views
BY BARBARA STEPHENSON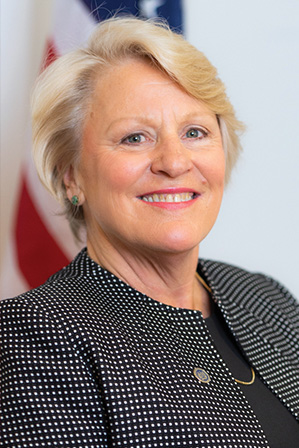 As news circulates about a significant reduction in Foreign Service positions in Iraq, and the State Department's new Five-Year Workforce and Leadership Succession Plan reports on pages 4 and 49 "abolishing a large number of positions in warzone areas," members have begun to ask me if it is finally refund time for the "Iraq tax" levied more than a decade ago.
Members of the Foreign Service vividly recall being asked during the height of the "civilian surge" in Iraq to identify positions our embassies could sacrifice for the cause of ensuring that every position in Iraq was filled with a Foreign Service volunteer. Now, well over a decade later, we still find ourselves struggling in shortstaffed political and economic sections at embassies around the world.
The most recent report of State HR's Overseas Staffing Board validates the concern members express about being short-staffed. The model showed a deficit of almost 200 overseas positions in "core diplomacy" (the term the Overseas Staffing Model uses for political, economic and front office positions). Deficits in other categories were also flagged by the OSB report.
These deficits would be even higher if accurate planning assumptions had been used instead of those derived from the administration's 2017 budget proposal, namely, 32 percent budget cuts and 8 percent staffing cuts. Members will recall that Congress rejected these cuts as tantamount to a "doctrine of retreat" and fully restored funding for FY 2018.
The evidence is clear: we have too few Foreign Service positions in the field.
Why does it matter that American embassies are operating with depleted Foreign Service teams, with too few players to cover all the bases? This has long been a suboptimal situation that has led to missed opportunities and too little mentoring. But in the face of competition from rapidly rising powers such as China, the cost of leaving American embassies short-staffed has rapidly risen to dangerous levels, jeopardizing America's global leadership.
The evidence is clear: we have too few Foreign Service positions in the field.
Members, especially those serving in Africa, report that they are outnumbered four or five to one by Chinese diplomats working on economic and commercial issues. Lest we be tempted to discount the impact of being so outmatched, consider what retired Ambassador Stuart Jones recently shared during an AFSA panel on "Economic Diplomacy Works": According to Engineering Digest's annual global survey of the top engineering and construction firms, in 2008, there were no Chinese firms in the top 10. By 2018, Chinese firms occupied eight of those slots. Bechtel, which had always been in the top 10, had slipped to number 12.
This is what great power competition looks like. This is why nearly 100 American business associations wrote to Secretary Pompeo in October asking for more FSOs at embassies and consulates. "We urge you to send more diplomats overseas," they wrote. "Foreign competitors are continually extending their economic reach into markets where America's diplomatic presence is limited."
Congress also takes seriously the threat of rising competition. That is at least part of the reason why Congress voted by such wide margins to reject proposed cuts and again restore funding for the FY 2019 International Affairs Budget.
The appropriations bill passed on Feb. 14 increases funding for "Diplomatic Programs," including $84 million for the "overseas programs" line item, which covers overseas support costs for moving FSO positions from Washington to the field. Congressional language firmly prohibits reducing staffing.
How do we begin to reclaim lost ground and reassert American global leadership? For starters, it is time to refund the Iraq tax, especially given the announced reduction of positions in Iraq. It is time to make a serious effort to restore positions overseas—in advance of the next bidding season—and give embassies and consulates the full teams needed to protect and defend American interests.