The Soft Power of Super Chef Panama
This dynamic and engaging program goes a long way in meeting mission goals. And it is ripe for replication.
BY DAVID SEARBY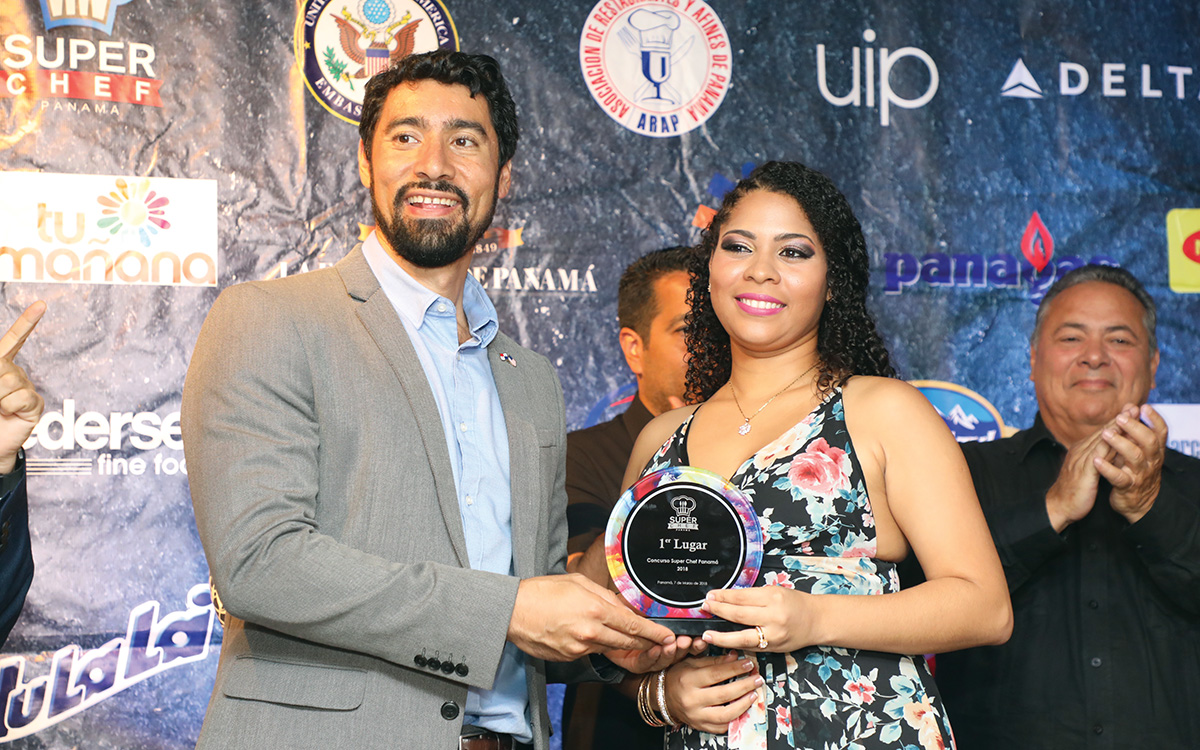 The winner of Super Chef 2018, Trinidad Roja, with Embassy Panama's Public Affairs Officer Francisco "Paco" Perez.
U.S. Embassy Panama City
A nervous young contestant enters the theater carrying her dish of chicken and shrimp jambalaya. The suspenseful music and quick camera cuts add to the tension as she addresses the unsmiling panel of chef judges. Are we watching the Cooking Channel? The Food Network? No, it is "Tu Mañana" on Telemetro, the top-rated morning TV show in Panama, whose audience in the hundreds of thousands is generally middle to lower-middle class, not foodie elites. We are watching "Super Chef Panama," an unlikely creation of U.S Embassy Panama City that for the past six years has been a hit in Panama.
Why in the world would a U.S. embassy be involved in a foreign reality TV cooking show? From its beginnings in 2012, the Super Chef program proved to be an effective and efficient tool to advance American soft power in Panama while supporting hardnosed strategic objectives.
Embassy Panama City worked with partners from the private sector, the government of Panama and dozens of other sponsors to develop Super Chef Panama, now under the direction of the Restaurants Association of Panama. Each year Panamanian youth from government vocational training programs (and often from underserved communities) compete in a series of contests to crown the year's Super Chef, with heavy and enthusiastic coverage, not just on television, but in print, radio and social media. All contestants receive valuable culinary training and embassy-sponsored English classes.
U.S. embassies around the world consistently focus soft power to engage young people, particularly at-risk youth, as a means of helping promote U.S. prosperity and security. Fully 43 percent of Panamanians are under 24 years old, and we know that lower-income, underprivileged youth are highly susceptible to transnational crime networks that currently threaten our national security and might one day even threaten our interests in secure operation of the Panama Canal. Super Chef Panama was designed to get Panamanians to appreciate the importance—and enjoyment—of investing in their own young people, helping prevent marginalized youth from becoming the foot soldiers (and cannon fodder) of organized criminal networks.
Through the program the embassy also showcases U.S. products on national television; advances the U.S. and Panamanian tourism industries; promotes education and English-learning to disadvantaged youth; and highlights the uniquely creative American entrepreneurial spirit.
Before leaving Panama in March 2018, Ambassador John Feeley encouraged other embassies to consider the Super Chef model, extolling the virtues of soft power in today's foreign policy environment. "Soft power is patient," Amb. Feeley told members of the press. "It takes time to simmer. It often requires several ingredients, a mixture of cultures, an open mind to innovation while making sure to preserve the essential goodness of the dish. And after being prepared, it is a dish that cannot be served alone."
The Recipe for Success
Extensive public-private sector collaboration is one of the primary ingredients of Super Chef. Everyone does what they do best, so the burden and benefits of the program are shared. Multiple private sector sponsors support the annual program, while the U.S. Department of Agriculture recommends U.S. food exporters to supply the "secret ingredients" that the contestants must feature in their dishes.
The program illustrates how complex challenges like expanding opportunities for at-risk youth are best addressed with cross-sectoral alliances involving the private sector, the media, the government and civil society. The program embodies our motto in Panama and other Spanish-speaking countries: "Estamos Unidos," or "We are united," a word play on the Spanish for the United States, los Estados Unidos.
Why in the world would a U.S. embassy be involved in a foreign reality TV cooking show?
Despite growing concern that the United States no longer welcomes immigrants, culinary diplomacy shows that the great American melting pot still bubbles. Through a relatively small annual $10,000 grant to the Restaurants Association of Panama, the embassy has created this inspirational program, which reaches thousands of Panamanians with important policy and programmatic messages. It illustrates the importance of giving youth a chance to succeed in Panama, no matter what their background, ethnicity or gender. Through the program, the embassy also shares deadlines to apply for scholarships and exchange programs like the Young Leaders of the Americas Initiative.
The embassy team has taken "Super Chef" to new heights of success, advancing important policy goals such as the further inclusion of Afro-Panamanians in society (Panamanians of African descent make up about 15 percent of the population). In July 2017 the embassy hosted a group of Afro-Panamanian chefs at the ambassador's residence for a kitchen takeover and invited 25 members of the elite social class to enjoy food and music and celebrate their own talented youth.
Further, Super Chef 2018 received the most private sector contributions to date, including a sponsored trip to Atlanta, Georgia, from Delta Airlines for the winning chef to participate in hospitality training courses. Delta's head chef participated as a guest judge in 2018 and has personally expressed interest in expanding this program to other countries in the region as part of Delta's commitment to corporate social responsibility.
Creation of the Super Chef model from scratch took a lot of work—and it almost didn't happen, despite the fact that it was launched in the heyday of Secretary of State Hillary Clinton's culinary diplomacy program. Originally, Washington public diplomacy experts opposed the program; they thought it frivolous and could not see how it related to the mission to share American policies and values with foreign audiences. Officials in Washington, D.C., recommended ending the experiment or shifting to a simple culinary exchange program.
Fortunately, Panama's deputy chief of mission at the time, a seasoned public diplomacy expert, defended the program, recognizing its potential. The culinary exchange program that Washington originally wanted is now carried out by partner Delta Airlines. Meanwhile, using few resources, the embassy regularly shares American values and educational programs with thousands, not just a lucky few travelers.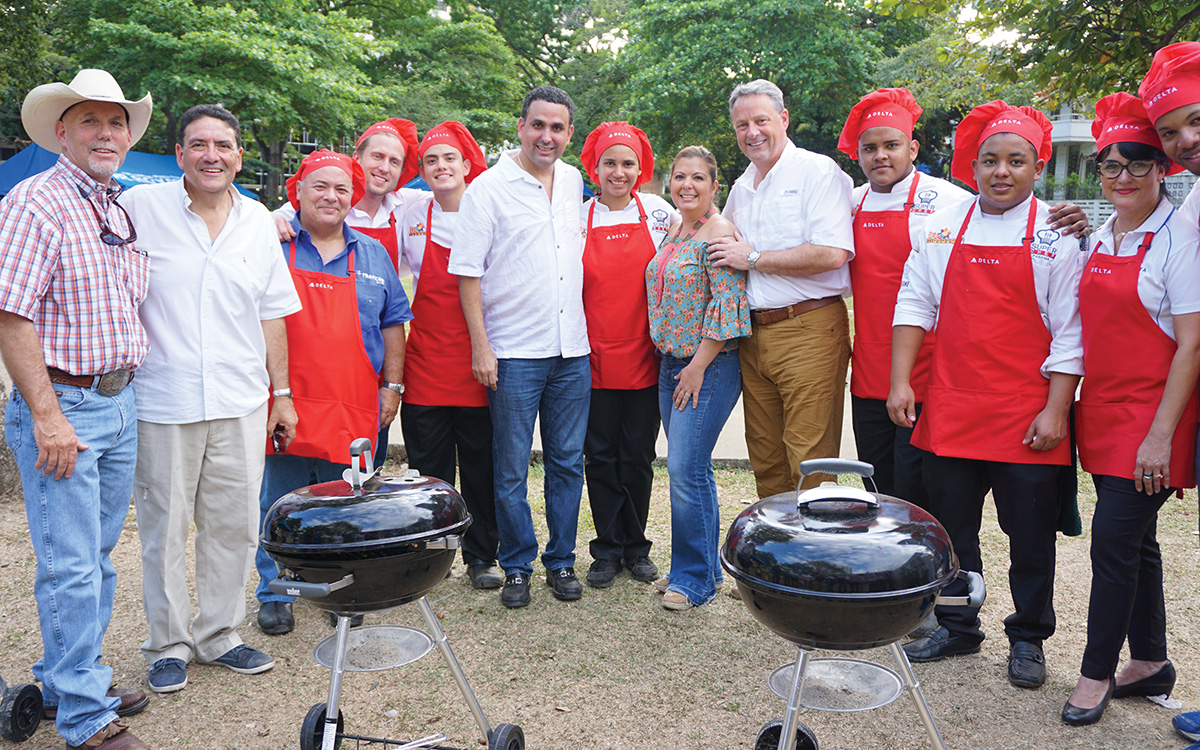 U.S. Ambassador John Feeley, fourth from right, at a gathering to celebrate Super Chef Panama 2017. Also shown are, from left, Rony Robinson of Embassy Panama City; Patricio Garrido, executive director of Super Chef Panama; Domingo de Obaldia, president of the Restaurants Association of Panama; Ernesto Montanez, 2017 Super Chef winner; and Ricky Dominguez of BellaVisa. Medcom Executive Chef Delyanne Arjona is at Amb. Feeley's right, and Delta Airlines representative Jeanette Diaz is at the far right.
U.S. Embassy Panama City
Spreading the Super Chef Model
Other countries and embassies around the world should consider the Super Chef recipe for success. In the Dominican Republic, the USAID At-Risk Youth project Alerta Joven offers an excellent framework for implementing the model to connect vulnerable youth from disadvantaged communities to the growing tourism industry and promote culinary tourism. A Super Chef program could help inspire success in the often-elusive goal of "graduation," in which USAID programs are passed on to local entities for support and continued success. In Panama, there is little doubt that the success and popularity of such soft-power programs supported the successful graduation of USAID programs in 2012. Today, programs like Youth Outreach Centers and Ponte En Algo continue to do well—without USAID funding.
In countries like Tunisia and Egypt, which have strong culinary and tourism industries but also suffer from violent extremism, a Super Chef program could help expand opportunities for young people and diminish the siren call from groups like ISIS and al-Qaida. The three "Northern Triangle" countries of Central America that suffer from extreme gang violence—El Salvador, Guatemala and Honduras—could each institute its own Super Chef program to help create positive alternatives for youth. With those three countries engaged, a regional competition in Central America that included Panama would be within reach. Such a competition would not just make for great television; it would advance the U.S. foreign policy goal of encouraging Central American nations to work together to combat gang violence and transnational crime.
Super Chef could be replicated in many other countries without the local embassy having to take the lead from the beginning. All that is required is a private sector organizer (ideally connected to the hospitality industry, as in Panama) and a local TV channel looking for popular, free content, that would be willing to produce the show. The host government can help provide contestants via vocational cooking programs, an easy way to target underserved youth, while the private sector can donate a scholarship for the winner.
Our embassy in Panama and the Restaurants Association of Panama have both indicated their willingness to help start another Super Chef competition elsewhere led by any other group that includes an American embassy partner, including by sharing organizational processes and lessons learned.
Extensive public-private sector collaboration is one of the primary ingredients of Super Chef.
But there are other reasons that embassies should consider creating their own Super Chef. It's fun. It's a morale booster. And it's easy to involve multiple embassy sections and their contacts in the awards events at partner restaurants. In Panama, even the Drug Enforcement Administration attaché served as a guest presenter, showcasing his BBQ ribs recipe in 2017.
Also, Super Chef is the kind of model anyone can love. Republican or Democrat, foreigner or U.S. citizen, liberal or conservative: With the current partisan bickering in Washington, D.C., it's hard to find new initiatives capable of generating widespread support. But Super Chef would certainly qualify as one of them.
Food critic James Beard once said that "food is our common ground." Francisco "Paco" Perez, PAO in Panama, echoed Beard's remarks in highlighting why this program has struck a chord in Panama. "I was supposed to teach a Panamanian student chef from Colón how to make gumbo," said Perez. "In the end, he showed me more than I showed him. We all have to eat, and we all have to cook. It is something that unites us all as one, as our great motto, e pluribus unum, states. Tolerance, understanding and empathy tend to emerge around the table through a shared meal."
Paco Perez is right. The world could use a little more culinary diplomacy to solve its problems. And American foreign policy needs a dash of effective soft power in the broader recipe. Around the world, foreign audience approval of the United States has dropped from a median of 64 percent in the period from 2008 to 2016 to 50 percent in 2018, according to Pew Research data. Soft power opens doors to new initiatives, expands understanding and lowers tensions. It also creates opportunities for avoiding conflict when possible, confronting conflict when necessary and rebuilding after conflict ends.
Read More...