Staying Constructive in Trying Times
President's Views
BY BARBARA STEPHENSON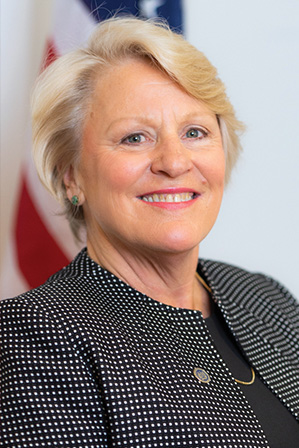 I want to open this column by following some advice from Beth Payne's excellent article on resilience: Take time to express gratitude. I am grateful to each and every one of you who conducted yourselves with such dignity and professionalism during the recent record-long shutdown. Thank you, stalwart colleagues. It takes character, discipline, a strong sense of mission and, yes, resilience to remain constructive in trying times. Your individual acts taken collectively make our institution strong.
This was one of the roughest patches I can remember in my more than 33 years in the Foreign Service. When news of a short-term continuing resolution broke, I was set to take the stage in Portland, Oregon, for a World Affairs Council event on the state of State, and I still had not quite worked out what I was going to say when asked about the impact of the ongoing government shutdown on America's global leadership. "Russian and Chinese diplomats are not furloughed" was one option, but perhaps not as constructive a note as I would normally strike.
Now that we are all back at work, though warily watching the calendar as the expiration of the short-term CR approaches, I want to reinforce another golden nugget of advice from Beth Payne's article: Spend time and mental energy on issues that you can control and influence, while letting go of things that are outside of your control.
While the shutdown dragged on longer than almost anyone expected, I tried to follow this advice, to remain constructive and avoid paralysis. Along with my excellent team at AFSA, I worked on addressing an array of immediate shutdown issues affecting members (e.g., allowances, travel, pay), while preserving time to advance AFSA's strategic agenda, particularly our "Economic Diplomacy Works" initiative, designed in part to bolster support among our fellow Americans and on the Hill by explaining how Foreign Service work abroad helps keep us all prosperous here at home.
In spite of the furlough, we went ahead with our "Economic Diplomacy Works" panel on Jan. 15, welcoming more than 60 people to AFSA headquarters for a lively discussion. Speakers underscored both the urgency (competition is rising—fast) and the importance (economic diplomacy underpins America's global leadership) of focusing our attention on economic and commercial diplomacy. I encourage you to read the coverage of that thought-provoking, insight-filled event and visit AFSA's YouTube page to listen to the entire program.
Another key deliverable from AFSA's comprehensive EDW strategy—the January-February double edition of the FSJ, devoted to "Economic Diplomacy Works"—is circulating widely and sparking discussion among members of the Foreign Service and, more broadly, with our fellow Americans.
We have been sharing the Journal extensively during meetings on the Hill, reinforcing our message that, in the face of rapidly rising competition from China, the Foreign Service offers a highly cost-effective, "shovel-ready" way to regain commercial, economic and political ground now being claimed by competitors such as China.
This message resonates with Congress, where our Fiscal Year 2019 appropriation bill awaits approval. I hope to be able to report to you next month that Congress again rejected proposed deep cuts to the International Affairs Budget, and perhaps even began restoring funding for core diplomatic capacity. That would indeed be grounds for taking time to express gratitude.
In the meantime, while we grapple with the aftermath of the shutdown both personally and institutionally and with continued uncertainty, I urge you to take care of yourself and be kind to your colleagues. I urge you to keep your eye on what you can control and influence, on your part in maintaining America's global leadership in trying times.
On a personal level, it did me a world of good to be working on a positive, constructive agenda even as the shutdown dragged on. On an institutional level, so much—even America's global leadership—depends on our ability to collectively insist on building regardless of the obstacles and challenges.
Have I told you lately how grateful I am to have such excellent colleagues, to be entrusted with such a vital mission? Thank you.