Coming into Their Own 'Write'—A Look Back at an FS Women's Writers' Group
During the 1960s a group of FS women writers from the Greatest Generation banded together to polish their craft and get their work published.
BY FRANCESCA HUEMER KELLY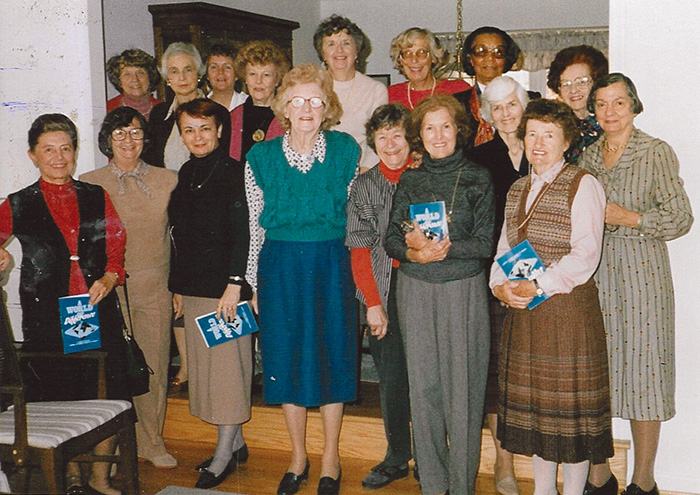 The AAFSW Writers' Group after publication of A World of Difference in 1987. Back row, from left: Lucile Klontz, Silvia Zimmerman, Gail Shisler, Jerri Bird, Lee Austin, Anne Gordon, Mary Lou Weiss and Marlen Neumann. Front row, from left: Kristine Konold, Mary Sargent, Alice Slattery, Katherine Little, Sally Montanari, Mavis Perry Barrett, Madeleine Meyer and Biffy Sanders.
Courtesy of Wendy Montanari
During the days when most Foreign Service spouses were called "wives" and a female FSO had to resign if she got married, a small, resourceful group of FS women writers came together to get their work published. They were members of the Association of American Foreign Service Women* Writers' Group, formed in 1965 by Elizabeth "Biff y" Sanders.
Over four decades, the group met regularly to read and critique each other's work. Th ey wrote and published textbooks, children's books, memoirs, poetry, radio scripts, personal essays, newspaper columns and feature articles. Several of them were émigrés who had fl ed from repression or even war; others served in the military or diplomatic corps. Membership ebbed and fl owed over the years, but the core group stayed intact, meeting at members' homes in the Washington, D.C., area, where most of the women settled after or between overseas assignments. Those who were in the group for more than 30 years included Maria Bauer, Sally Montanari and Jeri Bird.
Together they published an essay collection, A World of Difference: A Collection by American Foreign Service Women. Th e book, which includes a foreword from Mrs. George P. Shultz, features memoirs from Afghanistan, Bolivia, Italy, Egypt, Yugoslavia, Japan and other countries. Some of the authors contributed poetry or short stories instead of memoirs. Th e resulting publication is a colorful tapestry woven by the sort of experience that only comes from living abroad. When A World of Difference was published in 1987, many of the contributors had been long retired from the Foreign Service and were writing about their experiences decades before, often during the Second World War.
Th e last of the original members of the Writers' Group, Maria Bauer, died earlier this year. Her memoir of escaping her native Czechoslovakia during the war, Beyond the Chestnut Trees, still makes for riveting reading. She and her family fl ed to France, then to Spain and Portugal. Along the way, she met and married her husband, an Austrian resistance fighter. After their final escape to the United States, her husband worked for the Voice of America and then for the U.S. Information Agency, taking them back overseas to serve their adopted country.
Maria's story echoes those of the other members of the group in its almost fictional qualities. Whether born overseas or in the United States, almost all were drawn to interesting work, often in service for the Allies during World War II. They demonstrated not only an intrepid spirit but undeniable grit under challenging, even dangerous circumstances. Many had to retire from the Foreign Service and other careers when they were married and started writing to continue in the path of a purposeful life.
The Greatest Generation
It may be no coincidence that these women chose writing as a profession, as they often seemed to be cast as the heroines of their own adventure stories. Take Kristine Konold, for example. She served with the Office of War Information in London during World War II, where she worked at the American Broadcasting Station in Europe. Before joining the U.S. Information Agency as a cultural affairs officer, she wrote scripts for U.S.-controlled radio stations in Luxembourg and Germany. Marriage ended her Foreign Service career, at which point she devoted herself to writing essays and articles, finally publishing a book about her wartime experiences, Backstage at the Big War.
Then there's Sally Montanari, who wrote two children's books: one about art called Look Again: Clues to Modern Painting, and a story set in Italy called A Voice from the Belly. Sally had a famous sense of humor and was an airplane mechanic during WWII—a true "Rosie the Riveter." She wrote for newspapers and raised four children while her husband was employed by what is now the U.S. Agency for International Development. One of her funniest essays can be found in A World of Difference: it concerns her husband's stubbornness about wearing "holey socks" and how that played out in Japan, where they were invited to a dinner where they were expected to take off their shoes.
Anne Gordon and her husband, William, served in Ghana, Nigeria, Sweden and the Netherlands for USIA. Anne wrote often of her memories of growing up poor, the daughter of a black single mother in Memphis, and how she dreamed of living the adventures her mother told her in stories. "Mama painted lovely lifelike pictures in my mind's eye and took us on imaginary trips with real people, places and things. … She led us far from our dilapidated little frame house of depression days when sometimes we had neither sufficient food nor fuel. Such was the way of life in our all-Negro neighborhood. … We were poor in material goods but 'chock full of hope.'" It amazed her that she did, in fact, spend her adult life traveling the world. Gail Shisler, a younger member of the group who joined in the 1980s, says of Anne: "She told of a life rife with injustices but with no resentments."
Knowing I had an upcoming meeting inspired me to finish several essays a month, and I treasured every session with these wise women.
Cuban-born Silvia Zimmerman, the daughter of a well-known poet and the granddaughter of a Shakespearean scholar, grew up expecting to be a writer. In 1943 she became the press liaison for the Pan American Union, writing articles, conducting interviews and writing under a syndicated byline. She also freelanced, penning articles for Vogue and Reader's Digest. Her writing life diminished when she became a Foreign Service spouse, but she later worked on a memoir of growing up in pre-Castro Cuba.
Jerine ("Jeri") Bird was an FS spouse and writer who ended up co-founding, with her husband, Partners for Peace, an organization that promoted understanding in the Middle East. Their son, Kai Bird, inherited Jeri's gift for writing, winning a Pulitzer Prize for his book, American Prometheus: The Triumph and Tragedy of J. Robert Oppenheimer (Vintage Books, 2006).
Patricia Gordon Erickson edited A World of Difference. First a Foreign Service officer, she turned to writing after marrying FSO Elden Erickson in the 1950s, publishing a series of travel books called Roamin' Round Rotterdam, Roamin' Round Holland and Roamin' Round Frankfurt.
Marlen Neumann initially worked for the Department of State, but it was her professor husband who was later tapped to be an ambassador. After his retirement, Marlen focused on writing children's books and poetry. Her son Ronald Neumann later became a career FSO and three-time ambassador.
The list goes on: Biffy Sanders, the founder of the Writers' Group, started writing letters home from FS assignments and turned that into a freelance career. Mavis Perry Barrett started as a journalist in Charleston. Lee Austin was an FSO who resigned when she married and turned to writing. Nancy Horton, former president of Federal Poets, worked on charity issues from genocide to animal welfare. Her father, George Horton, was U.S. consul during the burning of Smyrna and was personally responsible for rescuing thousands of people during that catastrophe.
Dagmar Kane's autobiographical "Birth of a Citizen" was published in The Foreign Service Journal in 1985. Lucille Klontz followed her physician husband on medical missionary work and on his FS tours as a regional medical officer. Catherine Little served with the U.S. Army of Occupation in Germany.
Madeleine Meyer was a journalist who worked in Berlin for the Associated Press and in Vienna for the Chicago Tribune, returning to her journalistic work after her divorce from a fellow journalist, and again after the death of her FSO husband. She wrote of meeting Mother Teresa: "Children were running in and out, around and under the cribs, shouting, laughing, and some crying. She swept two of the smaller ones up into her strong arms, hugging them tightly. 'Aren't they beautiful?' she beamed."
Ingeborg Carsten Miller was a linguist, artist and poet. Mary Sargent's book Runway Towards Orion covers her year working for the Red Cross in India during World War II. Freelance writer Mary Louise Weiss also worked for the Red Cross, serving in Australia and around the Pacific, then joined her husband for Foreign Service and World Bank tours in Europe and Asia.
A New Generation Remembers
How could I regret marriage to a man in the Foreign Service—a diplomat—during the time of the biggest changes in the world's history, before and during the Second World War? And afterwards, the years of challenges, dangers, adventures, sacrifices and exhaustion. There were years of almost unbelievable material peaks of well-being laced with luxury, balanced by years of complete loss of all we possessed, followed by years when we again regained worldly possessions. … There were years of changes in countries, cultures, standards of every day; years of growth interrupted by stagnations; successes followed by disappointments. There were years we witnessed how the whole world—our world—labored in the agonies of brutal persecutions, political chaos, when all the values we believed in were desecrated. Yet we were proud that the diplomacy of those years occupied a place of honor, prestige and respect.
—Dagmar Kane, from A World of Difference: A Collection by American Foreign Service Women
As the years went by, younger members joined the group: Alice Slattery, who shared a life with her husband in the Peace Corps and State Department, wrote two novels and many short stories; Wendy Montanari, Sally's daughter, who wrote of her Peace Corps experiences; and Gail Shisler, whose memoir of her grandfather, For Country and Corps: The Life of General Oliver P. Smith, was published by the Naval Institute Press in 2009 and is still available in hardcover, paperback and even a Kindle edition.
Gail, one of the "next generation" of writers in the group, remembers her first meeting. "They were so kind, so intelligent, and—from the very first—very special. I really do miss them all. Those meetings were always the highlight of my month." Members took turns hosting meetings, where they sat around the table and drank coffee or tea while munching on muffins, fruit, cheese and, when hosted by Maria Bauer, fabulous deviled eggs.
"To stop the initial chatter, the hostess would interrupt loudly, 'Does anyone have anything to read?'" remembers Wendy Montanari. Someone would then wave some sheets of paper and begin reading. "I would close my eyes and be transported right into a different world and stay there until the author finished."
I joined the group in 1995. Home from overseas with four young children, I found time to write in the pre-dawn hours while the house was still quiet. Knowing I had an upcoming meeting inspired me to finish several essays a month, and I treasured every session with these wise women. The original members are gone now, many of them having lived into their 90s. The too-young Alice Slattery died, too, in 2008. Gail Shisler, Wendy Montanari and I continue to write and remain friends, but the original AAFSW Writers' Group is no more.
The last was Maria Bauer, who had first invited me to the group. Her passing in April marked the end of an era. You could call it the era of growing up in the 1930s and going through the horrors of the Second World War. But her life, like others' in the group, turned into a celebration of the American dream. "Maria went from a privileged upbringing in Europe to an escape in front of the Nazis and a life of service to her new country," says Gail Shisler. "I always thought the picture in her living room expressed what immigration should be about. It was taken on her son's last day working for President Barack Obama. In it is the Czechoslovakian immigrant who married an Austrian immigrant, with their son, who is the legal counsel to the first black president."
The End of an Era
A World of Difference is now two generations old. There is, indeed, a world of difference between that time and now. Forty years ago, there was not only no internet, but no computers. Writers used a manual typewriter or wrote longhand on yellow legal pads. Diplomats, and spouses in particular, lived far more isolated lives than succeeding generations of FS families, often relying on their own resources and communities when a medical or political crisis arose. America's stature in the world was proud and strong. Many of the members of the AAFSW Writers' Group lived and served through World War II, and felt that their role in the Foreign Service, as officers or wives, was a continuation of that service.
They have disappeared now, one by one, and new Foreign Service generations have taken their place. But their writing remains, leaving us glimpses into a world that was unlike ours, but an experience that had threads in common with that of FS members today. As original member Ingeborg Carsten Miller wrote:
I am walking from one world to another, a chameleon forever changing color.
I wander in different worlds
Stumble in another language
Accept, adapt to misunderstandings.
How far will I go
Before I know
When and where to settle?
Maybe there's not such a world of difference after all.
*The AAFSW has since changed its name to Associates of the American Foreign Service Worldwide.