From Pouches to Cargo: Diplomatic Couriers Today
The couriers' mission has not changed, but their scope of work and responsibility have expanded dramatically.
BY VINCE CRAWLEY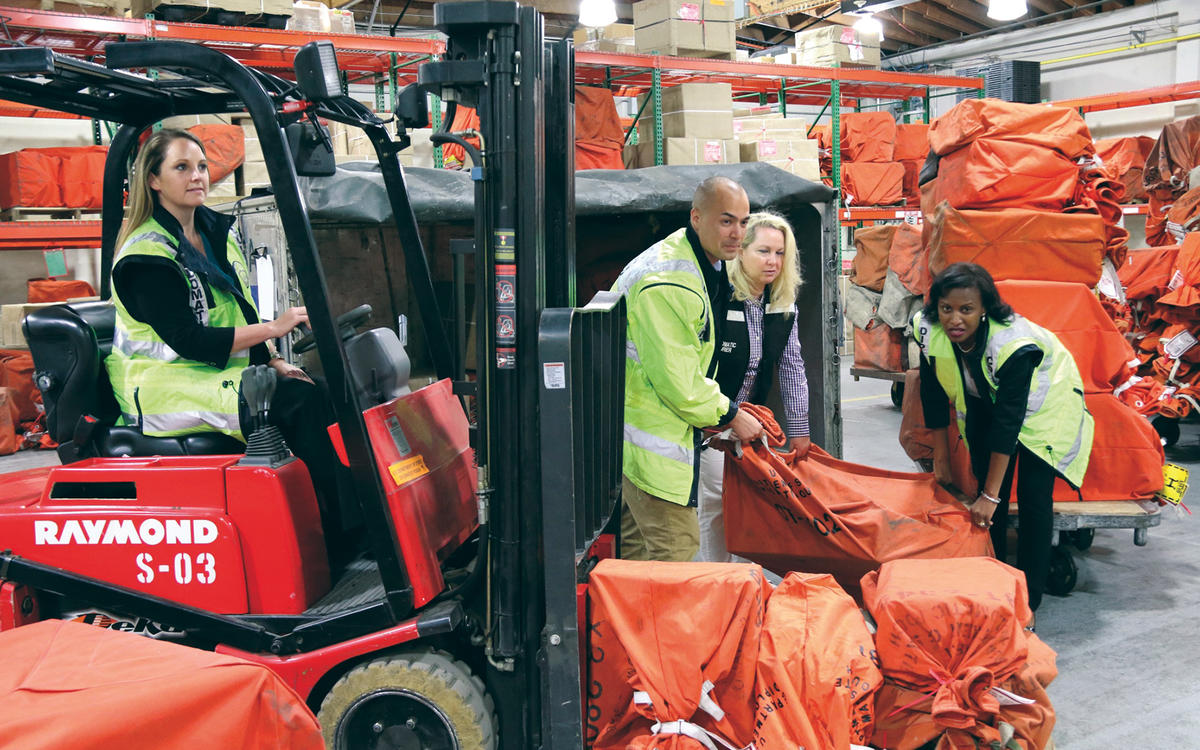 Diplomatic couriers prepare shipments in 2017.
U.S. Department of State / Diplomatic Security Service
Today's diplomatic couriers are specialized freight and cargo expediters who daily travel the globe safeguarding our nation's most sensitive shipments. They still supervise the safe delivery of classified documents, of course, as did their predecessors over the past century. But now they also safeguard the shipment of equipment and construction materials to nearly every location where American diplomats live and work. "It takes charm, nerve and self-confidence," says Stephen Donovan, deputy director of the Diplomatic Courier Service. "Every game we play is an away game. We're never inside the friendly confines of the embassy, where people are prepared to cooperate with us. Day in and day out, we are taking these pouches and trying to get them through places where airport security is trying to prevent unscreened things from getting through."
State Department couriers can be found on tarmacs around the world, working with local authorities to facilitate the loading and unloading of sensitive shipments. They still use the term "pouches," but as often as not, a modern one can fill an entire shipping pallet. And although Article XXVII of the Vienna Convention on Diplomatic Relations of 1961 guarantees the inviolability of diplomatic pouches and the couriers who transport them, that doesn't mean every airport security professional in the world is familiar with international protocols—or willing to adhere to them.
"The courier mission is the same as it was 100 years ago," explains Jose "Eddie" Salazar, director of the Diplomatic Courier Service. "The technology has changed. The vehicles have changed. The security environment has changed. But the mission is the same as it was 100 years ago—to protect our nation's classified material, to maintain security of classified material across international borders."
Same Mission, Different Challenges
Indeed, the evolution of electronic communication from cables to faxes to secure email has largely taken the place of urgent hand-carried dispatches. Yet the number of diplomatic couriers has held steady at just over 100 for the past two decades, Salazar says. That's in part because today's couriers travel to an everincreasing number of locations. During the 1990s, courier routes typically included only U.S. embassies in capital cities, but today's couriers also handle shipments to dozens of U.S. consulates.
Further, during the final decade of the Cold War the courier workload began shifting from documents to cargo shipments in earnest as a result of discoveries at the U.S. embassy in Moscow. The embassy had been a target for surveillance from the time it was established in the 1930s, and over the years listening devices and electronic bugs were regularly detected—including in a hand-carved wooden replica of the Great Seal of the United States, presented by Soviet schoolchildren to the U.S. ambassador that turned out to be a transmitter.
During the final decade of the Cold War the courier workload began shifting from documents to cargo shipments in earnest.
But in 1984 Embassy Moscow security officers discovered that locally purchased electric typewriters had been fitted with eavesdropping devices that recorded all their keystrokes. As a result, couriers began transporting U.S.-purchased and tested equipment to all locations where sensitive or classified information might be handled.
Shortly thereafter, Bureau of Diplomatic Security specialists made another discovery: listening devices had been embedded throughout the structure of a new U.S. facility in Moscow during construction, with clandestine wires running within poured concrete pillars. These developments caused a massive shift in the Diplomatic Courier Service workload. Ever since, diplomatic couriers have also overseen the secure transport of all construction materials for overseas Department of State facilities that handle classified information.
Keep On Trucking!
Another shift in courier operations took place in the late 1990s, after the European Union deregulated its airline industry so it was no longer dominated by large state-run carriers. The result was a market-driven shift to smaller aircraft with less cargo capacity, at a time when couriers needed to transport even more materials.
"The pouch load, especially in Europe, grew in volume," Salazar recalls. "The shipments got bigger and the aircraft got smaller, so we started going overland." When he first joined the Diplomatic Courier Service two decades ago, "we still had the old model of weekends in Vienna," Salazar said. "That slowly, gradually disappeared. We started trucking everything."
Today, many European shipments move by truck out of the regional courier office in Frankfurt. As each departs, a driver and courier will take a short passenger flight to a point several hundred miles away, so that a fresh crew can climb aboard there and keep the pouches moving.
"We've done what we call the modern-day Pony Express," Salazar explains. "We'll pre-position a courier, let's say in Copenhagen, and then we have another courier drive there from Frankfurt. The pre-positioned courier takes over in Copenhagen and continues on to Stockholm or Oslo. Then they do the same thing in reverse. So we still use a well-rested driver and courier."
"The material is never static," adds Deputy Director Donovan. "The material is always moving."
Fly the Friendly Skies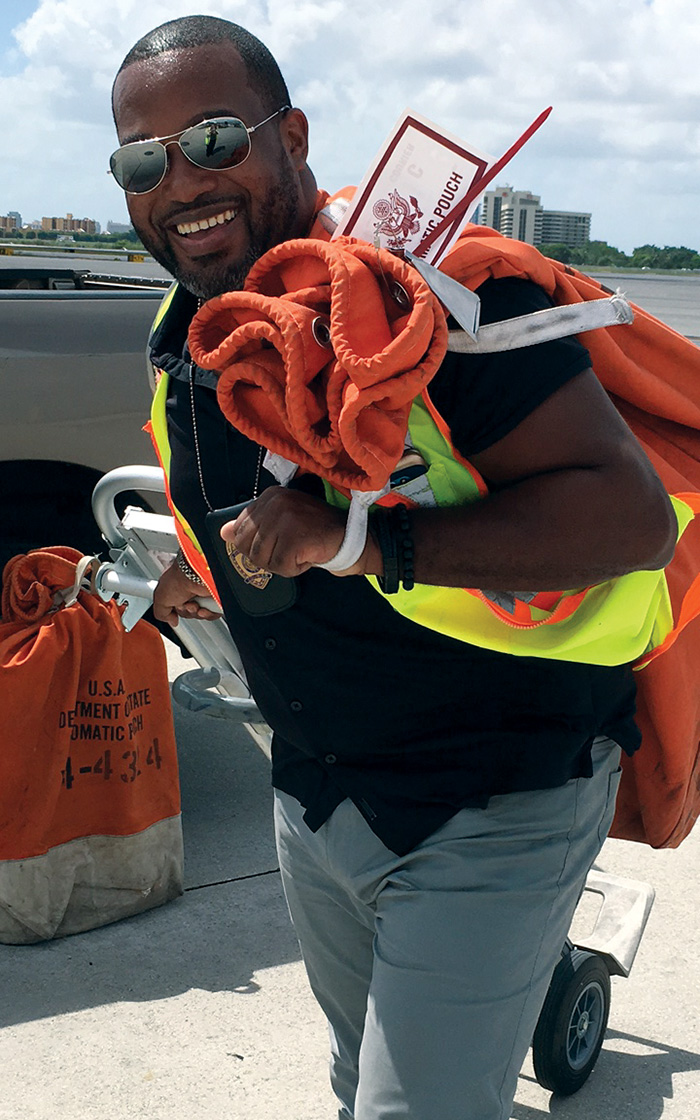 A diplomatic courier on the Miami-to-Havana run in 2017.
U.S. Department of State / Diplomatic Security Service
The terrorist attacks of Sept. 11, 2001, led to a major emphasis on U.S. diplomacy in high-threat locations. At the same time, the Department of Defense shifted its logistical focus toward supporting overseas combat and counterterrorism operations. Ever since the 1940s, the Defense Courier Service had worked in close partnership with State's Diplomatic Courier Service. This included regularly scheduled military flights to regions with large troop presences—such as Frankfurt, Manama and Seoul— that also overlapped with diplomatic courier hubs. The military traditionally offered the couriers long-haul transport of pouches on a space-available basis free of charge.
However, with sustained overseas operations, the Defense Courier Service no longer had excess capacity on its aircraft. As a result, the Defense Department began charging for nonmilitary cargo.
The Diplomatic Courier Service researched alternatives and found that in most cases, sensitive cargo could be shipped more cheaply via commercial air cargo carriers such as DHL, FedEx and UPS, on the condition that those carriers allow a diplomatic courier to ride aboard with the aircrew to ensure the cargo remains in U.S. control.
'Eyes-On' at All Times
Keeping control of sensitive cargo takes teamwork, coordination and backing each other up. "We're in control," says Donovan. "It's eyes-on every shipment."
"In a perfect world," says Salazar, "we have two cleared Americans for every iteration. When a courier departs, we should have an escort and courier on the tarmac watching the pouches and counting them as they go into the belly of the aircraft. When that courier boards the plane, we still have someone eyes-on, watching until that cargo door is closed and the plane actually leaves. Then the courier is on board, just in case it gets diverted.
"When the plane lands at its destination," he says, "you have another escort on the ground as the plane parks, as the doors open, and as the courier makes his or her way down to the tarmac." The courier boarding an aircraft identifies himself or herself to the crew and arranges to exit the aircraft as soon as it reaches its gate.
"The courier needs to get on the ground as soon as the door opens to get underneath the aircraft," Donovan explains. "Because there's no guarantee the escort has made it either. They back each other up."
Diplomatic couriers pride themselves on never having lost a pouch during a century of operations. And nobody wants to be the one who breaks a 100-year-old track record. For that reason, Donovan says, "We have to be really good at what we do."
Fortunately, they are.