A veteran courier salutes the Diplomatic Courier Service's first 100 years and a career that offers both satisfaction and the opportunity to serve.
BY JAMES B. ANGELL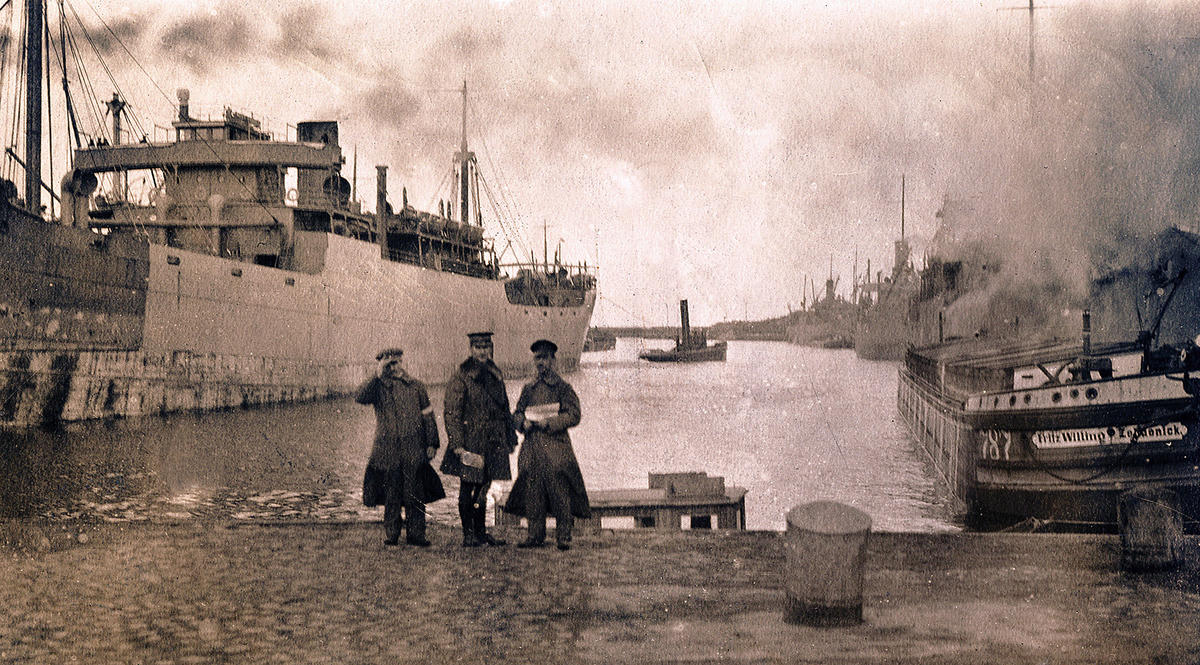 Couriers with U.S. ships in Danzig, March 31, 1919.
U.S. Department of State / Diplomatic Security Service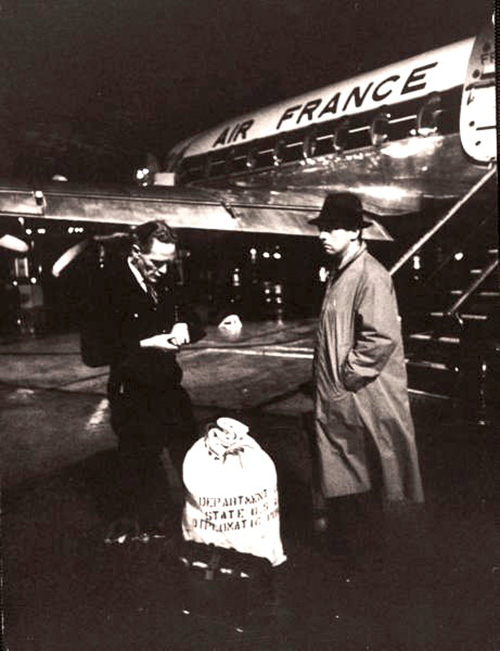 A diplomatic courier (in hat) with an officer from Embassy Paris in Paris in 1957.
U.S. Department of State / Diplomatic Security Service
This year marks the centennial of the U.S. Diplomatic Courier Service. Established in Paris at the end of World War I to ensure the inviolability of classified communication between U.S. diplomatic missions across Europe, the Diplomatic Courier Service has grown from 15 military personnel in a single city to approximately 100 civilian professionals serving in 11 divisions and hubs across the globe: Frankfurt, Dakar, Abidjan, Pretoria, Nairobi, Manama, Bangkok, Seoul, São Paulo, Miami and Washington, D.C. These dynamic individuals are entrusted with the secure delivery of classified material to more than 270 U.S. missions worldwide.
Yet even as the Diplomatic Courier Service approaches a full century of dramatic history, and is at work all around the world, the vast majority of State Department personnel (let alone the American people) do not know it exists.
The Silver Greyhounds
Major Amos J. Peaslee (who later served as U.S. ambassador to Australia) conceived the idea of a trans-Atlantic courier service during World War I to improve delivery of mail and official messages to American troops fighting in France. General John J. Pershing signed off on the initiative in March 1918, and a group of seven Army officers led by Peaslee quickly cut delivery times between Washington and Paris from fi ve weeks to less than two. The improvement was so dramatic that after the armistice, the American Commission to Negotiate Peace asked Peaslee to report to Paris and set up a courier service to help U.S. diplomatic missions across Europe support Herbert Hoover's American Relief Administration.
The first diplomatic couriers, informally known as the "Silver Greyhounds" (named after King Charles II's messengers), set up shop at 4 Place de la Concorde on Dec. 2, 1918. Their motto, "None Swifter Than These," was taken from Herodotus' description of the Persian couriers of 440 B.C. and remains the Diplomatic Courier Service's motto today. Following World War II the Diplomatic Courier Service became part of the State Department's Division of Communication (Information Management), and in 1985 it was folded into the Bureau of Diplomatic Security pursuant to recommendations the Inman Commission made to consolidate the department's security efforts.
Constant travel is inherently dangerous, and the six diplomatic couriers who perished in the line of duty during the past century have all died in plane crashes: Seth J. Foti in 2000 in Bahrain; Joseph P. Capozzi in 1963 in Cameroon; Willard M. Fisher in 1953 in Tanzania; Richard T. Dunning in 1951 in Liberia; Homer C. White in 1945 on a flight that departed from Liberia and never reached its destination in Ghana; and James N. Wright in 1943 in Portugal.
A Perilous Profession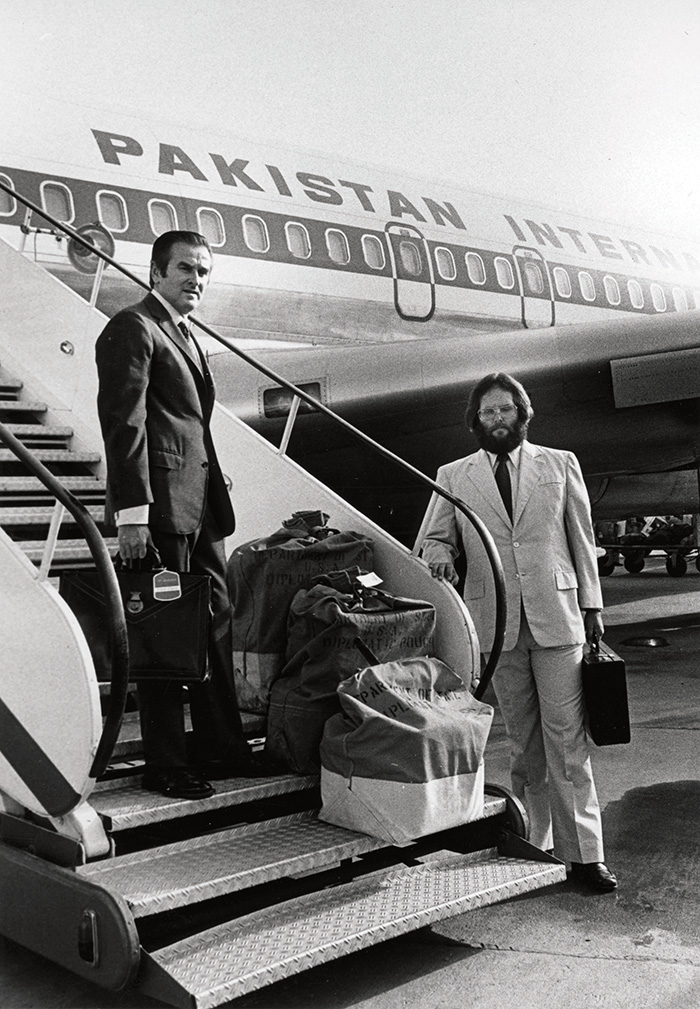 Couriers arrive in China in 1973.
U.S. Department of State / Diplomatic Security Service
Others were more fortunate. For instance, Henry E. Coleman survived with his diplomatic pouch after a German U-boat torpedoed the British liner Western Prince on Dec. 14, 1940, in the mid-Atlantic. And on April 20, 1968, Thomas Taylor was one of only six survivors aboard a South African Air 707 that crashed in mountainous terrain outside Windhoek, Namibia. Miraculously, his diplomatic pouch remained intact after the crash.
More recently, on May 25, 2008, Andy Perez was on a Kalitta Air plane that crashed at the end of a runway on takeoff from Brussels with 4,000 kilograms of regional classified material bound for Manama on board. He assisted the crew and secured his classified pouches until cleared reinforcements arrived from Embassy Brussels and Consulate General Frankfurt to set up a command post for the huge salvage operation. In recognition of his bravery and dedication to duty, Perez received the State Department's Heroism Award.
Despite its small size, the Diplomatic Courier Service has a global reach. Last year, it securely transported 103,167 pouches weighing 5,548,257 pounds, via 3,309 separate diplomatic courier missions. These pouches contained sensitive and critical material and equipment necessary to conduct foreign policy around the globe, and 51 of the missions were specifically coordinated to support the president and the Secretary of State.
In the past few years, diplomatic couriers have provided logistics support for milestones such as the reopening of the U.S. embassy in Havana, the Global Entrepreneurship Summit in Nairobi, and even sporting events like the Summer and Winter Olympics. The Diplomatic Courier Service has also delivered almost 700 pouches to support various security augmentation teams temporarily assigned to overseas missions under the highest threat of political violence or terrorism. These missions were critical to protecting lives and facilitating the conduct of foreign policy in the most arduous environments.
Critical Missions
After the Paris attacks on Nov. 13, 2015, a Diplomatic Courier Service team worked late into the evening and over the weekend to transport critical shipments to France. This entailed driving to Paris with a diplomatic note from the U.S. consulate general in Frankfurt to ensure a successful crossing because French borders had been sealed.
Just a week later, terrorists attacked a hotel in Bamako, Mali, killing 20 people. Once again, diplomatic couriers went into action, formulating and executing a plan to support shipments to a remote U.S. mission that is difficult to service even during normal times. Such events highlight the close working relationship between the different directorates of the Bureau of Diplomatic Security that has been critical over the past several years to ensuring the safety and security of the department's overseas personnel.
In July 2016, I personally staffed a critical mission to Nairobi in support of protective teams dispatched to Embassy Juba during civil unrest. I was on the tarmac in Kenya 36 hours later, delivering critical equipment to teams as they boarded charter flights to South Sudan. Such an urgent mission is indicative of the swift global response the Diplomatic Courier Service is capable of making and showcases how essential our role is in protecting the department's personnel.
The international challenges the Department of State confronts are relentless; yet helping to overcome these obstacles makes for an immensely satisfying career.
In the turbulent year following my mission, our Frankfurt office completed 27 missions to Embassy Juba alone, delivering 18,706 kilograms of critical equipment. As logistics experts, our personnel have developed a wealth of professional knowledge on quickly delivering material to remote and high-threat posts around the globe.
Secretary of State John Kerry's record-breaking travel of more than 1.3 million miles during four years posed major logistical challenges, but our team always delivered his secure communications gear to post three days prior to each visit. This perfect record included his final trip to Davos, in January 2017, for which a diplomatic courier had to purchase 400 euros worth of tire chains at the base of the Alps to ensure the equipment reached the icy resort on schedule.
Less than a month later, in February 2017, a courier team supported Secretary of State Rex Tillerson's first overseas meetings in Bonn. More recently, even before Secretary of State Mike Pompeo took his oath of office and immediately embarked on overseas travel, diplomatic couriers were in the air, paving the way for his first overseas trips to Brussels, Riyadh, Jerusalem and Amman.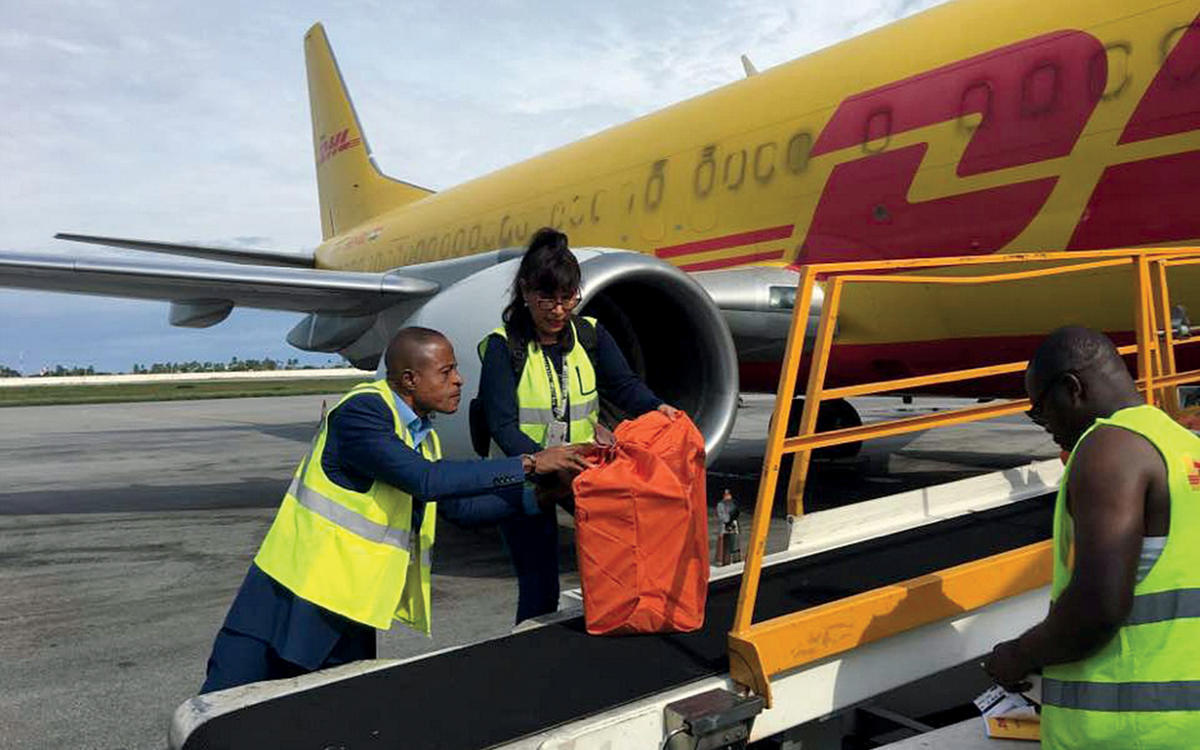 Couriers handle a pouch going from Abidjan to Monrovia in 2017.
U.S. Department of State / Diplomatic Security Service
A Satisfying Career
The international challenges the Department of State confronts are relentless; yet helping to overcome these obstacles makes for an immensely satisfying career. Our team's persistent focus on bolstering the classified pipeline from the Department of State to Embassy Beijing, and our consulates in Shenyang, Shanghai, Chengdu and Guangzhou, has played a critical role in strengthening national security and diplomatic engagement.
Due to constantly changing restrictions on shipments to China, the Diplomatic Courier Service has utilized various delivery methods, ranging from trains to a 3,200-mile overland bus route. More recently, in 2015, we conducted the first diplomatic courier mission to China via ferry from South Korea.
At the same time, other members of the Diplomatic Courier Service team were performing indispensable work during the Ebola outbreak in West Africa. Couriers delivered diplomatic pouches to Conakry, Freetown and Monrovia via Department of Defense "humanitarian corridor" flights from Dakar after all commercial airlines canceled service due to the epidemic. These high-profile missions included the delivery of critical equipment to support the secure deployment of public health experts from the Centers for Disease Control throughout the Ebola-stricken countries.
Constant travel is inherently dangerous, and the six diplomatic couriers who perished in the line of duty during the past century have all died in plane crashes.
More recently, because of the Russian expulsion of American diplomats in 2018, a diplomatic courier traveled to St. Petersburg to facilitate rapid closure of the consulate. The courier was put straight to work by the department's Bureau of Information Resource Management, as personnel departed ahead of the Russian-imposed deadline. The courier assisted in pouching critical classified material, then traveled to Moscow with other staff on an overland mission as the consulate doors were closed. The Bureau of Diplomatic Security and Moscow's deputy chief of mission praised his invaluable assistance in removing classified material from St. Petersburg during a traumatic time.
After spending a quarter-century in the Diplomatic Courier Service, I still believe it is not only one of the best jobs in the U.S. government, but perhaps in the entire world. Even a flight I recently took from Birmingham back to Frankfurt while squashed into the jump seat of a small cargo plane, to escort Secretary Pompeo's classified communications equipment, reminded me what an adventure this job continues to be.
What other line of work offers this gift of global travel and living abroad while serving one's country? Looking back, I wouldn't trade my time in the Diplomatic Courier Service for any other career.
The Ins and Outs of a Diplomatic Courier Hub
For several decades until the early 1990s, all State Department diplomatic couriers operated out of just three hubs: Washington, D.C., Frankfurt and Bangkok. As a result, trips to posts lasted days, often weeks, and the cost of travel and temporary duty assignments could run high.
As travel options and technology improved over the years, so has the efficiency of courier operations. In the 1990s, the U.S. Diplomatic Courier Service set up hubs in five new locations, adding two more in the 2000s. The most recent hub was established in Nairobi this past summer, bringing the total to 11. These vary in size and resources, with Washington and Frankfurt having the largest staffs. Additional hubs are more cost-effective and greatly reduce the amount of time diplomatic couriers spend traveling.
In a far cry from the first-class seats of decades gone by, today's diplomatic couriers frequently fly in jump seats on cargo planes with "pouches" that can fill the entire cargo hold. Increasingly, though, you'll find couriers on cargo ships, ferries, trains and trucks— whatever is most efficient.
The job isn't all globetrotting, though. Diplomatic couriers are exceptional logisticians, tracking millions of pounds of cargo annually. In 2017, the Diplomatic Courier Service moved 103,167 pouches weighing 5,548,257 pounds. While the D.C. division is the origin for about 70 percent of all classified material the U.S. moves around the world, more than two-thirds of all material transits the Frankfurt Regional Diplomatic Courier Division.
Tales from the Vault
The shipping process usually begins in the "vault," a secure storage facility where classified and sensitive materials are kept before and after delivery. Couriers first log detailed records of every diplomatic item and pouch they ship and receive: the to and from addresses; the date the item was pouched and the date the item was received or released; the registration number, seal number and pouch number; and the item's dimensions and weight. Only then do they "tag and bag" the shipments and schedule them for movement.
Getting the shipments to their destination is a feat requiring an expert level of familiarity with weight restrictions and flight schedules for commercial and cargo airlines, as well as an encyclopedic understanding of entry requirements— from vaccinations to visas—for every country. On shipment day, the diplomatic courier will check his or her inventory to verify once more that all the pouches are there and accurate. The pouches are then counted and loaded into an embassy vehicle in which at least one courier, a courier escort (who is sometimes another courier) and a driver head to the airport.
Only when the diplomatic pouches have been loaded securely onto the plane does the traveling courier board. The escort watches until the cargo doors are closed, then waits until the aircraft departs and the shipment is securely underway to head back to the office to finalize the paperwork. Meanwhile, as the aircraft begins to approach its destination, an escort there meets it to ensure the diplomatic cargo remains under Department of State control.
It's a carefully orchestrated process that is repeated day and night at airports and other transit points around the globe—wherever members of the Diplomatic Courier Service are on duty, ensuring the secure handling of our nation's most sensitive diplomatic shipments.
—Angela French, DS Public Affairs