An Unexpected Find in Deir al-Qamar
Reflections
BY DANIEL MORRIS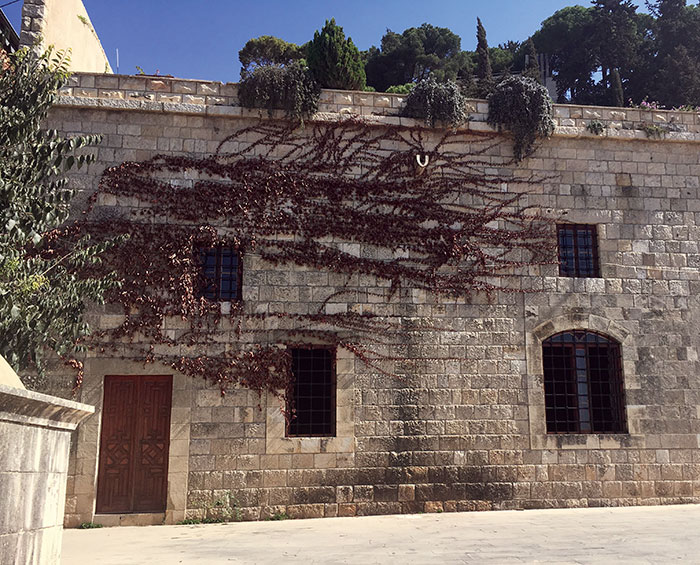 Daniel Morris
After my friend and I checked out a beautiful Ottoman-era mosque and church, I casually asked our taxi driver if he knew anything about a synagogue somewhere nearby. (Like all reliable information, it was something I learned from browsing Wikipedia.)
I thought he would answer yes or no. I did not expect him to shout my question to an elderly man sitting outside a nearby cafe.
Doing that wouldn't be a big deal in most parts of the world. But we were in Lebanon: specifically, the charming town of Deir El-Qamar, which is nestled in the Chouf Mountains outside Beirut.
Adding to my anxiety, the customer then yelled the question over to a patron at the town's other cafe. Soon customers at both cafes were weighing in, and all eyes were on the foreigners looking for the synagogue.
I looked at my friend and braced for the worst. This was Lebanon, after all, a country not historically known for cordial relations among its many religions. In fact, this now-tranquil town perched on the mountainside used to be full of followers of the Druze faith, before a bloody civil war drove them out.
Well aware of that history, I tried to hide my fear as I saw one of the cafe patrons conspicuously say kanis yehudi (Jewish synagogue) into his phone. My friend and I looked at each other with raised eyebrows.
Just as I was about to tell the driver that we should leave, I heard voices from half way up the hill. It was an elderly couple enthusiastically waving to us from a promenade.
"You sure you want to see this?" my friend asked.
I hesitated. "I think so?"
Ten minutes later George and Dina, two affable pensioners, were showing us a limestone brick building that they said had been used as a synagogue, right up until the last Jews in the town left in 1860.
The couple knew this because they lived in an apartment building right next door, in a former church. They didn't care much for the chaos of Beirut ("too smelly," according to George) and seemed content pickling vegetables and other jarred delicacies here.
The building didn't look much like a Jewish house of worship now. George explained that the Star of David that used to adorn the main entrance had been replaced with a generic eight-point star during a recent restoration. The interior was full of clean, white plastic tables and chairs, signs of the building's current use as a classroom for the nearby French cultural center.
The couple kindly invited us in to exchange more stories over apples and coffee. They told us fascinating stories, like the time during the Israeli occupation when Israeli Defense Minister Ariel Sharon (later prime minister) landed his helicopter on the promenade to participate in the wedding of two Israeli colonels.
They were not trained tour guides, but they told us this story that recalled a bitter period in Lebanese history with a calm grace.
All too soon, it was time to go, but not before I purchased some of their homemade labneh, or pickled cheese balls. It turned out to be so salty that I got thirsty just looking at it, but I still enjoy the memories it evokes.
The next day, I met an old Lebanese grad school friend for dinner in Beirut. After I told my story about the elderly couple who showed us the synagogue, he smiled and said, "This place is confusing, isn't it? You understand it one way, but then it shows you another."