Getting the Job Done (During Chaotic Times)
State VP Voice
BY KENNETH KERO-MENTZ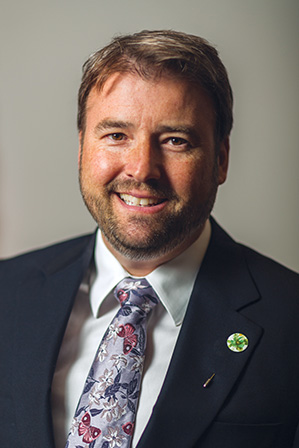 There's no doubt that these are difficult times at State. We've heard that we are "not a highly disciplined organization," and that the State Department "was broken" when the current administration took office. The "Listening Report" by Insigniam stated that the "system… treats people as tools, not human beings."
Concurrently, the department froze hiring for most positions in the Foreign and Civil Services, suspended several fellowship programs, slashed our promotion rates to historic lows and halted filling positions traditionally held by eligible family members (EFMs).
Our daily work has become more difficult as a result of these actions. Yet, we are being told that somehow we are the problem. Now, we all know that the State Department can improve, and would warmly welcome efforts to enhance efficiencies and streamline operations. But we are not the problem.
Indeed, despite the swirl of these unprecedented challenges, the work of State continues. We hear from our members that you all continue to do your jobs, do them well, and have adapted to the administration's new policies, where they've been enunciated.
We rightly take great pride as we head home each day. And deep down, we know that our work remains as important to the U.S. national interest and the American people as ever. After all, there is no B Team.
Here at AFSA, as both your association and your union, we are continuously promoting the Foreign Service as the preeminent force that can most effectively advance diplomacy in the current complex global environment that we face today. For those of you who haven't, please read the Foreign Service Act of 1980, or (if you don't have time) Julie Nutter's column reviewing the Act, which can be found here.
The FSA provides a statutory basis for the Foreign Service to participate–through AFSA–in the formulation of personnel policies and procedures affecting conditions of employment, as well as the grievance system to ensure due process for our members. Congress recognized the importance of AFSA, your union, as the entity which guards the Foreign Service—and you—in ways big and small.
Our work remains as important to the U.S. national interest and the American people as ever. After all, there is no B Team.
For instance, in response to the decision to suspend EFM hiring, we pushed long, loud and hard against that decision. As of this writing, the Secretary has authorized more than 800 positions worldwide—still too few, but a vast improvement.
In addition, we've been working to understand the impacts of new Fair Share requirements on tandem couples, those with medical issues or whose family members cannot receive privileges and immunities. We're also working with the employee group Balancing Act to convince the department to pay for non-concurrent travel for the children of expecting mothers—which saves money and is less disruptive to families. And we're pushing the Bureau of Medical Services to find creative ways to get Foreign Service employees to post while ensuring individual health, education and wellbeing concerns are appropriately considered. While there are limits on what we can do, like you, we all work creatively to get the job done, even in the most chaotic of times.
AFSA is also working on some of the bread-and-butter issues for our membership. AFSA's labor management team receives about 75 requests for assistance weekly, ranging from routine inquiries to more serious matters. Some requests can be resolved through a few emails or phone exchanges, while others become longerterm cases involving a great deal of legal and technical skill to resolve.
The cases run the gamut, but recent additions to the LM workload focus on employee evaluation reports and work place conflict, as well as tenure, assignment, financial debt, medical and security clearance issues.
It's a lot, but the great thing is that the AFSA staff and I really love trying to find solutions that can help our members. We know that at any point in our careers, things can go awry. Problems arise. Mistakes are made. Bureaucracies falter. When that happens, whenever possible, we're here for you. And we've got the knowledge, experience and the law to back us up.
So keep doing your work. Keep doing your best. Know that we've got your back. The American people continue to support us and the world still needs us. Be proud, and watch out for one another. Because it's who we are, and it's what makes us great.