Reflections
BY ANDREA KORMANN LOWE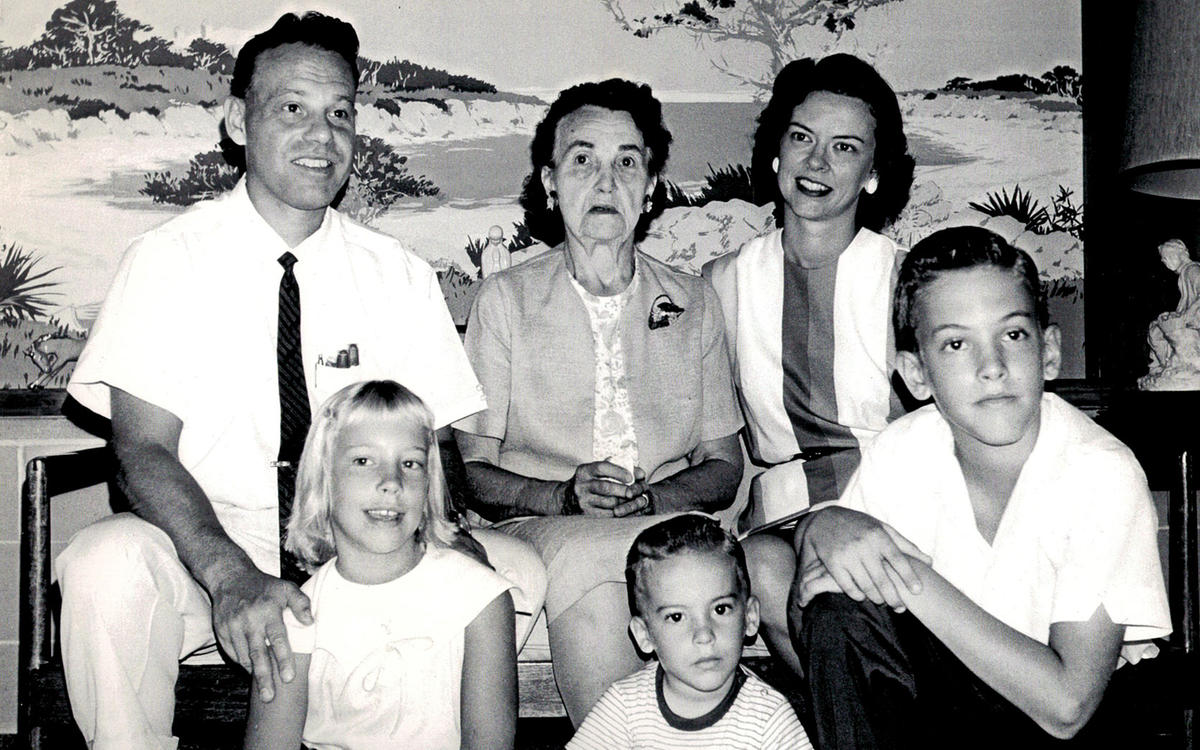 The Kormann family on home leave in Florida with John's mother in 1966. Back row, from left: John Kormann; his mother, Elsie Behr Kormann; and his wife, Elsa Wells Kormann. Front row, from left: Andrea, Matthew and Wells Bradford (Brad) Kormann.
Courtesy of Andrea Kormann Lowe
What item do you choose to save when you're an 11-year-old Foreign Service child being evacuated from a maelstrom? What do you think when you don't even know if your family or father will survive?
When the Arab-Israeli Six-Day War broke out in 1967, a hostile mob attacked the U.S. embassy in Benghazi, Libya. My father, John Kormann, barricaded himself with his staff of nine, retreating to the inner security vault of what had previously been a bank building.
He was briefly able to contact my mother to ask her to warn U.S. families and prepare to evacuate. He and his team inside the embassy then alternated between fighting off intruders as best they could and destroying confidential documents.
The frustrated mob turned its fury on the nearby consul's residence (our home, and the site for receptions and other official events). Luckily our family had moved to the suburbs days before.
Against the backdrop of my mother phoning warnings—"The war has broken out. Please keep your children and pets inside and await further instructions . . ."—I chose a family necklace, while my brothers chose comic books and a favorite toy.
Embassy Evacuation
The British 5th Royal Inniskilling Dragoon Guards made numerous attempts before finally rescuing the trapped Americans from the embassy 10 hours later. They also formed an escort to get all the American and British families out of their homes and to D'Aosta Barracks prior to evacuation three days later.
During the embassy siege, and at the Benghazi airfield, my father's military experience was invaluable. While the U.S. Air Force planes from the Tennessee National Guard were en route, more than 1,000 Algerian and Egyptian paratroopers had landed in MiG fighters and troop carriers at the airfield.
My father had to make the call whether to continue the evacuation attempt, which could risk loss of life and an international incident.
As I strapped myself into a paratrooper bucket seat on the military plane, the tension and distress of the departure was matched by the surreal realization that I was reliving my father's World War II life.
In the end, everyone at the embassy made it out safely. My father was given the State Department Award for Heroism for "calm and effective leadership as the officer-in-charge of the embassy in Benghazi."
But the action for which I am most proud of him, and the tribute for which he will be best remembered, was a similarly tough decision in 1945, when he was a 20-year-old paratrooper with the 17th Airborne Division in Germany.
Operation Varsity
Dad was part of Operation Varsity—the single biggest one-day airborne operation of World War II. The night before he saw action, he received a letter from my grandmother, who had emigrated from Germany in 1905.
"Son," she wrote, "I know you are going into battle soon. Please remember that the young man you are fighting has a mother who loves and prays for him as I love and pray for you, and be merciful."
Dad tossed the letter aside, angry at what she'd written. He knew hesitation could cost his life and those of his fellow soldiers. The operation involved towing gliders with men and jeeps from France to Germany in a bumpy flight.
The tension and distress of the departure was matched by the surreal realization that I was reliving my father's World War II life.
On landing, Dad was briefly knocked unconscious when bounced out of the glider under fire. When he recovered and regrouped with his fellow soldiers, their urgent mission was to find the German snipers hiding in nearby farmhouses. Bringing up the rear as they passed a farmhouse, my father heard noises coming from a potato cellar. Convinced that German soldiers were hiding there, he lifted the wooden cellar door cautiously and was about to throw in a grenade when he remembered his mother's plea: "Be merciful!"
So instead he shouted down in German for the soldiers to surrender. Silence. His second shout brought out an elderly grandmother, and eventually 14 people—nine women and five children—stood before him. He said later, "I shudder at the thought of what I might have done, and the burden it would have placed on my life, had I not received my blessed mother's letter."
A Dying Wish
Years later, as Dad was dying, we talked about things he wished he had done during his lifetime. He wanted me to find the soldiers from the 5th Royal Inniskilling Dragoon Guards who had helped get us out in Benghazi—particularly one soldier who had been badly burnt when the mob threw a petrol bomb into their armoured vehicle. His other regret was not finding out what happened to the children his act in Germany had saved.
The badly injured British soldier was relatively easy to find, and I was able to speak with him by phone just before the 50th anniversary of the Six-Day War. Although I know thanks were extended by the U.S. Secretary of State for British help, he told me that I was the first person to personally thank him in 50 years, saying "it's not the British way."
But trying to find survivors who remembered a wartime incident more than 70 years earlier required all the skills my father and the Foreign Service taught me: empathy, determination, and an understanding of how to use help and contacts.
With the aid of a Dutch military tour guide and the local newspaper, I found the farm. The potato cellar had been unique in that part of Germany, and all the children played in it. Although the farmhouse no longer exists, the farmer's son kindly found an old photograph which I was able to show my father the night before he died.
Amazingly, I found an 80-year-old man who had been an 8-year-old boy in the "Be Merciful" cellar. He told me he was too young then to know how close to death he had been.
"Be Merciful" Is Memorialized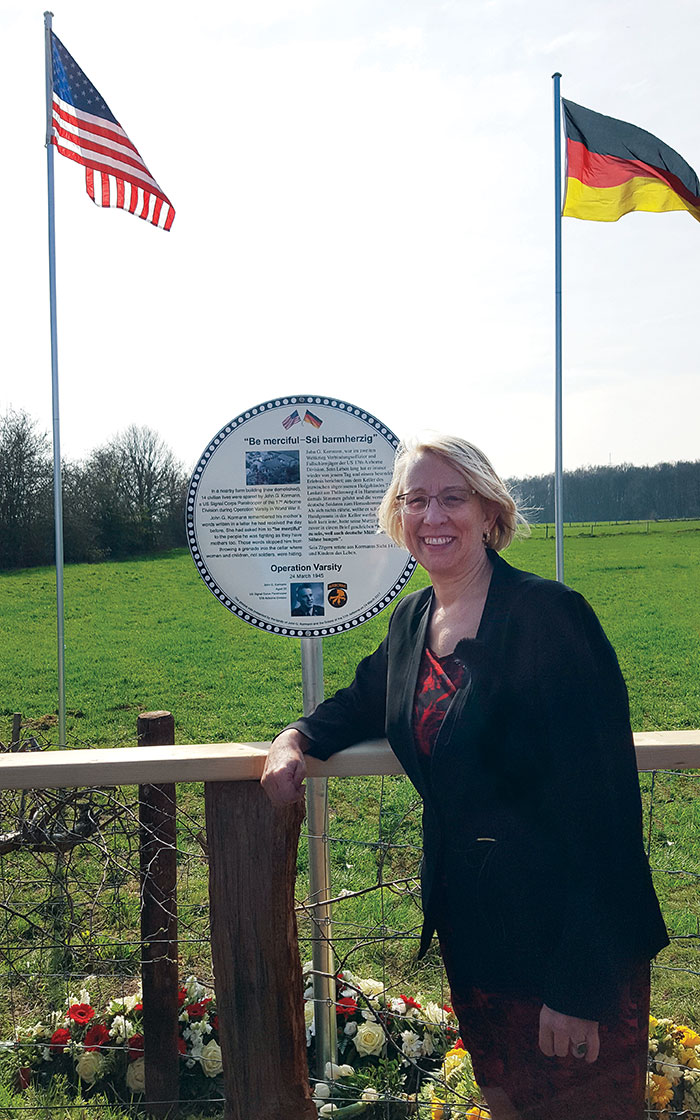 Andrea Kormann Lowe at the commemorative plaque dedication in Hamminkeln, Germany, on March 24, 2017.
Courtesy of Andrea Kormann Lowe
On March 24, 2017, the 72nd anniversary of Operation Varsity, on a windswept field in Hamminkeln, Germany, a bilingual commemorative plaque was dedicated to John Kormann and the "Be Merciful" incident.
Eighty people attended, including Germans and Americans of the Scions of the 17th Airborne Division (children of servicemen, like me), and the Dutch Margraten Memorial Group that has adopted the graves of fallen U.S. soldiers.
Local German schoolchildren researched their area's role in World War II, welcomed by the school as a way to discuss the difficult subject of Germany's wartime actions. Some of them spoke at the dedication ceremony, saying: "It was very dangerous and courageous what your father did. But he did it nonetheless."
"There are still so many wars going on in this world. That's why it's so important to commemorate acts of humanity like this of Mr. Kormann. It shows us what unifies all people on earth despite their different cultures, nationalities and religions."
When I met the elderly cellar survivors, I was struck by their vivid childhood memories of colored parachutes, the GIs who were farm boys helping to milk cows, and how the GIs then gave them chocolate, which they shaved into warm milk and instant coffee (and still love drinking).
I arranged a lunch to follow the dedication, where each elderly German getting up encouraged the others to speak in front of an international audience and, crucially, the young people of the town. That turned out to be the first time most of them had ever told their stories in public.
Experiencing and Shaping History
Dutch TV picked up the "Be Merciful" story and filmed a documentary, "Closer to Freedom," which is now being used in schools. The National Liberation Museum in Groesbeek, Netherlands, is suggesting that the European Union–funded Liberation Route Europe add Hamminkeln to its locations. To my knowledge, this is the only commemorative plaque concerning an act of valor by an American in North Rhine Westphalia, which was part of the British Occupied Zone following World War II. The German owners of the "Be Merciful" farm have submitted a proposal to create an Operation Varsity museum.
After the war, my father joined the Foreign Service and served overseas in Bavaria, Manila, Benghazi and Cairo—accompanied by my mother, my two brothers and me. His focus was political-military affairs, and he participated during a crucial period—implementing the Marshall Plan, witnessing Marcos' accession amid the strains of the Vietnam War, experiencing Libya's turmoil and, in Cairo, facilitating Henry Kissinger's shuttle diplomacy and the largest Defense Department and USAID programs at that time.
We are blessed in the Foreign Service with extraordinary lives observing and forming history. Let us capture them for posterity. Whether through video, or writing an autobiography as my father did, record your experiences for your descendants. Do it while you are young enough to get feedback in your lifetime: your memories will trigger others, to the great joy of all.
My father's deathbed request seemed an overwhelming burden at first, but it turned out to be his greatest gift to me.