Stewards of a Vital Institution
President's Views
BY BARBARA STEPHENSON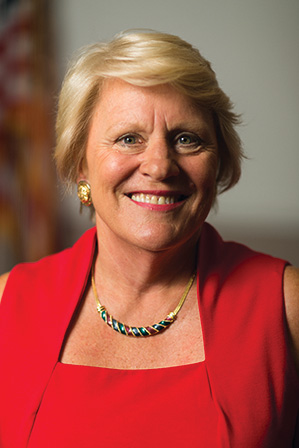 I acknowledged in a recent message to you that the Foreign Service has hit a rough patch. I find that when I am faced with a rough patch, one of the best ways to get my compass set on true north again so I can navigate through it is to review any foundational documents that might give me guidance on first principles.
So it is that, not for the first time, I use this column to remind you of who we are—by quoting Section 101 of the Foreign Service Act of 1980, our foundational legislation.
"The Congress finds that—(1) a career Foreign Service, characterized by excellence and professionalism, is essential in the national interest to assist the President and the Secretary of State in conducting the Foreign Affairs of the United States; …
"The objective of this Act is to strengthen and improve the Foreign Service of the United States by— …
"(4) establishing a statutory basis for participation by the members of the Foreign Service, through their elected representative [AFSA], in the formulation of personnel policies and procedures;. …
"(7) establishing a Senior Foreign Service which is characterized by strong policy formulation capabilities, outstanding executive leadership qualities and highly developed functional, foreign language and area expertise."
The Act reminds me that the role of the Foreign Service is to help formulate foreign policy, not merely implement it. It reminds me that we are stakeholders, not mere employees. We are the stewards of this great institution.
As a mentor of FSI leadership classes during the last administration, I heard well-founded concerns about the proliferation of political appointees and the explosion in the size of the National Security Council. I responded every time by urging members to own their portfolios, lean in, and contribute their best effort and deep expertise to developing policy proposals.
We are stakeholders, not mere employees. We are the stewards of this great institution.
My consistent advice: Don't just wait to receive a tasking; pull your interagency colleagues together to develop policy proposals that reinforce America's global leadership role and make us more secure and prosperous at home.
I repeat that advice now. With both the size of the NSC and the number of political appointees now dramatically smaller, space and time have opened back up for the career Foreign Service to play the leadership role in policy formulation intended by Congress. I ask you to double down on efforts to do that in your own portfolio.
For the many of you who supervise others, I have a second request. I ask that you honor your role as stewards of this great institution by instilling in those whose professional development you are entrusted with an understanding of who we are. Mentor them to master the art of providing leadership in policy formulation so that the core capability of our institution is passed on to the next generation.
Former Senior FSO Julie Nutter, now director of professional policy issues at AFSA, dedicates her first column to "The Foreign Service Act—Our Constitution." I encourage each of you to read the column and to read at least the first section of the Act itself as a refresher about the fundamentals of our Service and Congress' intent in creating a "career Foreign Service, characterized by excellence and professionalism."
I have always found strength and courage in former Secretary Colin Powell's admonition (quoting the late Rear Admiral Grace Hopper), that "It is better to ask for forgiveness than to ask for permission."
I take this opportunity to point out that you do have permission. Secretary Tillerson, upon arrival at the State Department Feb. 2, referring to a motto of the serial Super Bowl champion New England Patriots, said: "Do your job!"
We owe the American people our best effort to make America safe, secure and prosperous. I don't need to be a football player to see that the Foreign Service has what it takes to deliver one diplomatic win after another—even when we find ourselves in a rough patch.