Getting Our Team on the Field
President's Views
BY BARBARA STEPHENSON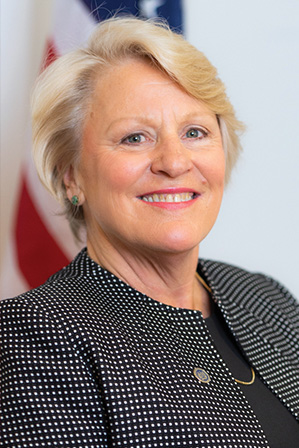 If the title sounds familiar, it is because you have, as of this writing, already received two messages from Secretary Mike Pompeo bearing the same title. The first message resumed hiring of eligible family members (EFMs) so posts can begin filling mission-critical jobs left vacant during the freeze. The second message, "Getting Our Team on the Field, Part 2," lifted the hiring freeze for the Foreign Service and Civil Service.
As I have said before—such as when Congress rejected deep cuts to our budget and restored 2018 funding to the previous year's levels—for this, we pause and give thanks. We give thanks not simply as members of the Foreign Service whose careers have been saved, and not even just as stewards of this vital national security institution, but also as Americans who know first-hand how essential the Foreign Service is to our country's security and prosperity.
I hope many of you joined me in feeling a surge of optimism—maybe even a diplomatically appropriate touch of swagger—when the Secretary, in remarks to a welcoming crowd on arrival for his first day at the State Department, shared this vision: "The United States diplomatic corps needs to be in every corner, every stretch of the world, executing missions on behalf of this country; and it is my humble, noble undertaking to help you achieve that."
What would it take to get our team back on the field, to get America's diplomats into every corner, every stretch of the world?
For starters, we would need Congress to again reject deep cuts to our FY 2019 budget and provide adequate funding, particularly for "ongoing operations," the line item in the Congressional Budget Justification that explicitly funds core diplomatic capability.
Funding for core diplomatic capability has fallen almost a quarter over the last decade; if America is to retain its global leadership role, that trend must be reversed. Remember, China increased spending on diplomacy by 40 percent over the past five years while America's spending on core diplomacy fell by a third, from $7.4 billion in 2013 to $4.9 billion in 2018.
We could reverse that trend with an incredibly modest initial $100 million dollar down payment and make meaningful strides toward the goal of getting our team back on the field.
With the decision, supported by AFSA, to drastically cut back the number of special envoys, the mid-level positions assigned to staff those envoys should now be available to be deployed to embassies and consulates.
If we figure annual overseas support costs of $300,000 per officer, we could move some 300 midlevel positions overseas (perhaps over two or three years) with that additional $100 million, a modest 2 percent increase to the ongoing operations account, currently at just below $5 billion.
We hear regularly from FS members about the dire impact of understaffed embassies—especially those subjected to the "Iraq tax" a decade ago (losing numerous overseas positions in order to staff the Iraq posts during the Iraq War)—that have not yet been made whole again.
At many posts, with just one more midlevel officer, we could go beyond writing required reports, delivering demarches and staffing visits to delivering the kind of high-impact, high-value diplomacy described in the National Security Strategy. We could also create space for senior officers to increase mentoring by giving them time to train the next generation in the art of effective diplomacy.
One outcome of getting American diplomats back on the field could well be getting American companies back on the field with us. Those of you who heard my pitch on a recent CSIS panel—buttressed by two former State economic officers, one now in leadership at UPS, one now at the U.S. Chamber of Commerce—will be familiar with the basic outlines.
If we do our jobs leveling up the playing field, getting in place the framework agreements that make it possible for our companies to compete and thrive, we can regain territory now being lost to commercial rivals, and we can burnish the American brand.
I hope to develop this theme over the coming months and to enlist your support to make it a reality. We could do so much good with just a little extra funding and a clear vision. Here's to getting our team back on the field and delivering big wins for the American people.