State VP Voice
BY KENNETH KERO-MENTZ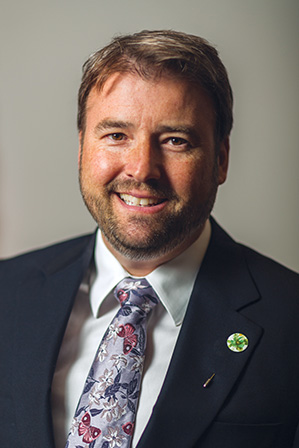 I recently took the time to have heart surgery. Not the open-heart kind, but still, heart surgery. I first started feeling a kind of jerky heart beat a few years back, when I was struggling to learn Kurdish in advance of heading out to Erbil as the political/ economic section chief. I chalked it up to stress. It wasn't.
Here's the thing about health care in the Foreign Service. We often ignore warning signs, delay checkups and hold off on taking the actions needed to ensure we'll be around—and healthy—for a long time to come. The combination of our workaholic culture, our joie de vivre and our mobile lifestyle means there just isn't enough time to do everything we need and want to do, so we put our own needs last and set aside our health concerns.
And whether overseas, serving in Washington or training at FSI, there seems to be no good time to focus on your health. When we're overseas, we hold off on seeking routine (or not-soroutine) medical care for any number of reasons.
Maybe the host country's health care system isn't the best. Maybe the knowledge that medical discussions will take place in a foreign language is enough to cause folks to hold off. Perhaps it feels awkward talking to the doctor at post about intimate health issues when we know we're bound to see him or her at a social function later in the week.
Plus, the frenetic pace of work often means we don't feel we can afford to take the time off to get things checked out, especially if it's not urgent. When we do take time off, isn't it much more fun to explore the local sites rather than visit the local medical facilities?
If you're overseas, take advantage of the fact that MED has knowledgeable, English-speaking, American-trained physicians spread across the globe, waiting to help you.
Similarly, when we're in the United States on home leave or R&R, the last thing we really want to be doing is visiting the GP, the dermatologist, the dentist, the eye doctor, the cardiologist—or even the astrologist—about those nagging little issues we're aware of, but generally prefer to ignore.
And somehow, even when serving in D.C., the time seems to slip by. Precious time off is spent reconnecting with parents, siblings and friends, not the doctor. Over a career of 15, 20, 25 years, all that deferred maintenance can build up.
Maybe I'm just making excuses for my own inaction, but I've been talking with friends in the Foreign Service, and I'm surprised by how many of us seem to approach our health in the same way—just ignore the problem, and it'll probably go away. Sometimes, though, it doesn't. Sometimes we need to stop and listen to our bodies.
If you're overseas, take advantage of the fact that MED has knowledgeable, English-speaking, Americantrained physicians spread across the globe, waiting to help you. When you're in the States, remember you have access to the specialists and facilities you might not have overseas, and take the time to visit them before your problems worsen.
And if your heart is beating to the beat of a different drum, have it checked.