The Power of High Expectations
Where We Stand
BY JULIE NUTTER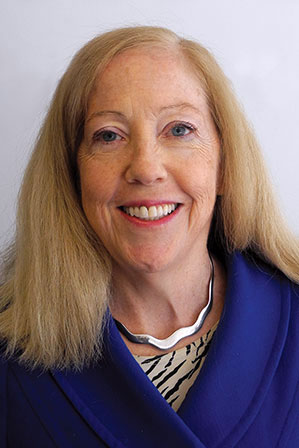 Early in my Foreign Service career, I was an economic officer in Liberia. Part of my job was to keep tabs on U.S. businesses, some of which owned large rubber tree farms in central Liberia. I will never forget the pride on the face of the general manager of a mediumsized U.S. latex shipping plant when he gave me a tour of the farm and briefed me on his business operations.
The company's grounds were organized and spotless, its business practices transparent. It paid its workers fairly and the company benefits were better than most of its competitors. The company was doing well—due to the AIDS crisis, demand for latex gloves was high. The general manager, Ken, was extremely competent and had a great way with people—and it showed.
Later that year, civil war broke out in Liberia. The economic section operated in crisis mode, which meant our priorities shifted to getting Washington the most up-to-the-minute information on Charles Taylor and his rebel army and to protecting American lives and property. As Taylor's soldiers marched south toward Monrovia, we constantly checked in with our companies to get situation reports and to get help to them if needed.
Many of Liberia's expatriate companies were closing facilities and drawing down as fast as they could ahead of the rebel advance. I remember talking to Ken one chaotic afternoon, and the first thing he expressed to me was how worried he was about his workers and their families. The company tried to protect as many as they could, but Taylor's forces were gaining strength. I was impressed by his concern—but I wasn't surprised. His leadership and management abilities were on par with those of the best of American businesspeople.
At the end of my Foreign Service career, I was the head of the Sanctions Office in the Economic Bureau. Many U.S. companies were reluctant to engage with Treasury, so it fell to State to brief and consult with representatives of U.S. businesses that were attempting to comply with U.S. sanctions in their overseas business dealings.
One of the observations we consistently made to the company reps was that in the case of sanctions—a prime tool of U.S. economic power— our businesses were our full implementing partners. Without our businesses operating according to the law, we would have holes in the sanctions regime, and our foreign policy goals would not be met.
Beyond basic market access, our companies need a well-functioning commercial legal system, regulatory transparency and a level playing field.
It's worth reflecting on the role of U.S. business in projecting America's power, interests and values and to understand that our relationship with U.S. companies goes both ways. We have their backs—we help them navigate difficult political and economic environments, and we go to bat for them when they are not treated fairly.
But we need them, too. U.S. businesses provide us with valuable reality checks on how foreign governments are operating in the economic and political space; they are our primary implementers of policies like sanctions; and when our businesses adhere to best practices—when they operate transparently, when they treat their workers fairly—they foster a great impression of the United States and set examples for others to emulate.
Beyond basic market access, our companies need a well-functioning commercial legal system, regulatory transparency and a level playing field. The absence of any of these can kill a deal. American companies need to know they won't have to take bribes, which are prohibited under the Foreign Corrupt Practices Act and the many versions of the FCPA that now exist around the world.
Members of the Chamber of Commerce and the Business Council for International Understanding tell us their overseas contacts are looking for American investment—both to benefit from U.S. best practices and as a counterweight to other potential partners, including the Chinese. U.S. companies, while not perfect, have track records of changing the environments they are in for the better. Foreign partners know our companies must, at a minimum, adhere to the FCPA, and they expect our companies to do a lot more.
That's part of the reason AFSA wants to get more officers into the field. We want to help American companies compete—and win—on a level playing field. It's up to the Foreign Service to keep looking for opportunities to remind potential government and private-sector partners what U.S. companies have to offer.
I know from long experience seeing U.S. companies operate that their transparency, fair dealing and best practices raise expectations— company expectations, public expectations and, in the best cases, the expectations their foreign governmental partners place on themselves. Promoting best business practices through promoting American companies is a mission our members can be proud of—using the power of high expectations to burnish America's brand and to boost our prosperity.