Practicing Environmental Diplomacy
Early childhood experiences and a commitment to environmental stewardship served this diplomat well throughout his career.
BY TOM ARMBRUSTER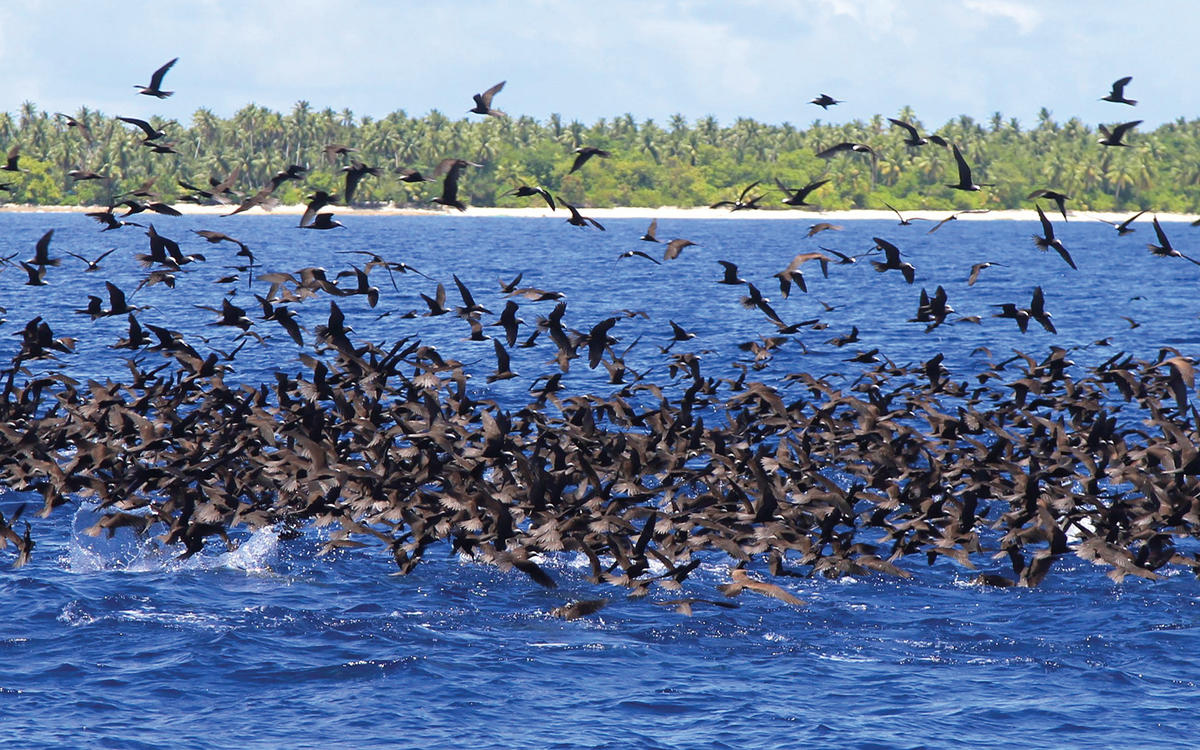 A Marshall Islands
unok
, or feeding frenzy, in progress.
Kaitlin Meese
In my eighth-grade environment class, our teacher encouraged us to do field work rather than write a paper. I chose to work alongside and interview a Chesapeake Bay oysterman, who showed me how the oysters filter the water and explained the vital role they play in the bay's health. I also learned being an oysterman is cold, wet, hard work! A few years later, I worked on the charter fishing boat Breezin' Thru, where Captain Harry told me about the old days when he would see acres of fish feeding on the surface of the bay.
In the Marshall Islands they call such a feeding frenzy an unok. That simple word describes a natural phenomenon in which the big fish force the little ones to the surface, where they are then divebombed by seabirds. Seeing a healthy marine environment is one of the great joys on Earth.
Many environmentalists trace their awareness back to such youthful encounters with nature. The image of the unok and my experiences on the Chesapeake Bay stayed with me during my career as a journalist; then as an Environment, Science and Technology officer with the State Department; and through my service as U.S. ambassador to the Marshall Islands from 2012 to 2016.
Defining Moments
Former Marshall Islands Foreign Minister Tony deBrum had a far more dramatic defining moment. He grew up with whales, dolphins and all manner of marine life, but perhaps his most seminal experience came when he was just 5 years old. On March 1, 1954, he witnessed the Castle Bravo nuclear test, the first of 67 tests the United States would conduct on Bikini Atoll in the Marshall Islands. Tony said the flash from the blast was like seeing a second sunrise.
Tony deBrum died of cancer in 2017, but his environmental legacy lives on. He championed one of the world's largest shark sanctuaries; he crusaded against nuclear proliferation; and he was one of the leaders of the 2015 United Nations Climate Change Conference in Paris. There he led the "high-ambition coalition" of countries hoping to set strong climate change goals to keep sea levels from rising and swamping low-lying island countries like the Marshall Islands.
As the U.S. ambassador, I didn't always agree with Tony. But I loved hearing his stories of the old days. And, since I was there during the Obama administration, we had a common cause in climate change.
Our country has the expertise and resources to lead in environmental diplomacy. We should.
Still, what could I do from a small country so far away to support President Barack Obama's and Secretary of State John Kerry's climate agenda? Not much, I thought—until 2014, when a Finnish documentary filmmaker friend of mine, John Webster, asked if there was someone from the Marshalls he could interview for his next film. He planned to cover the United Nations Secretary- General's climate summit coming up in New York and mentioned that the U.N. was looking for a civil society speaker to address the heads of state. Could I recommend someone?
Booyah! I knew just the person—not Foreign Minister deBrum, since the U.N. was looking for a private citizen, but a young Marshallese poet named Kathy Jetñil-Kijiner. I nominated Kathy and sent in her 2011 poem, "Tell Them." The selection committee was reviewing submissions from more than 500 applicants, but as soon as they saw Kathy's work, the panelists wiped away tears and said, "We've found our speaker."
The poem Kathy presented at the climate summit, which she was still finishing the morning of the performance, was called "Dear Matafele Penem." Dedicated to her 6-month-old daughter, it brought world leaders to their feet and helped pave the way for the historic signing of the Paris Climate Accord a year later.
Doing Our Part
In her poem, "Tell Them," Kathy Jetñil-Kijiner says: "We've never wanted to leave." That line refers to the evacuation of Bikini. Although King Juda of Bikini told the U.S. Navy, "It is in God's hands," the use of the Marshalls as a testing ground was a foregone conclusion. The U.S. government had determined that atomic testing was necessary for our national security during the Cold War, whatever the consequences for the islanders. Six decades later, the Marshall Islands faces a devastating threat to its national security, in fact to its very existence: inexorably rising sea levels. So it's time for the United States to help address the crisis instead of adding insult to injury.
Now, you could say that such a sentiment sounds like it's coming from an ambassador who has gone native. What do we care if sea levels rise a meter or two? But environment, science and technology issues truly are national security matters. After all, the Pentagon continues to keep an eye on climate change as a driver of conflict. Our country has the expertise and resources to lead in environmental diplomacy. We should. Environmental issues may not always get first priority, but they aren't going away.
Still, if you want hard-power reasons for acting to reduce the pace of global climate change, I can name two in the Marshall Islands alone. One is the Ronald Reagan Space and Missile Defense facility on Kwajalein, one of the jewels in the U.S. defense architecture. That's where intercontinental ballistic missiles launched from Vandenberg Air Base in California are tracked and targeted to land in the lagoon in Kwajalein. Those missiles deter North Korea and could be deployed in the case of hostilities.
The second incentive for us to act is the fact that the Runit Dome nuclear repository in the Marshall Islands could be swamped by rising seas. Runit is the concrete-capped dome that encapsulates nuclear waste from some of the tests. If seas rise, the dome could be swamped and release those materials. I do not think such an accident would be enough to endanger the world, as some alarmists have claimed, but it would clearly not be good. Such an outcome would represent yet another failure to secure nuclear material, a theme in the global nuclear legacy.
Further, the Marshall Islands is one of the main transshipment points for tuna, and its marine life is stunning. While scuba-diving all over the world, I've seen sharks, rays, turtles, barracuda and morays—but never in the abundance I saw during my four years in the Marshall Islands. Fish don't need passports, so improving the health of the global seas and giving future generations a chance to see these marine wonders has to be an international effort, with environmental diplomats working to find common ground.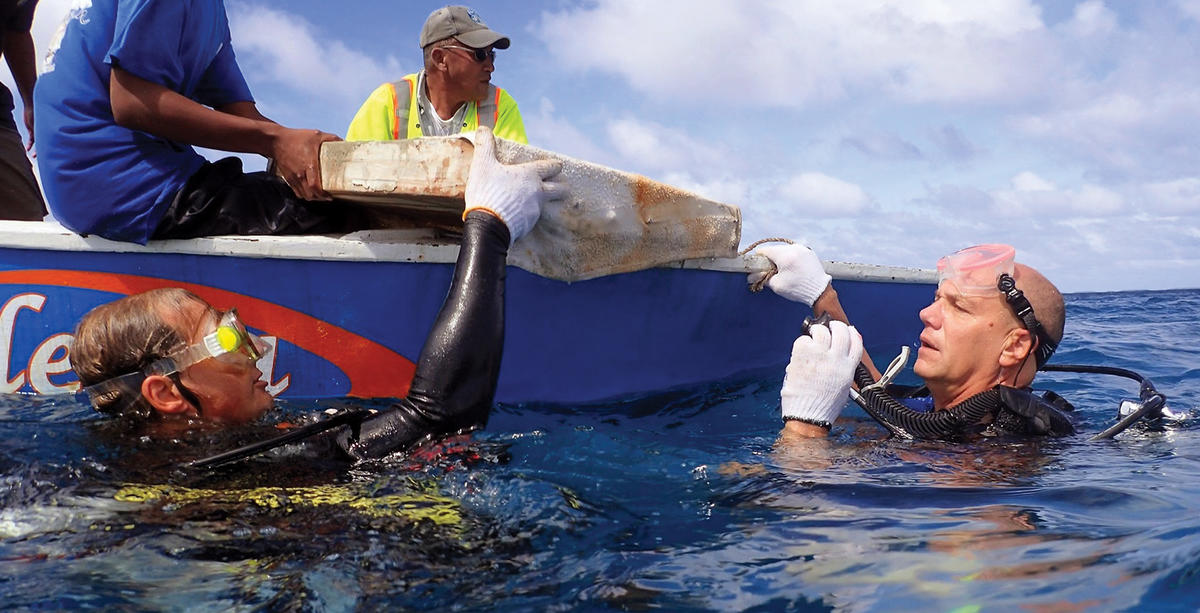 U.S. Ambassador Tom Armbruster finds coral from a construction site in the Marshall Islands (below); and, with the help of a fellow diver, retrieves it for relocation elsewhere.
Karl Fellenius Meese
Reasons for Hope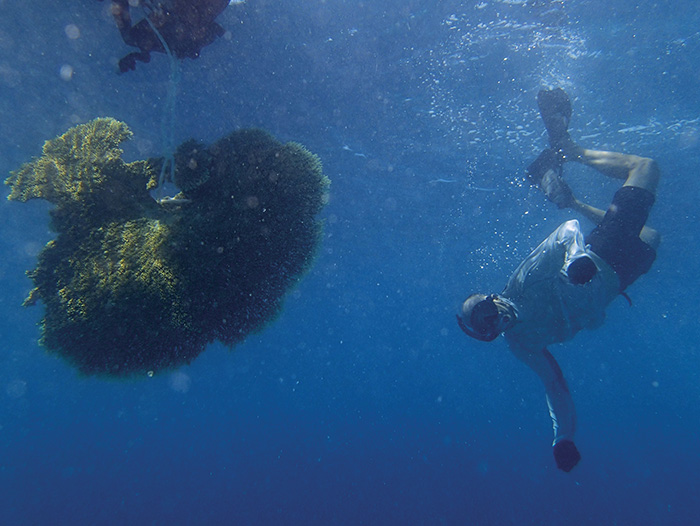 Karl Fellenius Meese
Fortunately, to be an environmentalist you really only need one credential: the desire to build a better future for the next generation. That goal poses real challenges, to be sure; but I'm optimistic, especially because young people get it. If the Parkland generation has taught us anything, it is that once they get hold of an issue, look out, world!
In addition, the climate change issue isn't going away, thanks to poets like Kathy Jetñil-Kijiner, statesmen like Tony deBrum and eighth-grade teachers all over the country.
I'm also optimistic because I've seen what the United States can do. As a polar affairs officer in the Bureau of Oceans and International Environmental and Scientific Affairs in the department, I saw Washington take the lead in the creation of the Arctic Council, a now-powerful multilateral forum of all Arctic countries dedicated to the environment and indigenous issues. And as a nuclear affairs officer in Moscow, I worked on U.S. programs to safeguard Russian nuclear material and to take highly enriched uranium from Russian nuclear missiles and blend it into low-enriched uranium to burn in American nuclear plants.
And there is one more reason for hope. I've been to Bikini, the site of some of the most destructive nuclear bomb blasts ever conducted on Earth. And the marine environment there is thriving—enough so that the Discovery Channel went to Bikini in 2016 to film Shark Week's Nuclear Sharks program. Their crew was amazed by the hundreds of sharks they saw.
Nature can come back—if we let it, and if we each do our part. As Tony deBrum once said at the United Nations: "Each one of us is responsible for a drop of ocean. You take care of that drop, and he takes care of his drop, and she takes care of her drop, we can take care of the world."
Tell Them
By Kathy Jetñil-Kijiner
I prepared the package.
for my friends in the states
the dangling earrings woven
into half moons black pearls glinting
like an eye in a storm of tight spirals
the baskets
sturdy, also woven
brown cowry shells shiny
intricate mandalas
shaped by calloused fingers
Inside the basket
a message:
Wear these earrings
to parties
to your classes and meetings
to the grocery store, the corner store
and while riding the bus
Store jewelry, incense, copper coins
and curling letters like this one
in this basket
and when others ask you
where you got this
you tell them
they're from the Marshall Islands
show them where it is on a map
tell them we are a proud people
toasted dark brown as the carved ribs
of a tree stump
tell them we are descendants
of the finest navigators in the world
tell them our islands were dropped
from a basket carried by a giant
tell them we are the hollow hulls
of canoes as fast as the wind
slicing through the pacific sea
we are wood shavings
and drying pandanus leaves
and sticky bwiros at kemems
tell them we are sweet harmonies
of grandmothers mothers aunties and
sisters
songs late into night
tell them we are whispered prayers
the breath of God
a crown of fushia flowers encircling
aunty mary's white sea foam hair
tell them we are styrofoam cups of
koolaid red
waiting patiently for the ilomij
tell them we are papaya golden sunsets
bleeding
into a glittering open sea
we are skies uncluttered
majestic in their sweeping landscape
we are the ocean
terrifying and regal in its power
tell them we are dusty rubber slippers
swiped
from concrete doorsteps
we are the ripped seams
and the broken door handles of taxis
we are sweaty hands shaking
another sweaty hand in heat tell them
we are days
and nights hotter
than anything you can imagine
tell them we are little girls with braids
cartwheeling beneath the rain
we are shards of broken beer bottles
burrowed beneath fine white sand
we are children flinging
like rubber bands
across a road clogged with chugging
cars
tell them
we only have one road
and after all this
tell them about the water
how we have seen it rising
flooding across our cemeteries
gushing over the sea walls
and crashing against our homes
tell them what it's like
to see the entire ocean__level__with the
land
tell them
we are afraid
tell them we don't know
of the politics
or the science
but tell them we see
what is in our own backyard
tell them that some of us
are old fishermen who believe that God
made us a promise
some of us
are more skeptical of God
but most importantly tell them
we don't want to leave
we've never wanted to leave
and that we
are nothing without our islands.
Read More...