Role Models: Lessons for Today from AFSA's Past
Here's how the U.S. Foreign Service found its voice in the late 1960s. It's up to today's AFSA members to keep it relevant.
BY HARRY W. KOPP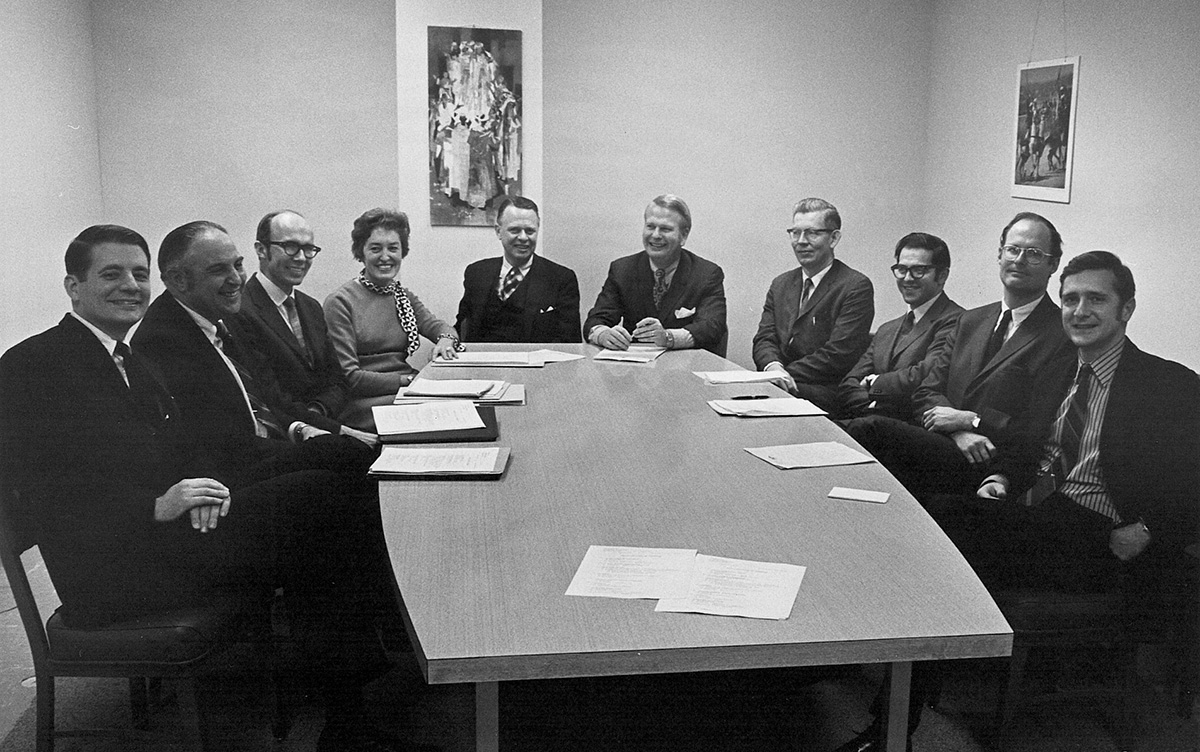 The "Bray Board," headed by reformer Charles W. Bray III, steered AFSA from January through December of 1970. The board participated in Toward A Modern Diplomacy and prepared the way for AFSA's later victories in representation elections and negotiations with management. Pictured here, from left to right, are: George B. Lambrakis, Alan Carter, Erland Heginbotham, Barbara Good, Richard T. Davies III, Bray, William G. Bradford, Princeton Lyman, William Harrop and Robert Nevitt.
AFSA Archives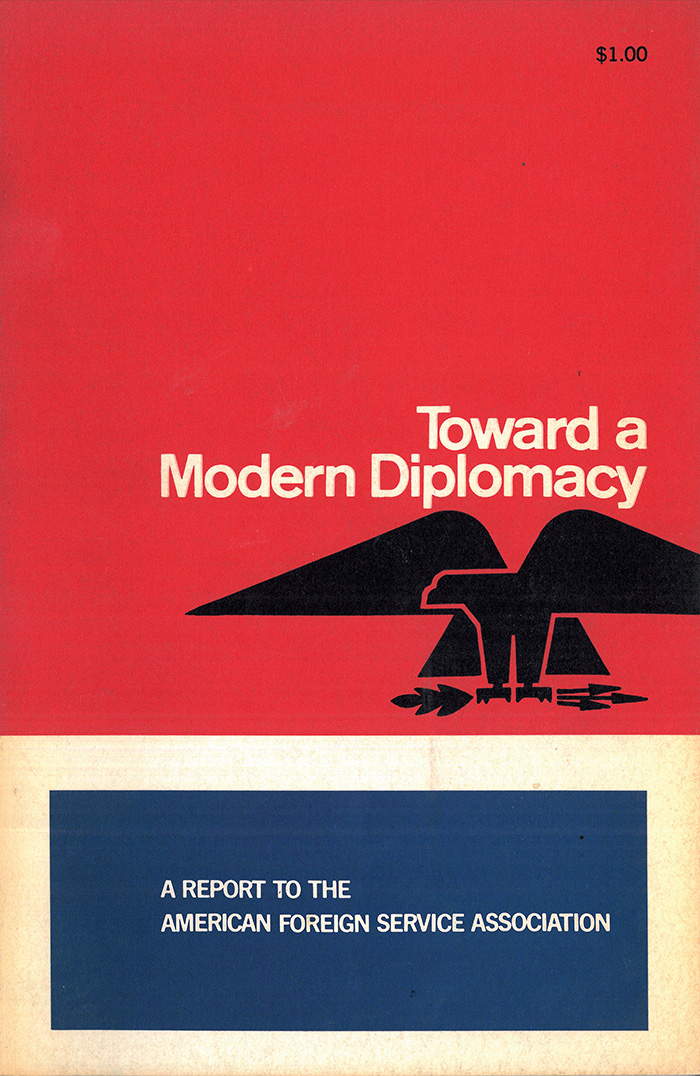 I have been writing about the Foreign Service and the American Foreign Service Association for a long time, and I have a confession to make: For most of my years on active duty, which ran from 1967 to 1985, I was not an AFSA member.
Around 1972, when it became clear that AFSA would represent members of the U.S. Foreign Service in employee-management negotiations, I canceled my membership. I believed then that a commissioned officer, which I was, should not belong to a labor union. For me, the interests of the Foreign Service of the United States and the interests of the Department of State (my agency) were essentially the same. I looked to the Director General and the department's managers to resolve such conflicts as might arise.
I was wrong about that. Worse, I was stupid wrong. I knew that in the 1950s the State Department, rather than respond to the Red-baiting, gay-bashing Senator Joseph McCarthy (R-Wisc.) with courage and basic decency, had instead attacked its own employees. And I knew that President Richard Nixon's White House had it in for State Department employees who, even in private, expressed doubts about the war in Vietnam. I knew also that many members of the Service, especially younger ones, believed that policymakers undervalued their professionalism and denigrated their profession.
But even with all those examples, I still trusted the department in the end to take care of the Foreign Service.
Reform at AFSA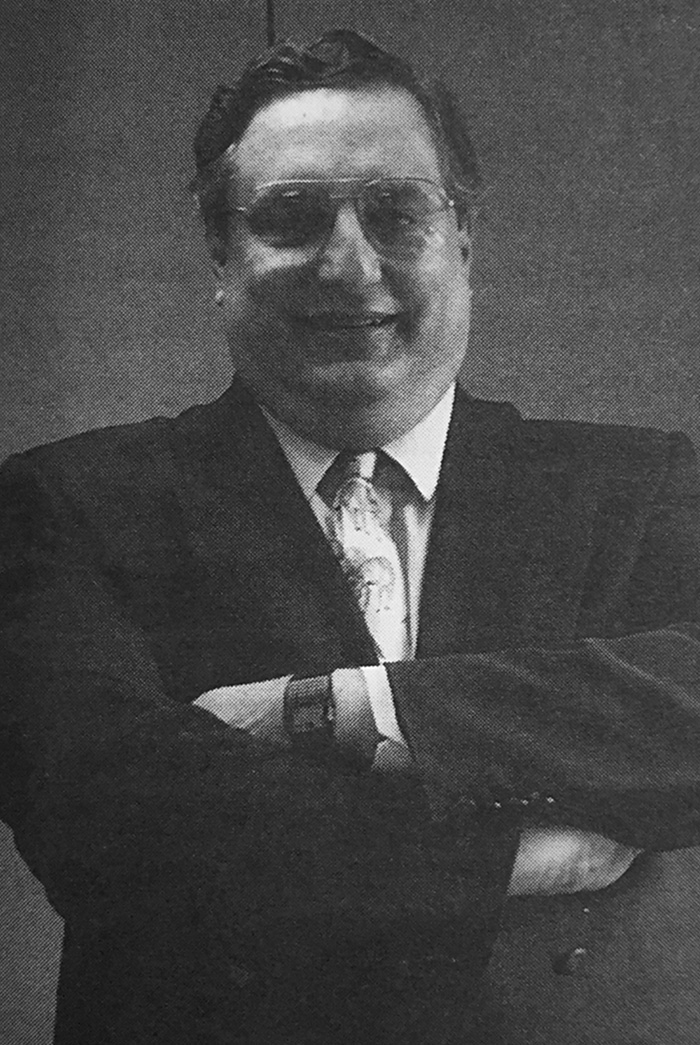 F.A. "Tex" Harris served as AFSA president from 1993 to 1997.
AFSA News / August 1993
Fortunately, others were not so naive. In the late 1960s and early 1970s, a small group of Foreign Service officers, young enough on average to be called Young Turks, came to believe that a strong Foreign Service required an independent attitude and an independent voice. The structures they developed to support the Service—sometimes against efforts by the agencies in which it functioned— are still in place. Their energy and foresight, their achievements and their failures, teach lessons for today.
The changes these officers brought about came in two distinct phases. The first began in 1967, when a junior officer named Lannon Walker, back in Washington after his first tour overseas, discovered that others shared his frustration with the trivial role the Service played in policy. They soon formed a group, meeting often at the home of Foreign Service officer Charles Bray, to develop a program for reform.
The Young Turks were late to the party. In 1965, several Old Turks, working in AFSA under the patronage of its president, Under Secretary of State U. Alexis Johnson, had formed a Committee on Career Principles to develop a blueprint for "strengthening the Foreign Service as an instrument of foreign policy." The committee's central idea—not new to them, they conceded—was an independent Foreign Service, managed by a Director General outside the Department of State.
This Foreign Service of the United States would be able to move its people easily among the several foreign affairs agencies and would have the flexibility, through a reserve system, to adjust its staffing levels up or down on short notice. The details of their plan were at once bold, perceptive and (in retrospect) starry-eyed fanciful.
Their work did not receive the attention it deserved. AFSA had no capacity to operate as an engine of change. Its attention span was limited; by custom the president was one of the department's highest-ranking officers, and both he (for they were all male) and the chairman of the executive board served only one-year terms. Moreover, AFSA's claim to speak for the Service was dubious; its membership was less than half of those eligible to join.
The Old Turks needed the Young Turks to shake things up, and shake things up they did. The group around Walker (age 31) and Bray (age 32) recognized AFSA's weakness, but saw its potential. So, they engineered an electoral coup. Up until 1967, AFSA's board and officers were chosen not by the membership directly, but by a college of 18 electors. Walker put together a group of 18 officers to run for the electoral college as a slate pledged to select board members from among themselves. All 18 won.
The Young Turks' Campaign
How did that happen? The Young Turks conducted a prodigious organizing effort, of course, with worldwide reach. But just as important was a shift in the group's focus. Their campaign platform said almost nothing about the role of the Service in the conduct of foreign affairs. It was clear, however, about the role of AFSA in protecting its members. AFSA "can and should be heard" on personnel and administrative issues, the platform declared, and members should be able to bring their "grievances and problems to the association." Faced with the need to appeal for votes, the Group of 18 shifted its vision away from the professional organization that AFSA was and toward the union it would become.
It would be hard to overstate the passion and energy of the Young Turks. All were on active duty, with demanding, high-pressure jobs in the department, the U.S. Agency for International Development, or the now-extinct United States Information Agency. Charlie Bray, assigned to the office of the deputy under secretary for political affairs, took a year's leave without pay to work on AFSA matters—during which time he was supported by donations solicited from the families of Christian Herter, W. Averell Harriman and William Rivkin (a former secretary of state, special envoy and three-time ambassador, respectively; AFSA would soon create and name its first three constructive dissent awards for them). Lannon Walker, with a day job in the executive secretariat, was fortunate to have a wife who "would come down to pick me up at midnight."
The Old Turks needed the Young Turks to shake things up, and shake things up they did.
The enthusiasm of these reformers was catching. More than 80 active-duty members of the Service volunteered to work on a revision of the Old Turks' report. Walker raised money from John D. Rockefeller III to finance its publication under the title Toward a Modern Diplomacy. (The report, 60 pages of tiny type, is available online in The Foreign Service Journal archive as Part Two of the November 1968 issue.)
The report attracted attention, including a detailed New York Times story, "Foreign Service Group Hopes to Gain Reforms Under Nixon" (Dec. 6, 1968, p. 2). Its grand ideas about the role of the Foreign Service did not advance, but the report's concern with the life and work of Service members resonated in the ranks and caught the attention of the department's managers.
Yet the lasting contribution of the Young Turks was not their quixotic call for an independent Foreign Service. Their real legacy was the reform of AFSA itself, which under their leadership became more democratic, more attentive to the daily concerns of the entire Service, and more prepared to challenge the department and its managers. One can draw a straight line from the 1967 electoral coup to AFSA's transformation, six years later, into an employee union.
AFSA's Union Movement
Ambassador Tom Boyatt testifies on Capitol Hill in 2007.
AFSA Archives
Over those six years, a mostly new group of AFSA activists—call them Young Turks II—negotiated, organized and campaigned to make AFSA the exclusive representative of Foreign Service employees in every Foreign Service agency. By 1969, the AFSA leadership was directly elected. And by 1972, it had turned over completely—no member of the Group of 18 remained.
Yet the two groups of reformers had much in common: they were balanced (State, USAID and USIA were all represented); they were volunteers (State Department funds would not support a position at AFSA until 1982); and they were focused far more on the needs of the membership than on the power or prestige of the Service as an institution. The board that took office in 1970 said it clearly: "The mandate is unmistakable," the board wrote in the Journal. "The bedrock of AFSA's concerns lies in the bread-and-butter issues which affect the conditions of work and daily life of every member."
In 1969, President Richard Nixon's administration by executive order relaxed restraints on participation by federal employees in labor unions, and what had been a quiet debate inside AFSA's leadership came into the open. Anti-union sentiment and pro-union militancy battled within AFSA's membership, with many of the more militant members attracted to the organizational efforts of the American Federation of Government Employees.
In that contest the department's top management officer, Deputy Under Secretary William Macomber, favored AFSA. After difficult negotiations, in late 1971 the White House issued a new executive order that defined most Foreign Service members with supervisory responsibilities as employees (labor), not management. The shift increased the number of voters likely to prefer AFSA to the American Federation of Government Employees as their employee representative. Organizing elections took place at State, USAID and USIA in 1973. AFSA won all three.
When he reported to the membership in 1974, AFSA President Tom Boyatt had plenty to brag about. Membership was up in every Foreign Service agency. There were bread-and-butter victories: retirement benefits for Foreign Service personnel in USAID; overtime for secretaries and communicators; a kindergarten allowance; more air freight for single employees; and other gains won from Congress, the agencies and post administrators.
Defense of professionalism, however, was the heart of his report. AFSA's union role, he said, had enhanced its capacity to pursue professional ends. AFSA had proposed legislation requiring ambassadorial nominees to report their political contributions and protecting promotion lists against political manipulation: it passed. It defended Foreign Service personnel in Chile against charges that they had failed to protect American citizens during a military coup: members of Congress spoke up to praise the performance of the embassy in Santiago.
Certainly the challenges we face today are as dire as those of the 1960s and 1970s.
AFSA finally broke with the shameful past and honored the "China hands"—Foreign Service officers whose honest reporting from that country in the 1940s led to the destruction of their careers by Senator Joseph McCarthy and his allies. The New York Times marked AFSA's tribute to them with an article and an editorial ("Vindication on China," Feb. 4, 1973).
Members of the Foreign Service are willing, Boyatt said, "to undergo tremendous sacrifice for this nation," but "we will never again permit McCarthyism or any other threat to impinge on our integrity or to silence our dedication to serving the national interest."
Who Will Speak for the Service Today?
The reformers never lost their conviction that the Foreign Service, speaking as one through its union and professional association, could protect its institutional values and improve the work and lives of its members.
After their retirement from active duty, Tex Harris, Tom Boyatt, Bill Harrop, Hank Cohen and others served multiple terms on AFSA's Governing Board. They were lobbyists for the Service on Capitol Hill and educators of the public. These men began their active service more than 50 years ago, but their vision for AFSA remains as compelling as it was a half-century ago.
Ever since the days recounted here, the American Foreign Service Association has been the champion of the men and women of the Service. Who speaks for the Service, if not AFSA? Not the under secretary for management, nor even the Director General or Secretary of State. No one now would be as naive as I once was, content to rely on the department to shield the Foreign Service from abuse.
Certainly the challenges we face today are as dire as those of the 1960s and 1970s. Over the past two years, the value of the Service as an institution has been called into doubt. Its work has been denigrated, its professionalism devalued, its effort derided, its stature diminished, its funding threatened.
AFSA attends to the Foreign Service as an institution. It acts as a custodian of Foreign Service virtues, among them intelligence, judgment, integrity, courage, patriotism and sacrifice. It is up to you, AFSA's members, to ensure by your effort and vigilance that AFSA succeeds.
REFORM AND ACHIEVEMENT
AFSA reformers clashed often with the State Department, but their careers did not suffer. Many became chiefs of mission or rose to senior positions in Washington.
Group of 18 (1967)
Adrian A. Basora *
Robert Blackburn
Charles W. Bray *†
L. Dean Brown ***†
Robert T. Curran
Richard S. Dawson
Morris Draper *
Theodore L. Eliot Jr. *††
Philip Habib *††
Harmon Kirby*
Harry K. Lennon
Thomas W. McElhiney *†
Michael A. Michaud
Daniel O. Newberry *
Charles E. Rushing
Lannon Walker ***
Frank S. Wile
Larry C. Williamson **
AFSA Board (1970)
William G. Bradford *
Charles W. Bray *†
Alan Carter
Richard T. Davies *
Donald Easum **†
Theodore L. Eliot Jr. *††
Barbara Good
William C. Harrop *****†
Erland H. Heginbotham †
C. William Kontos *
George Lambrakis
Princeton Lyman ***†
Robert L. M. Nevitt
John E. Reinhardt *†
AFSA Board (1972)
Thomas D. Boyatt **
Herman J. Cohen **†
Barbara Good
F. Allen (Tex) Harris
William C. Harrop *****†
James L. Holmes Jr.
William R. Lenderking Jr.
David W. Loving
Linda Lowenstein
Samuel C. Thornburg
John J. Tuohey
* Ambassador/Chief of mission
† Assistant secretary equivalent or higher
—HWK
Read More...