Serving in Tandem for State
The number of tandems in the Foreign Service is growing. State could make better use of their tremendous potential.
BY KATHRYN FITRELL AND KANISHKA GANGOPADHYAY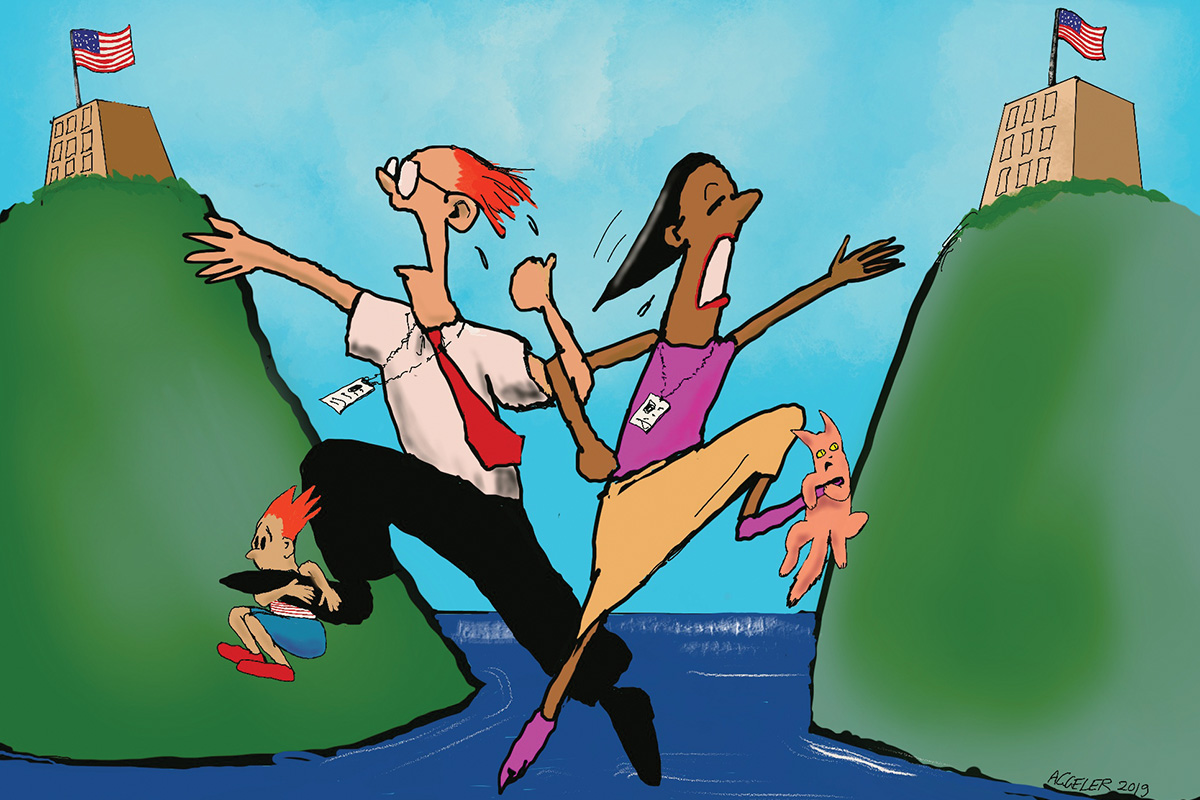 The Tandem Tussle.
Brian Aggeler
During his confirmation hearing in April 2018, Secretary of State Mike Pompeo talked about "unleashing talent" at the State Department. His plan to accomplish this included an immediate lifting of the hiring freeze, which would allow the department to once again hire into the Foreign Service and Civil Service, as well as opening positions for eligible family members (EFMs).
Secretary Pompeo could tap into the department talent pool in another significant way by maximizing the enormous potential of tandem couples. Tandems represent nearly 15 percent of today's Foreign Service workforce, according to the Bureau of Human Resources. Unfortunately, recent trends suggest that tandems are encountering greater challenges to serve. For example, in the summer 2019 bidding cycle, 40 percent of surveyed tandem officers reported that they were unable to secure positions at the same overseas post as their tandem spouse. If the Department of State is to attract, support and retain a truly agile and skilled workforce, and if we are indeed to "out-work" and "out-hustle" our competitors as the Secretary envisions, then we need to maximize the potential of all our people— including tandems.
There are both tangible and intangible benefits for the organization when spouses can pursue dual Foreign Service career tracks together at U.S. missions abroad. The "two-for-one deal" that tandems offer creates value for the American taxpayer. According to Fiscal Year 2016 estimates, the average cost of a direct hire (USDH) position overseas is more than $400,000 per year. Assigning a tandem couple together overseas realizes savings on various allowances, including more than $40,000 per year on housing alone. And keeping tandem families living and serving together can have a positive impact on their morale, just as it does for non-tandem families.
A common catchphrase of many tandems is "We'll serve anywhere, if we can serve together." If the State Department works to ensure tandems can stay together at post, the payoff for the department will be significant.
Working in Tandem
Formed in October 2016, Working in Tandem has more than 700 members, making it one of State's largest employee organizations. The group helps the department develop creative and inclusive solutions to the unique challenges facing tandem couples. Working with department and American Foreign Service Association leadership, WiT raises issues of concern and advocates for policies that will improve the recruitment, retention and morale of tandem officers. While tandems can share information in less formal discussion forums (e.g., Facebook and Yahoo groups) and in official ones such as HR's recent tandem blog, WiT is the first group officially designated to represent tandem employees to the department.
At the end of 2018, the WiT Executive Board conducted its second membership survey to identify the most pressing issues facing tandem professionals. There was strong consensus among respondents about the best ways to alleviate some of the challenges. Many of these priorities, listed below, represent significant cost savings for the department and are in sync with the Secretary's stated vision of supporting the families behind the Foreign Service.
The idiom "square peg, round hole" often applies when it comes to securing travel orders and allowances for tandems.
Expand Domestic Employee Telework Overseas opportunities. DETOs provide the best opportunity for both spouses to be employed overseas together if only one is assigned to a post. While officers stay productively employed, bureaus can meet their staffing needs. DETOs leverage the time difference from D.C. to extend a Washington-based office's coverage across the globe, increasing productivity, customer service and responsiveness to needs of posts on the other side of the globe. DETOs can save money in travel costs because of their proximity to constituent posts; and because they telework, they require no additional office space. They can also handle the more time-consuming, product-oriented tasks of an office.
DETOs, however, are underutilized by most bureaus, although Consular Affairs, African Affairs and International Information Programs have historically authorized more DETOs than other bureaus. During the 2019 bid cycle, there were just eight DETO-eligible jobs listed on HR's tandem blog. According to HR, there are about 20 members of the Foreign Service on DETOs currently, and that number is not expected to significantly increase this summer.
Harmonize disparate administrative policies and procedures. Currently tandems who have had to find creative solutions to keep their families together, such as leave without pay (LWOP) or a DETO assignment, also face complications in obtaining travel orders and benefits, or even simply logging into OpenNet. The idiom "square peg, round hole" often applies when it comes to securing travel orders and allowances for tandems who are on LWOP or working under a DETO arrangement.
For example, tandem officers returning to D.C. for training after half of the couple has been on either a DETO or LWOP assignment are both precluded from receiving per diem. Due to an HR standard operating procedure (SOP) document (listed on HR's intranet site) stating that tandems must be in the same status and the fact that LWOPs and DETOs are "administratively" assigned to D.C., tandem couples transitioning out of LWOP or DETO status must return to any training on permanent change of station (PCS) status, even if such training lasts less than six months.
This contradicts the Foreign Service Act, which states that tours less than six months should be considered temporary rather than full assignments. In addition to the significant financial burden placed on tandem employees, the department must also incur the full costs of a PCS, including shipment and unpacking of all effects.
Coordinate bidding across bureaus and agencies. Multiple respondents to the 2018 WiT member survey reported that the 2019 bidding cycle was harder than ever, with entry-level/midlevel, interagency and specialist/generalist couples noting that a lack of harmony between systems led to increased stress (at best) or a desire to leave the Foreign Service (at worst). As one interagency tandem put it, bidding has become "a sloppy dance of trying to keep our family together."
The "two-for-one deal" that tandems offer creates value for the American taxpayer.
Specialist/generalist couples have noted that career development officers (CDOs) across cones would coordinate when prodded by their clients themselves, while entry-level/ mid-level tandems note that finding mid-level jobs for their spouses—even at high-hardship, high-danger posts—is a daunting process. Differing bid cycle timing for the Bureau of Diplomatic Security, USAID and other offices only adds to the difficulty. Asking CDOs or their equivalents in other agencies to coordinate actions related to tandems could lend a welcome element of transparency to what is already a challenging process.
Reconsider authorized and ordered departure policies for tandems and single parents. The department should institutionalize policies and procedures that permit tandem and single-parent employees to escort minor or other dependent EFMs to safety during an evacuation whenever possible. USDH tandems and single parents with minor dependents or other dependents needing assistance currently are unable to evacuate with their EFMs when departures are authorized or ordered for EFMs only. The current policy states that officers must identify an official American employee or American family member to accompany minor children. USDH employees do not always have a trusted colleague or family member able or willing to assume this responsibility. There are also circumstances, such as in the case of nursing mothers, where there is no suitable alternate caregiver. This practice causes undue hardship for tandems, single parents and their families.
The Future for Tandems
As technology advances, there are far more opportunities for creative work arrangements and rational policies for a flexible organization that cares about families. In recent years, the department has made strides on some tandem issues. HR has formed a tandem working group—including participants from regional and functional bureaus, the Office of the Legal Advisor and HR—and WiT has a seat at that table. The Bureau of Consular Affairs improved its policy on passport endorsements. The new 01B endorsement allows for a more accurate reflection of the legal status of many tandem employees who have different status at post (e.g., one is on a DETO or LWOP, while the other is assigned). The endorsement allows the non-assigned spouse to have the same privileges and immunities as other eligible family members while still being able to use the passport for work-related travel, and it reduces administrative waste by not requiring multiple passports.
AFSA has been a strong partner, advocating for the Director General's office to expand and promote DETOs to keep tandem families together so they can contribute to the important work of the department. When LWOP is the only option, AFSA has been an invaluable partner in promoting the easing of administrative restrictions so tandems can stay connected on OpenNet and get back to paid status quickly. AFSA also noted a dramatic increase in the number and length of anti-nepotism reviews (ANRs) mandated for tandems in recent years and sought clarity on behalf of WiT from the DG's office. The creation of a new position in HR/ CDA helped bring the time to adjudicate an ANR down from as much as six months to as little as two months. It's a step in the right direction, but there remains a need for more transparent guidance on when ANRs are required. AFSA is also studying the legality of the department's SOP mandating that tandem couples must be in the same status when assigned to D.C.
There is still much to be done. WiT survey results showed that tandem employees regularly serve separated tours or accept positions that stall career advancement to prevent family separation. Like all members of the Foreign Service, tandems want the opportunity to represent the U.S. government while keeping their families together. As WiT's vision statement says: "Retaining the best employees and staying competitive in today's dynamic work environment require the department to invest in its employees and ensure they can balance their work and personal lives."
TANDEMS IN HISTORY
It was not until the early 1970s that tandems were permitted in the Foreign Service. Though the first woman, Lucile Atcherson, joined the U.S. Diplomatic Service in 1922, women were expected to resign when they married.
A department policy directive in 1971 ended that practice, and women who had resigned were given the opportunity to re-apply. About 40 women rejoined in the first five years.
Carol Rose and Peter Wood were the first married couple in the same orientation class in December 1974; they were assigned together to Hermosillo, Mexico.
And before "tandem" had its current meaning, Carol Laise and Ellsworth Bunker were an early and famous such couple. After their marriage in 1967, they served simultaneously as ambassadors, she in Nepal and he in South Vietnam.
Neither Laise nor Bunker was a member of the Foreign Service, however: Laise was a civil servant and Bunker a political appointee. President Lyndon Johnson offered Bunker a special government plane to facilitate monthly visits to Laise and entice him to take the post of ambassador.
Today, nearly 15 percent of the Foreign Service workforce is tandem couples.
—KF & KG
Read More...