President's Views
BY BARBARA STEPHENSON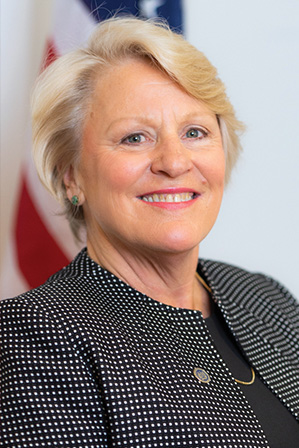 At this time of year—summer transfer cycle wrapping up, new school year beginning, Jewish New Year approaching— I spend time reflecting and taking stock, looking back at the previous year to prepare to make the most of the next one.
The next one will be a big year for me—my last year as AFSA president. When my second term ends July 15, 2019, I will pass the baton to a new president and Governing Board elected in the spring by you, the members of AFSA.
What do I hope to pass on to that new president and Governing Board? For starters, a strong American Foreign Service Association—one with good governance, sound finances and an unprecedented base of support from members. While it is too early to declare victory and rest on our laurels, I thank AFSA's members for taking us to a recent critical milestone: an all-time record high for membership.
The one metric I present at each AFSA Governing Board is a membership snapshot. I do that because nothing indicates the health of our organization as clearly as that single metric. And I do that because it helps remind all of us at AFSA that we are ultimately—and directly—accountable to you, the members.
This milestone—record-high AFSA membership—is all the more remarkable given that the Foreign Service as a whole is smaller than it was in April 2017, when AFSA set its previous membership record.
Former Secretary of State Rex Tillerson told the Senate Foreign Relations Committee in June 2017 that he planned to cut the Foreign Service at State by 4 percent. A year later, that stated goal had largely been reached—with the number of Foreign Service officers and specialists at State down by well over 3 percent.
In taking stock, the loss of Foreign Service talent is hardest to accept. But we now see signs of rebuilding, of restoring the strength of the Foreign Service. Congress not only fully restored funding but gave clear direction to resume hiring, and that is cause for celebration.
I thank AFSA's members for taking us to a recent critical milestone: an all-time record high for membership.
We celebrate every time we can welcome a new class for lunch at AFSA headquarters, as we did three times in August: the "Resurgent 194th" A-100 class; an FS specialist class; and a Consular Fellows class. And we look forward to welcoming additional classes—including another large A-100 class and a USAID class—in the weeks ahead.
Many of us remember what a disaster it was to slash new-entry hiring during the 1990s. We can now register relief and gratitude that the recent hiring freeze has been lifted and we are bringing in the new members of the Foreign Service who will sustain our country's global leadership in the decades to come.
How did we generate the support that made renewal and rebuilding possible? In our ongoing effort to help fellow Americans understand what we do and why it matters, we have made real progress.
Please take a moment to read the AFSA News section, including the report on AFSA at the Chautauqua Institution. When the Foreign Service is invited to occupy such a prime speaking slot— which has welcomed Supreme Court Justices and former U.S. presidents—that is a watershed moment.
At that one event, we were able to share with more than 3,500 fellow Americans what diplomats do and why it matters. Thousands more viewed the event online. We are reaching more people in more ways than ever before.
This year we can take pride in AFSA's success making the connection between our work—the enduring platforms we build and operate around the globe—and U.S. global leadership, which is, I remind you, supported by well over 90 percent of Americans.
It is easy to be distracted by what divides us as Americans. I encourage all of us, as we prepare to make the most of the year ahead, to build on what unites us. And maintaining America's global leadership—for which we in the Foreign Service bear such central responsibility—unites us.