Through the Lens of an FSN: Foreign Service in Pictures
A retired FSN reflects on his experience working for the United States in Nigeria.
BY IDIKA ONYUKWU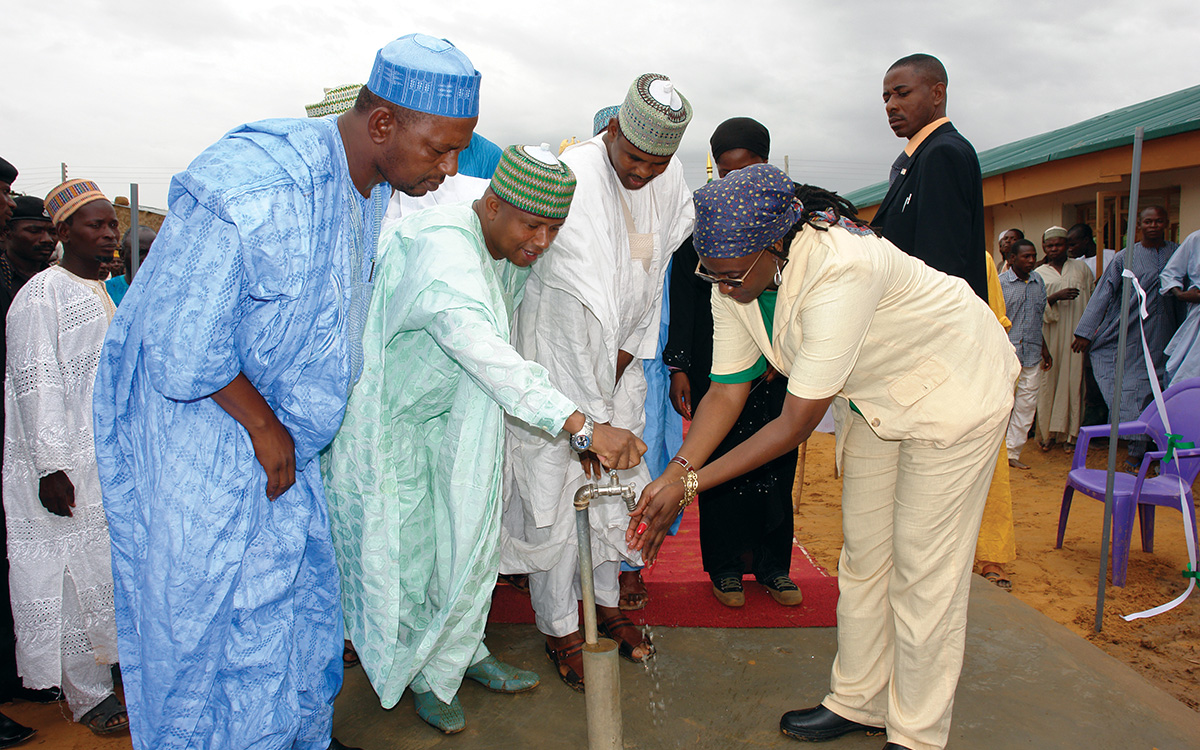 Ambassador Robin Sanders commissions the Goronyo water borehole, July 18, 2007.
Idika Onyukwu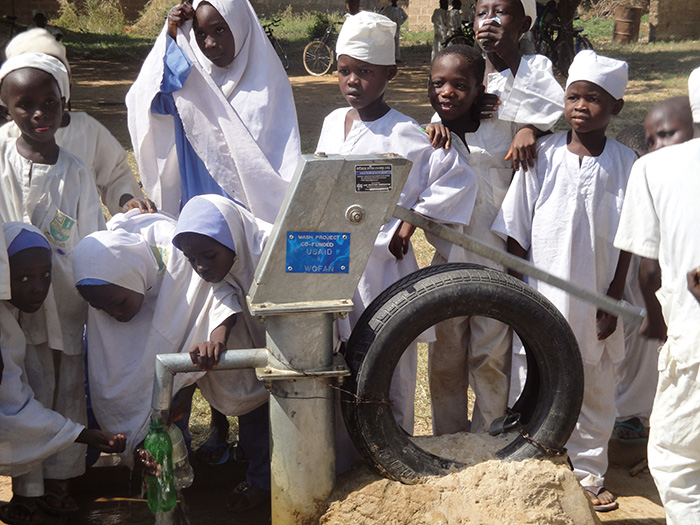 A U.S. government-sponsored water borehole project in Nigeria's Bauchi state brings clean drinking water to schoolchildren.
Idika Onyukwu
When I joined the United States Information Service as a Foreign Service National in August 1994, I planned to stay with the agency for three years and then return to my first love, journalism. Instead, I ended up spending 20 eventful and thoroughly enriching years working for the Department of State. I left the service in May 2015.
Two notable factors contributed to my long stay at the embassy. Given the comparative strength of the U.S. dollar against the local currency, it made economic sense for me to stick with the U.S. mission. But more important was that I saw the obvious commitment of the U.S. mission to directly impacting the Nigerian people through the development of our communities. Through my work, I was playing a part in helping Nigerian communities realize their developmental aspirations.
In 1999 when the United States Information Agency was folded into the Bureau of Public Affairs at the U.S. Department of State, I became a Foreign Service National with the public affairs section of the embassy—not by choice, but by administrative fiat. I had my fears entering a new agency whose structure and operational modalities, especially decision-taking abilities, were quite different from what I had come to cherish at USIS. However, I discovered a well-structured State Department with particularly commendable objectives, especially as it relates to host-country development. Because my work frequently included photography at official events, I was able to commemorate some important moments at our embassy over the 20 years I served there.
For example, on multiple occasions across Nigeria, I saw firsthand the difference a U.S. government-sponsored clean water borehole project could make in the lives of vulnerable school pupils with no access to clean water.
Clean drinking water is truly life in most northern states in Nigeria. With support from USAID, water borehole projects provide clean drinking water to schoolchildren across the country. On Aug. 11, 2009, I photographed the opening of a U.S. government- sponsored water borehole project for schoolchildren in Bauchi State. I remember the schoolchildren that day were so happy to have clean drinking water within reach. Months later, reports indicated that their health and social well-being had improved dramatically thanks to the installation, leading to laudatory media reports and accolades.
Supervisors come and go, but FSNs remain the core structure of U.S. embassies worldwide.
Another successful borehole was installed in 2007 in Goronyo, a vibrant agrarian community in Sokoto State with a population of about 186,000 inhabitants.
I was there on July 18, 2007, when U.S. Ambassador Robin Sanders commissioned the solar-powered borehole, the only source of clean drinking water for the community. Traditional praise singers sang and danced in celebration. Before the borehole, the only source was rainwater trapped in dug-out trenches that the locals used not only for drinking, but also for cooking and for their cattle.
I photographed still another borehole commissioning, this one in 2009. In the photo below, students of the Suleja Community School in Niger state are drinking clean water from a borehole provided with the support of the U.S. Humanitarian Assistance Office. "By providing clean water inside the school compound, the children and teachers will be able to concentrate on education without having to worry about a source of water," said Deputy Chief of Mission Lisa Piascik at the event. Afterwards, she said to me, "The smiles I see on the faces of these children speak volumes."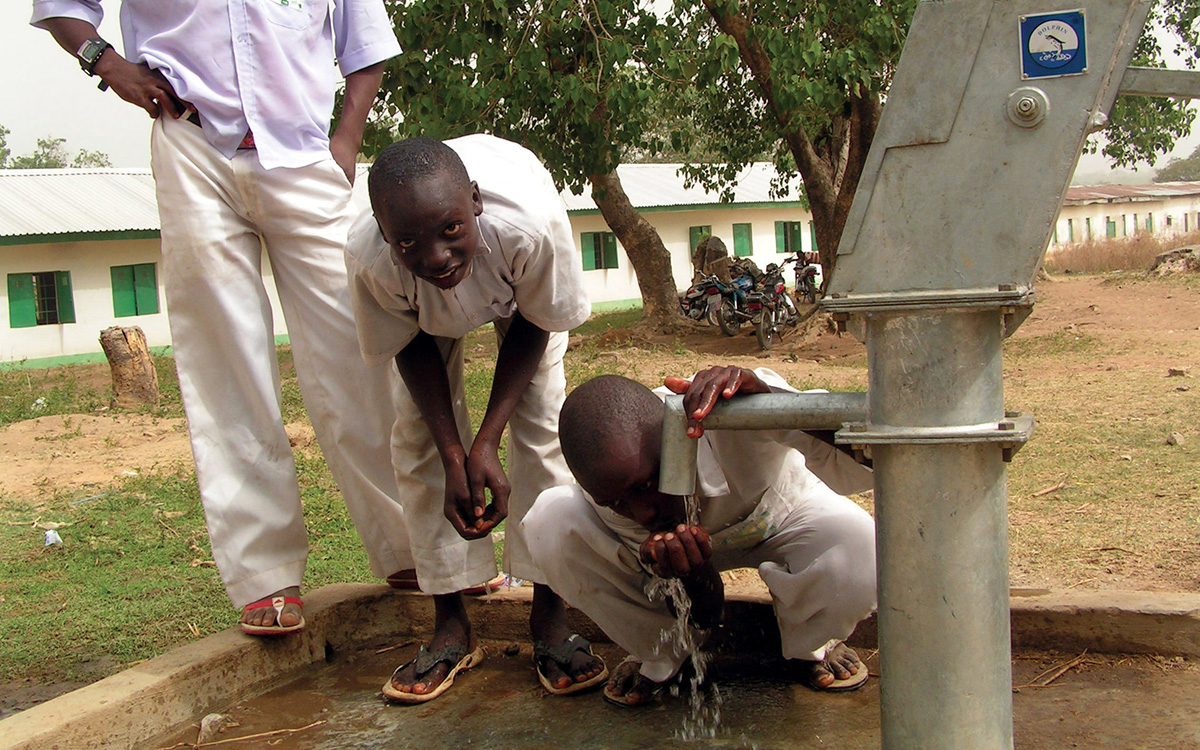 Students of Suleja Community School drink clean water from a borehole provided by the U.S. Humanitarian Assistance Office.
Idika Onyukwu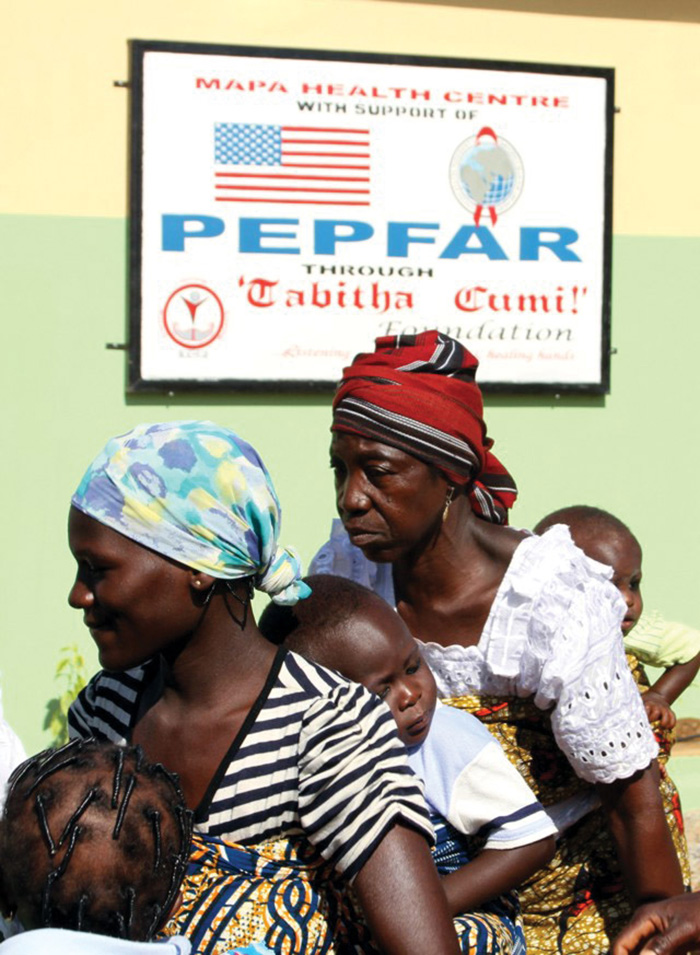 Women and children line up at Mapa Health Clinic, a beneficiary of the President's Emergency Plan for AIDS Relief.
Idika Onyukwu
But I didn't just photograph boreholes.
I was there when "Sesame Square," Nigeria's adaptation of the American children's television series "Sesame Street," was launched in the capital, Abuja, on May 17, 2011. Muppets Kami and Zobi were created to improve literacy, math and health education among pupils in Nigerian schools. The project was funded by the United States government, through USAID; and I snapped a photo of U.S. Ambassador James P. McCulley at the launch event (see photo below). The famous Nigerian singer, Onyeka Onwenu, was also in attendance.
Since its inception in Nigeria in 2004, the President's Emergency Plan for AIDS Relief has disbursed more than $5.1 million to support Nigeria's HIV/AIDS response. A rap contest organized by the U.S. mission to educate secondary students in Abuja about HIV/AIDS was one part of that awareness program, and I photographed students from the Government Secondary School Nyanya, in Abuja, when they performed at the contest on Nov. 28, 2012. The girl in the photo was the lead singer of the group that ultimately won the contest.
I covered other PEPFAR events during my years at the embassy, too. I took this picture of women and children at Mapa Health Clinic, a beneficiary of PEPFAR in the Federal Capital Territory of Abuja, in November 2013. The women were waiting to be seen by a doctor during the handover of a PEPFAR-funded health clinic to the Mapa community. A local nongovernmental organization, the Tabitha Cumi Foundation, partnered with PEPFAR to build the clinic; the name Tabitha Cumi literally means "Woman Arise."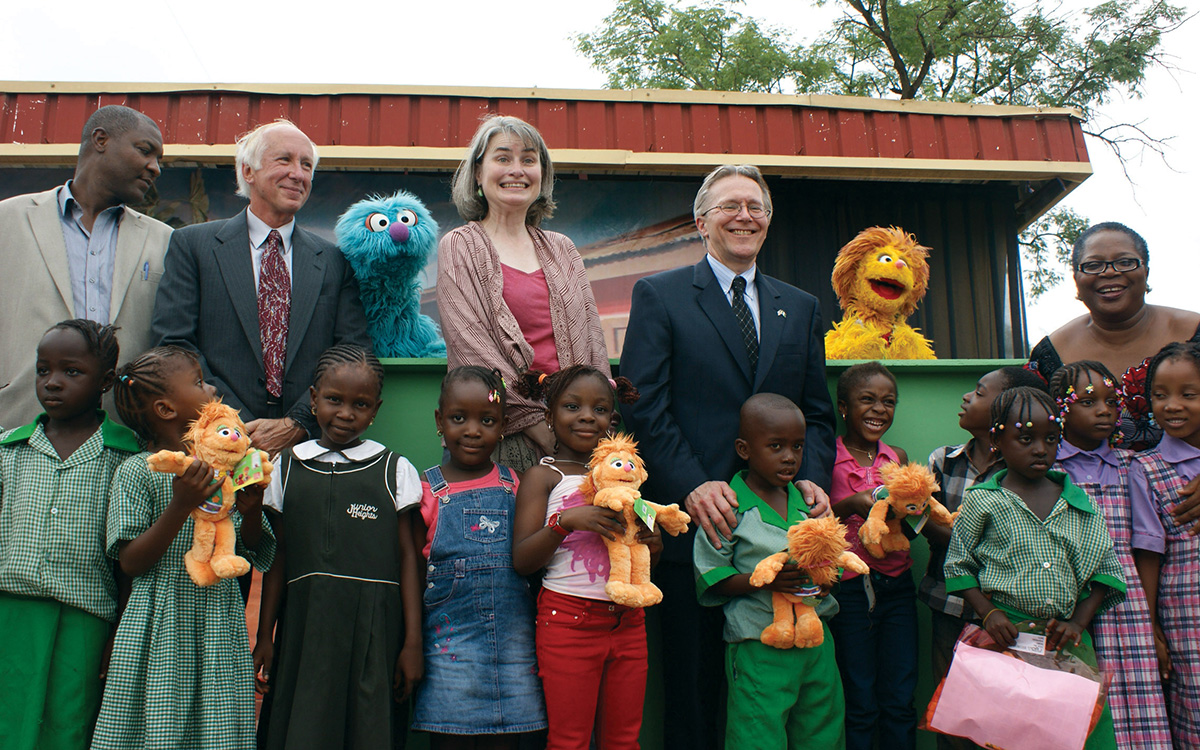 Muppets Zobi and Kami pose with (left to right) Ahmed Tijani of Nigerian Television Authority, USAID Mission Director Dr. Ray Kirkland, Charlotte Cole of Sesame Workshop in New York City, U.S. Ambassador Terence McCulley and Nigerian singer Onyeka Onwenu.
Idika Onyukwu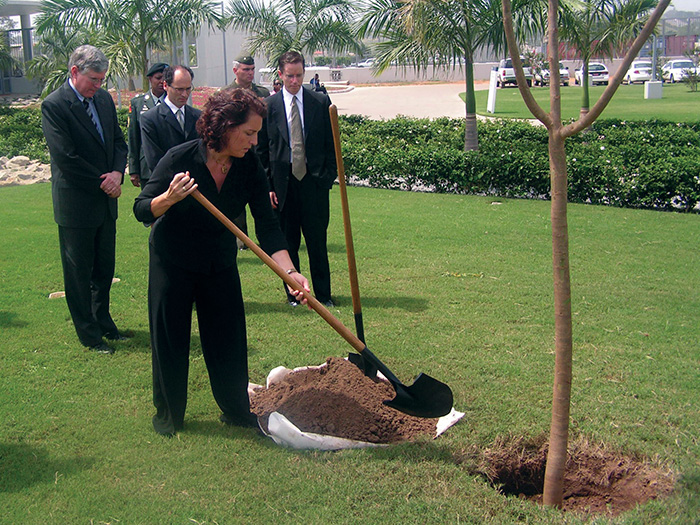 Mrs. Haydon plants a memorial tree on embassy grounds during the memorial service.
Idika Onyukwu
I captured tragic moments, as well.
Working for the State Department can be fun, but it presents peculiar challenges and risks, which sometimes put the lives of both Americans and local staff at great risk. From local travels on roads littered with potholes and lurking armed robbers, to air travel in jerky airliners, the risks are indeed legion.
I live with sad memories of the late Major Joseph Jolly Haydon Jr., head of the Office of Defense Cooperation, and eight of my FSN colleagues, all of whom perished in a domestic plane crash on Oct. 6, 2005. Major Haydon and eight local staff members were returning to Abuja from Lagos—the major had been at a meeting in Germany—when the plane they were traveling in nosedived at Lisa Village in Ogun State, killing all 117 passengers on board and reminding me of the risks that came with the job of working for the State Department.
I attended a memorial service held in honor of Major Haydon, taking pictures as his widow, Maria Haydon, planted a tree in remembrance of him. Representatives of the Chief of Army Staff of the Nigerian Armed Forces attended the memorial to offer condolences.
I was there during the February 2015 presidential elections in Nigeria when, to promote free, fair and credible elections, President Barack Obama's special envoy, U.S. Secretary of State John Kerry, held closed-door meetings with then-President Goodluck Jonathan—the candidate of the People's Democratic Party—and Muhammadu Buhari, the opposition party leader and presidential candidate of the All Progressives Congress. Ambassador James Entwistle also championed a crusade throughout the 36 states of Nigeria to commit politicians to a pledge of nonviolence before, during and after the elections.
Nigeria ultimately held an election that was internationally acclaimed as free and fair, with opposition party leader Mohammadu Buhari elected as president. That the incumbent president, Goodluck Jonathan, conceded defeat even before the election results were announced was irrefutable evidence of the transparent nature of the exercise. The success of that election came from the commitment of friends of Nigeria, including the United States, to ensuring a peaceful, transparent and democratic electoral process.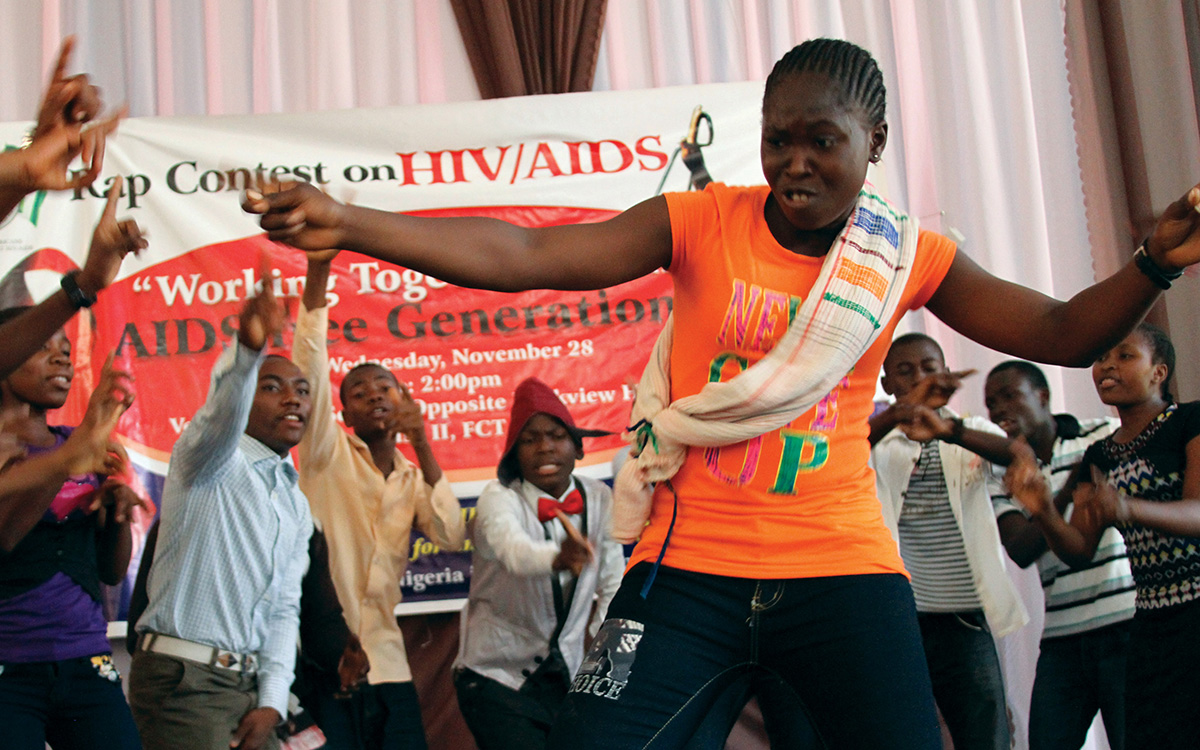 A U.S.-sponsored rap contest in Abuja to promote HIV/AIDS awareness in schools.
Idika Onyukwu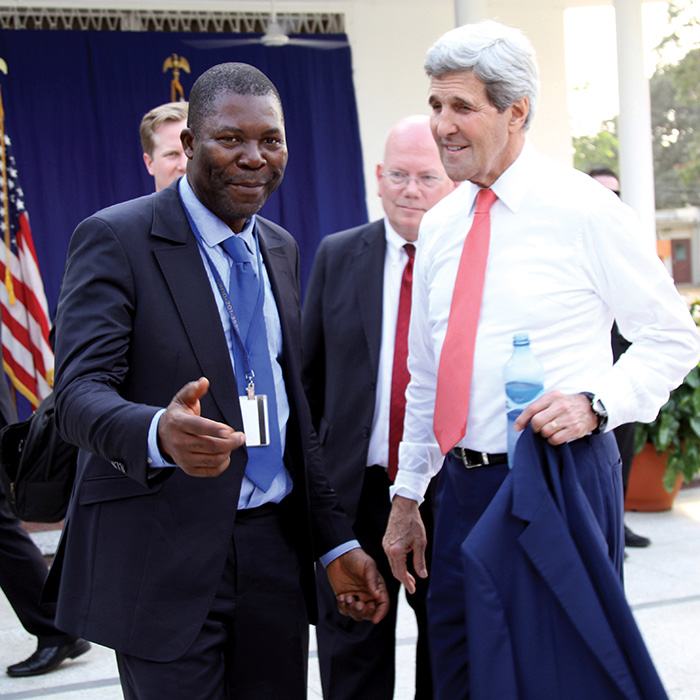 The author greets then-U.S. Secretary of State John Kerry in Lagos on Jan. 25, 2015.
U.S. Department of State / Sean McIntosh
There were so many other things I witnessed as an FSN without my camera in hand.
I witnessed efforts to support and uphold the principal pillars of democracy, the rule of law, youth empowerment, girlchild education, human rights protection and media engagement. I participated in programs to promote good governance, strengthen democratic institutions, support health care delivery and foster a robust partnership between the governments of Nigeria and the United States in the interest of peace and security.
These firsthand experiences were the reason I stayed with the State Department for so long.
Foreign Service officers are in constant motion, never staying more than three years at any post. For an FSN, this means learning, over and over again, the different leadership and management styles and traits of every new officer as they come from Washington, D.C. I went through this process many times with more than nine ambassadors, 12 different counselors for public affairs and 15 information officers. Supervisors come and go, but FSNs remain the core structure of U.S. embassies worldwide.
Working for the U.S. government can earn one all sorts of derogatory names. I have been called a spy, a turncoat and a mole by friends and colleagues in the media who interpreted my work for the U.S. government as betraying the trust of my country. Right from my days in USIS, these mischief-makers refused to differentiate between international collaboration for development and spying. That was not much of a bother, however, since I knew the genuineness in my engagement with the U.S. mission in Nigeria.
After 20 years of meritorious service to the State Department, in May 2015, my immediate family and I became legal residents of the United States through the Special Immigrant Visa program. My three sons, my daughter, my wife and I now live in Maryland.
Read More...