Get Ready for Merit-Based Compensation
The new performance management program for Locally Employed staff offers many benefits for staff and supervisors alike.
BY ELIZABETH LAMONTAGNE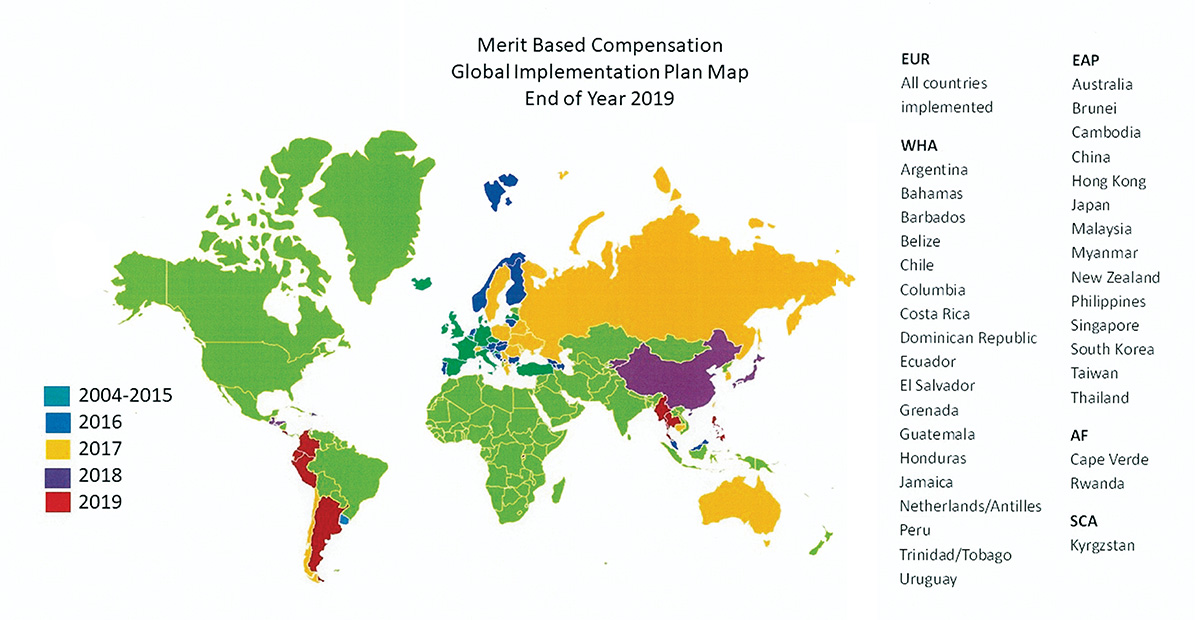 Source: U.S. Department of State, Bureau of Human Resources, Office of Overseas Employment.
Have you ever managed an amazing Locally Employed staff member who is no longer eligible for salary increases because he or she is at the top step of their grade? Or have you had to incentivize a local staff member "retired in place" at the top step? An exciting development for both American and LE supervisors is the new performance management program for LE staff at U.S. missions called Merit Based Compensation.
By the end of 2019, nearly 50 percent of U.S. missions worldwide will have adopted the new tools of the MBC pay-for-performance system. Currently at 66 embassies worldwide, supervisors and local staff are recognizing the numerous advantages this performance management method has to offer. The Bureau of European and Eurasian Affairs fully adopted MBC at all posts in 2016, and other bureaus have begun implementing the program on a post-by-post basis.
This is a major initiative on which all American managers should be well-informed. Here's a quick tutorial on the history of MBC, its multiple benefits and what local and U.S. direct-hire supervisors overseas need to know about this inspiring program.
What Is MBC?
Merit pay, incentive pay or pay-for-performance plans, as they are sometimes called, reward employees with raises, bonuses or other forms of financial compensation. Instead of tying performance rewards solely to time on the job, employers give rewards for superior performance in the form of an annual variable payment. In 1995 Embassy London spearheaded a performance management program titled "Performance Related Pay." Jon Lloyd, Embassy London's LE staff HR specialist, led the original effort to create the new performance-related pay program to transition the mission to a merit-based pay system to match prevailing practice at the time.
Embassy London specifically sought to craft a more contemporary methodology for the management, recognition and reward of LE staff contributions to the work of the U.S. government. The goal was ambitious, and the territory contentious; many of the stakeholders were highly skeptical, and the chances of success were deemed marginal. But as the saying goes, "Fortune favors the brave," and the London HR staff pressed onward. More than 20 years later, London's and many other LE staff worldwide sing the praises of the program that has come to be known as MBC.
MBC gives managers the ability to directly link employee performance to the objectives of the section and mission. Managers can create specific objectives and weight them based on importance rather than time spent. A numerical rating system (0-3) combined with more specific objectives allows managers to differentiate the performance of staff along a range, rather than having to give employees an overall summary rating. At the end of the cycle, eligible employees receive a monetary reward commensurate with their performance, based on their total score. High performers have the opportunity to receive a higher reward than they would have received under the current within-grade increase or step system. Likewise, they also have the ability to move through the salary range faster than they otherwise would under the step system.
MBC gives managers the ability to directly link employee performance to the objectives of the section and mission.
Employees who are already at the top step of their grade are also eligible to receive a reward under MBC. They will not be able to increase their base salary, but they are eligible to receive a lump-sum payment to reward them for their hard work. At many posts, a significant percentage of employees have already reached the top step, and MBC will allow these employees to receive a performance reward for the first time in many years. Many of these employees are top performers that the mission wants to retain. MBC can be one additional tool to help managers retain high performers.
In addition, MBC works on an annual cycle for all LE staff performance evaluations. Under MBC, supervisors need not track and complete Employee Performance Reports at random times throughout the year based on each employee's hiring date. MBC runs on a uniform annual performance cycle, as it does for tenured American direct hires. The majority of posts adopt the rating cycle of Feb. 1 to Jan. 31, and all LE staff evaluations are due on the same date. Consequently, all LE staff evaluations are completed on time!
The Supervisor's Crucial Role
MBC creates the opportunity for increased communication between managers and employees. Because the criteria in the employee's Annual Work Plan can include specific projects and elements like teamwork and supervision, managers and employees need to check in with each other more often to better gauge the employee's progress. Because MBC results in a variable monetary reward, both the employee and the supervisor have a vested interest in getting it right.
Employees and supervisors take more ownership of the process, and regular feedback is essential to the program. Says John Lloyd: "Pride in shaping the future success of the mission has always been at the heart of our supervisory corps, and the MBC program is the perfect platform for supervisors to demonstrate the pivotal role they undertake in managing resources in the best interests of the U.S. government."
MBC gives supervisors the opportunity to focus employees on mission goals and the most important aspects of their individual work. For example, embassy leadership could require all sections to focus on a specific goal or objective proposed by the ambassador during the rating period. Because MBC allows for customized criteria on the evaluation, a manager can also have more control in directing the employee to focus on a specific weighted objective.
In addition, managers can use MBC to help employees improve and develop in particular areas. The flexibility of the program further allows supervisors to recognize important work that is outside the employee's normal duties, such as temporarily covering the duties of a departed colleague.
But This Has Been Tried (and Failed) Before…
It's true. The U.S. government has tried pay-for-performance for civil servants and eventually reverted to the step increase system. There are a few things that distinguish MBC from other programs that have been tried and failed. Under MBC employees are placed in a performance pool with other employees of similar function and grade (e.g., consular Grade 8 performance pool). MBC adds an additional level of review through the role of the pool supervisor, a senior U.S. direct hire who is responsible for reviewing and approving the scores for employees in his or her section or agency. The pool supervisor is referred to as "the guardian of fairness and consistency" and helps maintain the credibility of the program by ensuring that supervisors justify their scores.
Another aspect of MBC that has been missing in other versions of pay-for-performance programs is the extensive amount of analysis and evaluation that is done at the end of each performance cycle. Missions can mine the data to help determine if additional training needs to be provided or if other tweaks are needed.
MBC represents a big change for employees, supervisors and HR staff. Therefore, when a post makes the determination to adopt MBC, the rollout is carefully organized with specialized post training. All HR assistants take a weeklong FSI course to ensure they are ready to implement the program and to get the tools they need to answer questions from their colleagues at post. Every mission also receives an extensive visit from a subject-matter expert who works with management and ensures that all staff at the mission are fully briefed on the new program.
Many have concerns that a program like MBC cannot work in certain regions or countries. In fact, pay-for-performance is very common (i.e., prevailing practice) around the world. A stepincrease system is rare; it is usually only found in governmental organizations. Most of the organizations that U.S. missions compare themselves to in the area of pay and benefits to ensure they are a competitive employer have been using similar performance management systems for many years.
Will My Next Post Have MBC?
In November 2017, the results of a survey sent out to all posts that had implemented merit based compensation for one year or longer were overwhelmingly positive in support of the program. Fully 70 percent of supervisor survey respondents agreed that MBC encourages additional meaningful communication between supervisors and employees and is an effective tool for identifying goals. Also, 56 percent of all employees felt the rollout of the program at their post was well-managed.
The experience in San Salvador is indicative. There, the Human Resources staff overcame misinformation and skepticism to roll out MBC successfully. With full front office support, they organized a highly effective marketing plan that included town halls, presentations by U.S.-based experts and 34 information sessions attended by 544 people.
As Management Officer Holly Peirce explains, "The campaign included an easy-to-understand, fact-based message built around three compelling points: (1) MBC is not a cost-saving measure; (2) the new system will result in more pay over the course of an employee's career; and (3) all money budgeted for wage increases will go to employees (which had not been the case previously)." The campaign, Peirce reports, changed negative perceptions to cautious anticipation.
At this writing 66 posts around the world have implemented or are implementing the program, so American supervisors are very likely to encounter MBC at their next posting. All Bureau of European and Eurasian Affairs posts have converted to MBC and, regionally, the bureaus of Western Hemisphere Affairs and East Asian and Pacific Affairs have embraced it. By the end of 2019, the bureaus of Near Eastern Affairs and South and Central Asian Affairs will have implemented MBC at two posts, and the Bureau of African Affairs has begun a trial, implementing the program at one post.
In all, nearly half of all overseas missions will have adopted MBC by the end of 2019.
Learn More About MBC
Class
Duration
Locations
Content
MBC Essentials
2-day workshop
FSI or Regional Service Center (in Frankfurt)
Designed for managers who want to learn more about the program
Merit Based Compensation (PA-339)
5-day course
Regional Service Center (for EUR in Frankfurt)

Florida Regional Center (for WHA in Ft. Lauderdale)

Regional Employee Development Center (for EAP in Bangkok)

Designed for HR staff who are responsible for program at post
Source: U.S. Department of State, Bureau of Human Resources, Office of Overseas Employment.
Read More...