Working Together for a Smart Foreign Policy
A Message from the Hill
BY SENATOR CHRIS COONS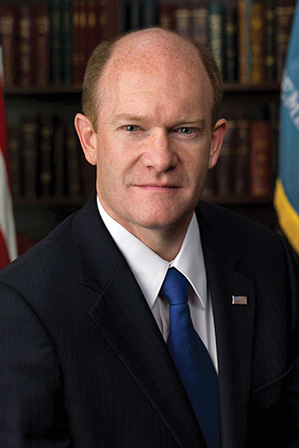 All too often, discussions about American power around the world tend to focus on how much money we spend on things like aircraft carriers and fighter jets. While our military might is an undeniably important part of our strength, U.S. diplomacy and foreign assistance are just as essential to American influence abroad. When used wisely, all three of those pillars—diplomacy, development and defense—keep Americans safe, advance our interests and make the world a far better place.
What Diplomats Do
I suspect this won't surprise the readers of The Foreign Service Journal. Indeed, Foreign Service officers are one of the most important reasons why I have faith in this approach. During my visits overseas as a senator, I have been consistently impressed by the professionalism, dedication and creativity of our Foreign Service. Whether in Vienna negotiating nuclear accords or in Juba helping refugees, serving both Republican and Democratic administrations, our Foreign Service officers are promoting American values, ensuring our security and helping the world's neediest live their lives with dignity.
To the members of the U.S. Foreign Service: I have seen your work up close many times. I remember walking the visa line at Embassy New Delhi and being struck by the huge workload of our consular officers. I recall visiting refugee camps in Jordan and Uganda and internally displaced persons settlements in northeastern Nigeria, overwhelmed by the needs of those fleeing violence. But I was also immensely proud that our diplomats from State and USAID were doing all they could to provide life-saving assistance.
During a visit to Ukraine, I was particularly impressed by the work of U.S. Embassy Kyiv's political section to revamp the police force and root out corruption. That kind of on-the-ground, knee-deep in the details work reminded me of my time serving in local government in my home county in Delaware.
I recognize your work is not always easy. I have been troubled by accounts of low morale at the State Department, a development that is concerning given how skilled and capable each of you are. We will not be successful in meeting our challenges on the world stage unless Foreign Service officers and Civil Service members at the State Department play the central leadership role in informing and crafting our country's foreign policy. The State Department should be the agency that drives the agenda and adds the most value to the formulation of American foreign policy.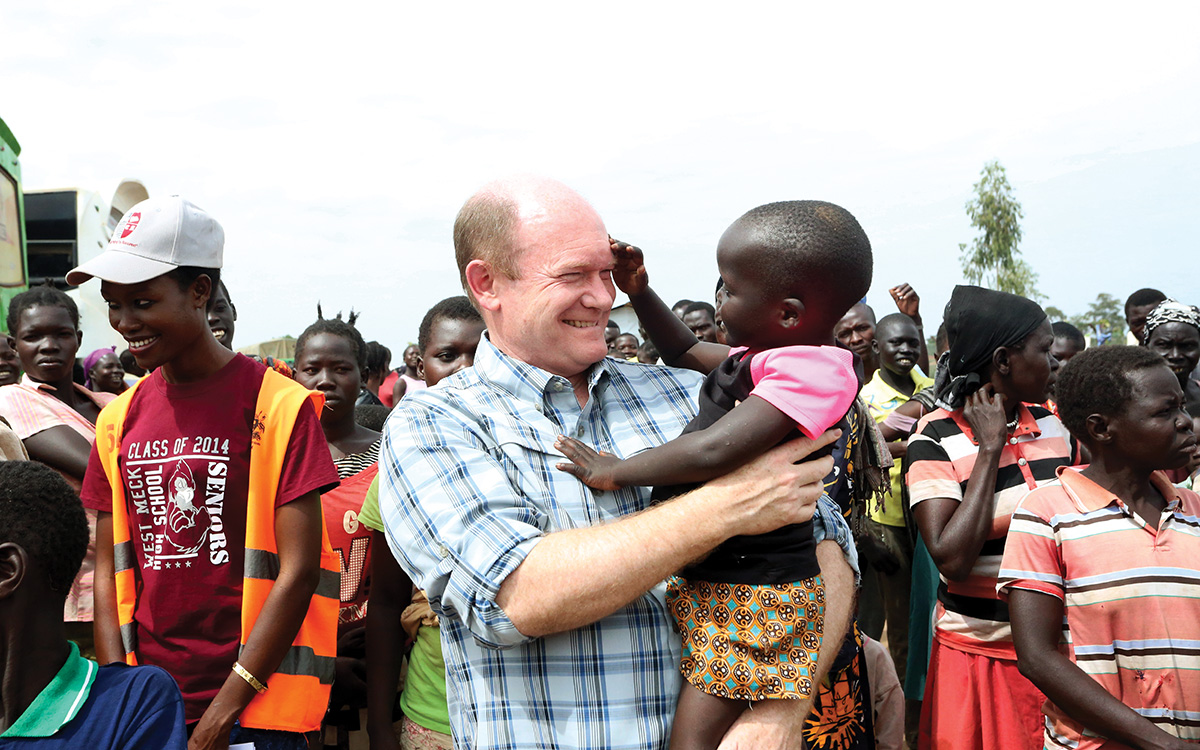 Senator Chris Coons (D-Del.) at the Bidi Bidi refugee camp in Uganda in 2017, during a tour with Senator Bob Corker (R-Tenn.), chairman of the Senate Foreign Relations Committee, to get a firsthand look at the global food crisis threatening 20 million people in Nigeria, Somalia, South Sudan and Yemen. The world's largest refugee camp, Bidi Bidi houses some 270,000 people who have fled from war-torn South Sudan. The senators sought to elevate attention to the humanitarian crisis and ensure that U.S. foreign assistance was effective and efficient.
Office of U.S. Senator Chris Coons (DE)
Needed Tools and Authorities
As a senator and member of the Senate Foreign Relations Committee and Senate Committee on Appropriations, it is my duty to ensure that the State Department and USAID have the budget, authorities and tools to do their jobs. That is why I have been working with a bipartisan group of senators to maintain adequate and necessary funding to foreign assistance and operations. That is why I supported the Countering America's Adversaries Through Sanctions Act, to give the State Department the authorities to push back on Russian meddling in the 2016 election and its aggressive actions overseas.
I also co-sponsored the Better Utilization of Investments Leading to Development Act of 2018, or BUILD Act, recently signed into law. I see this legislation as part of my job to continually make sure the executive branch has the right tools to keep up with our modern world and take advantage of all of America's assets.
If you are not yet familiar with it, the BUILD Act creates a new mechanism, the U.S. International Development Finance Corporation, to modernize America's role in development finance. This will expand our ability to partner with international development finance institutions to achieve real, positive economic development in the countries that need it most.
I am eager to work with Secretary of State Mike Pompeo, USAID Administrator Mark Green and Overseas Private Investment Corporation President Ray Washburne to ensure that the new agency supports a global strategy that advances American interests and values.
We will not be successful in meeting our challenges on the world stage unless Foreign Service officers and Civil Service members at the State Department play the central leadership role in informing and crafting our country's foreign policy.
I am hopeful that the Congress will partner with the administration this coming year to pass the Global Fragility and Violence Reduction Act. This bill would require USAID and the departments of State and Defense to collaborate on making strategic, long-term investments to promote sustainable development in fragile states that are critical to our own security.
Finally, I have been working with Senator Johnny Isakson (R-Ga.) to cosponsor the Foreign Service Civil Relief Act. This bill, which I plan to introduce in the next Congress, will allow Foreign Service officers with the State Department and USAID to terminate domestic residential leases without a fine when they are posted abroad. We already extend this benefit to active duty members of our military, and there is no reason why members of our Foreign Service should not have the same opportunities.
America's Promise
One of the most transformative experiences of my life was the semester I spent studying in Kenya as a college junior. Away from the comforts of home, awash in new experiences, I learned a lot about myself and my country. That view from afar also gave me a new perspective on America, one that included its faults and failures, but also its principles and promise. It is that last piece—the promise of America—that I am excited to work toward in partnership with each of you. That promise and our founding ideals are what drive all of us serving the American people, whether on the Hill, at Foggy Bottom or out in the field.
So please keep serving your country, stay true to your oath to the U.S. Constitution, and let me know what more those of us on Capitol Hill can do to ensure America remains, as former Secretary of State Madeleine Albright said, "the indispensable nation." And when I travel abroad, please share your thoughts with me. I certainly promise to ask a lot of questions.