Get a Head Start on the College Admissions Process
Getting into college is a complicated and daunting process. Here is a plan for circumventing the stress.
BY FRANCESCA KELLY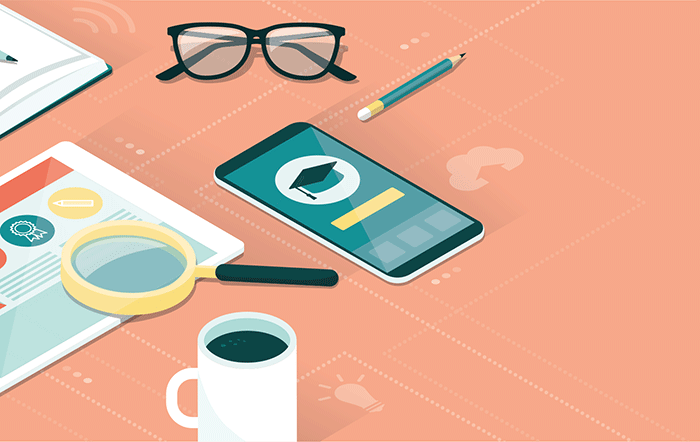 This fall marks the 12th season I've been working with high school seniors on their college applications, and many of them are in a state of hyper-stress right now. Why? Because, despite being urged to start early, they waited too long to research colleges and write essays.
Before you can apply to colleges, you need to know which colleges to apply to— and why. But the demands of school generally mean that most students let college research go until the summer before senior year. In the interest of stress management, that's too late.
So, juniors: Don't worry. You're going to circumvent that stress cycle by using this winter break to your advantage. You can research universities in just 30 to 60 minutes a day over the course of one week. By the end of winter break, you'll have a realistic list of colleges you'd most like to attend, accompanied by notes about each one, including application deadlines and required essays.
This means that you can then move forward with planning possible visits to those colleges. It means you will know if you need to schedule more SATs, ACTs or SAT Subject tests. It means you'll know what college application essays you'll need to write over the summer. And by the time senior year starts, you'll be ready to submit your applications—way ahead of everyone else, to your great relief. If you don't believe that getting started early makes a huge difference, just ask a current senior!
You may even want to start this research process as a high school sophomore, while bearing in mind that your interests and passions may change over the course of the next year or two. But it can't hurt to start putting together a rudimentary list during 10th grade, when most of the college admission pressure is still low.
It can't hurt to start putting together a rudimentary list during 10th grade, when most of the college admission pressure is still low.
If you haven't already, you need to hold a very important conversation with your parents, who presumably will be paying for all or most of your college expenditures, including tuition, housing, meals and travel expenses. Ask them straight out: how much can they afford to pay? Is there a college savings account or a 529 account in your name? What, if anything, will be your contribution? Are you expected to take out college loans? Are you expected to attend an in-state school (or a private institution that gives you enough aid to cost no more than a public one)?
Once you have that information, you can make sure that, if needed, you have colleges on your list that demonstrate a tradition of generous financial aid and merit scholarships, especially if your family doesn't qualify for financial aid. (And even families who do qualify don't usually get enough.)
So, let's assume it's now late December. You've had the financial conversation, you've caught up on sleep and you've stuffed yourself with holiday foods. Time to get that college list together. Are you ready to do this? Let's get started! Here's your seven-day program.
Day 1: Organize a system.
First, you will need a way to record notes on each college. You can do this electronically on a spreadsheet, in Google docs/sheets, OneNote or other online software; or you can keep handwritten notes in a notebook or portable filing system. Your high school might even offer software like Naviance or College Planner Pro that will allow you to record and organize the information. If not, the very practical website www.admissionpossible.com has different organizers and checklists available for downloading.
For your filing or spreadsheet system, you will need the following categories, some of which can be combined:
• Name of College or University (location/URL)
• Tuition, Room and Board Costs
• Majors, Classes and Activities that you're interested in
• Deadlines for Application and for Scholarships (which are often earlier than the general application deadline)
• Type of application: Common Application, Coalition Application, Universal Application or the college's own unique college application.
• Number of Essays Required. (Start a document where you can cut and paste all essay prompts. Use last year's prompts until the college publishes new ones, usually in August before your senior year.)
• Other requirements for admission (particularly important for non-U.S. colleges)
• Lots of room for your own personal notes
Did you complete your homework for Day 1? You should now have a system to organize your list of colleges, either online, on spreadsheets or in notebook/files.
Days 2-4: Decide on where to study and how to study, giving yourself choices.
Obviously, the location of your ideal university is determined by many factors: climate; ease of travel home; cost; preference for rural, urban or suburban; and of course, academics. But how you study is just as important as where.
For example, most universities in the United Kingdom and the European Union demand a much narrower focus on your chosen major (called "course") right from the outset. Many Canadian institutions do, as well. (Most U.K., E.U. and Canadian universities offer three-year programs, but non-citizens may have to do a foundation year to start.) Pre-professional programs in the United States also allow you to focus on your major from the start. Performing arts conservatories are one example, but there are also specialized engineering, pre-med and other programs. Babson College near Boston is an example of a liberal arts college that focuses on business and entrepreneurship. And don't forget Switzerland's famous hospitality programs such as Les Roches.
But perhaps you're not sure yet what you want to major in. That's where most American colleges hold an advantage: traditional U.S. institutions allow you to dabble for your first two years of college, declaring your major in the spring of sophomore year so that you may start to specialize during your last two years of college.
Then there are the block system colleges, like Colorado College or Cornell College in Iowa. At these, you will study one subject at a time, very intensely. Imagine six weeks of nothing but archaeology: going on digs and field trips, reading, writing, watching documentaries and hearing lectures. Some students prefer—and are more successful with—this intense focus.
You need to hold a very important conversation with your parents, who presumably will be paying for some or all college expenditures.
Other nontraditional colleges in the United States include those that allow you to create your own major (e.g., Hampshire, Marlboro, Evergreen State, among others), including some that do not have specific course requirements. At the other end of that spectrum are the two St. John's Colleges (one in Annapolis, one in Santa Fe) that teach a classics-based curriculum with no choice of electives. And then there are practical universities like Northeastern, where you alternate studies with work in your field, taking five years to graduate but getting tons of on-the-job experience.
Finally, consider single-gender colleges like Mt. Holyoke or Smith for women; Wabash or Morehouse for men. Most are excellent and not as difficult to get into as their coed equivalents; and they're usually located near other colleges or universities where you can also take classes. Barnard, for example, is literally across the street from Columbia University, so it's not as if you're living in a convent.
Once you've considered these factors and have an idea where and how you might want to undertake your course of study, it's time to find the colleges and universities that are strong in the field or fields you're interested in. Here's where the internet shines. Below are some websites where you can search for colleges by major, location and other factors. You will probably need at least two one-hour sessions to devote to this task—but this varies greatly depending on your research style and how deeply you want to dig.
For colleges in the United States (and some in Canada):
https://bigfuture.collegeboard.org/college-search—College Board's Big Future offers a lot of tools to help you in your college search.
http://www.diycollegerankings.com—Counselor/parent Michelle Kretzschmar manages a site that ranks colleges in a completely different way than the usual rankings. For her, easily paying for higher education without going into debt and graduating from college in no more than four years are the top priorities. And if you're an athlete looking to continue playing your sport at college, her additional focus on college athletics is informative.
https://nces.ed.gov/collegenavigator—This is a comprehensive site where you can search by state and by major and get all sorts of stats on every college.
Once you've found a couple of colleges using the online tools above, try going to http://www.collegeresults.org, where when you type in the name of one college, the site will provide you with the names of similar colleges.
Although the U.S. News & World Report college rankings have been given too much weight by the media, you can use them to search for factors such as merit aid: https://www.usnews.com/best-colleges/rankings/most-merit-aid.
U.S. News and other ranking sites do give you a general idea of what a college's reputation is, but you should try not to get tangled in the ranking weeds. The way rankings are calibrated can be highly subjective. You may find the college ranked #79 is a better fit for you than the college ranked #15, and you may get just as good an education at #79. And if cost is a factor, remember that colleges that are just a little less selective may give you more financial or merit aid. That also goes for colleges that are in the middle of the country; for some reason, students tend to gravitate to the coasts.
To research universities outside of the United States:
First see if your school offers Unifrog software. This service provides a way to search and save colleges in the United Kingdom, the Netherlands and other European countries. If not, try these sites for searching in Europe, Canada, and Australia:
www.ucas.com—a must if you will be applying to U.K. universities
www.universitystudy.ca—Canada
http://ec.europa.eu/education/study-in-europe_en—links to study programs in Europe
http://www.aaicu.org—Association of American International Colleges and Universities: international institutions offering a U.S. curriculum
http://australianuniversities.com.au/colleges/list.php—Australia
Did you finish your homework for Days 2-3? You should now have a list of potential colleges to investigate further.
Days 4–7: Research individual colleges.
Now that you have a list of possible colleges based on your research thus far, here is the fun part: researching each college. Why is this fun? Because you get to imagine a possible future at each campus taking specific classes, joining clubs, eating at the cafeteria and studying in the library. Depending on how much time you want to spend, you can probably research about three to five colleges a day before you start blurring details of one school with another. (But that's why you'll be taking notes.)
1. First, get a rough idea of your chances of admission. You know your GPA; you know the rigor of your courses; and hopefully you have one SAT or ACT score under your belt by now. These are your stats. How do your stats match up with the typical student accepted by a particular college? You can find out quickly by searching online "Name of College + Acceptance Rate." (Naviance software, should your high school offer it, also provides a gizmo called the Scattergram that is very helpful in determining your odds of acceptance.)
A quick Google search yields an acceptance rate of 5.5 percent for Princeton, and a 67 percent acceptance rate for Allegheny College. A site such as www.petersons.com can provide you with additional quick stats, such as acceptance by gender and average SAT score of accepted students. Your final list will eventually include a mix of reach (Princeton is a reach for anyone, even if you have 1,600 SAT scores and a 4.0 unweighted GPA), match and safety schools. (Match = your stats match those of the average admitted student; Safety = your stats are better than those of the average admitted student.)
2. Choose a college from your tentative list, and visit that college's website. Many students go first to Admissions, but you should click first on Academics—you know, the main reason you're attending college—and check out the curriculum for the major you're interested in. Jot down names of interesting courses and professors. Note course requirements. Look at a secondary major in case your interests change.
Do not be wedded to the idea that there is only one college that can make you happy.
3. Explore further on that college's website. Go to the school newspaper and read some articles to get a feel for campus issues. Look up activities and clubs. Research courses in other subjects you're interested in outside of your major. Find study abroad programs. Make a note about anything that's interesting and appealing. Not only do these notes help you put together a great list of schools, but you will need them if the college requires a "Why I Want to Attend This College" essay, or if you interview at the college.
4. If you like what you're seeing, go to the Admissions page. Write down application type and deadlines, including essay requirements. (Yes, these essay requirements are for the current application year, and may not be updated until August, but they usually don't change from year to year.) Are there additional requirements for specialized programs? Are there early deadlines for scholarships? Does the school offer an early action or early decision deadline? Many colleges have a page or blog written by an admissions officer, who may even answer questions from prospective students.
5. Once you've exhausted the college's own website, search for information elsewhere. First stops: YouTube and Facebook. There may be tours, videos of student events or even blogs by current students. (Another fun activity: Search online for "Name of College" + "famous alumni" or "famous graduates.")
6. Finally, go to "review" websites, where students and others give honest opinions of their colleges. Sites to try: unigo.com, collegeconfidential.com, niche.com. Please keep in mind that one disgruntled student's opinion should not be a factor in your decision; but many disgruntled students might be a red flag.
Homework status: By Day 7, you should have a list of 10-20 colleges that you'd be happy to attend.
What Your List Means
Having this list will allow you to move forward in the application process. But remember that this is just a starting point. You may be intrigued by a college representative's visit, or suddenly hear about a college you've never heard of before—or even consider attending school in a different country. You may end up hating a college if you finally visit the campus. (Visits, while helpful, are not convenient or affordable for everyone.)
So, your list may change, and that's a good thing for the next few months. Now that you're a pro at researching colleges, you can easily find 15 minutes here or there to make the research ongoing. That said, by the end of 11th grade try to stick with the list you've got so you can move forward with writing essays over the summer.
Your final college list should include a mix of institutions in cities, suburbs and rural areas; schools that are large, small or in-between; schools that are in different regions of the country or even in more than one country; and schools that offer several potential majors or programs of interest. Make sure you love all of the colleges on that list, even the safety schools.
Finally, do not be wedded to the idea that there is only one college that can make you happy. There are thousands of institutions where you can get a great education and where you will make lifelong friends. When the college admissions process gets daunting—and it will—look at your list and know that you've done your homework and chosen a well-researched list of schools that offer many possibilities.
You could even say that this list represents something bigger than just a college list. It's not a bad way to approach life: with solid preparation, open expectations and hope for a great adventure.
Read More...